The festival of colors is just around the corner, and it's time to host a fun Holi party. Festivals are a great time to come together and share good food, fun moments and make memories – and what better occasion than Holi to let one's hair down and live it up? This post is going to be one that will help you host a fabulous Holi party, even if you're a first-time host and have no experience in hosting gala parties.
As with any event, planning well in advance (or at least a little in advance) is the key to success.
Here's a list of things to plan a perfect Holi party:
Party Theme: Holi is all about joy and colors so choose a theme that is fun for the guest. Few popular ones are – Bollywood theme, Banaras Ki Holi theme, color based themes, Chaat party theme and so on. Whatever you choose, remember that your food, music, and decor must revolve around the theme. The theme gives your party synchronization, makes menu planning much easier and leaves a long-lasting impression on the guest.
Guest List: Holi parties aren't for the faint-hearted. This is an event that's going to bring out the wild child in everyone. So invite over fun-loving friends and family who you know won't play spoilsport or pass judgemental comments. You can design hand-written invites or make digital ones using apps like Canva, Picasa, Keynote, etc. which have a lot of options for even beginners to try their hand at designing.
Party Décor: Everything from the design on your invites to your tablemats and arrangement of food stations falls under décor for this event. Try to venture out of your comfort zone and pick up pieces that will lend a festive aura to the party. It doesn't have to burn a hole in your pocket either – paper plates, disposable placemats, and cups are all very affordable and easily available at party shops, stationery stores or even online on Amazon for very reasonable prices. Many of them are available in fun prints, and designs so do check them out. Plus, disposable cutlery means less cleaning up for the hosts afterward, so it's a win-win situation.
Some fun decor ideas for the Holi party:
Chalkboard menu or colorful poster announcing the menu
Paper plates and cups in striking colors and designs.
Buffet arrangement of chaat and drinks so everyone can help themselves easily
Big bowls of color/flower petals around the place so that multiple guests can reach in at once
Plastic sunglasses available for guests to use
Try to use organic and safe colors to celebrate the festival. Alternately, you can play with flower petals, and organic mixes of sandalwood and fuller's earth – these are great for the skin.
Party Music: There is no memorable Holi party without good music? Music sets the mood for the party, and no party is complete without everyone shaking a leg or two. Prepare the playlist well in advance, choose some fun Holi Bollywood numbers to play (there are playlists on Youtube as well), you can have one person to be the designated DJ for the day, or you can have a karaoke party instead and make it interactive.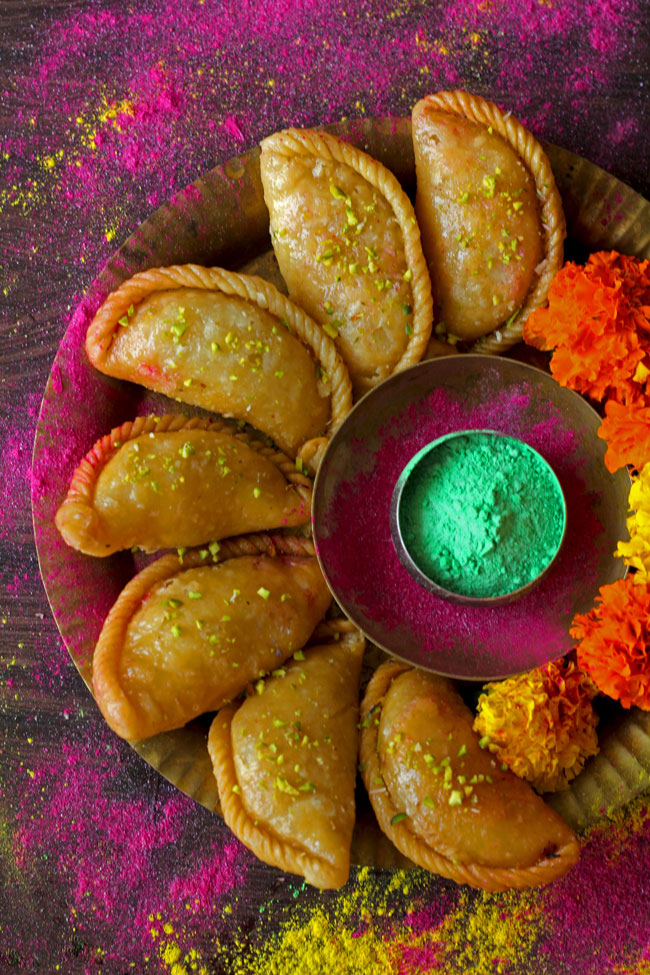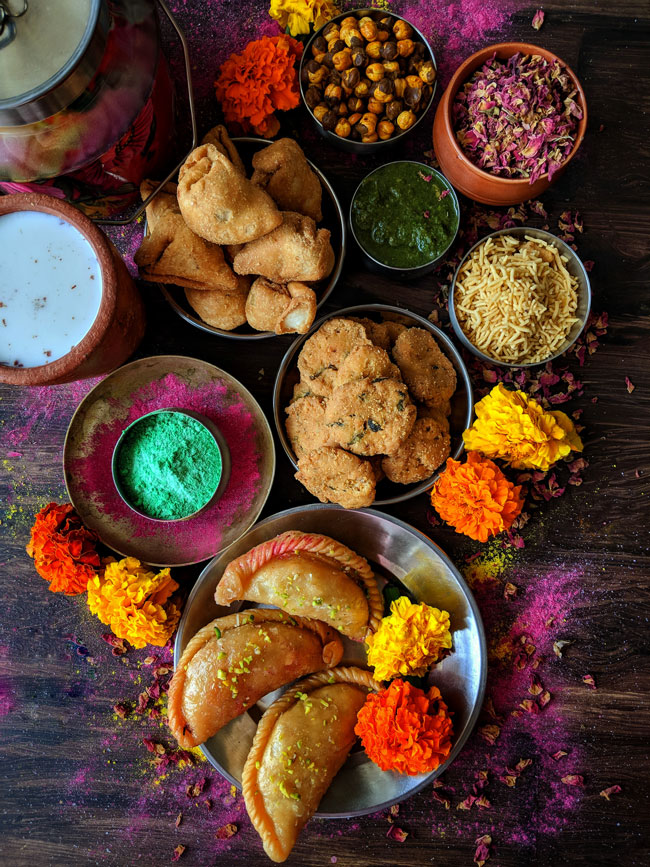 Holi Party Recipes:
Holi is all about good food as well. It is always best to keep the Holi party menu light, hearty and to cheer rather than conventional. In my opinion, it always best to stick to a great variety of snacks/finger food, popular choice main-course, and one or two chilled desserts. Prepare the dry snacks a few days well in advance, finish the prep work for other dishes a night before the party and make your partner, in-charge of drinks station.
Holi Party Snacks Recipes:
Holi Party Main-Course:
Holi Party Side-Dishes:
Holi Party Drinks:
Holi Party Desserts:
Be safe and have a wonderful Holi! Remember it's not a fun Holi party until the host is having a blast as well.
For more such fun recipes in your life subscribe to our Youtube Channel.