Mango Shrikhand is an Indian-style yogurt made with fresh mango pulp, hung curd, infused with saffron, and cardamom. This gluten-free sweet dish is an ultimate summertime delight. Be sure to watch the video!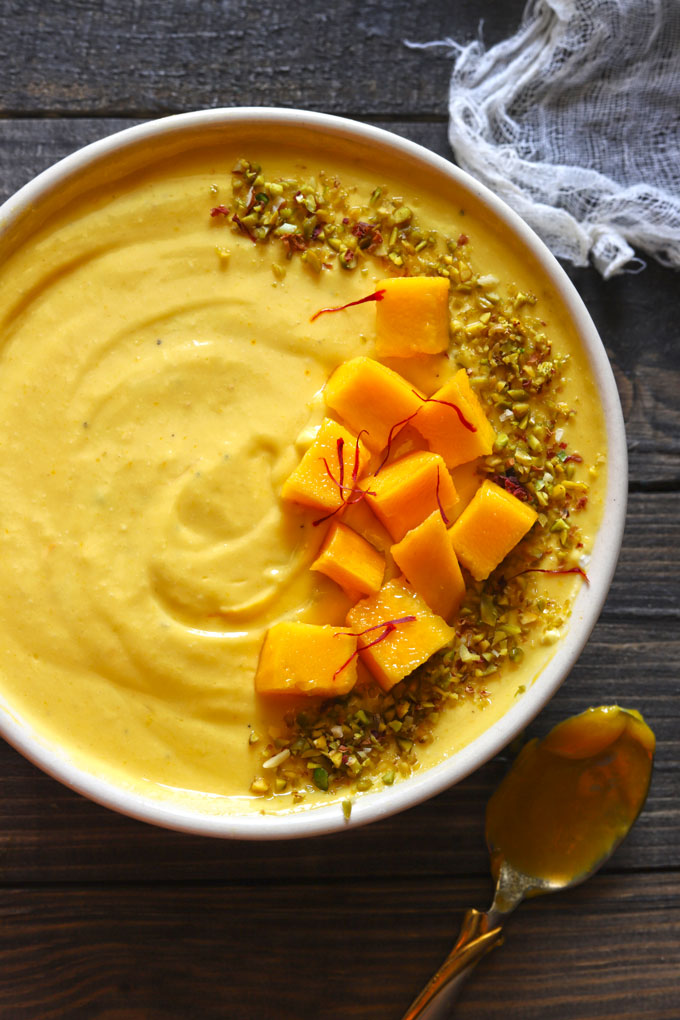 About Shrikhand
Shrikhand is a popular Indian dessert from the western states of Gujarat and Maharashtra. It is made with soft cheese-like curd, saffron, and cardamom.
Mango Shrikhand is a summertime version of the dish with the addition of fresh mango puree. It is also known as Amrakhand or Keri Matho in regional languages.
The marriage of natural honeyed mango puree and the hung curd is in a real sense a match made in heaven and a pinch of saffron, cardamom strengthens the bond between the two.
Reasons To LOVE Mango Shrikhand
no cooking required
preservative and gluten-free
only 5 – ingredients required
perfect dessert for kids and toddlers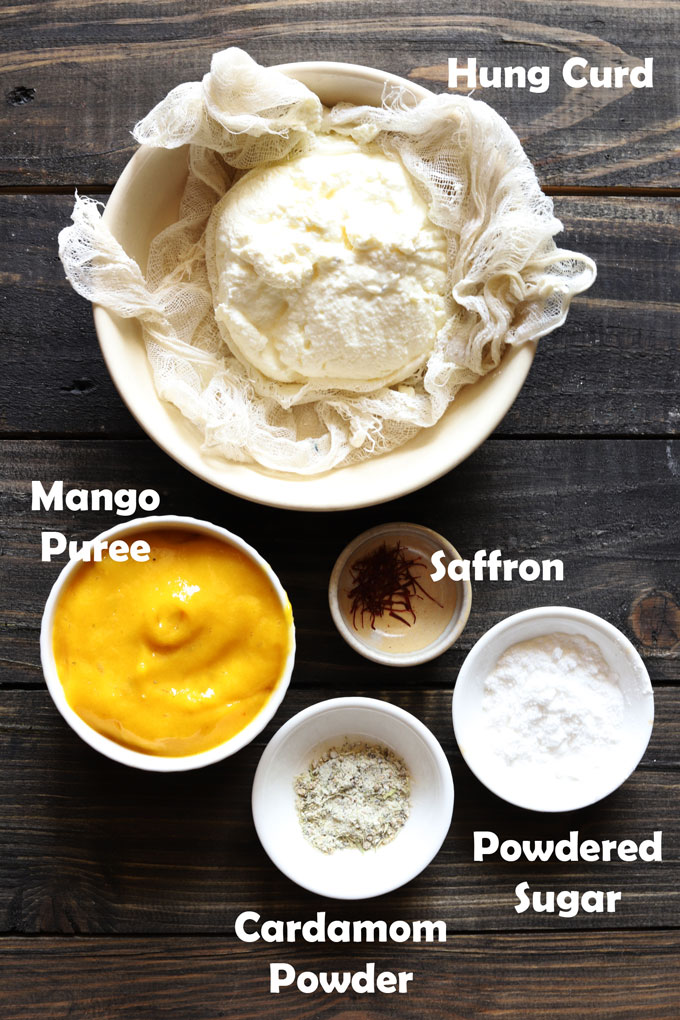 Ingredients Required
Curd: Thick, creamy, curd is the key ingredient for making a perfect shrikhand. In India, we tie the regular curd in a muslin cloth for 2 – 3 hours to drain all the water (whey) and get a soft, block of cheese. In the native dialect, the hung curd is known as 'chakka'.
During the hours when the curd is hung, it gradually transforms personality from a humble liquid to a soft cheese, which melts in the mouth. You can use this soft cheese to make strawberry cheesecake or any other similar dessert.
Mango Pulp: Sweet, ripe, fresh mango puree is the best for making mango shrikhand or mango ice cream. In tropical regions, there is a variety of delicious mango available during the summer season. Hence, pick the sweetest and the pulpiest one for making the puree.
You can use canned mango puree as well for making the shrikhand. Taste the puree and then adjust the amount of the added sugar accordingly.
Sugar: Use powdered white sugar or caster sugar for making shrikhand. It easily dissolves in the curd. Or you can blend granulated white sugar like I do along with cardamom to a fine powder.
Saffron: It gives a nice color, aroma, and rich taste to the yogurt.
Green Cardamom: The green cardamom powder gives a sweet taste and aroma to the yogurt. In case, if you do not have cardamom powder in hand, crush 2 – 3 whole green cardamoms in a mixer along with the granulated white sugar.
FAQs Related To Mango Shrikhand
Can I use mango puree to make shrikhand?
Yes, you can either use homemade mango puree or canned mango puree. Adjust the amount of sugar according to the taste of mango puree.
Can I use greek yogurt to make shrikhand?
Using Greek Yogurt fastens the process since you don't have to hang the curd and wait for draining all the whey water. All you have to do is, open up the Greek yogurt in a mixing bowl, add mango puree, powdered sugar (optional), and cardamom powder. Whisk them up together.
What type of mango is best to make shrikhand?
The 'Alphonso' mango is the best to make any kind of dessert. It's known for its sweetness and rich flavor. Or any other local variety of mango that has a naturally sweet taste and pulpy texture is ideal for making yogurt.
Watch Shrikhand Video
Serving Suggestion
Serve mango shrikhand with piping hot puri. It is one of the most popular Indian meal combinations.
You can also serve aam shrikhand as a sweet dish along with everyday Indian meals. It has no gluten or egg. Hence, you can make it a prasad for puja or while observing fast.
Storage Suggestion
Store mango shrikhand in an airtight container in the refrigerator for 3 – 4 days. It is a meal prep-friendly sweet dish. Do not leave it at room temperature especially in a hot and humid climate for more than 2 hours else it will turn sour.
More Mango Recipes
Subscribe to our weekly newsletter or follow us on Instagram, Youtube for video recipes.
If you try this recipe and love it, please leave a comment and a rating. This helps us grow and reach other food lovers like you.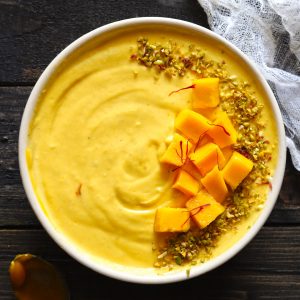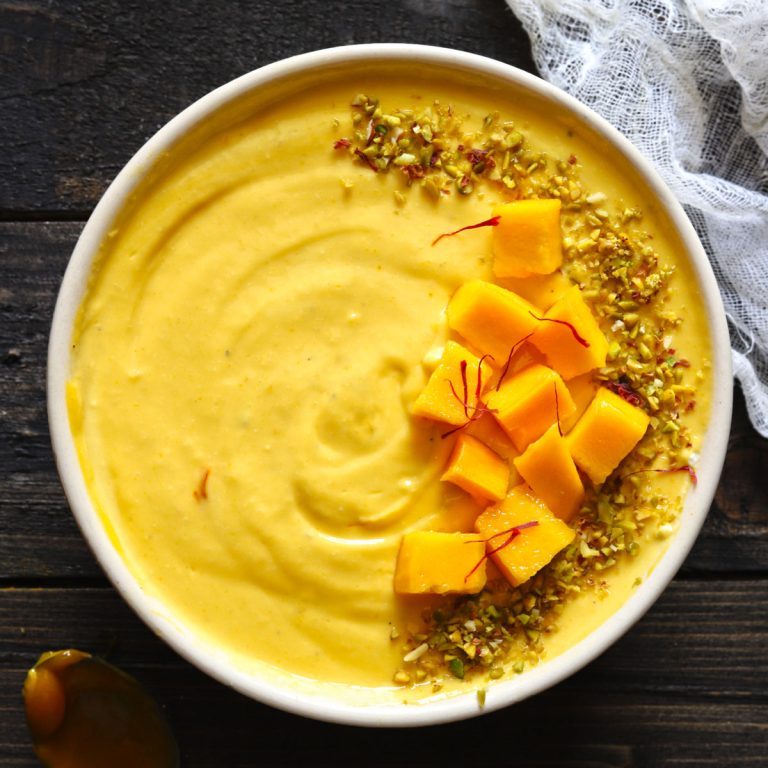 Mango Shrikhand Recipe
Mango Shrikhand is an Indian-style mango yogurt made with fresh mango pulp, thick curd, infused with saffron, cardamom, and pistachio.
Print
Pin
Rate
Ingredients
500

ml

curd or yogurt

½

teaspoon

saffron strands (dissolved in 2 tablespoon of warm milk)

2

tablespoon

milk, warm

2

Cup

ripe mangoes, peeled and cubed

2

tablespoon

granulated white sugar

4

green cardamom
Ingredients For Garnish:
1

teaspoon

pistachio, chopped

¼

cup

mango, diced
Instructions
Prepare Hung Curd:
Place a muslin cloth or clean kitchen cloth over the sieve. Pour curd in the cloth, tie the muslin cloth at a higher point in the kitchen (I use my kitchen sink tap) with a bowl placed below it to collect whey water. This way all the excess liquid will drain out from the yogurt and the end result will be thick soft cheese like hung curd.

It usually takes 2 hours to prepare the hung curd.

Combine saffron strands in two tablespoons of warm milk and set aside.

Blend sugar and green cardamom to a fine powder.

To prepare the mango puree, add the mango cubes in the same blender as sugar powder. Blend till smooth. Transfer to a bowl.
How To Prepare Mango Shrikhand:
Take hung curd in a bowl. Add 1 tablespoon of saffron milk. Whisk till it is smooth, creamy, lump free, and almost like softly whipped cream. It should be light and fluffy in texture.

Add mango puree. Fold it gently into the whisked curd. Do not whisk it for too long as we need that light and airy texture of the shrikhand.

Keep the shrikhand in the fridge to chill for 2 – 3 hours before serving.

Serve Mango Shrikhand chilled garnished with saffron milk, chopped mango cubes, and pistachio.
Recipe Notes:
Avoid using sour tasting yogurt or curd for making the shrikhand. 
Use ripe and sweet mango pulp for the puree. 
Taste the mango puree and then adjust the amount of sugar accordingly. 
In places, fresh mango is not available use tinned mango puree or frozen mango pulp. 
Mango Yogurt is best enjoyed chilled. You can serve it at room temperature as well. 
You can store mango yogurt for a week in the fridge. 
Nutrition
Calories:
169
kcal
|
Carbohydrates:
28
g
|
Protein:
6
g
|
Fat:
5
g
|
Saturated Fat:
3
g
|
Polyunsaturated Fat:
1
g
|
Monounsaturated Fat:
1
g
|
Cholesterol:
17
mg
|
Sodium:
62
mg
|
Potassium:
389
mg
|
Fiber:
2
g
|
Sugar:
25
g
|
Vitamin A:
1142
IU
|
Vitamin C:
35
mg
|
Calcium:
179
mg
|
Iron:
1
mg
For Behind The Scene updates
Subscribe to our newsletter!