Fulori
is the regional term for fritters prepared with the vegetables and gram flour. If you have travelled across the old cities of Uttar Pradesh and Bihar then somewhere by the roadside, a food cart selling '
fulori
' might have caught the attention of your food senses. Batter coated vegetables, popularly known as pakoras, are one of the popular snack bites in India. How
fulori
is any different from the regular pakora? To my knowledge,
Fulori
is prepared with a combination of different flours, vegetables and is generally of bit size. In simple words, it is just another way to enjoy the deep-fried vegetables.
Aloo Ki Fulori
is a gluten free potato and gram flour fritter with an addition of buckwheat flour minus any onion or garlic. These fritters are crisp, crunchy and addictive, you can't stop at one or two pieces. And they have enough edge to compliment the
green chutney
and a cup of
masala chai
. What a great combination when these fritters are served piping hot with a finger licking good
chutney
!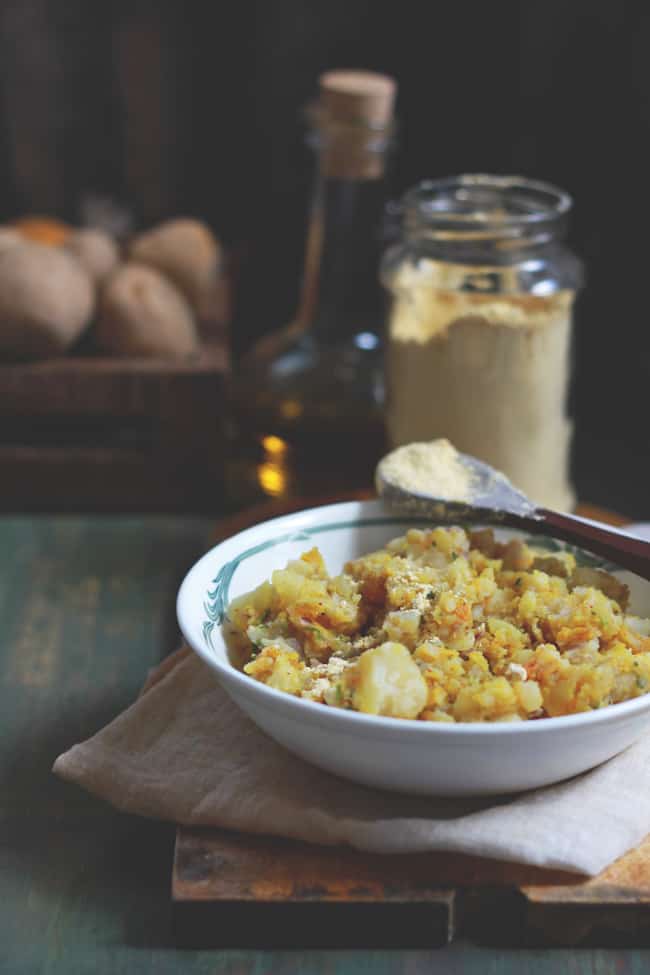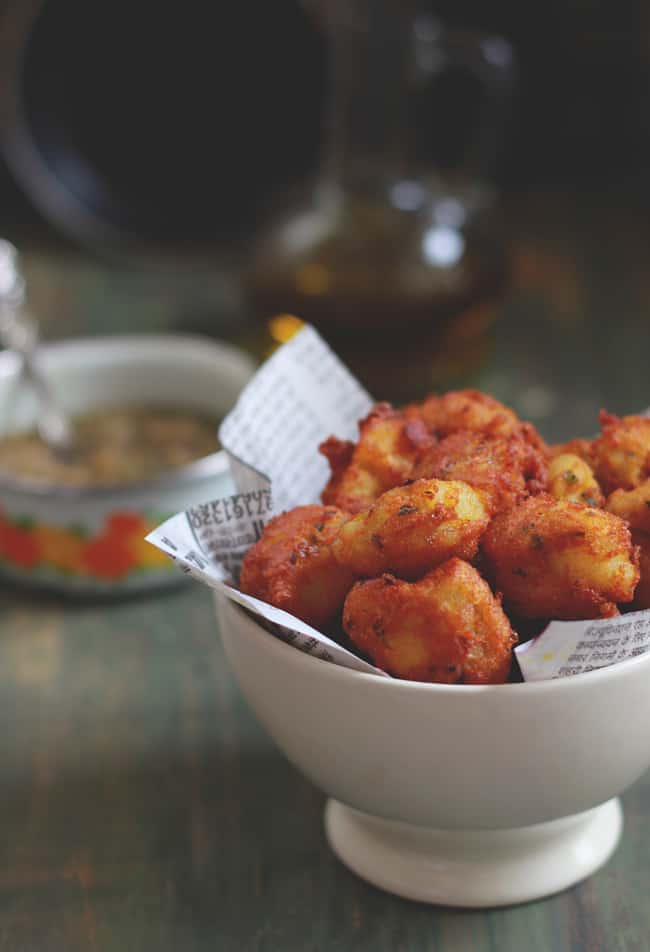 Deep-frying is my least favourite method of cooking. But once in a while, I give up to those guilty pleasures and deep-fry everything and anything. Usually, I appreciate vegetables, potato or paneer in their grilled form. But, for a quick, effortless snack deep-frying is the way to go! Within a couple of minutes, it provides volumes of finger-food everyone loves. This
Aloo Ki Fulori
Recipe
was on the hard disc from the last year when we were enjoying a countryside lifestyle in the midst of the hills. At the railway station in our town, there used to be one tiny food cart selling these pint-sized fritters. Though the fritters looked extremely inviting but initially we stepped back from tasting them due to obvious hygiene reasons. Then one day I gave up to the goddess of greed and bought a plate of
Fulori
. Actually, it was not even a plate, he sold them on a piece of newspaper with a lump of chutney on top. And after one bite we simply couldn't resist the fixation for the Fulori. Last year when on
Instagram
I shared images of
Fulori
, many food lovers came forward to know more about this snack. Since then I was waiting for the monsoon season to share the
Aloo Ki Fulori Recipe
.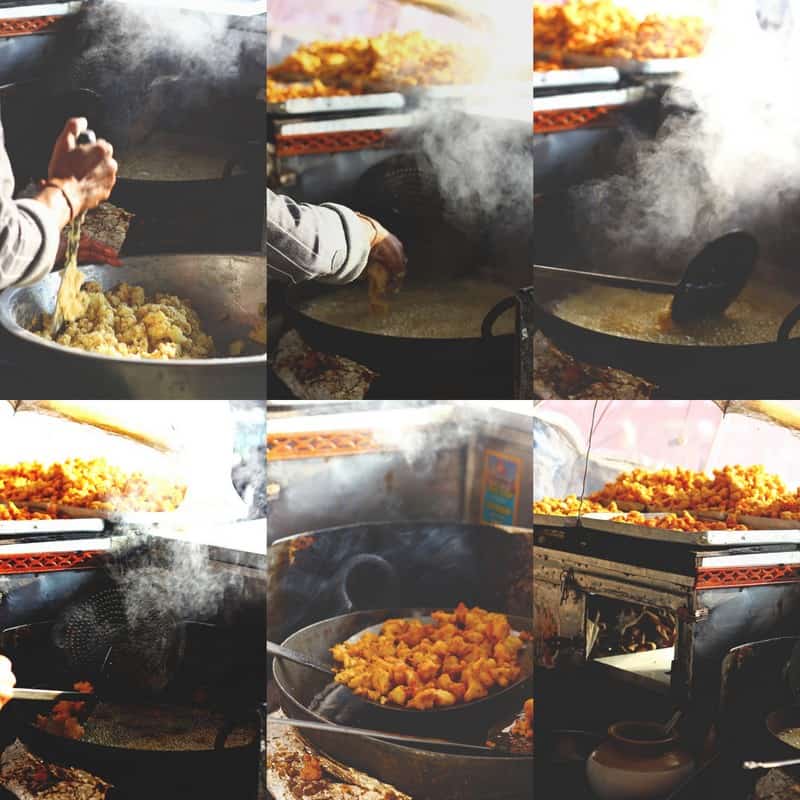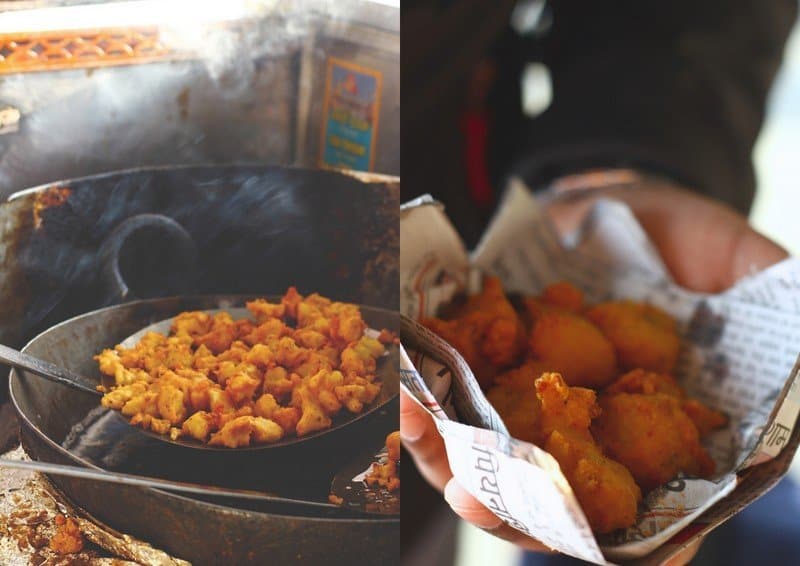 I took inspiration from what I could understand from the taste and texture of the Fulori and came up with this recipe – on the second trial – that was good, although not as good as the one I tasted at the railway station. Mine is bit manicured while the one sold at the roadside has a rustique appeal to it. Learn how to make Aloo Ki Fulori in few simple steps.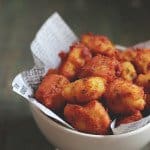 Aloo Ki Fulori Recipe
Aloo Ki Fulori is a gluten-free potato and gram flour fritter without onion/garlic. Learn how to make Indian style potato fritters in few simple steps.
Keyword:
aloo fulori, aloo ki fulori
Ingredients
3 - 4

large size potato

1

green chili fine chopped

half a bunch of coriander fine chopped

3 - 4

tbsp

gram flour

besan

1

tbsp

kuttu ka atta

buckwheat flour

Salt to taste

1

tsp

red chili powder

1

tsp

mango powder

amchur

1

tsp

cumin powder

Mustard oil to deep-fry the fulori

1

tsp

Chaat masala
Instructions
First boil the potato in a pressure cooker for 2 whistle over medium heat.

We do not require fully boiled and mushy potato. Potatoes are to be just cooked through with a firmness to them.

Peel the potatoes and allow them to cool so that they become easy to handle.

Transfer boiled potato in a bowl. Add flours, spices, salt, coriander and green chili.

Now try to break the boiled potato into bite size chunks using your fingers. We are not looking for any perfect bite size pieces just roughly mash the potatoes and other ingredients together.

Do not mash potatoes for too long or too hard. Once all the ingredients combined well, stop mixing.

Heat oil in a deep-frying pan (

buy it here

) over medium flame.

Once the oil reaches smoking point reduce the heat to low.

Now pinch a coin-size or little bigger portion of the potato mixture and slide it into the hot oil. Don't bother much about the shape of the fritters. Use tip of your fingers to pinch a portion and then to drop it into the frying pan.

Fry Fulori in small batches till crisp and golden from all the sides.

Transfer fried Fulori into a plate lined with paper towel to absorb the excess oil.

Serve Aloo Ki Fulori hot sprinkled with chaat masala along with green chutney (

see recipe

).
Recipe Notes
Recommended Equipment: Deep-fry Pan ( buy it here )