Chilli Garlic Noodles is a spicy, garlicky noodles stir-fry with loads of vegetables. It's a hot favorite noodles dish that you can stir up in under 30 minutes for a fun family dinner. Be sure to watch the video!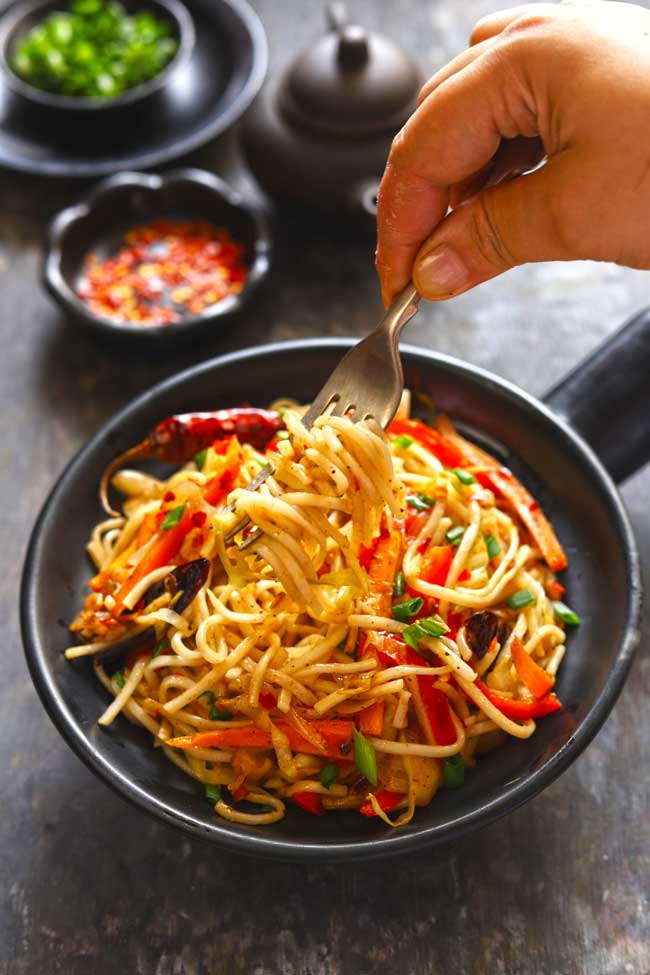 Indian Chinese Cuisine
Indian-Chinese Fusion Cuisine is a rage across the Indian sub-continent.
In simple words, it is the spicy makeover of takeaway-style Chinese dishes to suit the Indian palate.
Indo-Chinese Cuisine is characterized by the presence of dishes like Manchurian, chowmein, fried rice, spring roll, and many other lip-smacking dishes.
Over the years, the Indo-Chinese Cuisines have come across as more of takeaway-style comfort food perfect for binge eating.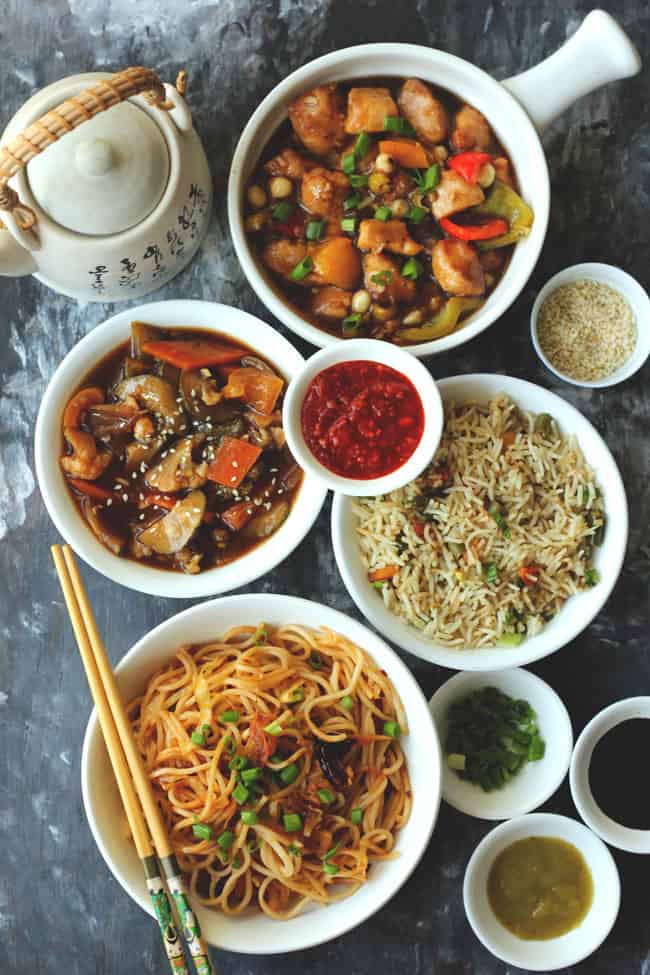 Difference between chilli garlic noodles and chowmein
The sauce and the ingredients are the key differentiating factor between the chilli garlic noodles and chowmein.
The chowmein or lo mein is a more street-style version of garlic noodles. For a lo mein noodles are tossed on high heat with lots of spices, sauces, and a truckload of vegetables or chicken.
Whereas in chilli garlic noodles, the main flavoring agents are the red chilies and the garlic. The addition of vegetables is optional and only selective sauces are added.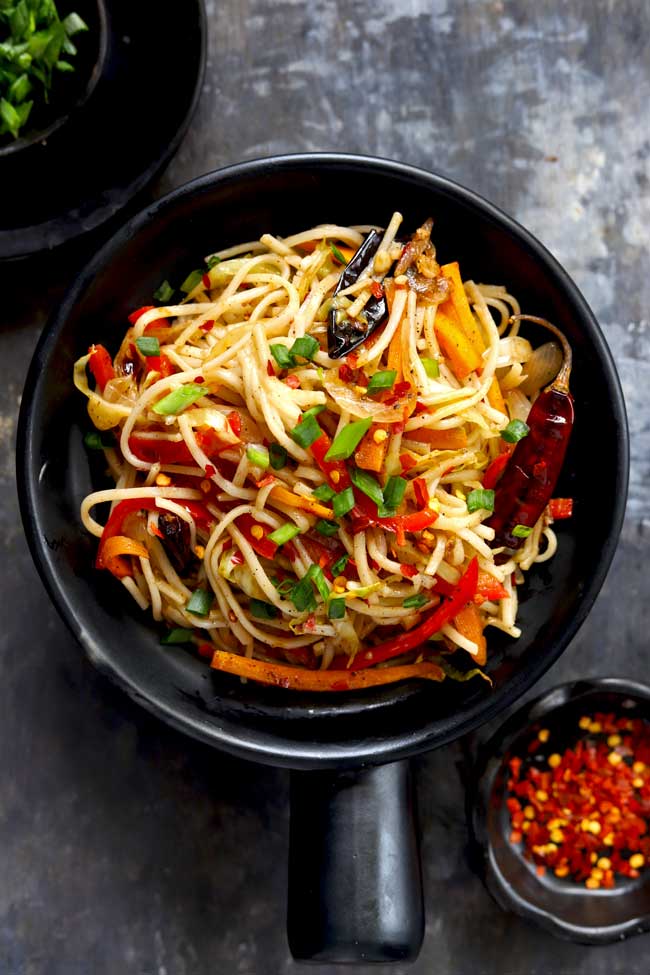 Prep Work For Noodles
The chili garlic noodles are a fiery treat. We will be using a few basic Indo-Chinese ingredients and high heat to achieve the smoky spiciness that makes these noodles the ultimate comfort food.
Noodles: Start off with buying a packet of good-quality dry noodles. One must stress on quality because cheaper varieties usually turn out mushy or stick to each other.
The texture is paramount in any kind of noodles recipe and you don't want clumpy noodles ruining that for you.
What you can use – Veg/Egg Hakka noodles, whole grain noodles, or any local variety of stir-fry noodles (thin crinkly looking noodles). Don't buy thicker ones like udon noodles or extremely thin ones like rice or glass noodles (vermicelli).
Cook the noodles according to package instructions and set them aside to drain. Rinse with water to remove excess starch from the boiled noodles.
Toss in a tablespoon of oil (preferably sesame oil) to get rid of any stickiness and to separate the noodle strands. Let them sit in the colander.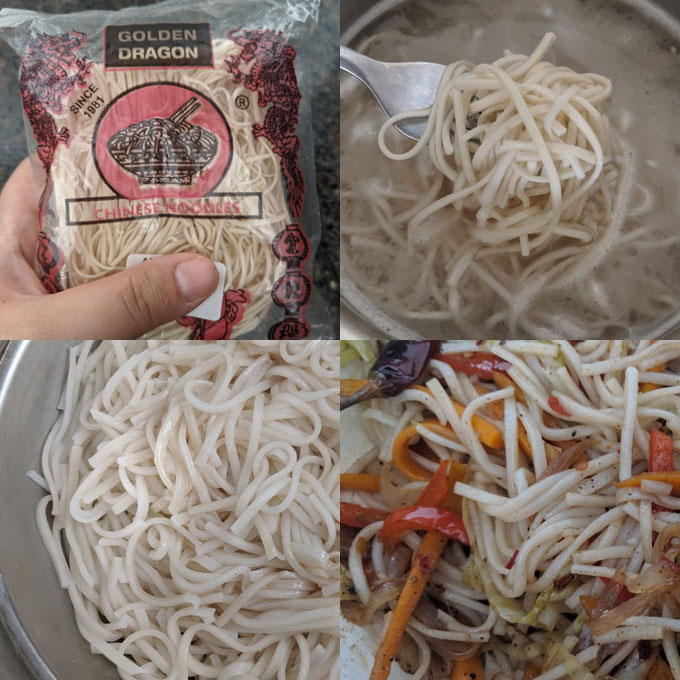 Sauce: I prefer using the Indian variety of dry red chilies for the fiery chili garlic noodles. Next, the essential essence of the sauce is finely chopped ginger. The small bits of garlic when fried in oil with red chili create one flavor bomb.
You can use red chili paste as well but then combine a teaspoon of brown sugar to balance the heat.
Vegetables: You can add any vegetables of choice to these garlic noodles. Carrots, bell peppers, onion, capsicum, cabbage, broccoli, mushrooms, or green leafy vegetables are perfect to stir fry with noodles. If you are not a big fan of veggies then only stick with onions.
Watch Video
FAQ's Related To Chilli Garlic Noodles
Is this a vegan noodles recipe?
Yes, this is a vegan, dairy-free, and nut-free stir-fry noodles recipe. To make it gluten-free use specific gluten-free dry noodles.
Can I add chicken or egg to the noodles?
Yes, you can. From shredded boneless chicken, shrimps, bacon, to whisked egg, you can add either of these along with vegetables while stir-frying.
How to store and reheat the chilli garlic noodles?
Store the leftover chili garlic noodles in an airtight container for 2 – 3 days in the refrigerator. Make sure noodles are at room temperature while storing. Reheat them in a microwave or a stir-fry pan in a teaspoon of oil.
How to use the leftover/extra boiled noodles?
You can use fry the leftover boiled noodles till crispy and use them to make Asian Crispy Noodles Salad or Indian Style Chinese Bhel Puri. You can store fried noodles for a week. Or you can use them to make Tik Tok Style Chili Oil Noodles.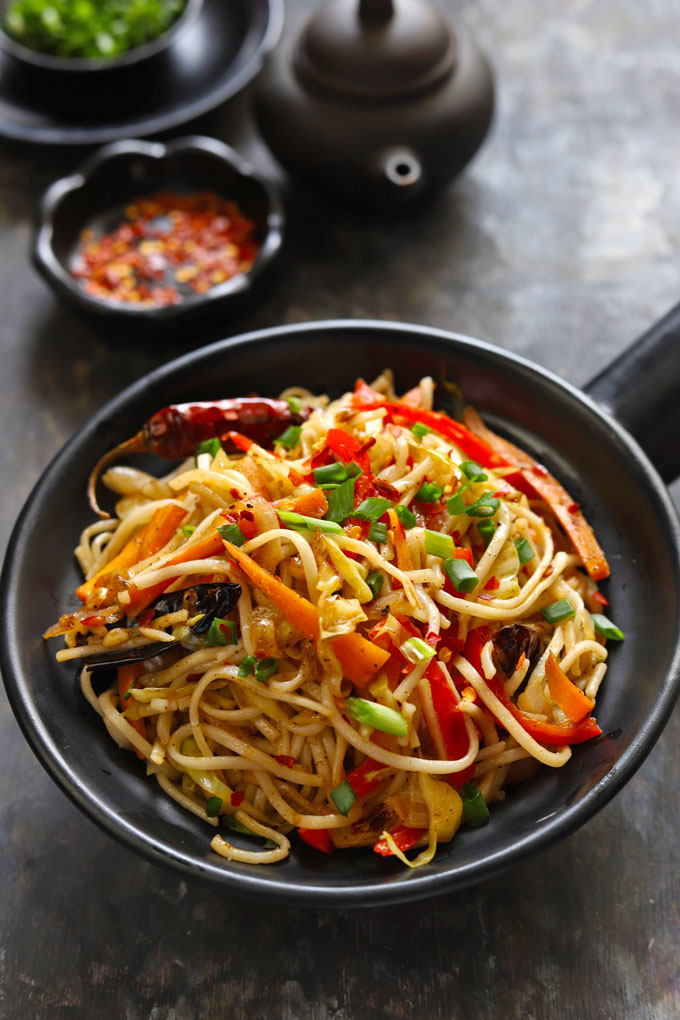 Indian-Chinese Main-Course Recipes
Vegetables in Hot Garlic Sauce
For more such fun recipes in your life subscribe to our weekly newsletter or follow us on Instagram and Youtube for video recipes.
If you try this recipe and love it, please leave a Star Rating. This helps us grow and reach many other food lovers like you, who are looking for a perfect tried and tested recipe.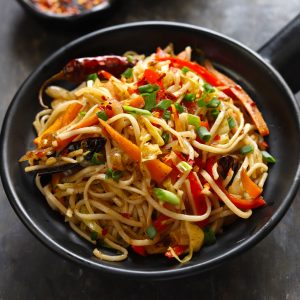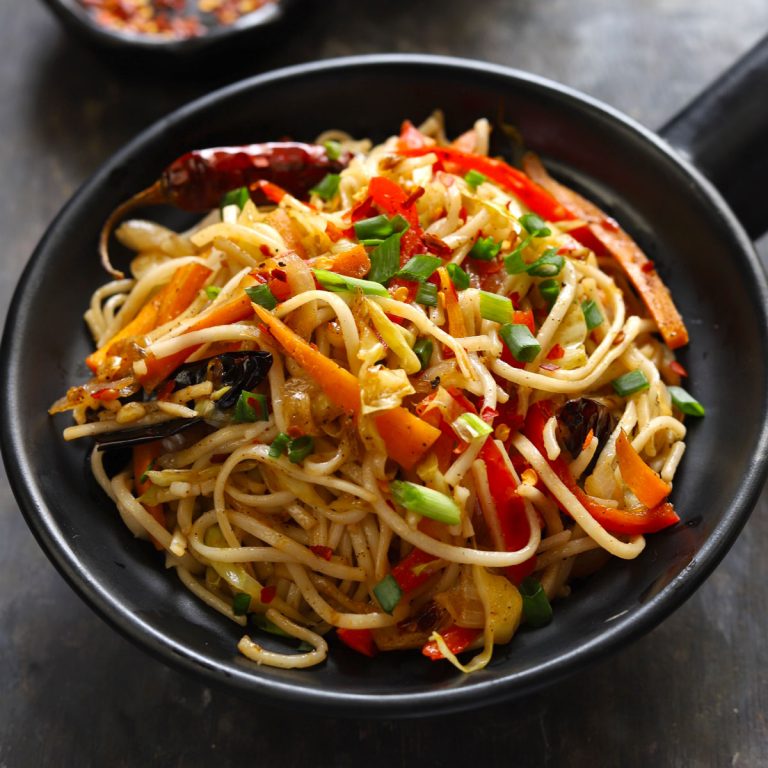 Chilli Garlic Noodles Recipe
Chilli Garlic Noodles is a spicy, Indian Chinese style noodles stir-fry with loads of vegetables. Learn how to make veg hakka noodles in a few simple steps.
Print
Pin
Rate
Ingredients
200

gram

dry Hakka noodles

4

tablespoon

sesame oil or cooking oil

2

tablespoon

finely chopped garlic

1

tablespoon

finely chopped ginger

2

dry red chili or to taste

1

Cup

thinly sliced onion

½

Cup

thinly sliced carrot

½

Cup

thinly sliced capsicum/bell pepper

½

Cup

thinly sliced cabbage

Salt to taste

1

teaspoon

black pepper powder

1

tablespoon

white vinegar

1

teaspoon

dark soy sauce

1

tablespoon

red chili sauce or sriracha sauce

1

teaspoon

red chili flakes

2

tablespoon

chopped spring onion greens
Instructions
Prep Work For Noodles:
Boil approximately 500ml of water with 1 teaspoon of salt. Add noodles when water starts to boil. Boil for 10-12 minutes depending on the variety of noodles. After draining the noodles toss gently in a teaspoon of oil. Or cook noodles as per packet instructions.

Slice the vegetables, ginger, and garlic. Set aside.
Prepare Chilli Garlic Noodles:
In a wok over high heat, add in sesame oil or cooking oil. Add ginger, garlic, and dry red chilies. Stir fry over high heat for 1 – 2 minutes without burning the aromatics. Add the sliced onion and stir fry for 1 – 2 minute or till onion turn translucent.

Add the sliced veggies and stir fry for 2 – 3 minutes or till al dente. Add white vinegar and mix nicely. Next, add the soy sauce, salt, pepper, red chili flakes, and chili sauce. Stir-fry for 1 – 2 minutes.

Next, add the boiled noodles and gently toss with the vegetables without breaking the noodles. Top off with spring onion greens.
Recipe Notes:
To avoid soggy vegetables in this dish, chop all vegetables very finely into juliennes.
Vegetables that need a longer time to cook must be blanched separately before adding to the dish
Ideal protein choices for this dish are firm tofu cubes, lean chicken cut into strips, shrimp or mushroom as all of them cook really quickly
Be mindful when adding salt to this dish as all the sauces contain salt in them
Do not forget to rinse the noodles with water to remove the stickiness after boiling.
Nutrition
Calories:
344
kcal
|
Carbohydrates:
47
g
|
Protein:
6
g
|
Fat:
15
g
|
Saturated Fat:
2
g
|
Polyunsaturated Fat:
6
g
|
Monounsaturated Fat:
6
g
|
Sodium:
348
mg
|
Potassium:
285
mg
|
Fiber:
3
g
|
Sugar:
5
g
|
Vitamin A:
3152
IU
|
Vitamin C:
59
mg
|
Calcium:
37
mg
|
Iron:
1
mg
For Behind The Scene updates
Subscribe to our newsletter!