Naan is a savory, soft and pillowy Indian flatbread. This failproof naan recipe is without any yeast and always yield perfect restaurant-style naan.
Origin Of Naan…
Naan made its way into the Indian cuisine during the Mughal era. The trade of yeast was an important landmark in the origins of naan as it was an important ingredient used in making it.
The soft and mild buttery taste of the bread provided the perfect complement to the indulgent Mughlai dishes.
Whether it is rich and creamy butter chicken or light and hearty dal makhani, naan is one bread that humbly compliments all. Today, it is one of the most widely popular flatbreads across the World.
Naan Without Yeast…
Naan is usually made with all-purpose flour (maida) using yeast as a fermenting agent. In this naan recipe, the curd is used instead of yeast for fermenting the dough. Though using curd doubles the rising time of the dough but the end results are truly gratifying.
Naan without yeast is warm, pillowy and can be brushed with butter/ghee and topped with a choice of ingredients as well.
Traditionally, this Indian bread is baked in a clay oven aka tandoor. But nowadays it can be made on a stovetop or oven. The stovetop version gives more control over the texture and cooking time of the naan.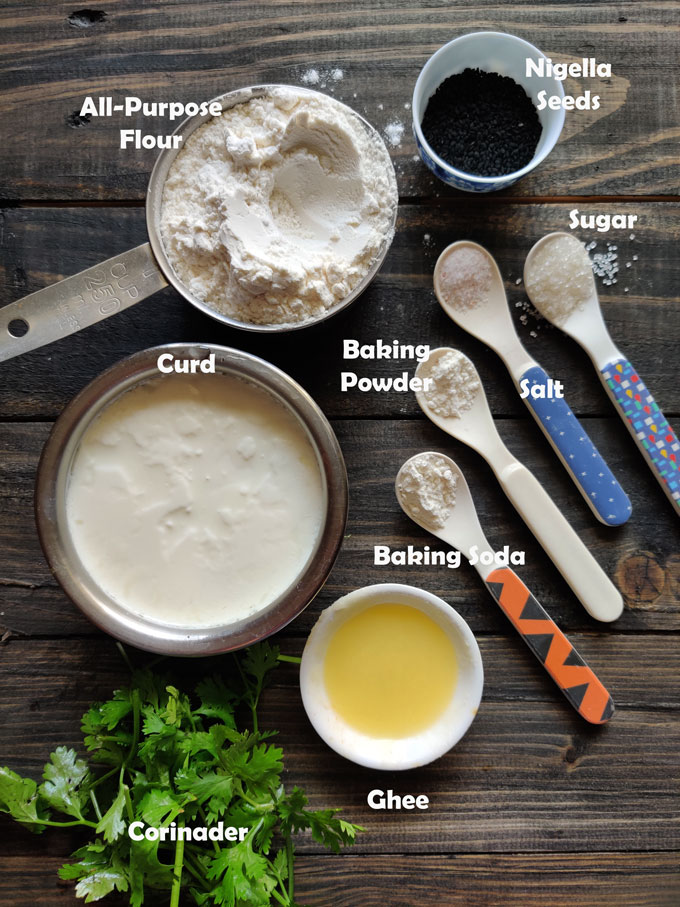 Variety Of Naan Toppings…
There are a variety of toppings one can use to make naan all the more delicious:
Finely chopped garlic also known as garlic naan
Finely chopped fresh mint and coriander
A mix of nigella seeds, chopped garlic, and mint
A mix of grated cheese and chopped garlic, also known as cheese naan
How To Make Naan Step-By-Step?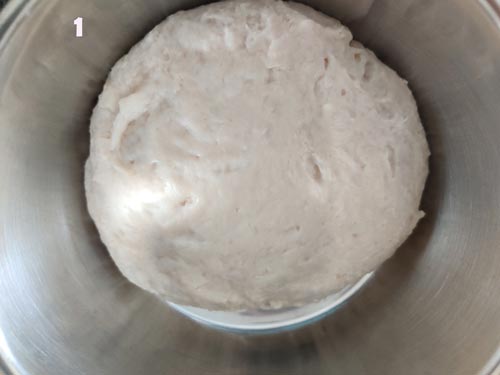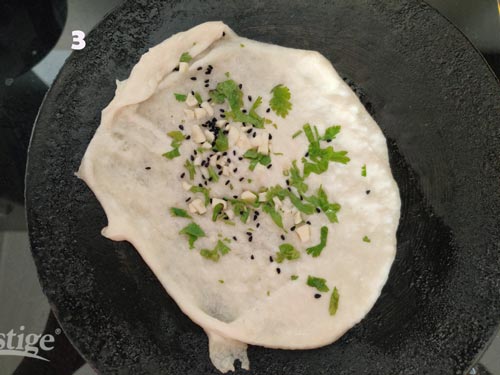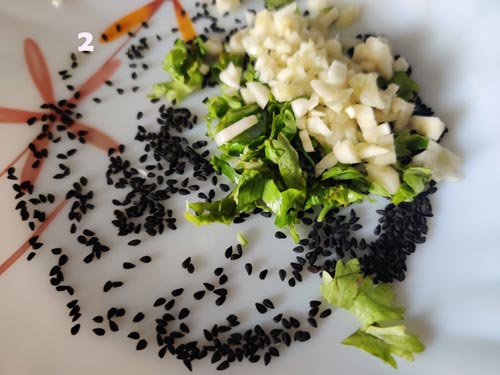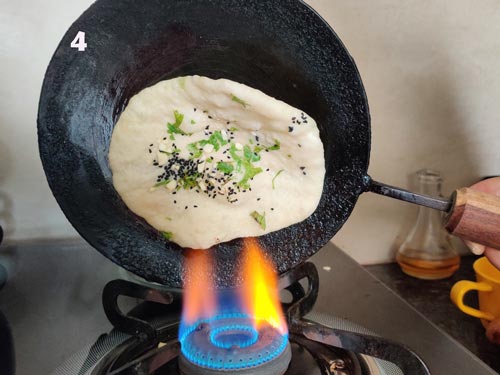 USP Of This Naan Recipe – is that the dough is fermented without using any yeast. Secondly, instead of or tandoor or oven, I have cooked naan on a tawa (cast iron pan) directly over the gas stove flame.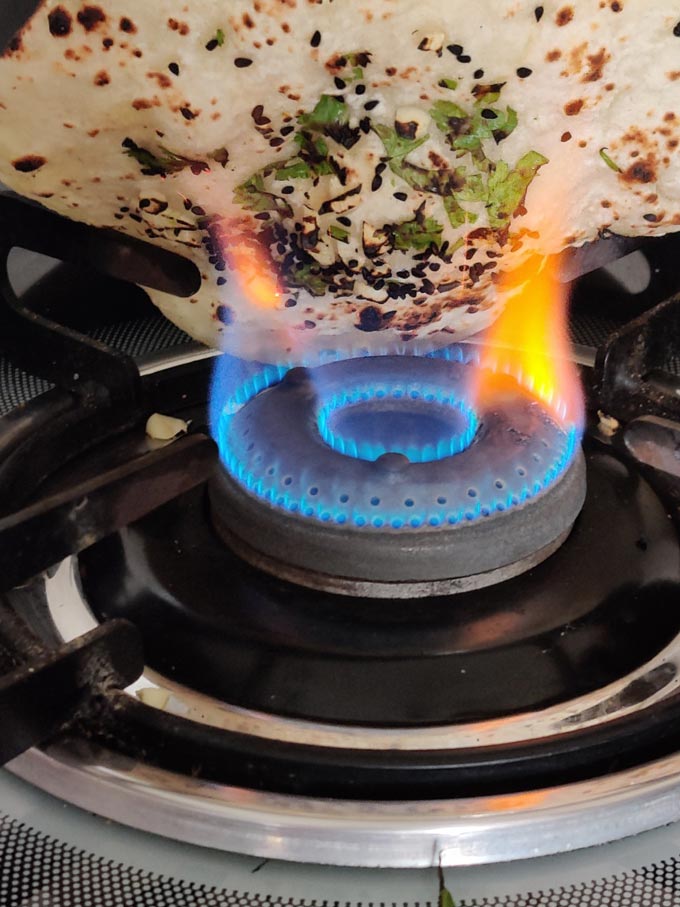 How to make soft naan?
The key to making a soft naan is the dough. From the mixing of the ingredients, kneading to fermenting, every step in the process contributes to the soft texture of the naan.
Especially, a good sticky dough will always give you fluffy naans. A perfect soft naan dough should never be dry or non-sticky.
What is the difference between naan and roti?
Naan and roti both are flatbreads widely popular in the Indian subcontinent. The roti or chapati has a perfectly round shape and is prepared with whole wheat flour without any yeast on a stovetop.
Whereas naan is a baked bread prepared with the all-purpose flour.
No toppings are added in the roti. But the naan is often topped with chopped garlic, mint, nigella seeds, or fresh coriander for the flavor. In India, roti is mainly consumed with everyday meal whereas naan is more of an indulgent affair.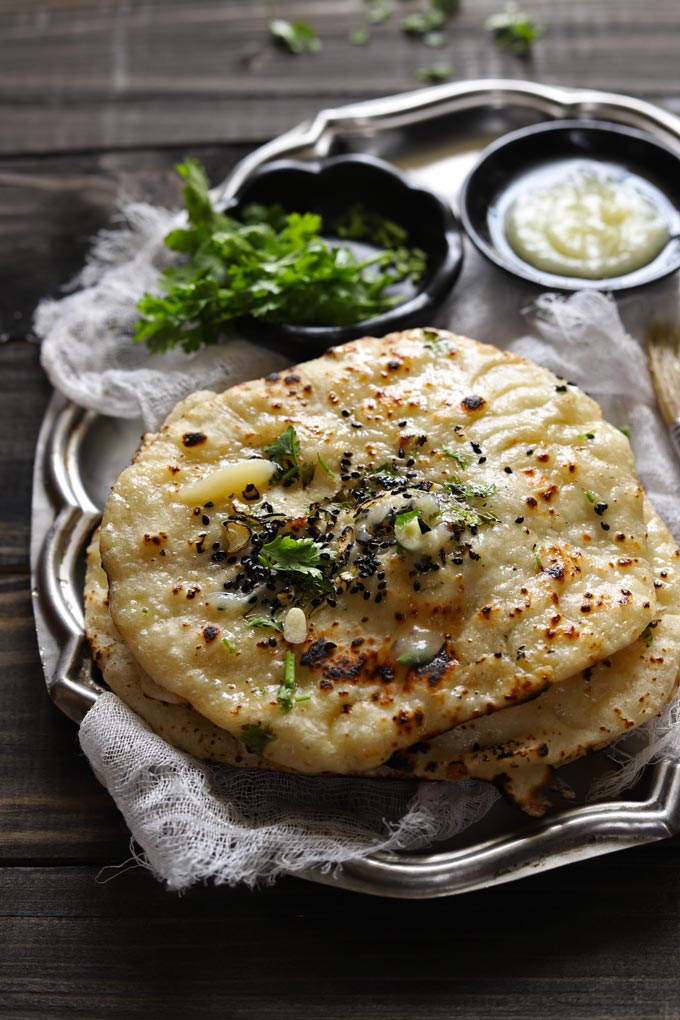 Can naan bread be frozen?
Can you make naan in advance and freeze them? Yes, you can. Prepare the naan dough, shape each naan, and then place a piece of parchment paper of the same size in between each naan and make a stack.
Seal the stack in a freezer friendly zip lock bag. Squeeze out as much air as possible from the zip lock bag and freeze for 2 – 3 months.
How to use leftover naan?
The best way to use leftover naan is to make Naan Pizza. We as a family love Cheesy Naan Pizza to the core. Add toppings of your choice, sprinkle grated cheese, bake for 3 – 5 minutes and a delicious dinner is sorted.
Serving Suggestions For Naan…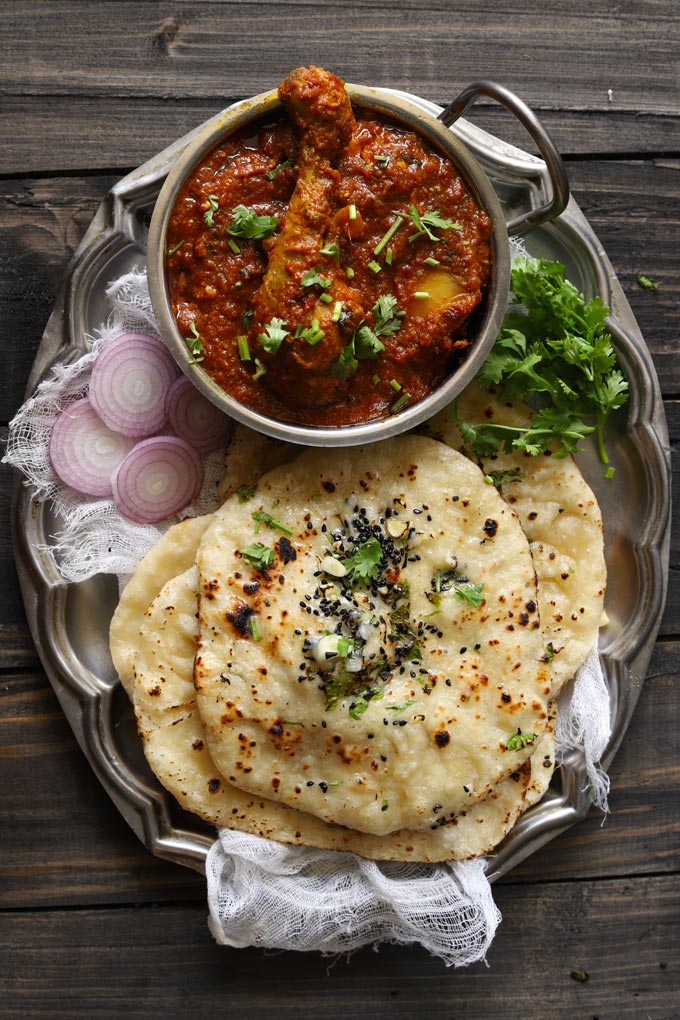 Love Indian Bread? Try These:
For more such fun recipes in your life subscribe to our weekly newsletter or follow us on Instagram for daily updates.
If you try this recipe and love it, please leave a comment and a rating. This helps us grow and reach many other food lovers like you, who are looking for a perfect tried and tested recipe.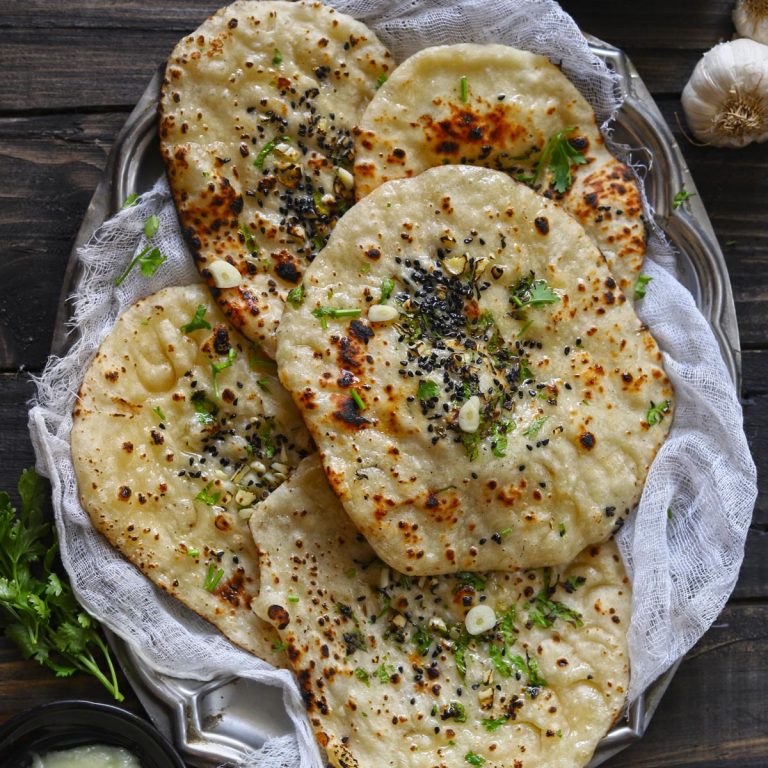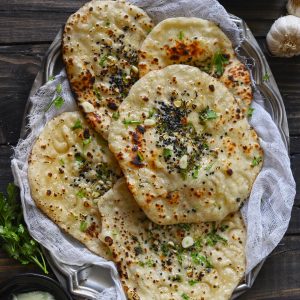 Naan Recipe
Naan is a savory, soft and pillowy Indian flatbread. Learn perfect naan recipe without any yeast on a tawa in a few simple steps.
Print
Pin
Rate
Ingredients
Ingredients for topping
2

tablespoon

finely chopped garlic

2

tablespoon

finely chopped mint

2

tablespoon

finely chopped coriander leaves

2

teaspoon

nigella seeds ( kalonji)
Instructions
Prepare Dough:
Combine flour along with baking powder, baking soda, salt and sugar in a bowl. Mix nicely. Make a dent in the centre. Pour curd, and ghee in that dent. Mix well and let it rest for 1 – 2 minutes

Using one tablespoon lukewarm water at a time form a soft and sticky dough. Knead well for 5 minutes. Naan dough is never dry. It has to be a bit sticky.
Proofing:
Grease a bowl with a teaspoon of ghee or oil. Transfer the dough into the ball. Cover with a tight-fitting lid or cling foil. Keep in a warm, draught-free place (I prefer inside the oven or microwave) for 1 – 2 hours.
Prepare Naan:
Combine topping ingredients in a bowl and keep near the gas stove. Keep one bowl of clean water next to it.

Heat flat cast iron pan/griddle over medium heat. Divide the dough into equal golf ball-sized rounds.

Gently flatten the dough ball with the pressure of your palm. Next, dip your fingers in water and gently try to shape the naan. Alternatively, you can dust the rolling surface with flour and roll out naan into an oval-shaped bread of 1/4 inch thickness.

Again, using wet fingers stick a teaspoon of chopped toppings over the naan

Place the naan on a hot griddle. Cook over medium heat. After a few seconds, naan will puff up and has charred, uneven marks on top

Now turn the griddle upside down and cook the other side of bread on direct flame till it becomes light golden in color.

If you are not comfortable flipping the pan, simply put the naan on direct flame-like Chapatis and cook until it gets charred marks on top or cook it covered in the cast iron pan itself.

Apply some ghee/butter just before serving. Serve Naan warm with any curry of your choice.
Recipe Notes:
If the dough seems too sticky to handle, add a tablespoon or so ore flour. But don not make dough too dry. 
Usually, it is best to leave the dough overnight for proofing or atleast 3 – 5 hours. 
Naan dough can be stored in the refrigerator for 3 – 5 days. 
You can use any herbs of your choice for the topping of the bread. 
Can I Bake Naan?
Naan can be easily baked as well. Bake in a tray at 200 degree Celcius for 5 – 6 minutes or until puffy and fully cooked. Remove naan from the oven and apply melted butter or ghee. 
Nutrition
Serving:
1
Naan
|
Calories:
190
kcal
|
Carbohydrates:
35
g
|
Protein:
5
g
|
Fat:
3
g
|
Saturated Fat:
2
g
|
Cholesterol:
8
mg
|
Sodium:
442
mg
|
Potassium:
153
mg
|
Fiber:
1
g
|
Sugar:
1
g
|
Vitamin A:
93
IU
|
Vitamin C:
1
mg
|
Calcium:
60
mg
|
Iron:
2
mg
Love this? Pin it for Later!
Follow @hinagujral on Pinterest!