Whether it is a festive get-together or a formal potluck at the workplace, these fun potluck recipes would always be the star of the show. We all need easy, delicious and most importantly impressive potluck recipe ideas. Here is a list of few of our favorite potluck recipes that always win us tons of compliments and accolades.
A potluck is a party or gathering where each guest/family brings one dish. Potlucks are common to most social settings. It is an excellent way of eating good food together without burdening the hostess. These days most of the offices and workplaces organize potlucks regularly. Due to a busy schedule, we are often looking for the perfect potluck recipes that are super simple to prepare and taste delicious. Hence, we have got for you tried and tested potluck recipes that always a corwd pleaser.
Before jumping to the potluck recipes, let's look at some essential points to keep in mind when planning the perfect potluck dish:
Potluck Themes: Does your potluck have a theme? If so, do adhere to it and think of potluck recipes that will align with that theme. For example, if the theme is Indian-Chinese (Also Read: 10 Best Indo-Chinese Party Recipes), don't end up carrying an Italian main-course. Sticking to the theme allows for a more fun and experimental setting and lets everyone try something new.
Easy To Carry: One of the most important things to keep in mind while planning what to take to a potluck is how well your dish can travel the distance. Some important questions to ask yourself are:
Will my dish taste good if it is served after a couple of hours? Eg. imagine carrying gobi manchurian to a potluck and serving up a soggy, gooey mess.
Will I have access to a microwave or a refrigerator? (storage depending on whether your dish needs to be served hot or cold). Eg. Carrying a homemade ice-cream to a potluck and end up serving a milkshake.
Is this a dish that requires additional cutlery to be eaten with? Is additional cutlery available at the venue? (if it isn't are you prepared to carry/purchase it?) Eg. Dessert bowls and spoons for a kheer
Will my dish survive a few minutes/hours travel time?
Don't be Stingy: When we used to have office potlucks, some colleagues were notorious for always taking up the easiest options available, or ones that required least effort/expense like signing up for bringing the packaged drinks or readymade sweets. Don't be that person. Potlucks at work happen once in a while, and it doesn't hurt to be generous.
Overall, potlucks are a time to come together and share tons of good food. So try to put your best effort into making a dish that tastes good and shows off your cooking skills.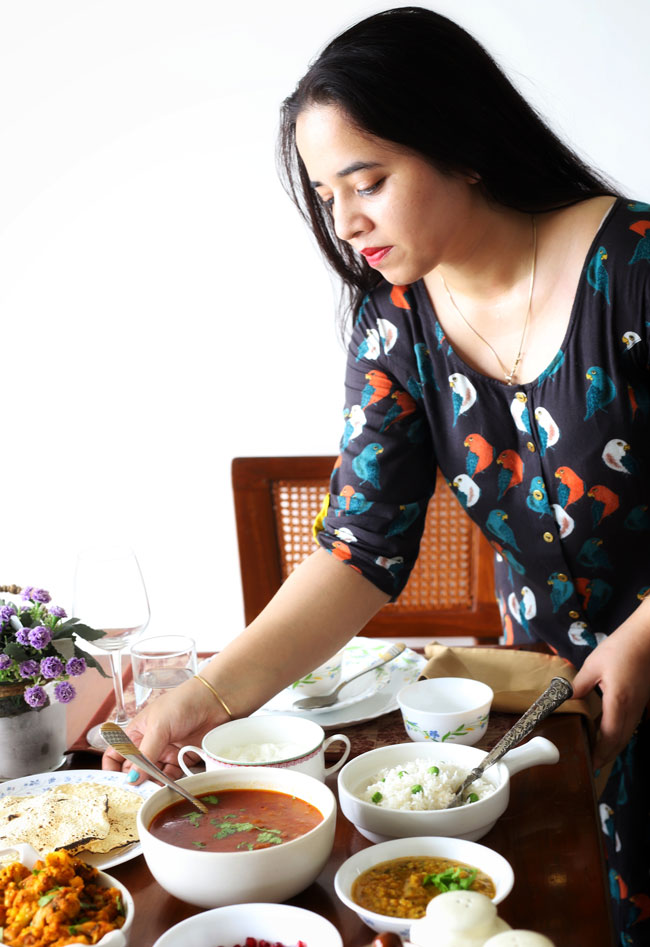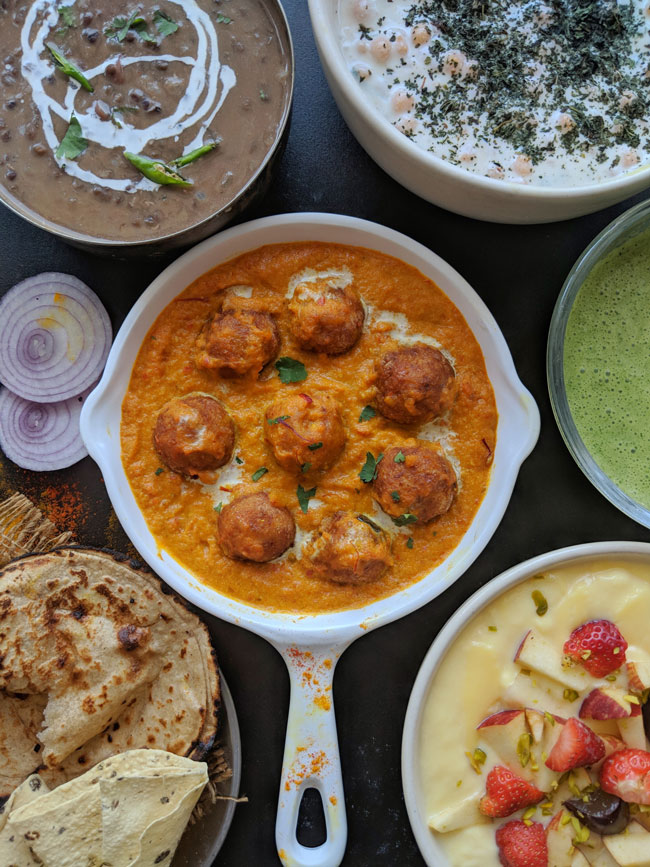 What should I take to a potluck? Here are 10 fun potluck recipes that you will absolutely love:
Appetizers/Snacks:
Hummus With Pita/Lavash: Make a big bowl of this dip and everyone will love it. It's super versatile, vegan, gluten-free and can be used to dip in anything from pita bread, lavash, and chips. Prepare it few hours before the party or during the previous night. Last minute, simple pack and carry the hummus and the crackers to the potluck party. Get Recipe Here
Mexican Style Corn Salsa (Corn Chaat): This Corn Salsa is everything I love – sweet, savory, spicy, crunchy and fresh. No need to spend hours in the kitchen on planning for a lip-smacking condiment to take to a potluck party. This corn salsa is super simple to prepare and everybody just loves it to the core. You will be surprised to know that this corn salsa is healthy, vegan and gluten-free too. Get Recipe Here
Mixed Vegetable Cutlets: If there is a facility of deep-frying the cutlets at the potluck location, then these mixed vegetable cutlets are a perfect fit for a potluck party. A bowl of tomato ketchup and coriander chutney to dip the cutlet makes it a picture perfect potluck recipe idea. The best part is you can shape these cutlets a night before and store in the fridge. Next day, transfer them to an airtight container, carry along and deep-fry just before serving. Get Recipe Here
Hot Sauce Chicken Wings: These chicken wings are a flavor bomb, decadent and totally addictive in a positive way. The good part of this potluck recipe is there is no preparation work required: neither marination nor any chopping. All you need to do is dress the chicken wings on the spot and bake immediately. And I must tell you these are actually crunchy chicken wings. Get Recipe Here
Main-Course:
Chilli Paneer: Can any good party happen without paneer? This chili paneer is bound to be everybody's favorite. A timeless classic and one that works every single time. It is easy to carry and can be enjoyed with any kind of fried/steamed rice. This Chilli Paneer recipe is quick and easy to make, and perfect for parties. Get Recipe Here
Kung Pao Chicken: Along with a quick and simple fried rice, Kung Pao Chicken merely tastes divine. It is one of the best food things that can happen for a potluck party. Though the name may sound complicated the dish is utterly simple to prepare and would undoubtedly become the show stopper of any potluck party. Get Recipe Here
Mushroom Matar Pulao: Mushroom Matar Pulao is indeed a delicious, gluten-free, one-pot meal. It perfectly compliments any Indian main-course or can be enjoyed on its own. It is so simple to cook, tasty to the core and 100% vegetarian. What not is there to love about it? Get Recipe Here
Thai Pineapple Chicken Curry: Who doesn't like a good Thai Red Curry? I personally adore it to the core. It is easy to carry, quick to prepare and the flavors are delicious. You can complement it with steamed rice or it can be enjoyed with fried rice as well. With red curry paste in hand, the entire dish is on the table in 30 minutes. Get Recipe Here
Desserts:
Apple Kheer: Apple Kheer is a delicious Indian milk pudding made with fresh apples and sweetened with dates. It is healthy, tasty and 100% gluten-free. This kheer recipe (Also Read: 7 Best Indian Kheer Recipes) is a fun twist to the regular rice kheer. Hence, it will be a fantastic surprise for the guest at the potluck. Prepare the apple kheer few hours before the party and keep in the fridge to chill. Get Recipe Here
Eggless Chocolate Cake: This cake could be the answer to the question – 'what should be a perfect potluck dessert?' It is fudgy, super moist and so easy to prepare from start to finish. It looks incredibly fancy, taste so decadent and not so tough to decorate. Get Recipe Here