Rajma Masala is a delicious, one-pot, vegan Indian curry. The red kidney beans (rajma) cooked in a rich tomato-based gravy and served with steamed rice, called rajma chawal. The Rajma Masala is one of the most popular Indian curries.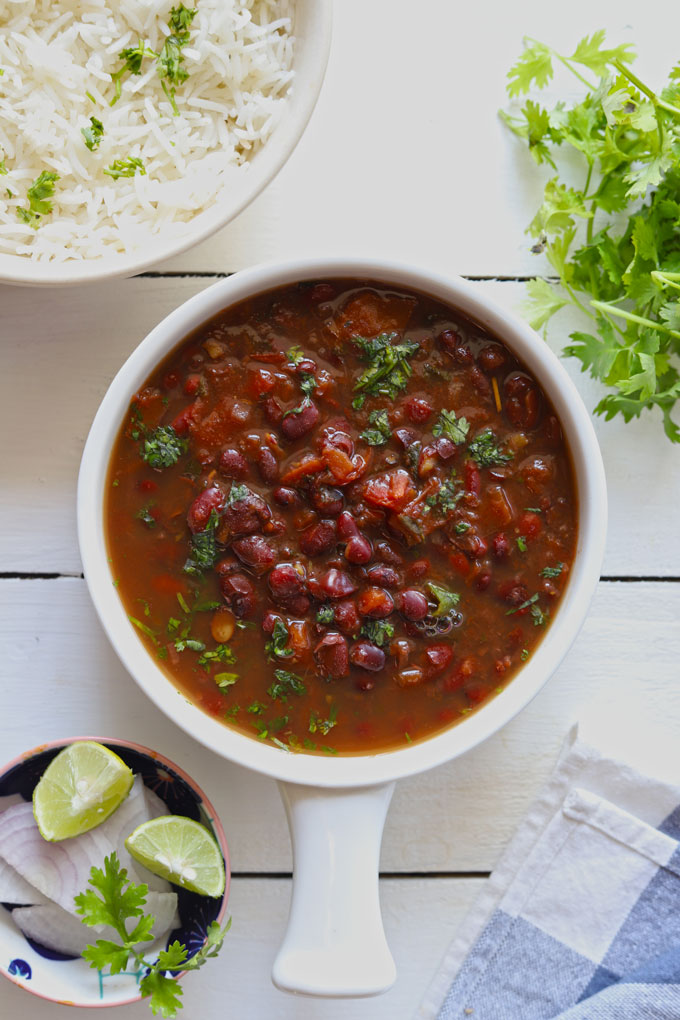 About Rajma Masala
Rajma masala or rajma curry is a thick, spicy curry made with red kidney beans called rajma in Hindi, onion, tomato, and spices.
A simple mix of spices and a tomato-based gravy is the only secret for making incredibly tasty rajma curry.
The best way to enjoy rajma masala is to add a ladle full of curry over the steamed basmati rice, top it with sliced onion, green chutney and dig in. There is no other sophisticated or a more gratifying way to relish rajma chawal.
Rajma Curry and steamed basmati rice is a match made in heaven. It is also the most loved way to enjoy rajma curry. Hence, the dish is often called as 'rajma chawal'. The word 'chawal' in Hindi means rice.
Our Family's Rajma Masala Recipe
This recipe of rajma masala was passed on to me by my mother-in-law. Trust me when I say this, it is the quickest and delicious of all the rajma recipes. It's astonishingly straightforward – and does not require tons of spices.
Our family's rajma recipe is a bit unconventional.
Most of the rajma recipes will ask you to fry the chopped tomato before adding the red kidney beans. We add them with kidney beans without frying beforehand with the masala.
There is no scientific reason for following this step but it always does some kind of magic to the gravy. Making it totally delectable and distinct.
This recipe is totally a no-fuss one and you will have a bright and luscious restaurant style rajma without breaking sweat near the stovetop.
Step-By-Step Instant Pot Recipe
Making rajma in an instant pot is super easy. Follow these step-by-step instructions:
Saute Mode: Set SAUTE Mode of IP for 10 minutes. Add vegetable oil or ghee. Once the oil is hot, add finely chopped onion. Fry till onion become slightly brown.
Add ginger-garlic paste, stir and fry the masala for 1 minute.
Next, add the soaked red kidney beans without any water along with salt, red chili powder, and turmeric. Stir to combine, and fry the beans till the SAUTE time is over.
Add water, chopped or canned tomato, give rajma a good stir. Close the lid of the IP.
Pressure Cook: Set the PRESSURE COOK Mode at High for 20 minutes. Set the steam valve to the sealing position.
Final Touch: After 20 minutes, let the steam release naturally from the IP. Open the lid. Check beans for doneness. If beans are cooked (soft and mushy), add Garama Masala, Kasuri Methi, green chili, and fresh coriander. Stir to combine.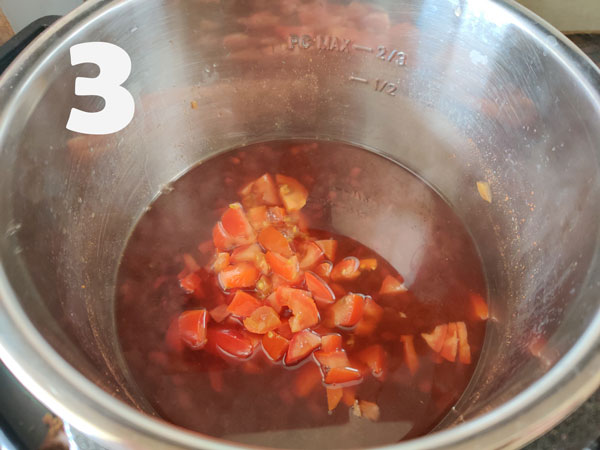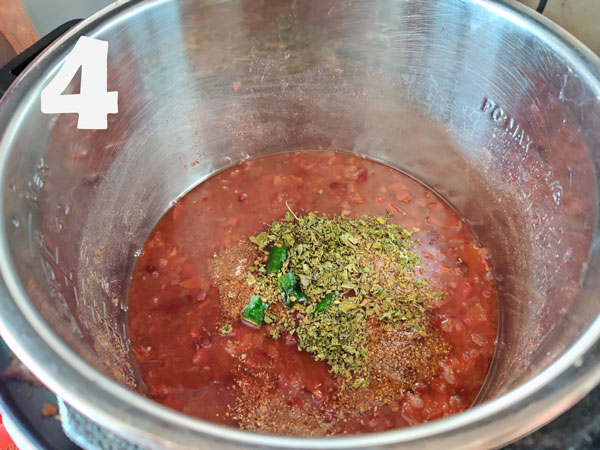 Once again, set the SAUTE Mode for 5 minutes to simmer and thicken the rajma masala before serving.
Instant Pot Rajma is ready to serve.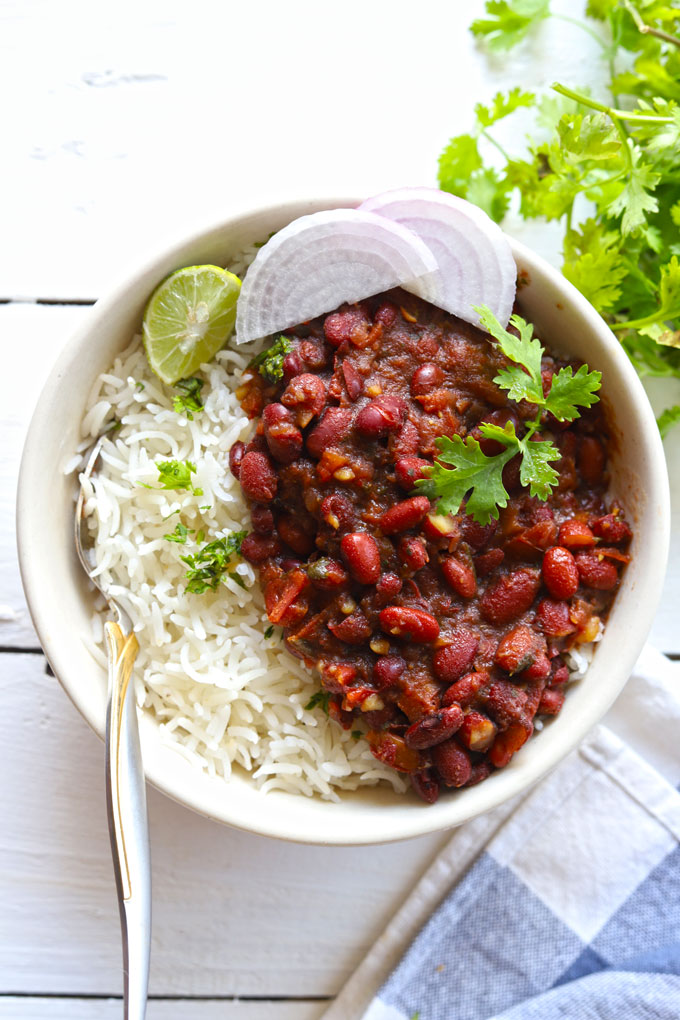 FAQ's Related To Rajma Recipe
Is rajma and red kidney beans the same?
Yes, red kidney beans and rajma are the same. Rajma is the Indian or the Hindi name for red kidney beans like how it's called Surkh Lobia in Pakistan.
It is named kidney bean for its visual resemblance to a human kidney. Red kidney beans are considered one of the healthiest vegetarian protein and are available in both dried and canned forms worldwide.
Why soak rajma before cooking?
Rajma takes longer to cook if not soaked. However, for a quick fix, you can rinse the rajma beans and boil for about 10-15 minutes and then soak them for an hour before you start cooking.
How to store rajma?
The dry beans can be stored in an airtight container for almost a year whereas the canned beans typically have a shelf life of 2 to 3 years. Also, the pre-cooked Rajma can stay good up to 5 days if stored in the refrigerator.
Can I use canned beans for making rajma masala?
Yes, you can use canned beans for making rajma. Drain all the water from the beans and rinse it with water. If you are following my recipe, add tomato and canned beans together. Pressure Cook canned beans in an instant pot only for 5 – 6 minutes or till the curry thickens a bit.
How to use the leftover red kidney beans?
You can use red kidney beans to make Mexican style salad, layer them on top of nachos, or add in classic minestrone soup.
Watch Stovetop Rajma Masala Video:
More Indian Curry Recipes For You
For more such fun recipes in your life subscribe to our weekly newsletter or follow us on Instagram for all the daily updates.
If you try this recipe and love it, please leave a comment and a rating. This helps us grow and reach many other food lovers like you, who are looking for a perfect tried and tested recipe.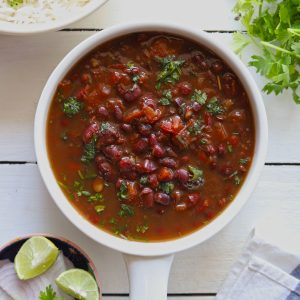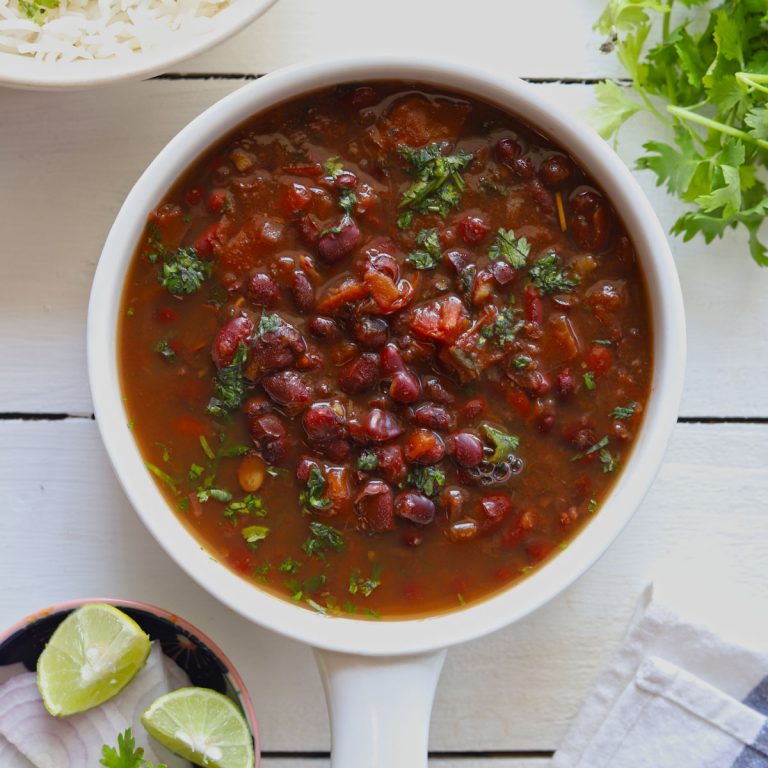 Punjabi Style Rajma Masala Recipe
Rajma Masala is a delicious, one-pot, vegan Indian curry. Learn how to make Punjabi style rajma chawal in a few simple steps.
Print
Pin
Rate
Ingredients
1 ½

Cup

dried red kidney beans (rajma)

1

Cup

chopped onion

1

Cup

chopped tomato (fresh or canned)

1

tablespoon

ginger-garlic paste

1

teaspoon

red chili powder or to taste

1

teaspoon

turmeric powder

2 ½

teaspoon

Salt or to taste

4

tablespoon

cooking oil

4 – 5

Cups

water

1

teaspoon

Garam Masala

(get recipe)

2

green chilli sliced

1

tablespoon

dried fenugreek leaves (kasuri methi)

¼

Cup

chopped fresh coriander
Instructions
Rinse and soak the red kidney beans in enough water for 4 – 5 hours. After 4 hours, discard the water and drain beans in a colander. Set aside.

In a stovetop pressure cooker heat oil over medium heat. Add the chopped onions, asafoetida and ginger-garlic paste, saute till onion turn caramelized and light brown in colour. Keep on stirring the onions while sauteing them, for uniform cooking and also so that they don't get burnt.

Next, add the drained beans in the pressure cooker along with salt, chopped tomato and turmeric powder. Stir to combine and saute the mixture for 2 – 3 minutes.

Add the 4 Cups of water to the pressure cooker, close the lid, put the weight and let beans cook over medium heat for 2 – 3 whistle. Turn off the heat.

Let the steam release naturally from the pressure cooker. Check if the rajma is cooked or not by taking a bite or pressing a bean. If they are not fully cooked completely, then pressure cook again or simmer over low heat for few more minutes. Meanwhile add some water if required to adjust the consistency of the curry.

Add kasuri methi, garam masala, green chilli, and coriander. Simmer rajma masala without a lid for 10 -12 minutes or more till the curry thickens slightly, it should not be watery. Mash a few rajma beans with the back of the spoon, this helps to thicken the curry. 

Serve rajma masala with steamed basmati rice or jeera rice for lunch.
Recipe Notes:
Cooking time of rajma may vary according to the quality and size of the bean. It is best to check it for doneness after few whistles. 
Soaking dried beans reduces the cooking time. Hence, it is highly recommended. 
An authentic rajma masala is made with dried kidney beans soaked in water. Hence, I will not suggest making the curry with canned or pre-cooked beans. 
Instant Pot Method to cook rajma curry is explained with step-by-step pictures in the post above. 
Adjust the amount of green chilli and chilli powder as per your taste preference. 
Nutrition
Calories:
346
kcal
|
Carbohydrates:
60.6
g
|
Protein:
22.9
g
|
Fat:
1.3
g
|
Fiber:
24.9
g
For Behind The Scene updates
Subscribe to our newsletter!