Baba Ganoush is a delicious Mediterranean style vegan roasted eggplant dip. It is a perfect dipping sauce for vegetable sticks, pita bread or any deep-fried snacks. The smoked flavor and smooth texture of Baba Ganoush along with its earthy, natural ingredients make the dip our all-time favorite.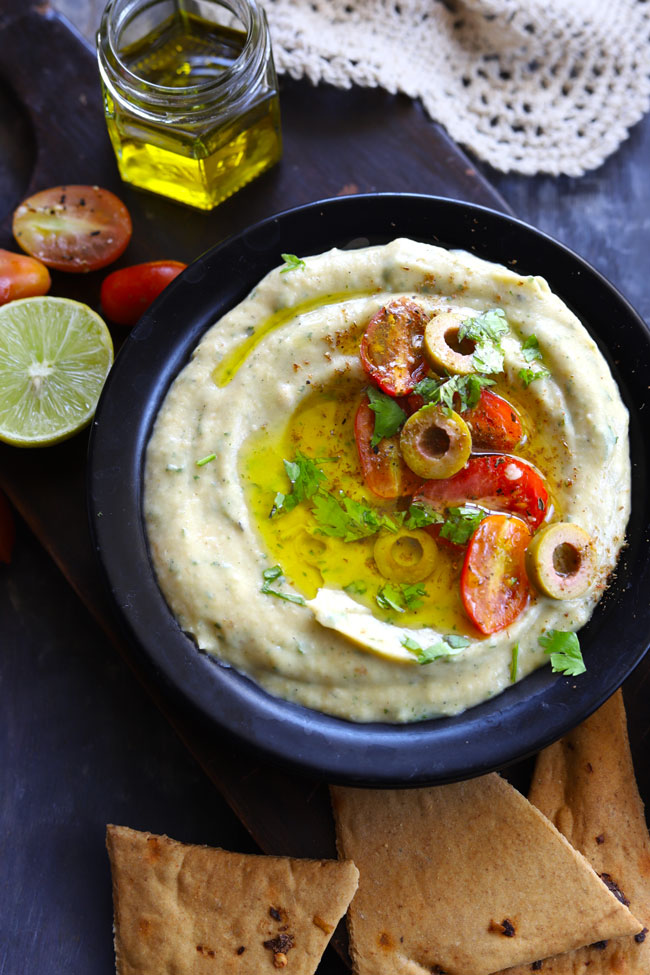 What is Baba Ganoush?
Originally credited as a Lebanese dish, Baba Ganoush is described as a pureed mix of char- roasted eggplants, sesame seeds paste (tahini), garlic, olive oil, herbs, and seasonings to taste.
The name "Baba Ganoush" can be particularly interesting, especially for someone who isn't familiar with the Arabic language. When translated 'baba' means father and 'gannuj' means to be cared for or loved by. This makes sense because, according to local folklore, this dish was created by a daughter for her beloved toothless father, who was most likely very fond of eggplants.
Will we know if this was actually true? Probably not. But we sure can delve into this treat of a baba ganoush recipe.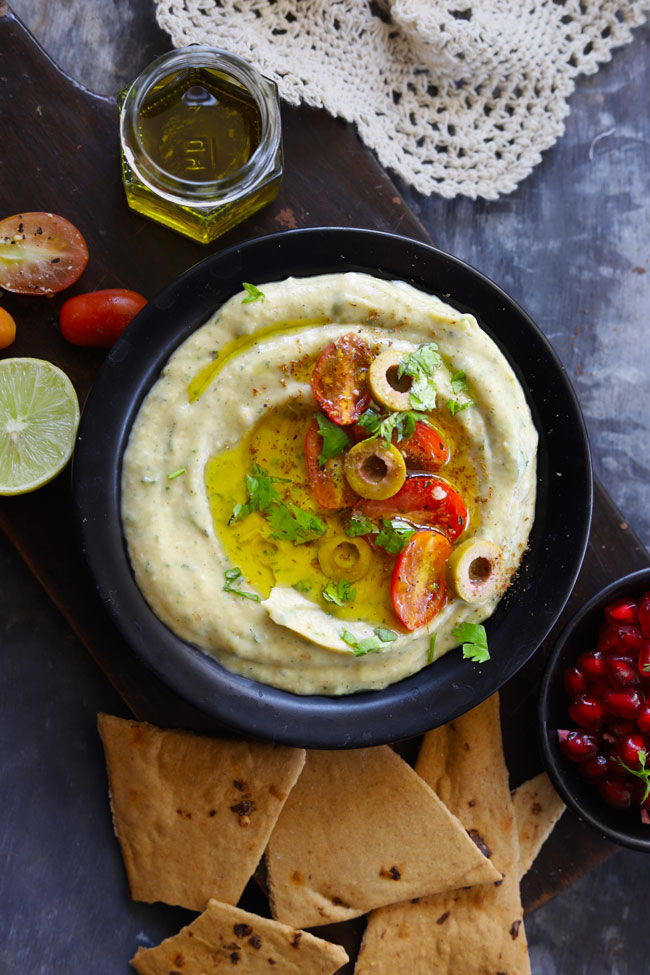 What is the difference between Baba Ganoush and Hummus?
When it comes to Mediterranean or Middle Eastern cuisine, many of us are familiar with Hummus, which is the most popular and glorified chickpea dip of the Mediterranean mezze platter. Whereas, the Baba Ghanouj is the cousin of hummus prepared with roasted eggplants. Both of these Meditteranean dips are 100% vegetarian and gluten-free.
How To Prepare Eggplants For Baba Ghanouj?
The most important part of making baba ganoush is to roast the eggplants for that sort after smokey flavor of the dip. Here are few methods to grill the eggplant for making the roasted eggplant dip:
Oven/ Grill method: Cut eggplants into halves and place them on a baking tray. Drizzle olive oil over the halved eggplants. Sprinkle salt and let them cook on the 'grill' or convection oven at 225 degrees for 35 minutes or till the flesh inside has softened and the skin of the eggplant is roasted. Scoop out the flesh and use it for making the baba ganoush.
Gas Stove Method: Over a medium flame, hold your eggplant with a skewer inserted through and rotate slowly till it has been evenly roasted on all sides and the flesh is tender all the way through. Remove the charred skin and use the pulp for making the dip.
Is Baba Ganoush healthy?
Eggplant is the main ingredient in baba ghanouj. Hence, it is packed with Vitamins, fiber, and anti-aging properties. Apart from this, the Baba Ghanouj is gluten-free, low-calorie, vegan, paleo, keto friendly and whole30.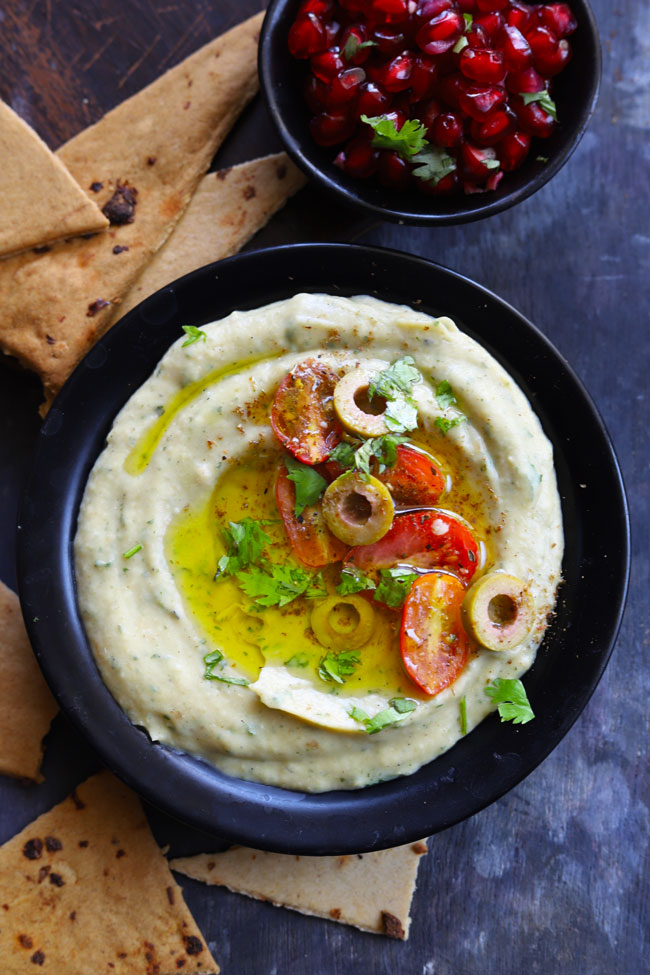 How To Make Creamy Baba Ganoush?
Use fresh and firm to touch eggplant for making this Mediterranean dip.
Make sure the flesh of eggplant is tender or nicely cooked after the roasting process. This step ensures a silky smooth texture of the baba ghanouj.
The charred or the roasted skin of the eggplant is not added in the dip. Hence, remove the skin and collect the tender pulp in a bowl.
For a smooth texture, it is always best to blend the ingredients in a food processor or mixer. Do not add any water while blending the ingredients. If the dip seems too thick, use little more extra virgin olive oil.
Use tahini paste (sesame seeds paste) and the whole seeds for a creamy baba ganoush.
More Mediterranean Dip Recipes For You:
For more such fun recipes in your life subscribe to our weekly newsletter or follow us on Instagram for all the daily updates.
If you try this recipe and love it, please leave a comment and a rating. This helps us grow and reach many other food lovers like you, who are looking for a perfect tried and tested recipe.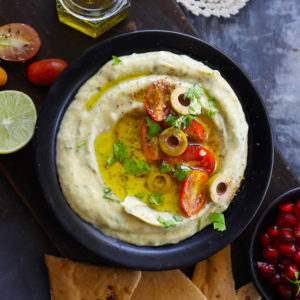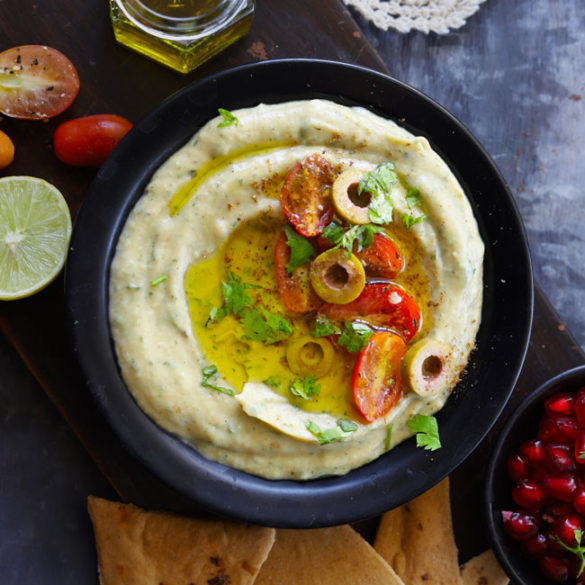 Baba Ganoush Recipe
Baba Ganoush is a delicious Mediterranean style vegan roasted eggplant dip. Learn how to make vegan baba ghanouj in a few simple steps.

Print
Pin
Rate
Ingredients
1

large-size eggplant (baigan)

2

cloves of garlic

1

tablespoon

tahini paste (sesame seed paste)

1/4

Cup

extra virgin olive oil

Juice of one lemon

1

teaspoon

cumin powder

salt to taste

1

teaspoon

Za'tar Spice Mix (optional)
Ingredients For Garnish:
2

tablespoon

crumbled feta cheese

3 – 4

cherry tomato, halved

2

tablespoon

extra virgin olive oil

2

tablespoon

chopped coriander or parsley
Instructions
Roast the Eggplant:
To make baba ganoush, first prick eggplant with knife or a fork. Next, roast it over the direct flame or in the oven at 225 degrees C till the outer skin gets charred and the flesh is tender.

Once roasted transfer the eggplant in the ball full of water. This way it is easier to get rid of the charred skin else you can remove the skin without soaking in water as well.
Prepare the Baba Ganoush:
Scoop the pulp of the roasted eggplant in a clean bowl and mash it nicely using the back of the spoon or fork.

Add the eggplant pulp, garlic, tahini paste, cumin powder, salt, lemon juice, olive oil and za'tar spice mix in a food processor. Blend to make a smooth paste. Taste and adjust the seasoning accordingly.

To serve, transfer Baba Ganoush to a bowl, on top sprinkle crumbled feta cheese, chopped tomato and drizzle olive oil.

Serve Baba Ganoush with toasted Pita Bread.
Recipe Notes:
A tablespoon of thick yogurt can also be added in the dip for a creamy taste and texture. 
If tahini paste is not available, use dry roasted white sesame seeds or pine nuts or walnuts. But make sure to blend the dip to a smooth consistency. 
Do not add any water while blending the dip. If the dip seems too thick, use a tablespoon of plain yogurt or olive oil. 
Adding za'tar spice mix gives authentic flavor to the dip. It has nothing to do with the texture of the Baba Ganoush. 
Baba Ganoush can be stored in the fridge for a week easily. And in the freezer for a month. Make sure to thaw it nicely before serving. 
For a spicy flavor, add a teaspoon of cayenne pepper while blending the dip. 
Nutrition
Serving:
1
Cup
|
Calories:
528
kcal
|
Carbohydrates:
20
g
|
Protein:
7
g
|
Fat:
49
g
|
Saturated Fat:
9
g
|
Cholesterol:
15
mg
|
Sodium:
206
mg
|
Potassium:
706
mg
|
Fiber:
8
g
|
Sugar:
10
g
|
Vitamin A:
415
IU
|
Vitamin C:
20
mg
|
Calcium:
136
mg
|
Iron:
2
mg
Love this? Pin it for Later!
Follow @hinagujral on Pinterest!