This Mango Ice Cream will be an absolute hit this summer! All you'll need is 3 ingredients and 10 minutes of prep time – let the freezer do the rest for you! This easy homemade ice cream is super creamy and sweet, with a delicious zing from the mango, which will leave you wanting more.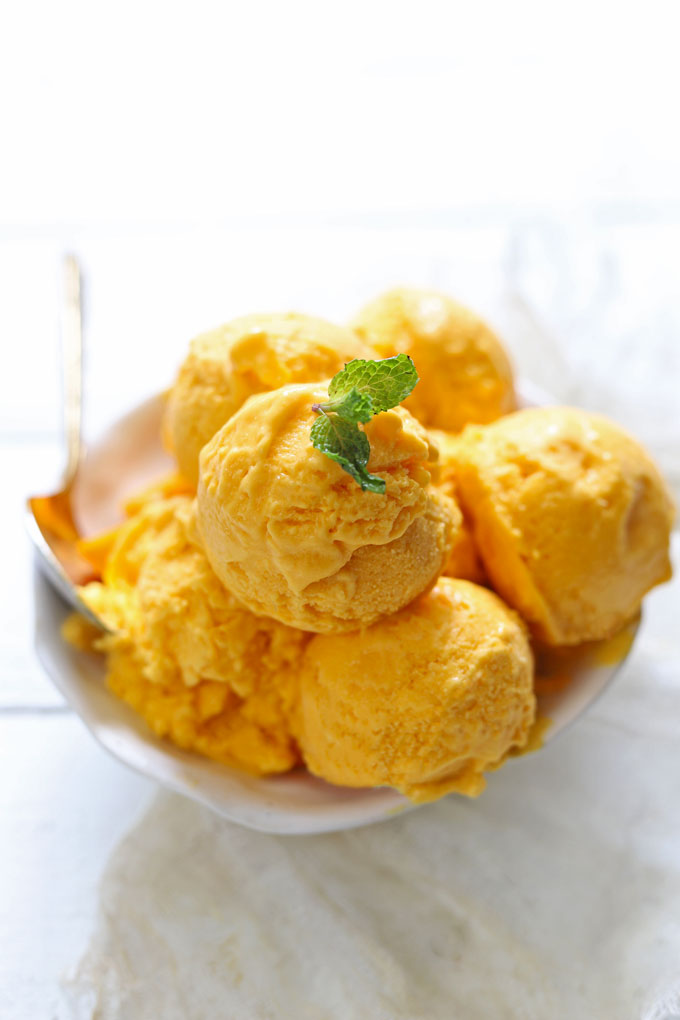 I crave nothing more than ice-cold ice cream on a hot summer day, and if I'm making it? This. Is. The. ONE!
I love how this Mango Ice Cream has the real fruit in it to boost nutrition, but it still tastes like a very decadent treat.
You don't even need to use an ice cream maker or food processor for this gluten-free ice cream recipe! All you need is one bowl and a blender.
Ice Cream Recipes with minimal cleanup and no churning are always a win in my books.
What ingredients are in this Mango Ice Cream?
There are 3 (yes, just THREE!) ingredients used here:
Mango: Of course! Just 1 cup of fresh mango will give you 67% of the recommended amount of vitamin C for the day! Not only that, but it also has a high concentration of copper (20%), folate (18%), and vitamins B6, A E B5, and K, to name a few! I have used fresh Alphonso mango pulp.
Heavy or whipping cream: Fat is an essential part of our diets, helping us feel full and satisfied. It's also what makes this ice cream taste rich! I use a cream with 25% fat for making this ice cream. Mother Dairy Cream, De'lecta Cream, Amul Whipping Cream are a good choice.
White sugar: Not a lot though, just to suit your own taste! If your mango and cream are sweet enough, you may even find that you can skip the sugar.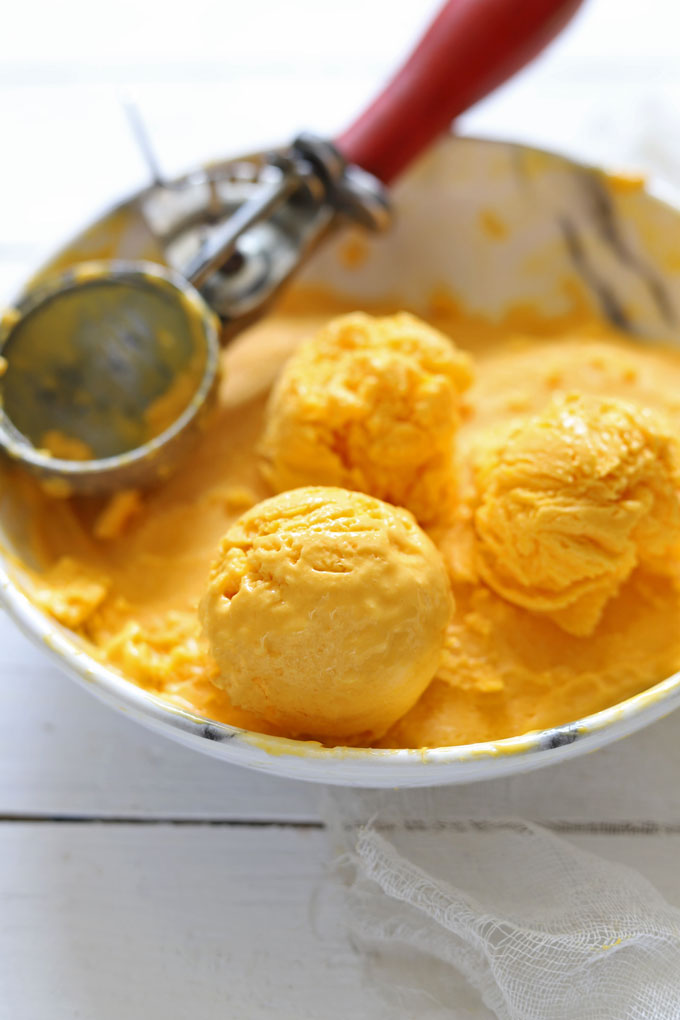 How To Make
Make a mango puree: dice your mango's pulp, take care to remove the skin, and add it to the blender. Tase the pulp, add sugar accordingly, and blend until it is smooth without adding any water. You can also skip this step by using canned mango puree!
Add the cream to a mixing bowl. Whip the cream using a hand mixer or a stand mixer with a whisk attachment until soft peaks form. You can also use a manual hand whisk if you don't have the electrical appliances at home.
Add the mango puree to the whipped cream and mix for 1-2 minutes until they are well combined. Taste it and add more powdered sugar if it's needed.
Pour the combined mango and cream mixture into a freezer-friendly container with a lid. Close the lid tightly. Freeze the ice cream for 5-6 hours, or until it is set.
Ready to eat? Take the mango ice cream out of the freezer and let it thaw for 5 minutes to soften a little. Scoop and serve!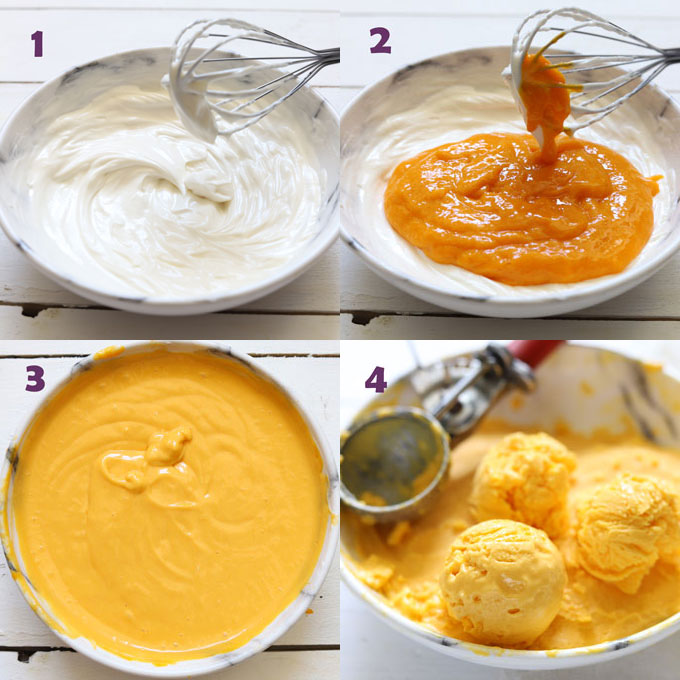 Homemade Ice Cream vs. Store Bought Tub
I hear you – convenience can be nice! However, you will be missing out on some vital things like:
The flavor: Nothing beats the taste of fresh mango combined with the rich, creaminess of fresh whipped heavy cream.
The nutrition: Again, the fresh mango! Making this ice cream at home ensures the ingredients haven't been altered. You can't guarantee that in a store-bought ice cream tub!
The simple ingredients: This recipe calls for mango, cream, and sugar (if needed). That's all. Period. It is staggering if you look at an ice cream tub's list of ingredients! I can't pronounce most of them, and it doesn't even taste as good with all enhancers!
The satisfaction: I can't express the joy, pleasure, and proud gleam that a tub of homemade ice cream will bring to your life. The happiness of creating something delicious from scratch is invaluable and a must-try experience.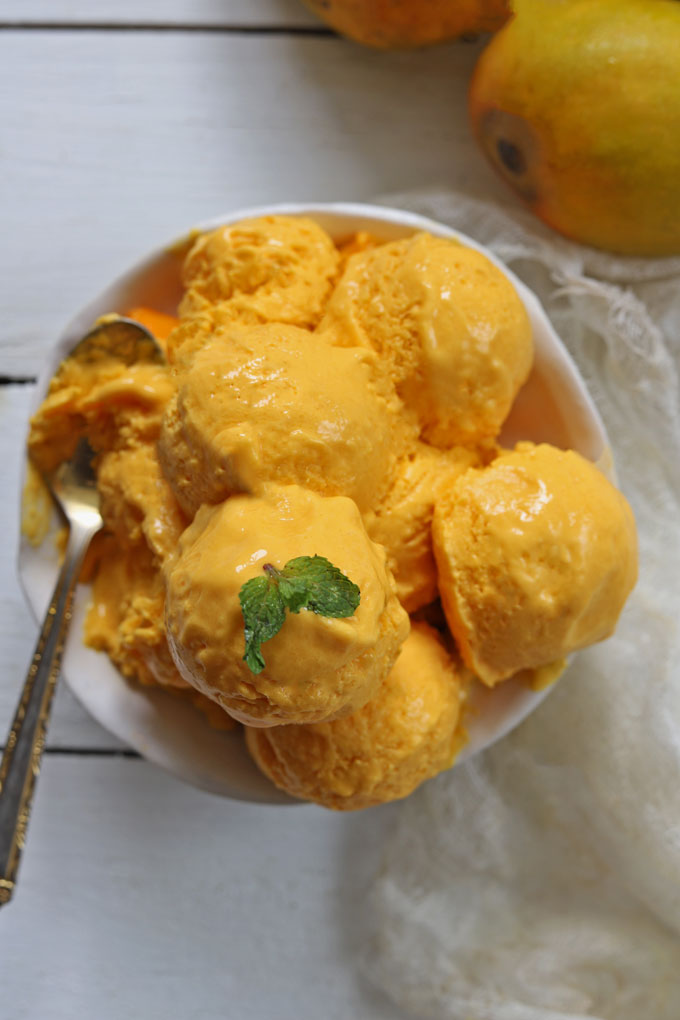 FAQ Related to Mango Ice Cream
What kind of mango should I use?
The 'Alphonso' mango is the best to make any dessert because of its sweetness and rich flavor. Or any other local variety of mango with a naturally sweet taste will be perfect for this ice cream.
Can I add anything fun to take it up a notch?
Yes! Crushed nuts like pistachios toasted almonds would taste great, as well as toasted coconut chips. White milk chocolate, dark chocolate chunks, or chips would also be an excellent addition to this mango ice cream. Like a kick of spice? Add a teaspoon of chili powder, cardamom, or saffron to the mixture before freezing to take the flavor up to the next level!
Can I use canned mango puree to make this ice cream?
Absolutely! Just substitute the 4 cups of pureed fresh mango for canned pureed mango. Then, taste the canned puree and adjust the amount of sugar accordingly.
How do I store this homemade ice cream?
You can freeze this ice cream for up to 3 months in an airtight container.
More Mango Recipes
Mango Shrikhand (Mango Yogurt)
Subscribe to our weekly newsletter or follow us on Instagram, Youtube for video recipes.
If you try this recipe and love it, please leave a comment and a rating. This helps us grow and reach other food lovers like you.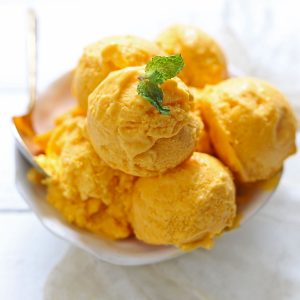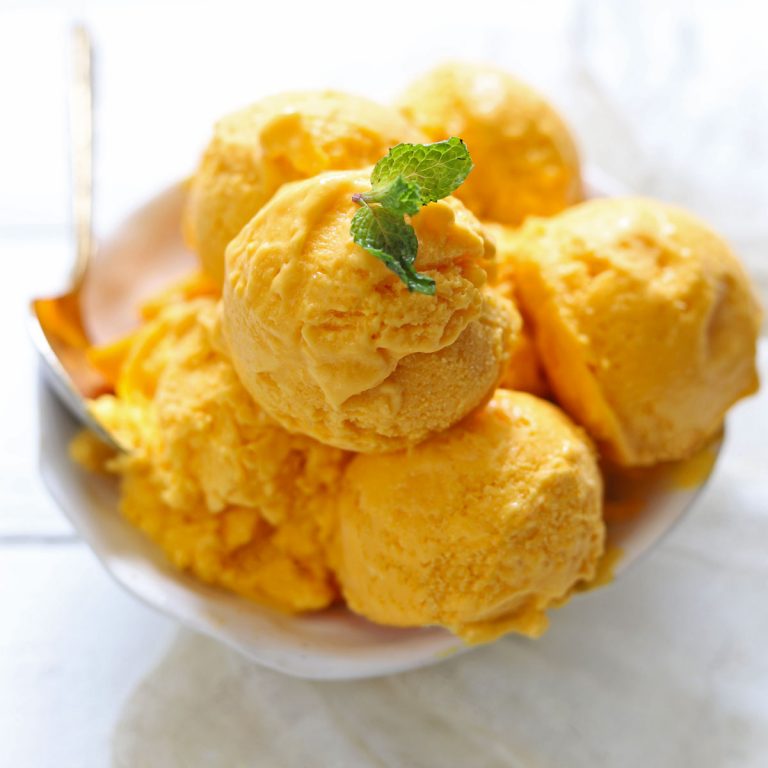 3 Ingredient Mango Ice Cream
This easy Mango Ice Cream recipe couldn't be easier! All you need is 3 ingredients, a bowl and a blender. It's gluten free and perfect for summer! Learn how to make mango ice cream in a few simple steps.
Print
Pin
Rate
Ingredients
200

gram

heavy cream or whipping cream

4

Cup

ripe mango puree

½

Cup

granulated white sugar
Instructions
To prepare mango puree, dice the pulp of fresh mango into chunks. Blend it to a smooth puree along with sugar without using any water. Or you can use cannned mango puree.

Whip the cream using a hand mixer till soft peaks form. You can use a stand mixer as well for the purpose.

Add mango puree in the whipped cream. Whisk using the hand blender or sptaula for 1 – 2 minutes or until well combined. Taste and if required add more sugar accordingly.

Pour the ice cream into a freezer friendly container with a lid. Freeze for 5 – 6 hours or until set.

Stand for 5 minutes to soften slightly, then scoop and serve!
Recipe Notes:
If you are in India, best to use Mother Dairy or Amul Cream for making the ice cream. I always use Mother Dairy Cream with 25% fat.
Adjust the amount of sugar according to the taste of the mango pulp. 
If you are using canned mango puree, adjust the amount of sugar as per taste. 
Do not use water to blend the mango pulp. 
I have used 25% fat cream to make this ice cream. 
Sweet, ripe, and aromatic mango-like Alphonso is the best for making this ice cream. 
Do not mix the ice cream for too long after combining all the ingredients. Once mango puree combined with whipped cream, stop mixing. 
Nutrition
Serving:
1
scoop
|
Calories:
3
kcal
|
Carbohydrates:
1
g
|
Protein:
1
g
|
Fat:
1
g
|
Saturated Fat:
1
g
|
Cholesterol:
1
mg
|
Sodium:
1
mg
|
Potassium:
4
mg
|
Fiber:
1
g
|
Sugar:
1
g
|
Vitamin A:
28
IU
|
Vitamin C:
1
mg
|
Calcium:
1
mg
|
Iron:
1
mg
For Behind The Scene updates
Subscribe to our newsletter!