Makhana Phirni is a creamy Indian style lotus seed milk pudding. The parfait is a celebration of delicious phirni layered with fruits, nuts, and crispy fried bread. It is creamy, nutty and light, befitting the idea of festive food with a twist. It is one of the best ways to enjoy makhane ki phirni in a fuss-free fashionable manner.
This makhana phirni recipe is my version of two classics – makhana kheer and the classic rice firni. The lotus seeds or the foxnuts is low on carbohydrate substitute of rice and is readily available in the supermarkets across India. It has the appearance somewhat like a button mushroom. The most common use of lotus seeds in Indian kitchen is to munch them while observing religious fasting as they are considered pure and unadulterated.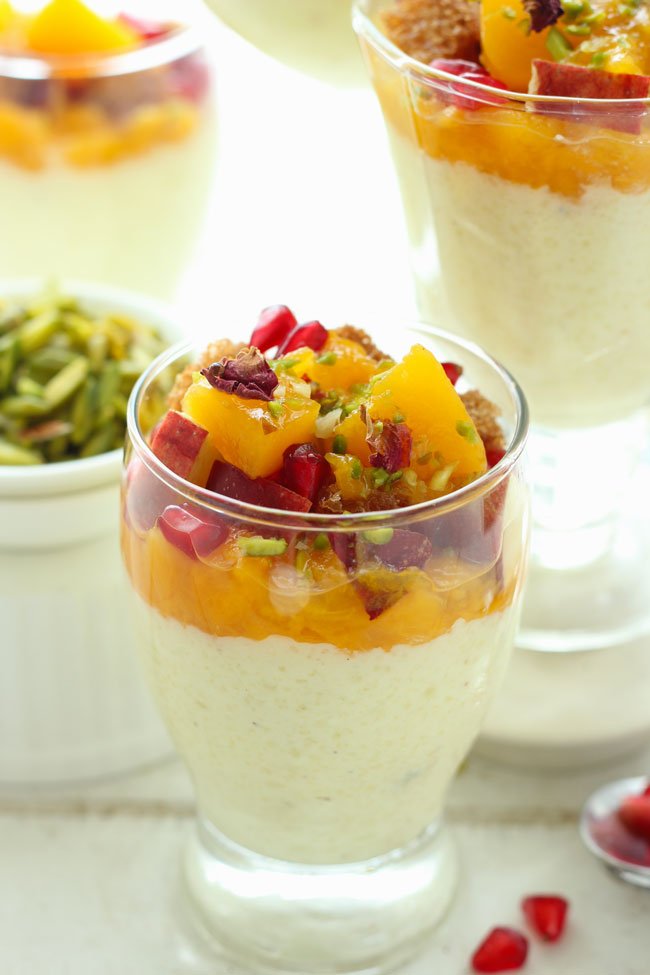 Making Makhana Phirni Parfait:
Start by lightly roasting the makhana in a bit of ghee for about five minutes. Grind them in the mixer till they are powdered but still have some texture to them (not too finely). Since milk is the base of this phirni, boil some in a thick bottomed dish. We need to use full-fat milk for this dessert to get the creaminess we desire. The milk is flavored with nuts, spices, saffron, sweetened with sugar and left to simmer for a while. Later, the lotus seed powder is added to this and mixed and let to simmer on a low flame for about 10 minutes. Once the phirni is ready, it needs to be kept in the fridge to get chilled.
Different layers of the phirni parfait :
Since a parfait includes layering, you'll need to assemble ingredients for each layer beforehand:
Phirni layer – The lotus seeds milk pudding that we that we refrigerated earlier
Fresh Fruits – Use whatever fruits you like or are in season. I have used a mix of mango, apple, pomegranate, and strawberry. But make sure the fruit has a sweet taste and not sour.
Dry Fruits – You can use toasted nuts like cashew, almond, pistachios, walnuts (crushed into smaller pieces) and raisins. Even edible rose petals can also be used.
Bread Croutons – Fry some dry bread in ghee till crisp as we do for shahi tukda. These ghee fried bread croutons add crunch and a shahi tukda like character to the whole parfait.
How To Assemble Phirni Parfait?
Prepare the makhana phirni well in advance and keep in the fridge to chill.
Meanwhile, chop the fruits into bite-size pieces. Make sure to cut them just before assembling the parfait as fruits might lose their freshness.
Deep-fry the bread croutons and transfer to a plate lined with kitchen towel. Slightly warm bread croutons served on top of chilled phirni is quite a decadent combination.
Serve an equal portion of phirni in cups or dessert glasses. Transparent glasses/cups are preferred so that one can see the layers of the dessert.
Top the phirni layer with fruits, fried bread croutons, and toasted nuts. Once layering is done, serve phirni parfait immediately else the fruits, and the bread croutons lose their freshness.
Is phirni serve hot or cold?
It is a matter of personal choice. During the summer season, most of us like to enjoy phirni chilled whereas on a cold winter night it is best served warm or at least at room temperature. But phirni parfait is always served chilled.
How to thicken the firni?
The best way to make thick and luscious firni is to use full-cream milk. Simmer the milk over low heat and add back the cream collected on the sides to the milk. Once the milk is reduced to half the original amount then only add powdered lotus seeds. The right proportion of milk and foxnuts powder will always get you thick restaurant style phirni without using any corn-flour.
Other Indian Kheer Recipes You Might Like:
For more such fun recipes in your life subscribe to our Youtube Channel.
If you try this recipe and love it, please leave a comment and a rating. This helps us grow and reach many other food lovers like you, who are looking for a perfect tried and tested recipe.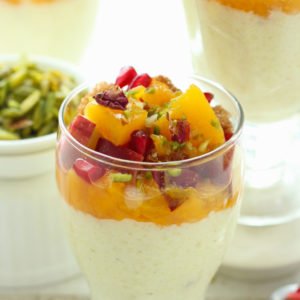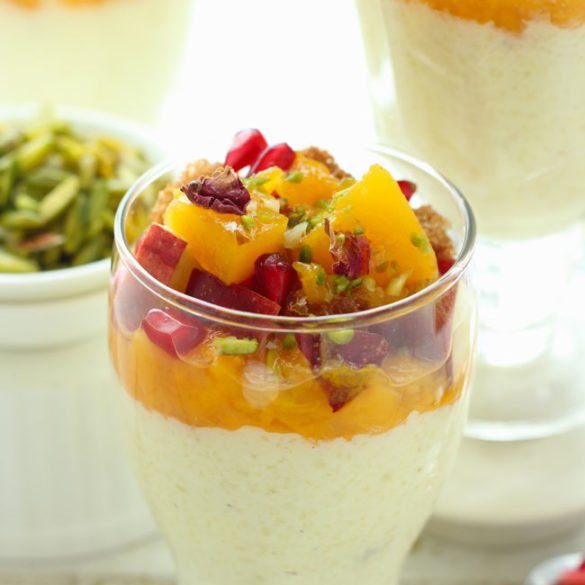 Kesar Makhana Phirni Parfait
Makhana Phirni is a creamy Indian style lotus seed milk pudding. Learn how to make makhana phirni parfait in a few simple steps.

Print
Pin
Rate
Servings:
6
dessert glasses
Ingredients
For Makhana Phirni:
1

liter

full-cream milk (full fat milk)

1

Cup

lotus seeds (foxnuts/makhana)

1/2

teaspoon

saffron (kesar)

1

teaspoon

green cardamom powder (elaichi powder)

1/2

Cup

sugar or to taste

1

tablespoon

ghee (clarified butter)
Ingredients for Phirni Parfait:
2

Cup

diced fruits (peach, mango, apple)

2

tablespoon

pomegranate pearls

1

tablespoon

sliced pistachio/almonds

2

white bread slices

1/4

Cup

ghee (clarified butter)
Instructions
How To Make Kesar Makhana Phirni:
In pan heat ghee and roast foxnuts for 5 minutes. Pulse in a blender once to make a coarse powder. Keep aside

Combine saffron with a tablespoon of warm milk and set aside.

Take milk in a heavy bottomed pan, add the cardamom powder. Boil on low flame. Keep on stirring at regular intervals.

Once the milk is reduced to half the original amount add the lotus seed powder and saffron milk. Stir to combine nicely.


Allow the milk to simmer until it thickens and stir at regular intervals.

Add the sugar, simmer the phirni for 3 - 5 minutes or till sugar is dissolved and then turn off the heat.

Allow the phirni to cool down completely. Keep it in the fridge until ready to serve.

How To Assemble Phirni Parfait:
Dice the fruits into bite-size pieces. Slightly dry roast the nuts.

Heat ghee in a pan and fry the bread croutons till crisp and golden. Transfer to a plate lined with paper towel.

Divide an equal portion of makhana phirni into the serving bowls/glasses. Add a layer of fruits, nuts and bread croutons.

Serve makhana phirni parfait immediately.
Recipe Notes:
★ Did you make this recipe? Don't forget to give it a star rating below!