Dahi Vada is Indian style urad dal fritter served with spicy yogurt and tangy chutneys, a perfect festive snack to enjoy with friends and family. Also known as Dahi Bhalla Chaat. This is quite a favorite Chaat recipe of gluten-free vada soaked in flavorsome yogurt and tempered with an array of spices.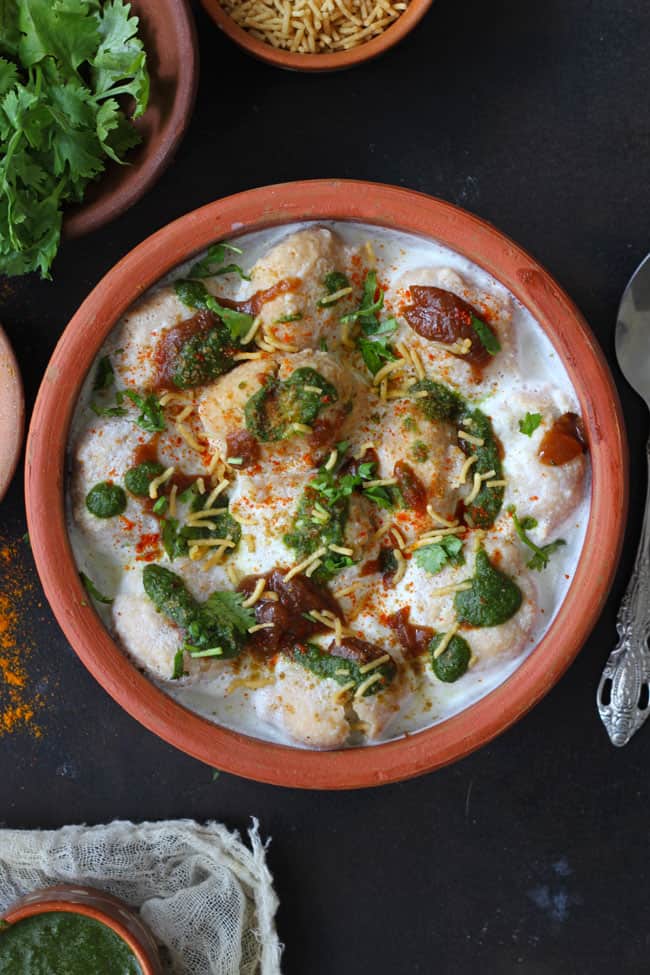 Street food fare like Dahi vada always brings everyone so much joy that it would be criminal to not indulge in them every once in a while.
These dal vadas are made from the batter of the skinned black gram, soaked till each lentil grain is plump enough. Then grind to a smooth paste. Next, the mixture is whipped to incorporate some air in it, and finally, the vada takes shape.
The dal batter seems to have a mind of its own, which most of the time behaves like a disciplined child except on a few bad days when it completely refuses to be in harmony. Despite the hard work of labor, the final result is worth it, each spoonful of spongy, airy, vada is blissful and soothing for the gustatory cells.
The same dal batter can be used to make South Indian style medu vada. Or following the same procedure with split black urad lentil Kumaoni Style Vada can also be prepared.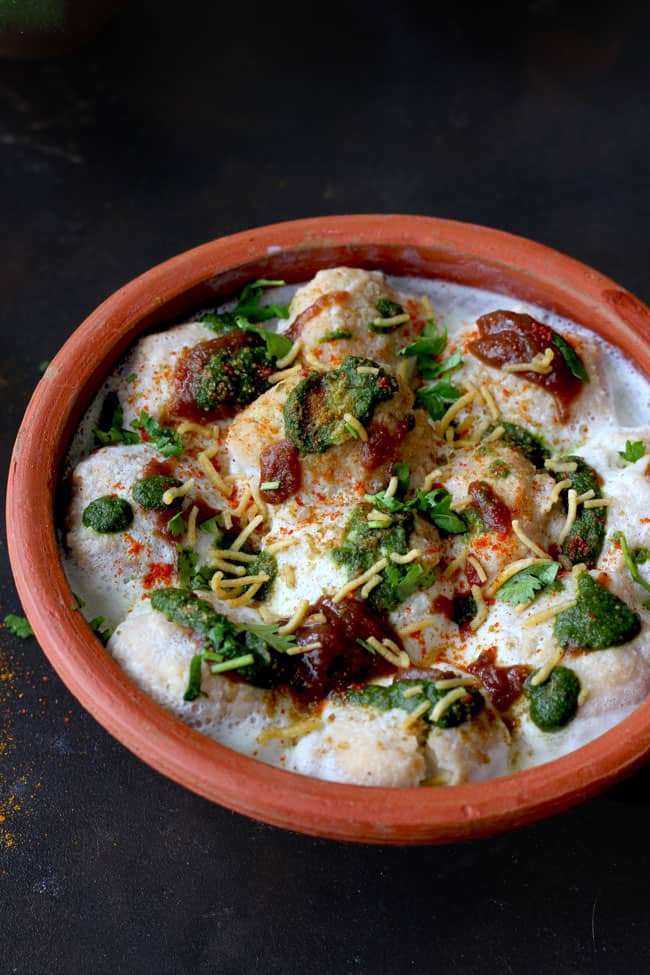 To retain the crunchiness of the dal fritters, you can serve them separately and let the guests mix vada with yogurt and chutney of their choice.
You can also make little dahi vada shots by making small vada and serving them topped with chutney and yogurt like a bite-sized starter. The options to explore this dish are limitless.
If you're expecting some company and are planning to serve this as one of the sides along with other Indian main-course dishes, you can prepare a platter of Dahi Bhalla chaat beforehand and keep in the fridge to chill.
Somehow, I feel, dahi vada tastes best when chilled and not at room temperature. Regardless of how you serve this dish, it is indeed a delectable one.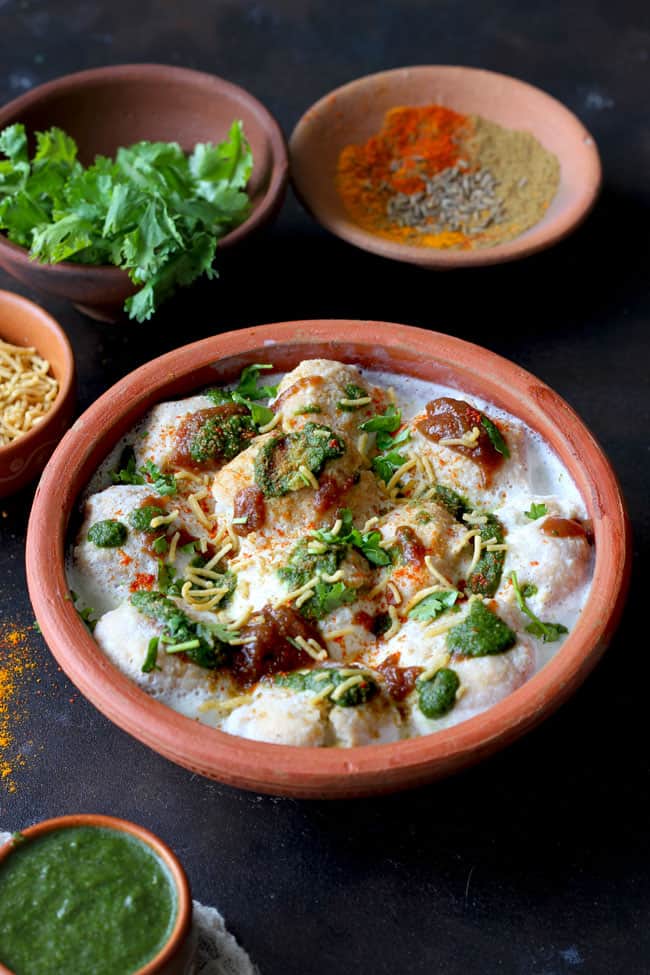 The favorite season to make Dahi Bhalla chaat is the festival of Holi, which is the green signal of freezing winter season coming to an end, with this festival of colors, the shades of spring are also embraced with delectation.
On cheerful festive occasions like Holi or Diwali, an array of elaborate conventional delicacies are expected. Hence, Chaat recipes like Dahi Bhalla, Aloo Tikki, and Dahi Papdi are definitely on the festive menu.   
For Dahi Bhalla Chaat, we're going to go that extra Punjabi mile with these dal vadas. The delicious crunchy dal vada is soaked in a spiced yogurt (buttermilk) mix topped with sweet and spicy finger-licking chutney and spices. It is one of those gratifying experiences for any Chaat lover where you gobble it all in one shot.
More Indian Chaat Recipes For You:
For more such fun recipes in your life subscribe to our weekly newsletter or follow us on Instagram and Youtube for video recipes.
If you try this recipe and love it, please leave a comment and a rating. This helps us grow and reach many other food lovers like you, who are looking for a perfect tried and tested recipe.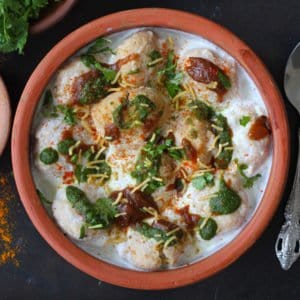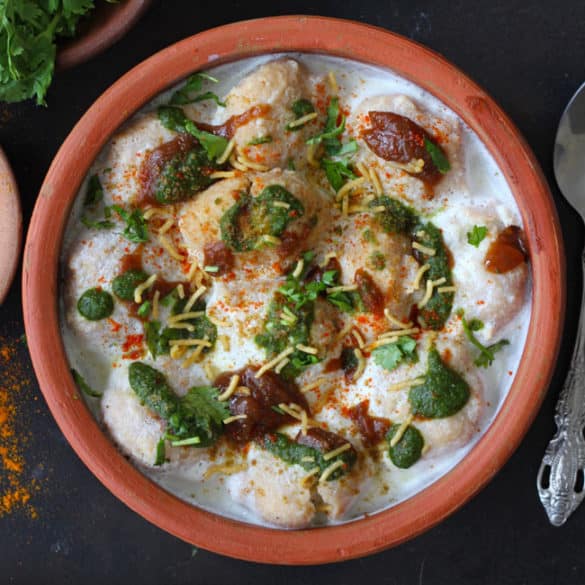 Dahi Vada Recipe
Dahi Vada is Indian style urad dal fritters served with spicy yogurt and tangy chutneys, a perfect festive snack. Learn how to make Dahi Bhalla chaat.
Print
Pin
Rate
Ingredients
Ingredients For Vada:
1

cup

dhuli urad dal

(split black gram)

1

green chilli,

roughly chopped

1/2

inch

piece of ginger,

peeled and grated

a pinch of asafoetida

4

tablespoon

of water

Salt

as per taste

Oil for deep frying
Ingredients For Dahi Bhalla Chaat:
Lukewarm water to soak the vadas

2

Cup

thick yogurt (curd)

1

teaspoon

chaat masala or as per taste

1

teaspoon

cumin powder

¼

teaspoon

black salt

Salt

as per taste

2

teaspoon

sugar

2

tablespoon

Sweet Tamarind Chutney

2

tablespoon

Coriander & Mint Chutney

( see recipe here)

1/2

teaspoon

red chilli powder

1

teaspoon

cumin powder

1

tablespoon

Chopped coriander
Instructions
How To Make Dal Vada:
To make a batter for vada, first clean, wash and then soak dal in water for 6 hours or overnight.

Next day drain the soaked dal in a colander, let dal sit in the colander for 15 minutes so that all the excess water drains out.

Transfer dal to the grinder with chopped green chilies and grated ginger. Grind dal in the mixer without using water, stop mixer in between, stir dal with a spatula and then grind. Keep doing this at regular intervals. If still, dal is not turning into a smooth paste, add 1 – 2 tbsp of water, then grind. The idea is to use minimum water to grind the dal. Grinding dal usually takes 10 – 15 minutes depending on the mixer.

Once dal is turned into smooth paste, transfer to a large bowl. Add salt, asafoetida and whisk batter briskly for a couple of minutes or till it is light and fluffy.

To deep fry vadas, heat oil in a deep frying pan over medium heat.

Take water in a small bowl and keep it near the batter. Wet your fingers with water, take a small portion of batter in you fingers and try shape it into flat tikke like ball. This requires little bit of practise. If this method seems tough, then take small portion of batter in a spoon and using another spoon try shape it into a round.

Now carefully transfer the shaped dough ball into the hot oil for deep frying. Don't be in a hurry to turn the vadas. Let them turn golden from one side.

When the vadas turn pale golden from the base and sides, you can turn them. Fry the vadas till they become golden and crisp.

Transfer fried vadas in a plate lined with paper towels. Once all the vadas are fried, turn off the heat.
Soak the Vada:
To soak the vadas, take enough water in a wide saucepan. Add the fried vadas into the lukewarm water. Give enough space for the vada's to breathe, as they tend to expand more in water. If the pan is small add them in small batches. Let the vada's soak in water for about 10 minutes or until have turned soft. Once all the vada's are soaked and softened scoop out, drain out excess water from each vada by gently pressing between your palms. Keep aside in a plate.
Dahi Bhalla Chaat:
To assemble the dahi vada, first, take curd in a bowl. Add salt, cumin powder, sugar, chaat masala and whisk to form a lump free smooth mixture. Adjust the consistency of curd by using little water, if it seems too thick. Taste and add seasoning to your taste.

Arrange vadas in a serving bowl. Pour the flavored curd over the vadas, curd should be enough to soak the vadas.

Sprinkle the red chili powder, cumin powder, chaat masala as per taste.

Garnish dahi vada with chopped coriander leaves. Serve chilled.
Recipe Notes:
I prefer to use a hand mixer to whisk the dal batter until fluffy, at medium speed to churn for 10 – 12 minutes. This gives really nice and airy texture to the batter. 
To test, whether the batter is light enough, add a drop of whisked batter in water. If the batter floats then it is fluffy enough, if it sinks to the bottom then it needs more churning.
If you are not making Chaat immediately. Store vada in the fridge in an airtight container. 
Microwave for 5 – 10 minutes before soaking in lukewarm water to make Chaat. 
Nutrition
Serving:
1
vada
|
Calories:
81
kcal
|
Carbohydrates:
11
g
|
Protein:
5
g
|
Fat:
2
g
|
Saturated Fat:
1
g
|
Cholesterol:
5
mg
|
Sodium:
83
mg
|
Potassium:
69
mg
|
Fiber:
3
g
|
Sugar:
3
g
|
Vitamin A:
65
IU
|
Vitamin C:
1
mg
|
Calcium:
63
mg
|
Iron:
2
mg
Love this? Pin it for Later!
Follow @hinagujral on Pinterest!