Dahi Vada is a popular Indian Chaat recipe. I am sharing with you a tried and tested traditional vada recipe that will give you the best Punjabi style Dahi Bhalla Chaat each time. Be sure to watch the video!
What is Dahi Vada?
The word 'Dahi Vada' literally translates into – lentil fritter in curd. In Indian Cuisine, 'vada' is a deep-fried lentil fritter whereas 'dahi' is the term for curd.
Dahi Vada is also known as Dahi Bhalla Chaat in Northern India. In some parts of South India, the medu vada served with sweet curd is also known as Dahi Vada.
But when we talk about the Chaat or the street food of India, it is hard to give Dahi Vada a miss. It is one of the quintessential Indian chaat recipes.
The favorite season to make Dahi Bhalla Chaat is the festival of Holi, which is the green signal of the freezing winter season coming to an end, and welcoming spring (Vasant Ritu).
The Vada
The vada (bhalla) made from the skinned urad dal (dhuli urad dal) is the key component of this Dahi Vada recipe.
The same dal batter can be used to make South Indian style medu vada. Or following the same procedure with split black urad lentil Kumaoni Style Bada can also be prepared.
The lentil is soaked in water for 5 – 6 hours or overnight so that each grain is plump enough. soaked till each lentil Then grind to a smooth paste. Next, the lentil batter is whipped to incorporate air, and finally, the vada takes shape.
The dal batter seems to have a mind of its own, which most of the time behaves like a disciplined child except on a few bad days when it completely refuses to be in harmony.
Despite the hard work of labor, the final result is worth it – each spoonful of spongy, airy, dahi vada is blissful and soothing for the gustatory cells.
Dahi Bhalla Chaat Toppings
The Punjabi Style Dahi Bhalla Chaat is all about the sweet, spicy, savory toppings that together give you an ultimate mouthfeel of true Indian flavors.
Here are a few of my favorite Dahi Vada toppings:
Sweet Curd: Whisk thick curd, powdered sugar, cumin powder, and a pinch of salt to a smooth, creamy consistency. The chilled curd on top of vada tastes so good.
Green Chutney: A spicy, refreshing mint and coriander chutney is a must topping to balance the sweetness of curd.
Tamarind Chutney: Another essential condiment of a Dahi Bhalla Chaat is sweet tamarind chutney. You can use Date Chutney or any other sweet chutney as well.
Spices: Roasted cumin powder, red chili powder, Chaat Masala are the popular seasoning for dahi vada.
Other Popular Toppings: Pomegranate, fresh coriander, ginger juliennes, sev (namkeen), dahi bhalla masala powder, crushed papdi are a few of the other toppings you can add to your dahi vada chaat.
Watch Dahi Vada Video
My Tried & True Tips
Dal: There is no vada batter possible without soaking the dal.
Batter: Grinding dal batter without using too much water takes patience and practice. For an easy grinding process, stir/mix the batter using a spatula at regular intervals. Do not add more than 2 – 4 tablespoons of water to grind the dal.
Whisk the batter manually for 8 – 10 minutes so that it turns light and fluffy like a cake batter. This step cannot be missed.
Frying: The vada is always fried at medium flame. If fried at a very high flame, the vada remains uncooked from inside whereas, at low flame, they soak a lot of oil.
Fry the vada (bhalla) in small batches. Do not overcrowd the pan.
Soaking: The fried vada is soaked in hot water flavored with asafoetida and salt. Soaking vada for 15 – 20 minutes in water makes them spongy, soft, and gives them a mouth-melting texture.
Serving & Storing Suggestion
Dahi Bhalla is served as a starter or side dish.
If you're expecting company and are planning to serve Dahi Bhalla Chaat, you can prepare a platter a few hours beforehand and keep it in the fridge to chill.
Somehow, I feel, dahi vada tastes best when chilled and not at room temperature.
Regardless of how you serve this dish, it is indeed a delectable one.
Tip: Store leftover fried vada in the refrigerator for 1 – 2 days. Before soaking vada in hot water, reheat them in the microwave for 3 – 5 minutes.
The dahi vada does not have a very long shelf life. Hence, do not leave it at room temperature especially in a hot and humid climate like India for more than 1 – 2 hours.
More Indian Chaat Recipes
Subscribe to our weekly newsletter or follow us on Instagram, Youtube for video recipes.
If you try this recipe and love it, please leave a comment and a rating. This helps us grow and reach other food lovers like you.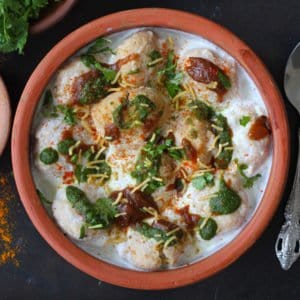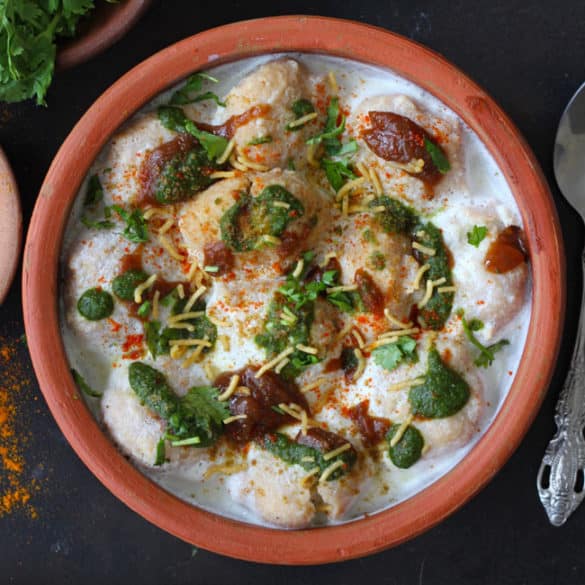 Dahi Vada Recipe
I am sharing with you a tried and tested Dahi Vada recipe that will give you the best Punjabi style bhalla chaat each time.
Print
Pin
Rate
Heavy Bottom Kadhai

Blender
Ingredients
Ingredients For Vada:
1

cup

dhuli white urad dal

(split black gram)

1

green chilli, chopped

1

tablespoon

ginger, peeled and grated

4

tablespoon

water

¼

teaspoon

asafoetida (hing)

¼

teaspoon

turmeric

Salt to taste

4

Cup

refined oil, for deep frying
Ingredients For Dahi Bhalla Chaat:
4

Cup

lukewarm water, to soak the vada

2

Cup

thick yogurt (curd)

1

tablespoon

powdered sugar

1

teaspoon

cumin powder

Salt to taste

2

tablespoon

Sweet Tamarind Chutney

2

tablespoon

Coriander & Mint Chutney

( see recipe here)
Other Toppings:
1

teaspoon

Chaat Masala

1

teaspoon

red chilli powder

1

teaspoon

cumin powder

1

tablespoon

Chopped coriander
Instructions
How To Make Dal Vada:
To make a batter for vada, first clean, wash and then soak dal in water for 5 – 6 hours or overnight.

The next day, transfer the soaked dal to a colander, drain all the water. Let dal sit in the colander for 5 minutes so that all the excess water drains out.

Transfer dal to the grinder with chopped green chilies and ginger. Grind dal in the mixer without using water, stop mixer in between, stir dal with a spatula and then grind. Keep doing this at regular intervals. If still, dal is not turning into a smooth paste, add 1 – 2 tablespoon of water, then grind. The idea is to use minimum water to grind the dal. Grinding dal usually takes 10 – 15 minutes depending on the mixer.

Once dal is turned into a smooth paste, transfer to a large bowl. Add salt, asafoetida, turmeric, and whisk batter briskly for 8 – 10 minutes or till it is light and fluffy. 

To deep fry vadas, heat oil in a deep frying pan over medium heat.

Using two spoons, shape the batter into a round and gently slide into the hot oil for frying.

Don't be in a hurry to turn the vada. Let them turn golden from one side. When the vada turns pale golden from the base and sides, you can turn them. Fry the vadas till they become golden and crisp.

Transfer fried vadas in a plate lined with paper towels. Once all the vadas are fried, turn off the heat.
Soak the Vada:
To soak the vada, take 4 cups of lukewarm water in a wide saucepan. Season the water with salt and asafoetida.

Add the fried vada into the lukewarm water. Give enough space for the vada to breathe, as they tend to expand more in water. If the pan is small add them in small batches. Let the vada soak in water for about 10 minutes or until they turn soft. Squeeze gently and drain out excess water from each vada by gently pressing between your palms. Keep aside in a plate.
Assemble Dahi Bhalla Chaat:
To assemble the dahi vada, first, take curd in a bowl. Add salt, cumin powder, sugar, and whisk to form a lump free smooth mixture. Adjust the consistency of curd by using little water, if it seems too thick. Taste and add seasoning to your taste.

Arrange vada in a serving bowl. Pour the flavored curd over the vada, curd should be enough to soak the vada. Top with the green chutney and tamarind chutney as required.

Sprinkle the red chili powder, cumin powder, chaat masala as per taste.

Garnish Dahi Vada with chopped coriander leaves. Serve Dahi Bhalla Chaat chilled.
Recipe Notes:
You can use a hand mixer to whisk the dal batter until fluffy, at medium speed to churn for 5 – 6 minutes. This gives really nice and airy texture to the batter. 
To test, whether the batter is light enough, add a drop of whisked batter in water. If the batter floats then it is fluffy enough, if it sinks to the bottom then it needs more churning.
If you are not making Chaat immediately. Store vada in the fridge in an airtight container. 
Microwave for 3 – 5 minutes before soaking in lukewarm water to make Chaat. 
Nutrition
Calories:
742
kcal
|
Carbohydrates:
12
g
|
Protein:
6
g
|
Fat:
76
g
|
Saturated Fat:
6
g
|
Trans Fat:
1
g
|
Cholesterol:
5
mg
|
Sodium:
40
mg
|
Potassium:
76
mg
|
Fiber:
4
g
|
Sugar:
3
g
|
Vitamin A:
97
IU
|
Vitamin C:
1
mg
|
Calcium:
66
mg
|
Iron:
2
mg
For Behind The Scene updates
Subscribe to our newsletter!