Dahi Vada
is simply fried dumplings made of lentil swimming in the flavorful curd, embellished with sweet and spicy chutneys at last some spices sprinkled over it to complete the medley of flavors in a single bowl. If you travel in the Central India, there this particular dish is also known as Dahi Bhalla, do not get intimidated by the word Bhalla, it is the same deep fried lentil fritter.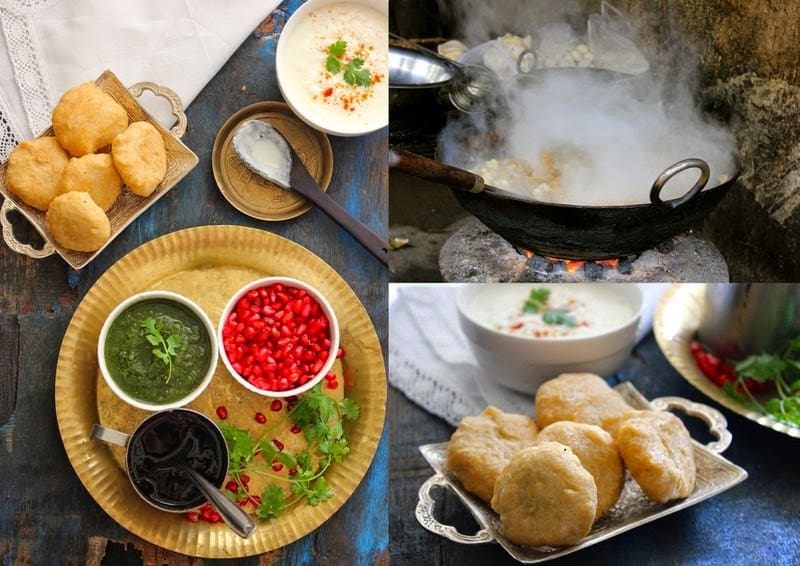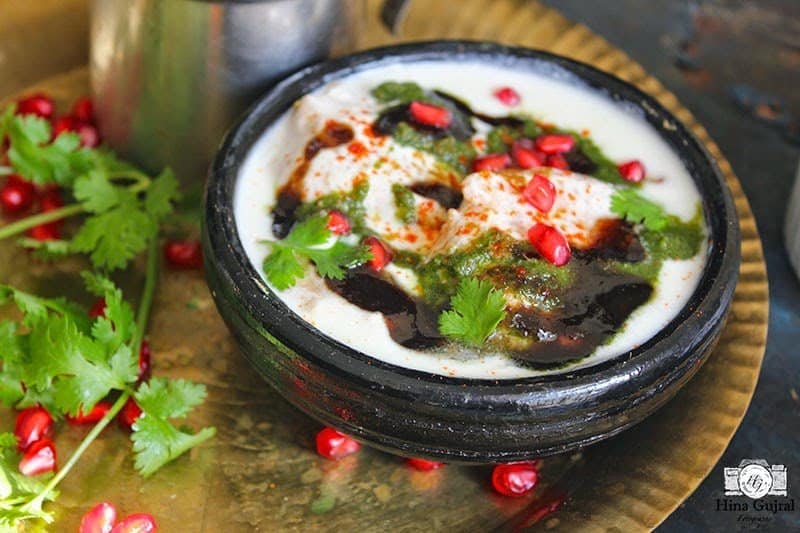 These vadas are made from the batter of skinned black gram, soaked till each lentil grain is plump enough, then grind to smooth paste in one of those modern day gadgets called as mixer, once again the batter is whipped to incorporate some air in it, and finally the vadas take shape. The dal batter seems to have a mind of it's own, which most of the times behave like a disciplined child except on few bad days when it completely refuses to be in harmony. Despite the hard work of labor, the end result is totally worth it, each spoonful of spongy, airy, savory vadas is blissful and soothing for the gustatory cells.
The occasion to make these fancy savory snacks is the festival of Holi, which is the green signal of freezing winter season coming to an end, with this festival of colors, the shades of spring are also embraced with delectation. On such cheerful festive occasions an array of elaborate conventional delicacies from my kitchen are expected, so far every year I try best to fulfill those yearning anticipations about the Holi menu. The menu for such celebratory affairs is no complicated or gourmet, mostly tried and tested crowd-pleasing recipes make it to the menu with some mis en plac for the dishes taking shape behind the scene a week before the festival. Last year the blog was swooned with saffron, pistachio laced posts talking about Kesar Pista Thandai and Kesar Mawa Ghujia, this time sticking to the brightness of Indian Chaats with Dahi Vada and Papdi Chaat.
If you try this recipe and love it, please leave a comment and a rating. This helps us grow and reach many other food lovers like you, who are looking for a perfect tried and tested recipe.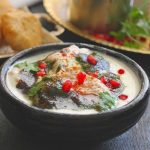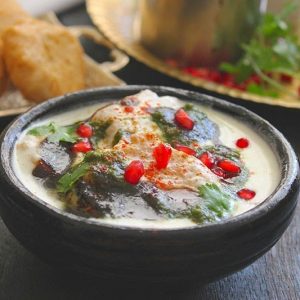 Dahi Vada Recipe
Dahi Vada is simply fried dumplings made of lentil swimming in the flavorful curd, embellished with sweet and spicy chutneys.
Keyword:
dahi vada recipe, how to make dahi bhalla
Ingredients
For the vadas
1

cup

dhuli urad dal

split black gram

1

green chilli

roughly chopped

½

inch

piece of ginger

peeled and grated

a pinch of asafoetida

2

– 3 tbsp of water

Salt

as per taste

Oil for deep frying
Other ingredients
2

Cup

thick curd

1

tsp

chaat masala or as per taste

1

tsp

cumin powder

¼

tsp

black salt

Salt

as per taste

2

tsp

sugar

Lukewarm water to soak the vadas
To serve
2

tbsp

Sweet Tamarind Chutney

2

tbsp

Coriander & Mint Chutney

red chilli powder

as per taste

1

tsp

cumin powder

1

tbsp

pomegranate pearls

Chopped coriander
Instructions
To make batter for vadas, first clean, wash and then soak dal in water for 6 hours or overnight.

Next day drain the soaked dal in a colander, let dal sit in the colander for 15 minutes so that all the excess water drains out.

Transfer dal to the grinder with chopped green chillies and grated ginger. Grind dal in mixer without using water, stop mixer in between, stir dal with spatula and then grind. Keep doing this at regular intervals. If still dal is not turning into smooth paste, add 1 – 2 tbsp of water, then grind. The idea is to use minimum water to grind the dal. Grinding dal usually takes 10 – 15 minutes depending on the mixer.

Once dal is turned into smooth paste, transfer to a large bowl. Add salt, asafoetida and whisk batter briskly for a couple of minutes or till it is light and fluffy. I prefer to use my KitchenAid Stand Mixer or electric hand blender for the purpose, at medium speed churn the batter for 10 – 12 minutes.

To test, whether batter is light enough, add a drop of batter in water. If the batter floats then it is fluffy enough, if it sinks to the bottom then it need more churning.

To deep fry vadas, heat oil in a deep frying pan over medium heat.

Take water in a small bowl and keep it near the batter. Wet your fingers with water, take a small portion of batter in you fingers and try shape it into flat tikke like ball. This requires little bit of practise. If this method seems tough, then take small portion of batter in a spoon and using another spoon try shape it into a round.

Now carefully transfer the shaped dough ball into the hot oil for deep frying. Don't be in a hurry to turn the vadas. Let them turn golden from one side.

When the vadas turn pale golden from the base and sides, you can turn them. Fry the vadas till they become golden and crisp.

Transfer fried vadas in a plate lined with paper towels. Once all the vadas are fried, turn off the heat.

To soak the vadas, take enough water in a wide saucepan. Add the fried vadas into the lukewarm water. Give enough space for the vada's to breathe, as they tend to expand more in water, if pan is small add them in batches. Let the vada's soak in water for about 10 minutes or until have turned soft. Once all the vada's are soaked and softened scoop out, drain out excess water from each vada by gently pressing between your palms. Keep aside in a plate.

To assemble the dahi vada, first take curd in a bowl. Add salt, cumin powder, sugar, chaat masala and whisk to form lump free smooth mixture. Adjust the consistency of curd by using little water, if it seems too thick. Taste and adjust the seasoning as well.

Arrange vadas in a serving bowl. Pour the flavored curd over the vadas, curd should be enough to soak the vadas.

Top with the green chutney and tamarind chutney as required.

Sprinkle the red chili powder, cumin powder, chaat masala as per taste.

Garnish dahi vada with chopped coriander leaves and pomegranate pearls. Serve chilled.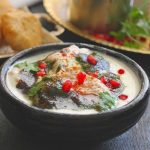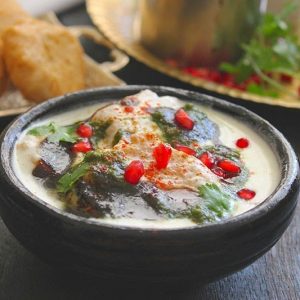 Sweet and Spicy Tamarind Chutney
It is a sweet and spicy chutney prepared with tamarind pulp and sugar. A must-have condiment with the Indian chaat.
Ingredients
½

cup

seedless tamarind pulp

1

and ¾ cups water

1

tsp

ginger powder

2

tsp

cumin powder

1

tsp

cumin seeds

1

tsp

red chili powder

¼

Cup

jaggery

roughly chopped

2

dry red chillies

broken into halves

Salt

as per taste

1

tsp

oil
Instructions
To make sweet and spicy tamarind chutney, soak tamarind in water overnight or for 4-5 hours in a small bowl.

With your hands, squeeze the pulp from the tamarind in the same bowl or pan. Strain the pulp in a sieve and keep aside.

Heat oil in a pan over medium heat. Add cumin seeds and let them crackle. Then add dry red chillies, fry for few minutes.

Add ginger powder, red chili powder, asafoetida and stir to fry.

Now add the strained tamarind pulp. Fry for 2 – 3 minutes, add chopped jaggery along with salt. Stir to combine. Add little water (approx. ¼ Cup) and then stir once again to combine. Let chutney simmer over medium heat till it thickens and turn into thick liquid of dropping consistency. Taste and adjust the spice level, sweetness accordingly. Turn off the heat.

Transfer Sweet and Spicy Tamarind Chutney to a bowl. Once it cool downs to the room temperature, store in airtight container in the fridge.