From our Indian food recipes collection, Mixed Vegetable Cutlet is an all-time favourite teatime snack. Whether it is monsoon downpour, crisp autumn afternoon or bitterly cold evenings a plate full of the cutlet is always welcomed along with a cup of tea. A bowl of tomato ketchup and coriander chutney to dip the cutlet makes it a teatime table picture perfect recipe.
The tantalizing aroma of the frying cutlets sneaks out of the kitchen and lingers around the tea table. The tea laced with ginger and cardamom bubbling on the side stove sends an inviting gluttonous note to those who are wandering in the backyard yearning for evening snacks.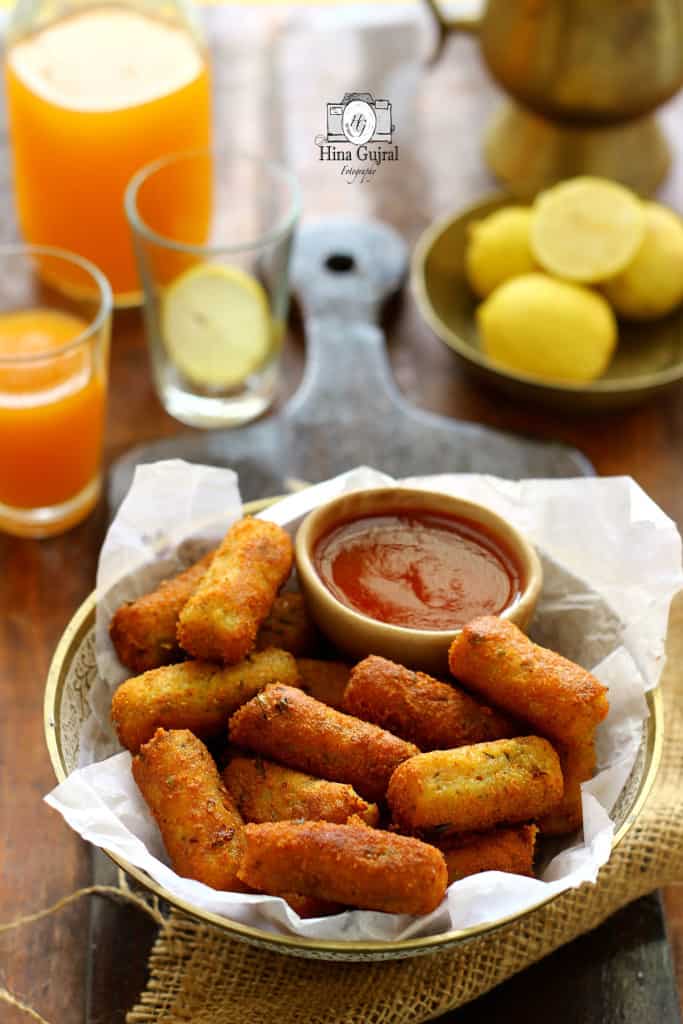 On certain festive occasions, we make an excuse to the rule of relishing cutlets only during evening teatime instead they are served all around the day to woo the guests. Diwali is one such occasion when a box full of such delicious, sinful snacks is always sitting on the kitchen counter. There is a particular aroma of frying engulfing the kitchen air. Whether it is sweet or savoury, all kind of deep-fried snacks laces the festive platter.
The cheat cook's trick is, make the mixture for the Mixed Vegetable Cutlet, shape them into tiny cigars, dust with bread crumbs and arrange neatly in an airtight container. Store this precious box of cutlet treasure in the fridge. When your tea table is all set to greet the guests, simply open the container and fry these cutlets. This simple beforehand planning is sure to win you many compliments. A day before the party you can shape these cutlets and save the last few hours next day in calming down your last minute jim-jams.
The best part about these vegetable cutlets is they can be totally customized. It is not necessary to stick to the vegetables suggested in the Indian food recipes. Feel free to pick your favourite vegetables to make these cutlets. And with each combination of vegetables, these cutlets taste totally delicious.
How To Make Mixed Vegetable Cutlet Gluten Free?
To make these cutlets 100% gluten-free skip adding breadcrumbs to the cutlet mixture. Instead, you can use grated paneer (cottage cheese) as a binder and a tablespoon of gram flour (besan) to coat the cutlets. Those who eat eggs can dip the cutlets in a whisked egg before frying for a crunchy exterior. And trust me on this, without breadcrumbs also, the vegetable cutlets turn out tasty.
Watch Mixed Vegetable Cutlet Step-By-Step Video:
If you try this recipe and love it, please leave a comment and a rating. This helps us grow and reach many other food lovers like you, who are looking for perfect tried and tested Indian food recipes.