Aam Panna is a popular summer drink across North India. A delightful, natural coolant prepared with raw mango pulp, sugar, spices, and mint leaves. Mango Panna is not only refreshing but also energizing. It helps you get hydrated in an instant and aids in battling the scorching heat. This aam panna recipe is super simple to follow and requires less than 20 minutes of your time.
When we talk about heat then I must warn you against the brutal Indian summer. It is hot, dry and requires a lot of energy to deal with. In such scenario, homemade drinks like aam ka panna help beat the heat with so much deliciousness. This aam panna recipe will surely help you make tasty and tantalizing 100% natural mango drink at home.
What is the best summer drink?
Here are few best regional Indian summer drinks that are 100% gluten-free, vegan and free of any artificial flavourings. More importantly, each of these drinks is loaded with tons of health benefits and nutritional goodness:
We aren't enjoying much of summer in North India. But one thing that cheers us up is a good summer drink like aam panna. Because only a real and natural coolant can quench your thirst during the warm, dusty summer afternoon. With the bottle of aam panna concentrate sitting in the fridge, I am always excited about the delicious sips that await me as soon I reach home. It is indeed a blessing that we can bottle up this mango drink and enjoy it for an extended period. All you need to do is pour a glass of chilled pudina aam panna, sit on your couch and relax. There's nothing quite like a classic aam ka panna made with few simple everyday ingredients – mango pulp, mint leaves, black salt, sugar and cumin powder.
I think the summer and the mango season both celebrate each other perfectly. The aam panna recipe shared below is one quick method to make the drink. We have used the pressure cooker to soften the raw mango pulp. Many recipes suggest the roasting method for the more intense taste of mango pulp. I have tried the roasting process not with aam panna but with kiwi ka panna, prepared last summer. And needless to say, it was equally delicious too! Who could have thought that the tropical fruits like kiwi and mango can be turned into such tasty summer coolers?
What are some yummy recipes using raw mangoes?
In India, raw mangoes are profoundly used in everyday meals and curries. From chutney to drink and dals, during the summer season, raw mangoes are creatively used in many Indian dishes. Here are few raw mango recipes you might like to try apart from aam ka panna:
Aam Panna Recipe – Two Ways
The aam panna can be prepared following two methods. The first one is the pressure cooker method which is explained in the amm panna recipe below. The second one if the roasting method. In case you are curious to try the roasting method to make aam panna, let me explain it to you.
Wash and wipe the raw mangoes. Now, you can roast them directly over the gas stove flames or on the barbecue grill. Once that is done, get rid of the mango skin and the stone. Collect the pulp in a bowl. And blend it with sugar, spices, and mint leaves. The rest of the process is very similar to the one shared below. Only during the initial phase, we are roasting the mango pulp instead of pressure cooking to get the smoked flavour in the mango panna.
I think I will leave that choice to you, whether to roast or pressure cook. But trust me, either ways at the end you will sip a delicious – aam ka panna.
For more such fun recipes in your life, follow along on Facebook, Instagram, or subscribe to our Youtube Channel.
If you try this recipe and love it, please leave a comment and a rating. This helps us grow and reach many other food lovers like you, who are looking for a perfect tried and tested recipe.
Easy Aam Panna Recipe | How To Make Aam Panna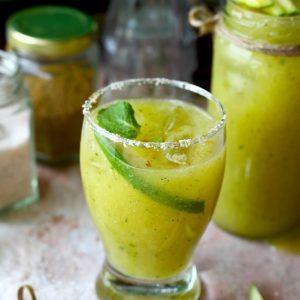 Aam Panna Recipe
Aam Panna is a popular summer drink across North India. It helps you get hydrated in an instant and aids in battling the scorching heat. This aam panna recipe is super simple to follow and requires less than 20 minutes of your time.
Print
Pin
Rate
Ingredients
500

gram

raw mango

1

Cup

granulated white sugar or to taste

Salt to taste

2

teaspoon

black rock salt

kala namak

2

teaspoon

roasted cumin powder

jeera powder

1/4

Cup

fresh mint leaves

2

Cup

water
Instructions
Rinse the mangoes nicely in water.

Peel the skin of the mangoes.

Pressure cook the mangoes over medium heat for 2 - 3 whistle along with water.

Let the steam release naturally from the pressure cooker.

Open the lid and transfer the boiled mango pulp along with water in a bowl. Squeeze the mangoes to collect the pulp.

Remove the stone, if any, in the mangoes. Allow the mango pulp to cool.

Blend together the mango pulp, sugar, salt, spices, and mint until smooth.

Taste and adjust the amount of sugar and spices accordingly.

If the Aam Panna seems too thick add more water.

You can either store aam panna in the fridge in a clean bottle or serve immediately.

Serve Aam Panna chilled.