Nimki is a popular savory pre-make snack from the bylanes of Uttar Pradesh. Nimki comes in many flavors and forms. In many homes, it is shaped like a diamond and called namak para, while in many others it is neatly folded into a layered triangle. Whatever be the shape, Nimki is always crisp, crunchy and a favorite tea-time munchie for the festive season.
How to serve Nimki? There is only one answer, with your favorite pickle. Scoop out a generous helping of homemade achaar and serve it with Nimki. And not to forget garam garam chai. With this snack combination on the table, the chitter-chatter never seem to fade away. Or it lasts till the last piece of Nimki is devoured with the leftover masala of the pickle. Such is the magic of Nimki aka Indian style savory crackers.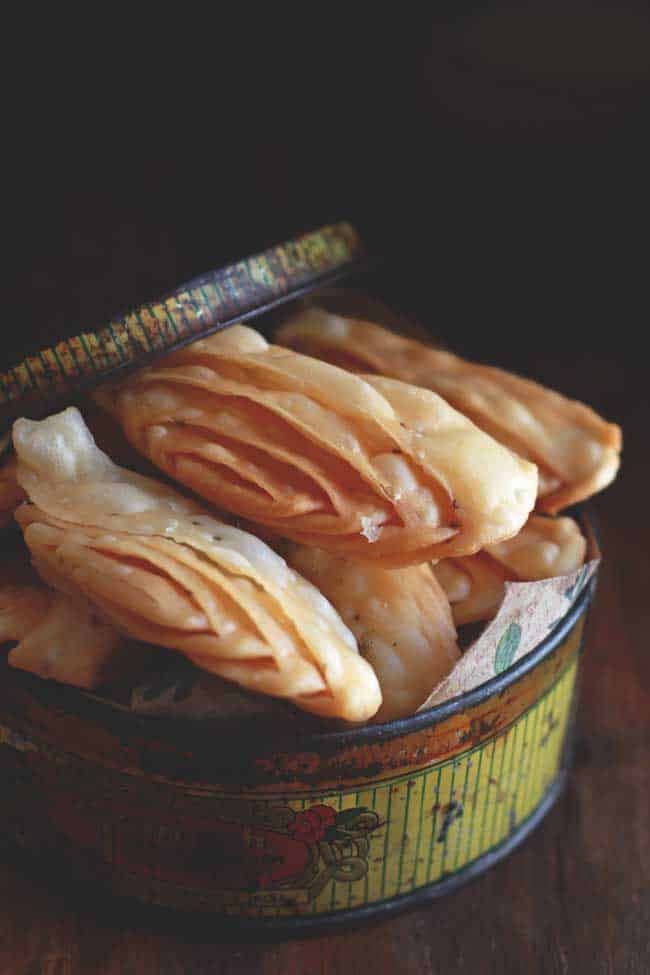 The post-festive season when there is a kind of weird quietness in the air munching Nimki remind me of the celebratory month gone. A large jar full of Nimki will last for a few days more post-Diwali. And then I would think of making a batch of it around Holi. There is no hard and fast rule that you cannot make these crackers in between but I always associate them with the festive celebration. There is an old school charm in relishing these conventional snacks during the festive celebrations and sharing them with the loved ones.
A week before the festival I set out on a pre-made snack making spree such as Nimki, Khasta Kachori, Mini Samosa, Masoor Dal Cutlet. The deep-fried aroma creeps into every corner of the house setting the merry mood. And announcing the arrival of the festive season.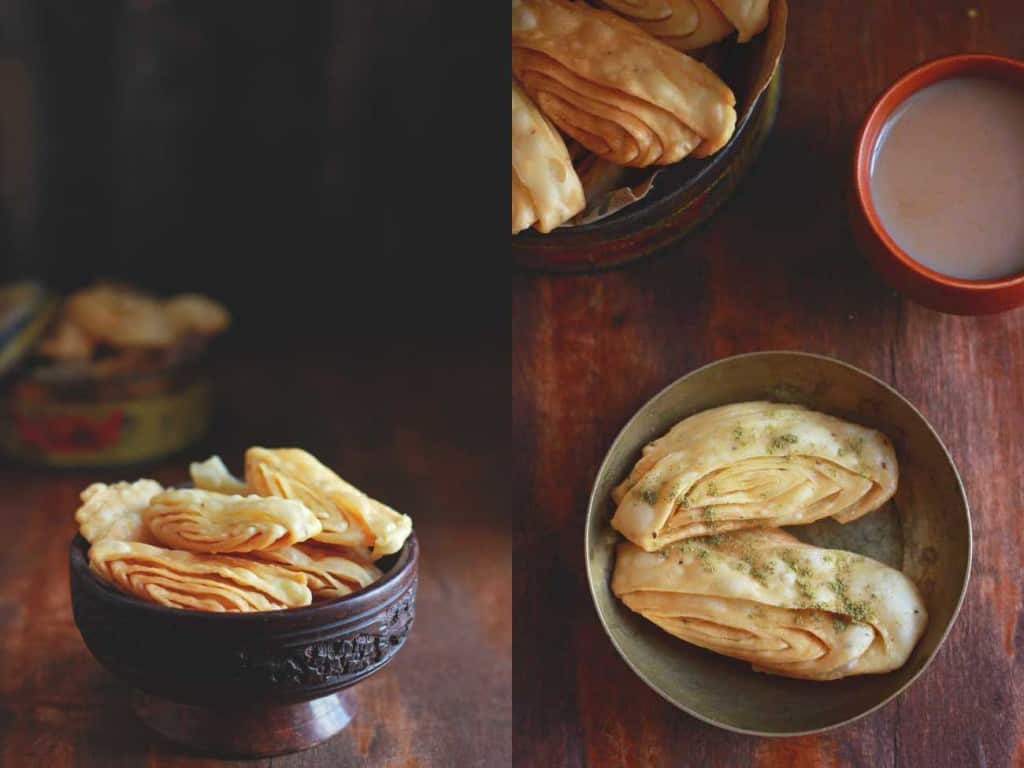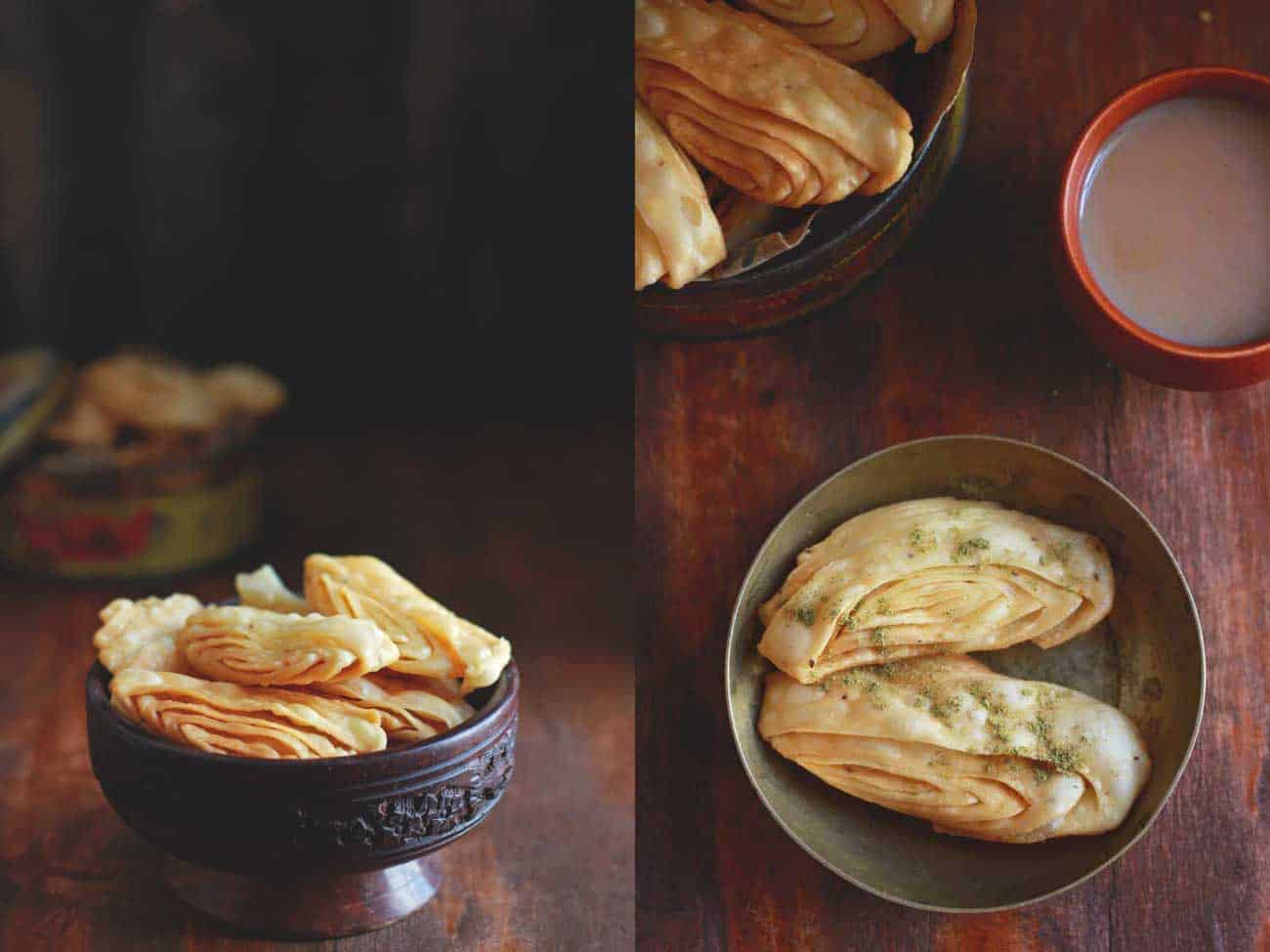 This year due to certain professional commitments we are unable to share as many recipes planned for the Diwali. But no worries, you can browse through our collection of 20+ Diwali Recipes on Pinterest and plan your gala platter. Learn how to make Nimki (savory crackers) in few simple steps:
If you try this recipe and love it, please leave a comment and a rating. This helps us grow and reach many other food lovers like you, who are looking for a perfect tried and tested recipe.