I am sharing a tried and tested Indian Jalebi recipe without using yeast. These homemade jalebis will remain crisp for hours and taste delicious. Be sure to watch the video!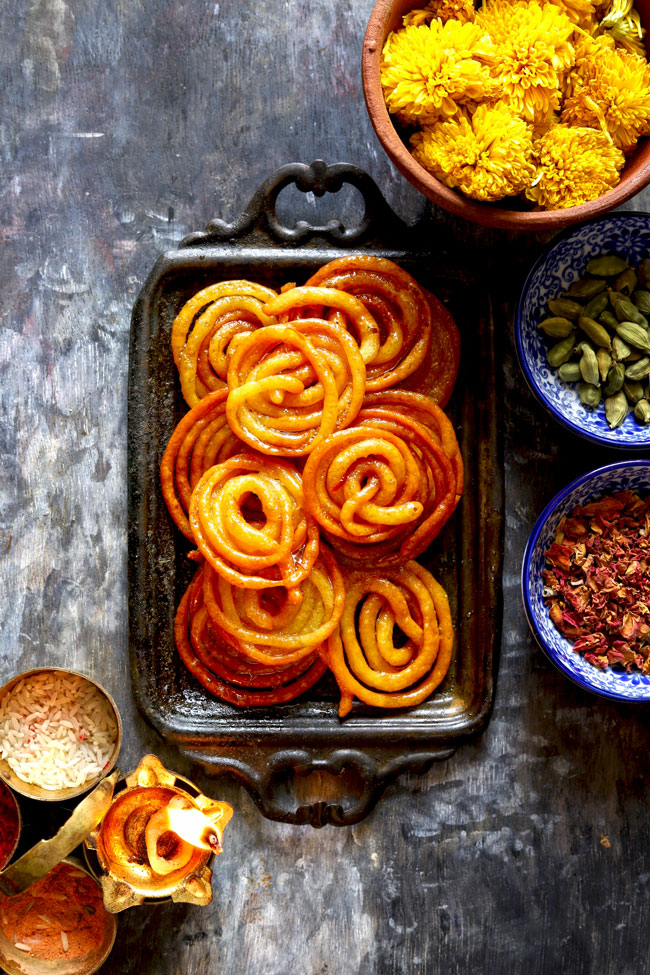 About Jalebi
Jalebi – the deep-fried pretzel-like sweet from India, is well-celebrated among food lovers.
Across the Indian sub-continent, it is readily available at sweet shops, restaurants, and street carts.
The batter of Jalebi is prepared with white flour, shaped into twisted and tangled concentric circles, deep-fried till crunchy, and later dunked in saccharine sugar syrup.
The moment Jalebi batter touches the hot oil, it starts taking whimsical shapes as if it has a mind of its own.
The pair of hands seasoned with years of practice could only master the tactful technique of shaping a perfect Jalebi.
The man sitting beside the wide and flat skillet filled with oil, the batter filled in a muslin cloth, moves his wrist like a magic wand in a rhythmic motion over the kadhai, and voila, there you have Jalebi ready. It is always absorbing to watch the halwai make Jalebis.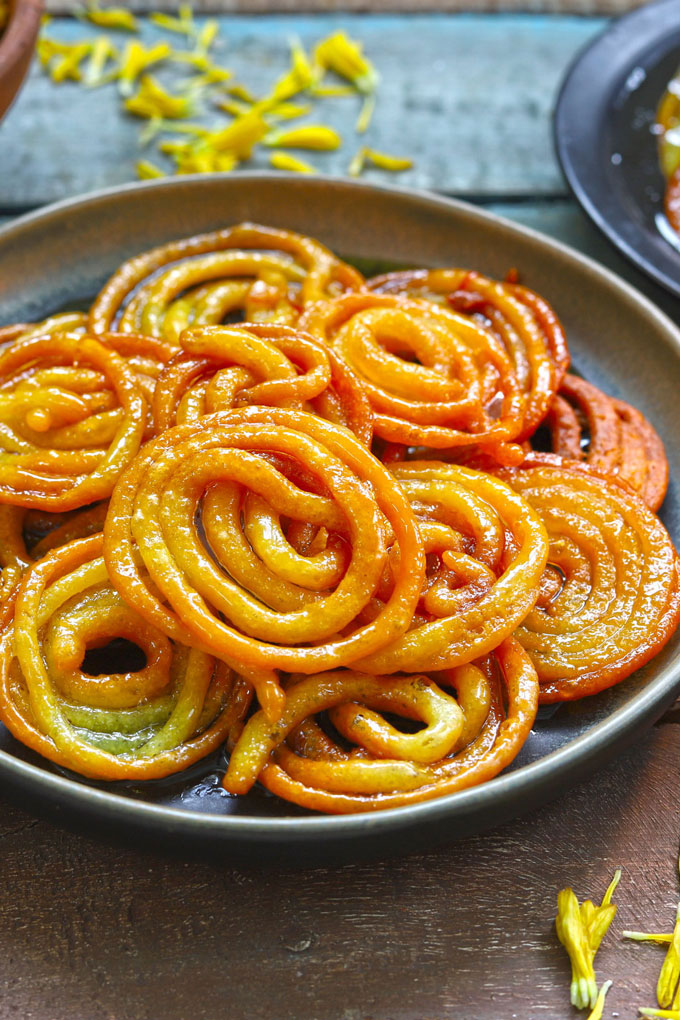 My Jalebi Recipe
My obsession with Jalebi Recipe unfolded two years back. It took me two years to bring the perfect recipe to the blog.
The task of disciplining Jalebi batter on a pan filled with piping hot oil is no less than taming a dragon.
Finally, we have a failproof jalebi recipe after many trials and errors.
Reasons To LOVE This Jalebi Recipe
easy to follow
requires minimal ingredients
always yield crisp and tasty jalebi
no yeast is used to ferment the batter
Watch Jalebi Video
My Tried & True Tips
Sharing with you a few notes scribbled in my recipe journal after each trial.
I hope this might help you understand the process in a better way.
Jalebi Batter: You need only 6 ingredients – maida (all-purpose flour), corn starch, curd, baking powder, ghee, and a pinch of turmeric. The batter comes together in 5 minutes.
The batter should be thick with a dropping consistency, a little thicker than the idli dosa batter.
Sour Curd: Use only sour curd to mix the batter, no milk. If required, use a tablespoon or so of lukewarm water. Please keep in mind if the batter is too runny or liquid, the jalebi will not take the right shape.
Fermentation: Inside the oven or microwave are my pet spots to keep the batter for fermentation. During the summer or humid season, the jalebi batter gets fermented in 6 – 8 hours, but it might give you a heart wreck during the cold season.
During winters, wrap the bowl containing batter with a woolen piece of cloth and then keep it for fermenting, it may sound funny but this trick really works.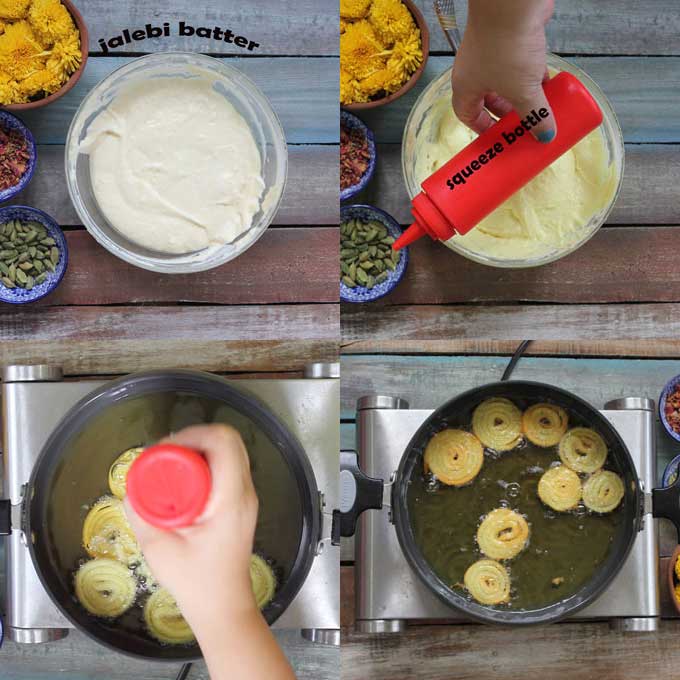 Jalebi Shape: To shape the Jalebi, you can either use the piping bag, plastic squeeze bottle, or a muslin cloth. Initially, it is best to make small-size Jalebi with one or two concentric circles.
To test the batter and perfect the wrist movement, try making a few jalebis on a plate or kitchen counter.
Don't get intimidated by the idea of creating a perfectly shaped Jalebi.
Sugar Syrup: For soaking the jalebi, we need a thick and one-string consistency of sugar syrup.
To test the sugar syrup, take a spoonful of it and try to check it in between your thumb and index finger. If the syrup sticks to your fingers and forms one string when pulled apart, it is ready for jalebi.
The sugar syrup should be hot while soaking the jalebi.
It can be flavoured with saffron, green cardamom powder, kewra, or rose water.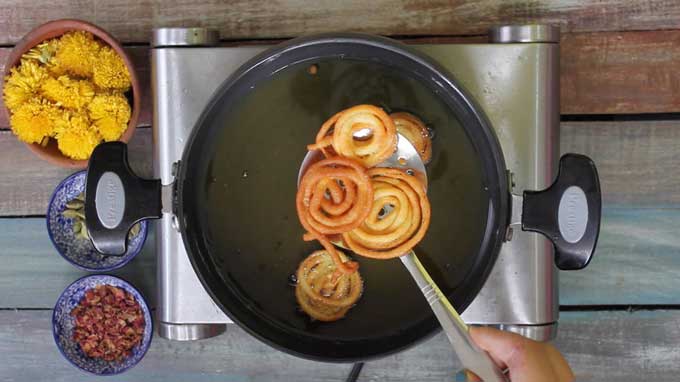 Frying Jalebi: While deep-frying the Jalebi, keep on moderating the heat. Jalebi gets the desired colour and crispness when deep-fried at the right temperature.
The fuming hot oil might result in a burnt and disoriented Jalebi. Also, do not flip the jalebi again and again while frying. Let them get crisp and light brown from one side, then flip and cook from the other side.
Traditionally ghee (clarified butter) is used for frying jalebi. But I always prefer flavourless refined oil for frying the jalebi, and the taste is truly delicious.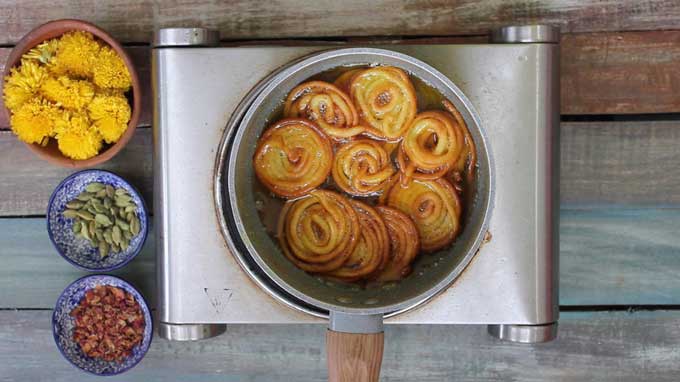 Soaking Jalebi: After frying, transfer jalebi to a metal colander for 5 – 10 seconds. This step ensures the removal of excess oil from the fried jalebi.
Next, soak the fried jalebi in the warm sugar syrup. The jalebi and sugar syrup should be warm, not lukewarm or at room temperature.
Let the jalebi sit in the sugar syrup for 5 – 10 minutes to absorb the syrup.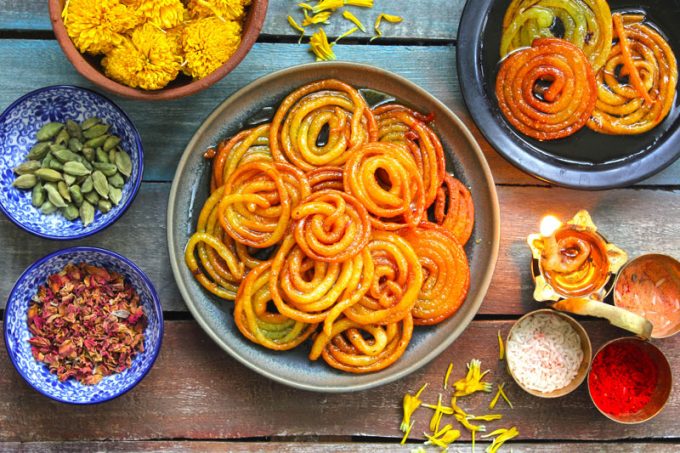 Serving Suggestion
A jalebi is best-served piping hot after soaking in the sugar syrup. It is crisp, warm, and tastes best.
Many food lovers enjoy crisp and hot jalebi with chilled rabri, phirni, or curd.
In North India, jalebi is served for a hearty breakfast with poha or kachori.
Storing & Reheating
As I said earlier, Jalebi is best served piping hot.
After a few hours at room temperature, it starts turning soft and loses its crunch.
I would not recommend storing it in the refrigerator for many days. However, you can store the batter in the refrigerator and make jalebi whenever you like.
For reheating the jalebi, I prefer using the air-fryer or crispy lid of the Instant Pot. Within 5 minutes, they both make jalebi crisp and hot.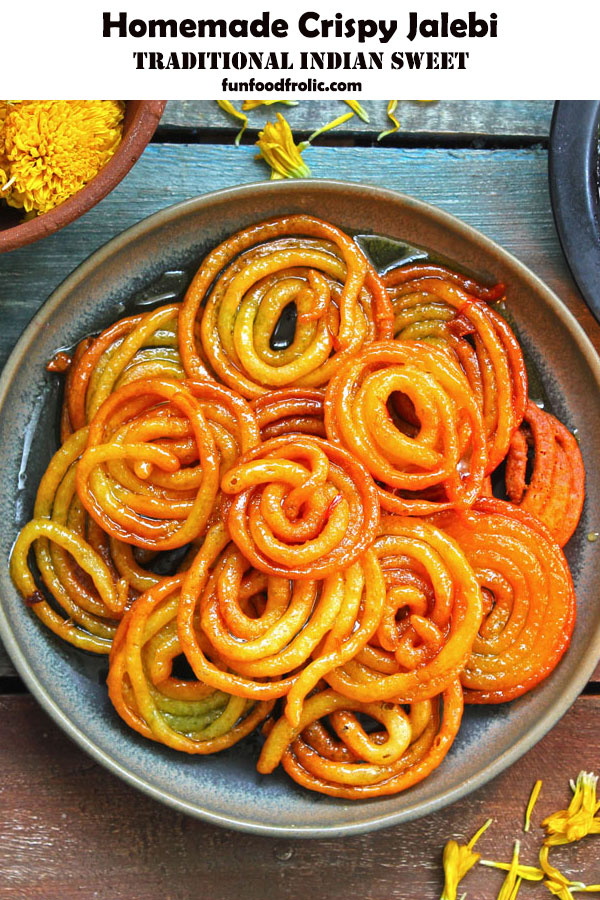 More Indian Sweet Recipes
Subscribe to our weekly newsletter or follow us on Youtube for video recipes.
If you try this recipe and love it, please leave a comment and a rating. This helps us grow and reach other food lovers like you.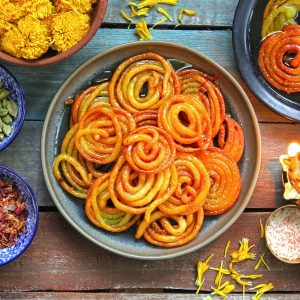 Jalebi Recipe
This is a tried and tested homemade Jalebi recipe. Learn how to make crispy jalebi without yeast at home in a few simple steps.
Print
Pin
Rate
Heavy Bottom Kadhai

Saucepan
Ingredients
Ingredients For Batter:
1

Cup

maida (all-purpose flour)

2

tablespoon

corn flour (starch)

½

teaspoon

baking powder

1

Cup

sour curd

2

tablespoon

ghee (clarified butter)

¼

teaspoon

turmeric powder for color
Ingredients For Sugar Syrup:
2

Cup

granulated white sugar

2

Cup

water

¼

teaspoon

saffron
Instructions
Jalebi Batter:
To make the Jalebi batter, combine together the maida, cornflour, baking powder, turmeric in a bowl.

Add ghee and curd to the dry ingredients. Mix nicely to make a thick batter. Whisk the batter nicely for 5 – 10 minutes either with a wire whisk or using an electric hand mixer.

The consistency of the batter should be thick and not watery, a little thicker than dosa batter. You should be able to make a shape using a piping bag.

Cover the jalebi batter and place it in a warm place for 24 hours or at least 8 – 10 hours, till it is fermented, the batter will rise once fermented.

Once the batter is fermented stir the batter in a cut and folds motion to combine it once again. Make sure not to whisk it for too long once it is fermented.
Sugar Syrup:
To make the sugar syrup, boil the sugar with water and saffron strands in a wide pan on medium heat until the sugar dissolves. When the syrup becomes thick and of one string consistency. Turn off the heat and keep aside. But make sure the syrup is hot while soaking the jalebi.
Frying Jalebi:
Now to make the jalebis preheat the oil in a wide heavy-bottomed pan for deep frying. To check whether the oil is hot enough for deep frying the Jalebi, drop a teaspoon of batter in oil and if it comes floating to the top almost immediately, the oil is ready for frying.

Meanwhile fill the plastic squeeze bottle with the batter. Tap to remove air. Test the batter by making few jalebis on a plate. Next, pipe spirals or concentric circles of the batter onto the hot oil. Fry the jalebi on low-medium heat until golden brown in color and crisp.

Once the jalebi is crisp and browned, transfer to a metal colander to drain the excess oil. Let it sit for 5 – 10 seconds.
Soaking Jalebi:
Transfer the warm jalebi to the hot sugar syrup. And let them sit in the syrup for the next 5 – 10 minutes to absorb the sweetness.

Serve Jalebi warm with rabri, kheer or curd.
Recipe Notes:
The leftover batter can be stored in the fridge and is good to use for the next 2 – 3 days. 
As we are not using any yeast in this recipe, it is important to use sour curd for making the batter. The batter will turn light and fluffy after fermenting. 
Turmeric is added only for the color in the batter. You can use organic food color as well. 
If the nozzle or tip of the squeeze bottle is too thin, cut it a little bit to get the desired thickness of jalebi. Please keep in mind, the jalebi expands in size while frying. So adjust the thickness of the nozzle accordingly. 
Nutrition
Calories:
124
kcal
|
Carbohydrates:
26
g
|
Protein:
1
g
|
Fat:
2
g
|
Saturated Fat:
1
g
|
Cholesterol:
5
mg
|
Sodium:
7
mg
|
Potassium:
36
mg
|
Fiber:
1
g
|
Sugar:
21
g
|
Vitamin A:
12
IU
|
Vitamin C:
1
mg
|
Calcium:
21
mg
|
Iron:
1
mg
For Behind The Scene updates
Subscribe to our newsletter!