That time of the year when we finally bid goodbye to winter and welcome summer with a splash of water and a glass of chilled Thandai on the day of Holi. Though I am totally spoil sport when it comes to playing with colors but I enjoy playing with water, eating Ghujias and drinking Thandai.
Ghujia is still an undiscovered sweet treat in South India, it has it's roots in North India especially Uttar Pradesh, where it is made in every household by the women in the family just before Holi along with other savory snacks like Khasta Kachori, Dahi Bhalla, Namak Pare and so on. Women of neighborhood sit in courtyard of house in small groups, singing folk songs of Holi and make these snacks…. it's been ages now I have seen such visual.
At my mum's place before marriage I use to sit with my mom and help her making all the snacks for Holi, that time she use to keep on mumbling about the measurements for dough, consistency, khoya quality but I never paid attention, I use to think what a big deal if proportions are not right why to make fuss about it …. today after so many years I realize even I keep on mumbling to myself while working in the kitchen
Ghujia pastry like many other Indian pastries is made of three simple ingredients – Flour, Oil and Water but proportions have to be very accurate for the pastry and for that I always prefer using measuring cups, though many experienced cooks like my mum do not even need to measure ingredients, with years of practice just by the mere sight she could make out the quantity of flour and oil but I avoid taking that risk may be after few years I can.
Glazing Ghujias with sugar syrup is my MIL's idea which was quite a new idea to me, glazing give Ghujias a sheen and make pastry sweet but for that you have to be very careful with the amount of sugar in the filling, if you are glazing Ghujias with sugar syrup than balance out the sugar content in the filling and the glaze. Glazing Ghujias is totally optional, even I have done it for the first time this year and I like the end result. While glazing does not leave Ghujias in syrup for a long time otherwise they will turn soggy, a quick dip and out – that is the thumb rule.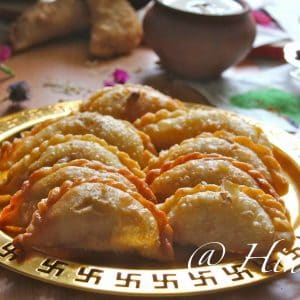 Kesar Mawa Ghujia/Gujia Recipe
Ghujia is a delicious Indian sweet prepared around the festival of Holi. Here is the full recipe of Holi Special - Kesar Mawa Ghujia/Gujia Recipe.
Print
Pin
Rate
Ingredients
Ingredients for the dough
500

g

All Purpose Flour

Maida

⅓

Cup

Ghee

Lukewarm water to bind dough
Ingredients for the mawa filling
250

g

Khova/Khoya/Mawa

crumbled

2

Tbsp

ghee

⅓

Cup

dried coconut

shredded

⅓

Cup

sugar or as per taste

¼

Cup

raisins

¼

Cup

chironji Nuts

¼

Cup

almonds

finely chopped

¼

Cup

cashews

finely chopped

1

Tbsp

fennel seeds

roughly crushed

4

– 5 green cardamom pods

crushed

A pinch of saffron dissolved in 1 Tbsp milk

optional
For the glaze
2

Cups

water

1

Cup

sugar

Water to seal the Ghujias

Oil for deep frying
Instructions
For the dough, rub flour and ghee between your fingers until it resembles coarse bread crumbs.

Adding water little by little bind dough. Dough should be firm yet soft. Knead it for 5 minutes. Cover with a wet muslin cloth and set aside.

To make filling, in a heavy bottomed pan heat ghee on medium heat, add crumbled mawa and turn the flame to low.

On low flame stirring occasionally let mawa turn into light golden in color. At this stage mawa will leave it's own ghee and start leaving sides of the pan. Turn of the gas and set aside until it cools down.

Once mawa cools down mix in sugar, coconut, raisins, mixed nuts, chironji, fennel seeds, cardamom powder and saffron.

Using your fingers mix all ingredients nicely crumbling chunks of mawa.

For making ghujias, knead the dough again for a minute.

Divide the dough into about 30 equal sized small balls. Roll each ball into about 4 to 3 inch diameter (like a poori).

Place the rolled dough into gujia mold. Dip your finger in the water and spread it around the edges of the rolled dough.

Put about 1 tablespoons of the filling mixture in the center and fold it into a semi-circle along with the mold, press firmly. Make sure the edges are completely sealed otherwise they will open while frying and oil will get in and filling will come out.

Remove the excess dough and continue filling the rest of the gujia in the same manner.

Heat about 1-1/2 inches of oil in a heavy bottomed frying pan on medium heat. To test if the oil is hot enough, drop a small piece of dough into the oil. It should sizzle right away but come to the surface slowly.

Place the gujia in the frying pan few at a time. After gujiyas are floating on top of the oil, turn them slowly. Fry the gujias until they turn light golden-brown color on all sides. Don't fry on high heat; the gujia crust will be too soft and not crispy.

When they are done cooking, lift them out of the oil with a slotted spoon and drain on an absorbent paper.

For making glaze, boil water and sugar in a pan until sugar dissolves and syrup is slightly thickened and sticky.

Dip in ghujias in the sugar syrup and and remove on a plate.

Let the ghujias cool before storing in an airtight container.
Love this? Pin it for Later!
Follow @hinagujral on Pinterest!