Aloo ke Gutke is the Pahadi name for stir-fried potato in spices, the word Gutke in local Kumauni dialect means pieces, if you have got a chance to travel in the hills of Uttaranchal this is the most common snack served by most of the street side tea vendors. There is simple reason behind this particular dish being so popular in Kumaun hills, potato is grown abundantly in that whole region and also due to not so developed market network very basic variety of ingredients are available in the hilly areas so Aloo Ke Gutke is the best preparation that can be done out of minimum available resources.
The potato of Kumaun has a peculiar sweet taste to it, which gives this humble dish a unique flavor, this variety of potato sometimes sold as Pahadi Aloo, though this is not one of the signature Pahadi dishes but over the years it has become quite a popular one among the tourists, who every year visit Kumaun hills to spend quiet summer holidays or I must say the most commercialized dishes from Kumauni Cuisine.
But Aloo ke Gutke is not served on its own, it is usually served with Pahadi Kheere ka Raita (Cucumber Raita) and a hot cup of tea. For the first time, the combination sounds really unusual and weird but that is how it has been served, and I agree on curd and tea together are not an inviting combination. But once you taste it you fall for this out of the box combination of Pahadi snacks. Yes you read it right I said snack, Aloo ke Gutke is served as a snacks in most of the Kumaoni households along with a cup of hot tea but yea if you are too hungry than your hostess will be more than happy to serve Aloo ke Gutke with deep fried Poori and Cucumber Raita.
Few days back when I was missing my hometown I stirred up some Aloo ke Gutke, Green Chutney and Cucumber Raita along with Poori for lunch and since we both have grown up in the same Kumaun hills, these dishes are always close to our heart, with each bite we relived all those memories of growing up years and planned for our next trip to Kumaun hills.
If you try this recipe and love it, please leave a comment and a rating. This helps us grow and reach many other food lovers like you, who are looking for a perfect tried and tested recipe.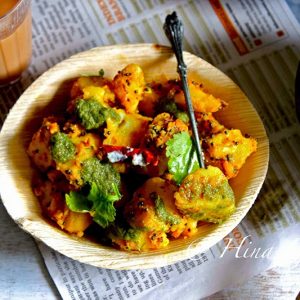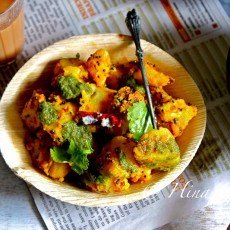 Aloo ke Gutke Recipe (Stir Fried Potato Pahadi Style)
Aloo ke Gutke is the Pahadi name for stir-fried potato in spices, the word Gutke in local Kumauni dialect means pieces. Learn how to make pahadi style jeera aloo
Print
Pin
Rate
Ingredients
4

large sized potato

2

– 3 dried red chiles

1

tsp

mustard seeds

2

tsp

turmeric powder

2

tsp

red chili powder

Salt

as per taste

1

tsp

mango powder

1

tsp

coriander powder

3

tbsp

mustard oil

Fresh coriander leaves for garnish
Instructions
Wash potatoes and boil them until half way cooked.

Turn off the heat, drain the hot water and fill the pan with cold water. Peel the potatoes and cut them into 1 ½" pieces.

Heat oil in a skillet until fuming hot, lower the heat and fry the red chilies until brown. Remove from the oil and keep aside.

In the same oil add mustard seeds. Once seeds start popping add red chili powder and turmeric powder stir for 1 – 2 seconds.

Immediately add potatoes and mix well for to coat the spices.

Add coriander powder, salt, mango powder and mix well.

Sauté the potatoes for about 5 -7 minutes on med – med low flame until potatoes are evenly roasted.

Cover the skillet with a lid and let potato cook over low heat until fully cooked and brown charred marks appear on potato.

Turn of the heat, transfer to a serving dish and garnish the potatoes with red chilies and lots of coriander leaves.

Serve Aloo ke Gutke hot with Garam Masala Chai.
Love this? Pin it for Later!
Follow @hinagujral on Pinterest!