Potato Cheese Balls are a crispy vegetarian snack with the melted cheese heaven inside. These egg-free cheese balls are super easy to make and freezer-friendly. Be sure to watch the video!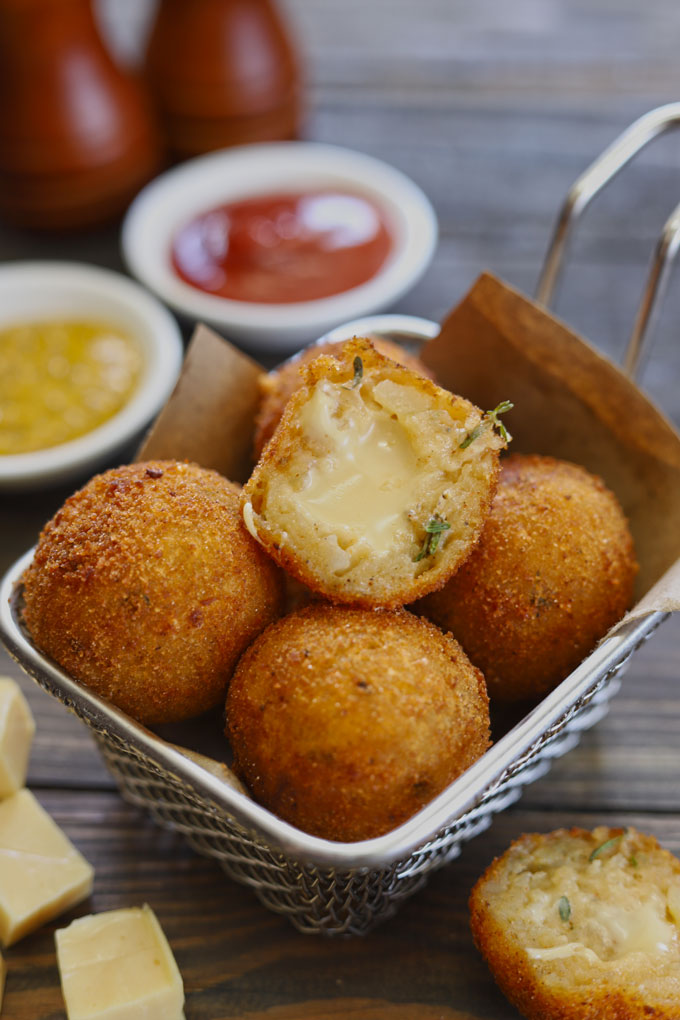 About Cheese Balls
We all love CHEESE BALLS. Whether they come from a ready to fry packet, frozen section of a deli shop, or a cafe, we all have our favorites when it comes to cheese balls.
But once you try these homemade potato cheese balls you will never go back to readymade ones. In case you are a chicken lover, try my most popular chicken cheese balls recipe.
What's so special about potato cheese balls?
freezer-friendly
purely vegetarian
preservatives free
super crisp exterior
melt-in-mouth cheese lava
require a few basic ingredients.
Isn't that a winning cheese ball recipe already?
Ingredients Required
You need a few pantry staples to make cheese balls at home:
For Cheese Balls:
Boiled Potato – without skin and grated. Or use leftover mashed potato.
Corn flour (corn starch) – to bind the cheese balls
Grated Cheese like cheddar or any hard/processed cheese
Salt, Pepper, Garlic Powder, Italian Herbs
For Stuffing:
Mozzarella or Pizza Cheese – cut into small squares/bites to stuff inside the cheese balls.
For Coating:
Bread Crumbs – you can use Panko bread crumbs or a mixture. Or coarsely ground cornflakes and bread slices.
Corn Starch Paste – combine 1 tablespoon of corn flour with ¼ cup of water to make a thick paste or slurry.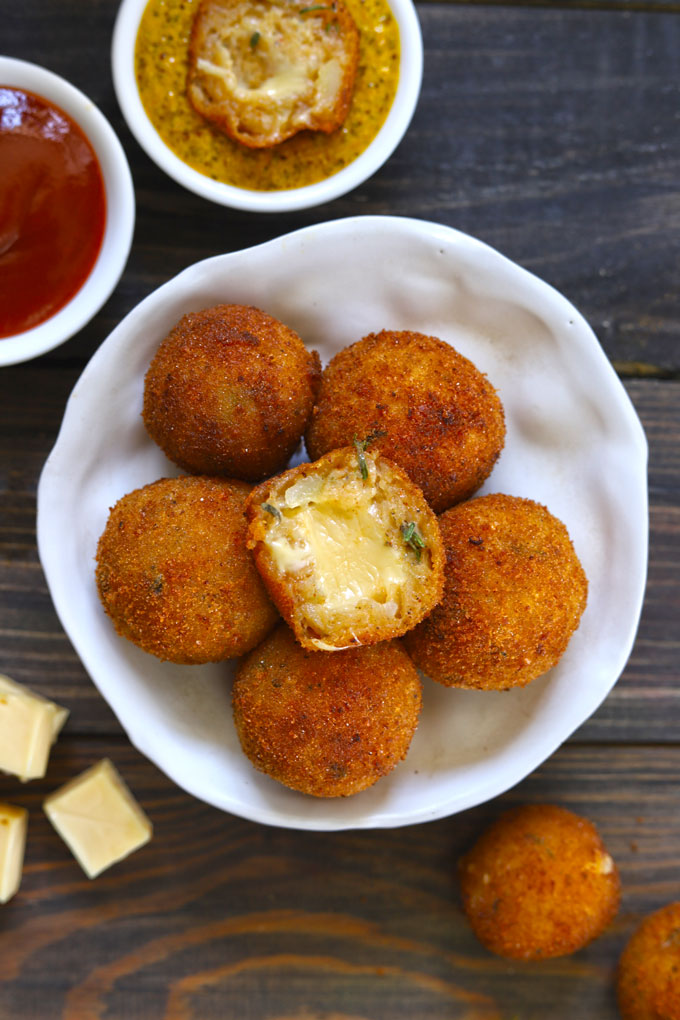 Ingredient Substitutes
Boiled Potato – Feel free to use leftover or readymade mashed potato for making cheese balls. You can use boiled sweet potato as well.
Bread Crumbs: If you do not have a packet of bread crumbs in the pantry pulse ¼ cup plain unsweetened breakfast cornflakes and 1 bread slice (with brown edges) in a food processor to make a coarse mixture. Use this for coating cheese balls.
Corn Starch: Instead of cornflour you can use all-purpose flour (maida) to bind and coat the cheese balls.
Mozzarella Cheese: You can pick cheddar, pizza cheese, or any other kind of stringy cheese to stuff inside the cheese balls.
Herbs & Seasoning: These cheese balls are highly customizable in that sense. Feel free to season them with herbs and spices of your choice. From coriander, minced garlic, thyme, oregano to chili flakes, pick any seasoning you like to flavor the potato cheese balls.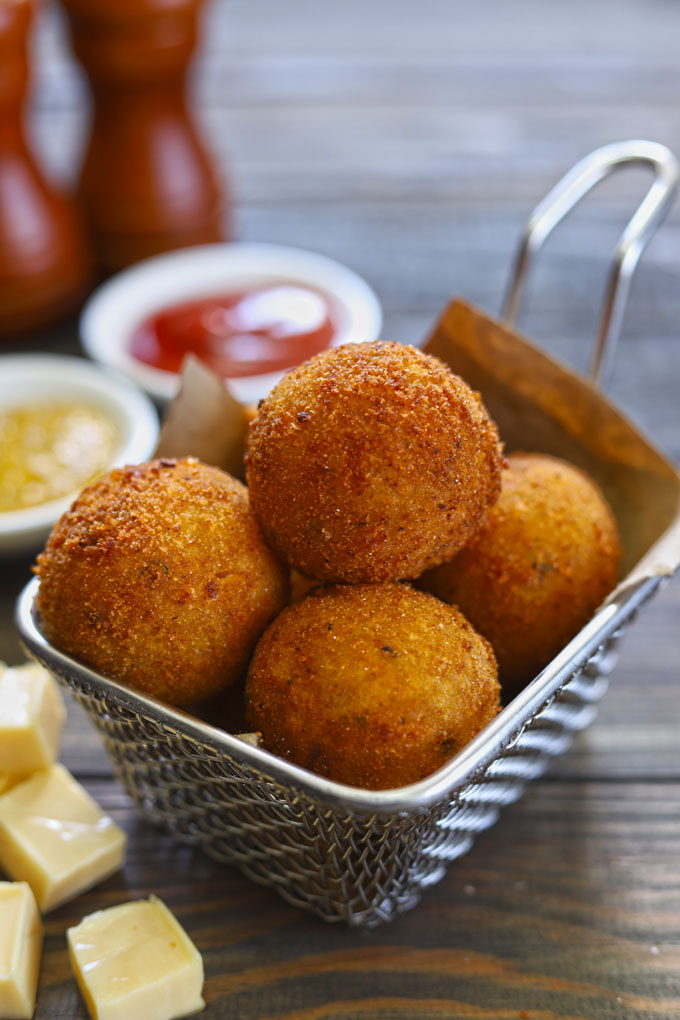 Baking vs. Deep-Frying
Nothing can beat the texture and crispness of deep-fried potato cheese balls. If you are looking for authentic cafe-style cheese balls then stick to the deep-frying technique.
Whereas, for healthy cheese balls bake them at 200-degree Celcius for 15 – 20 minutes. Brush them with oil or use the cooking spray before baking.
You can air-fry the cheese balls as well.
To make it in an air fryer, preheat the air fryer at 180 degrees for 10 minutes. Then, arrange the cheese balls in an air fryer basket and brush them with oil. Bake for 15 -18 minutes or until golden and crisp. Keep in mind to flip cheese balls once halfway through the cooking time.
Watch Video
Serving Suggestion
Potato Cheese Balls are incomplete without an excellent dipping sauce. Serve them with your favorite dipping sauce for a cafe-style snacking experience at home.
My favorite dipping sauces to accompany a cheese ball are:
FAQs Related To Cheese Balls
How to boil potatoes for making cheese balls?
We need slightly hard-boiled potatoes for making cheese balls. I prefer boiling them in the microwave. Put potatoes inside a ziplock bag. Heat in microwave for 5 – 6 minutes. Peel and use. This way, potatoes are totally dry and not water clogged. Or boil them in a pressure cooker. Keep boiled potatoes in the fridge overnight or at least 2 – 3 hours before using.
How to make bread crumbs mixture at home?
Combine ¼ Cup unsweetened breakfast cornflakes and 1 slice of bread in a mixer. Blend to make a coarse powder. Use it for coating any cutlet or other dishes. You can store it in the fridge for months.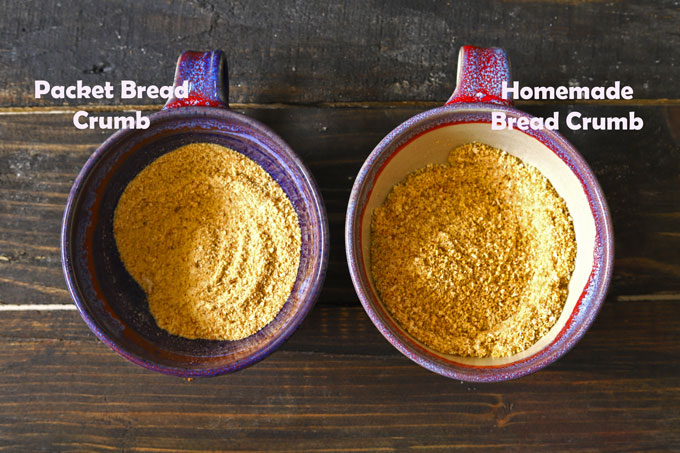 Pin
Which cheese is the best for stuffing cheese balls?
If you need that melted cheesy goodness in the center of your cheese balls, always use mozzarella or good-quality pizza cheese. No other cheese will give you the same result.
How to store uncooked cheese balls?
You can freeze uncooked cheese balls for 1 – 2 months. Or you can store them in the refrigerator for 2 – 3 days.
Can I fry cheese balls a few hours before serving and store them?
The answer is NO. Cheese Balls are best served and enjoyed piping hot. The cheese stuffed inside is gooey, and the exterior is crisp. After a few hours, potato cheese balls turn a bit soggy and lose their crunch.
More Cutlet Recipes
Subscribe to our weekly newsletter or follow us on Instagram for video recipes.
If you try this recipe and love it, please leave a comment and a rating. This helps us grow and reach other food lovers like you.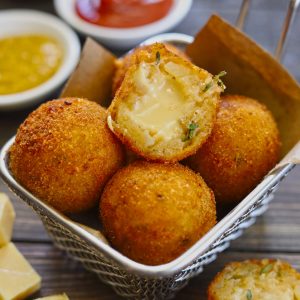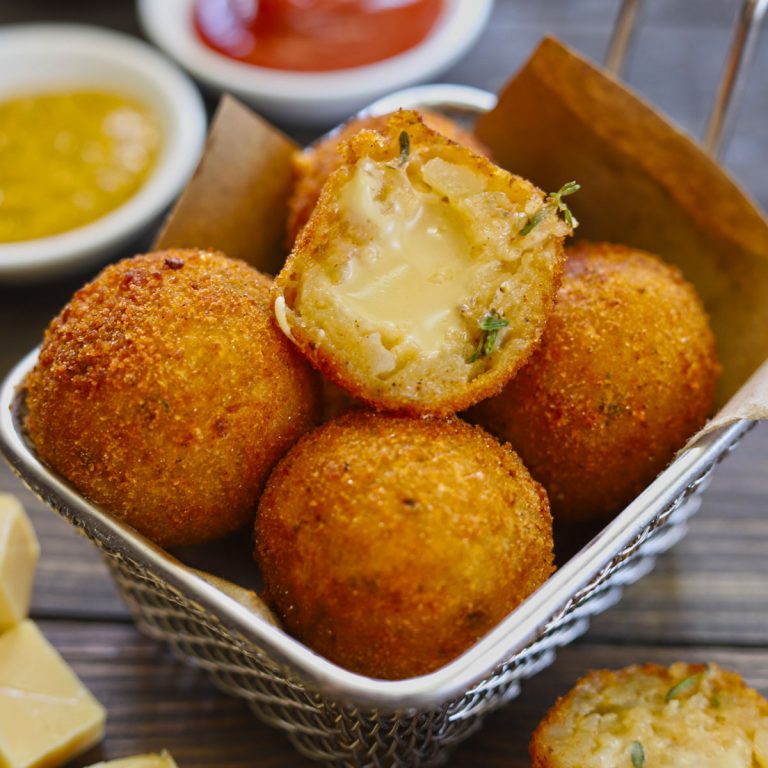 Potato Cheese Balls Recipe
Potato Cheese Balls are a crispy vegetarian snack with the melted cheese heaven inside. Learn how to make veg cheese balls in a few steps.
Print
Pin
Rate
Ingredients
Ingredients For Cheese Balls:
4

boiled potato

¼

Cup

grated cheese (any hard cheese)

¼

Cup

cornflour (corn starch)

1

teaspoon

red chilli flakes

1

teaspoon

dried oregano

1

teaspoon

garlic powder

1

teaspoon

black pepper

Salt to taste
Ingredient For Stuffing:
100

gram

mozarella or pizza cheese

(cut into small squares)
Ingredients For Coating:
1

Cup

bread crumbs

1

tablespoon

cornflour

¼

Cup

water
Instructions
Prepare Cheese Balls:
Grate potato in a mixing bowl. Add grated cheese, cornflour, spices, salt, and pepper. Mix nicely and form a smooth, non-sticky dough. There shouldn't be any lumps in the dough.

To shape balls, grease your hands with a teaspoon of oil. Pinch a spoonful of dough. Shape it into a round ball. Gently flatten using fingers. Place a small piece of mozzarella cheese. Cover it neatly with the potato mixture. Once again, shape it into a round ball. Similarly, shape all the cheese balls. Keep in the fridge until ready to fry.
Coating Cheese Balls:
Combine cornflour with water and make a smooth paste. Set aside.

In another bowl, add bread crumbs. Place these two bowls next to each other.

Dip each cheese ball in cornflour liquid and then coat with bread crumbs evenly. Arrange coated cheese balls on a plate. Keep in the fridge while heating the oil.
Frying:
Heat oil in a frying pan over medium-high heat.

Once the oil is preheated, carefully add cheese balls into the hot oil in small batches. Fry till golden, and crisp from all the sides.

Transfer fried balls to a metal seive.

Serve potato cheese balls immediately with ketchup or dip of your choice.
Recipe Notes:
For perfect cheese balls, please follow the ingredient measurements. 
Always grate the potato and not mash them. If you are using leftover mashed potato then it's fine. 
Do not boil the potatoes in too much water for making cheese balls. Try to use microwave boiled potatoes or slightly hard-boiled potatoes instead of water clogged ones. 
If the cheese ball dough/mixture seems too sticky add more cornflour or apply a teaspoon of oil. You can keep it in the fridge too for 15 – 20 minutes. It becomes easy to handle. 
You can store cheese ball dough in the refrigerator for 2 – 3 days. 
Feel free to add seasoning of your choice in the dough. 
You can freeze cheese balls for 1 month. 
Be careful while frying the cheese balls. Sometimes, the cheese might burst. 
Always fry cheese balls on medium-high flame. 
Nutrition
Serving:
1
piece
|
Calories:
828
kcal
|
Carbohydrates:
34
g
|
Protein:
8
g
|
Fat:
75
g
|
Saturated Fat:
8
g
|
Cholesterol:
14
mg
|
Sodium:
211
mg
|
Potassium:
494
mg
|
Fiber:
3
g
|
Sugar:
2
g
|
Vitamin A:
194
IU
|
Vitamin C:
21
mg
|
Calcium:
130
mg
|
Iron:
2
mg
For Behind The Scene updates
Subscribe to our newsletter!