Teatime Sandwiches are the best menu choices for the summer tea party. One thing I love most about teatime sandwiches is they are never out of fashion. I cannot imagine a good tea party or high-tea menu without these classic, delicate sandwiches. As a food lover, I always have this soft corner for the creamy, moist teatime sandwiches. That's the reason I cannot stop at one sandwich, second helping is a must for me. These rainbow teatime sandwiches are the best thing that can happen to you while on the go. Because this sandwich recipe is lunch box, picnic, and travel-friendly. So hope now you have enough reason to bookmark this teatime sandwich recipe.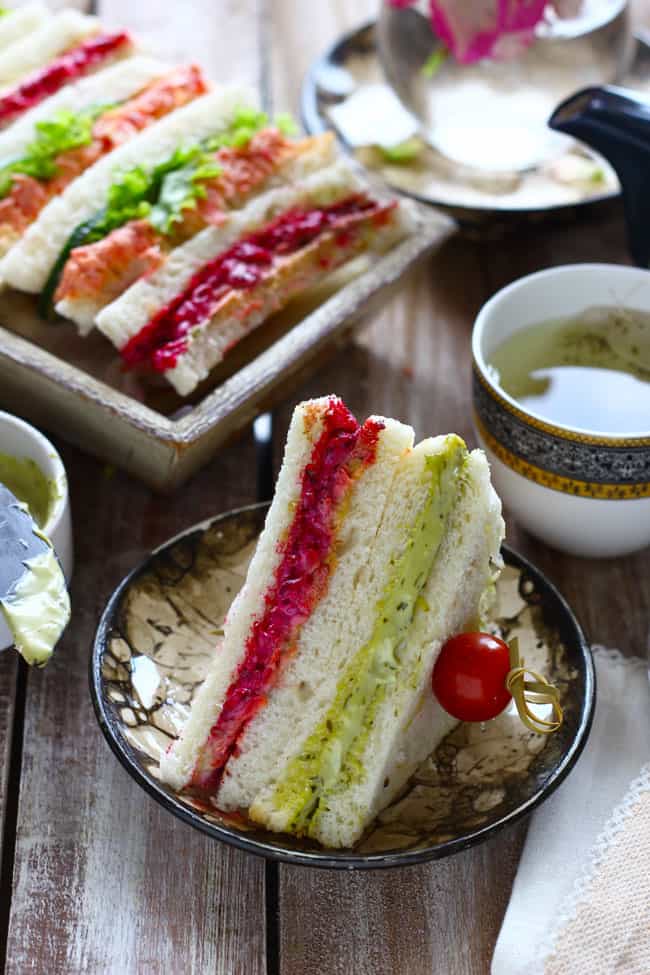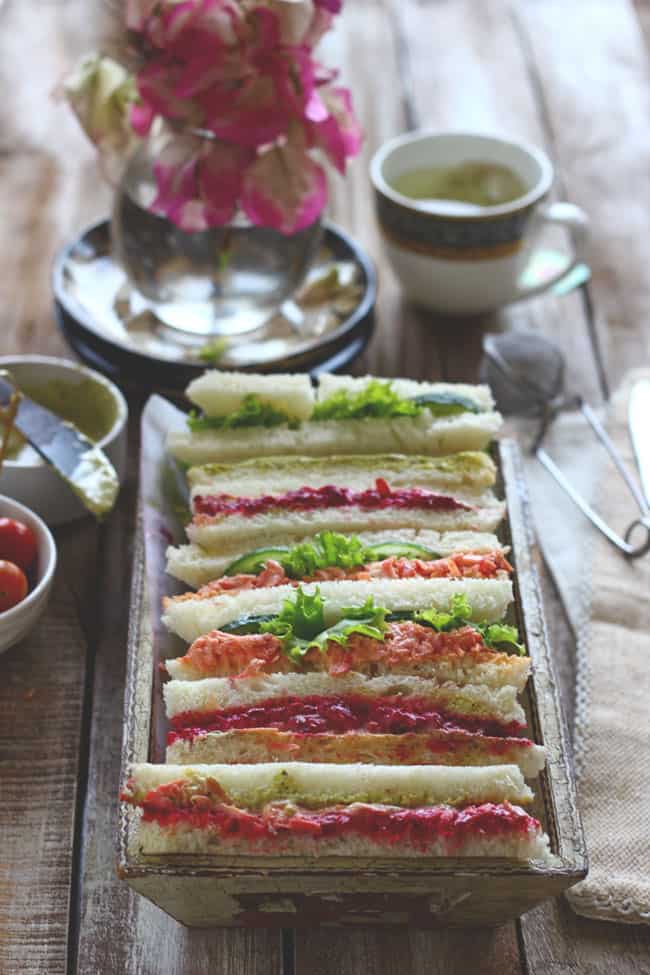 There is not one but three colorful dressing recipes shared in this recipe post. As I make these teatime sandwich in three different flavors to add color and variety to the mundane teatime table. And it is surely one interesting way to seek your guest's attention. Imagine, how gorgeous these bright colored sandwiches stuffed with homemade dressing would look. When you pack them in the lunchbox, they look so fancy. This teatime sandwich recipe is super simple to follow and has zero gas stove cooking involved. But few things you need to keep in mind while making these sandwiches. Because making a perfect teatime sandwich requires a bit of attention to detail.
Take the freshest bread loves possible for this recipe. The stale and dry bread slices are the big no. Next, trim the crusty edges of the bread slices, wrap the slices in wet muslin/cheesecloth and keep in the fridge in a box. This way the bread slices remain moist and fresh for the sandwich. If I am planning to make these sandwiches for the breakfast all these preparation steps are done the previous night. Even I prepare the dressings for the sandwich beforehand and store in the fridge. Last minute, all I need to do is assemble the sandwich. That hardly takes 15 minutes.
…and within minutes, your light, creamy teatime sandwich will be ready to enjoy. Serve it on multigrain bread, whole wheat bread or the regular sandwich bread with lettuce, rocket or any other green of your choice. However you serve it, I hope you love it as much as I did.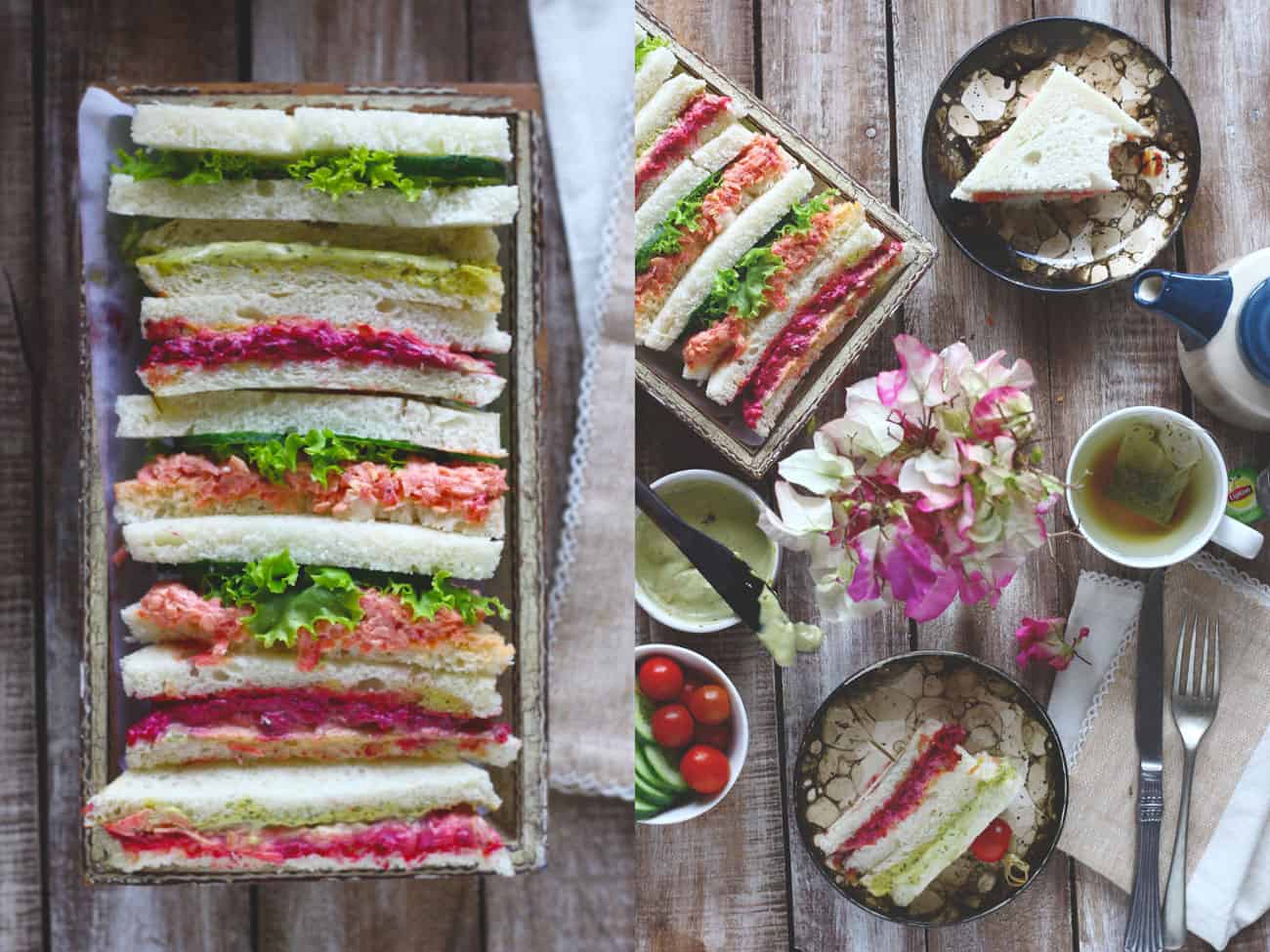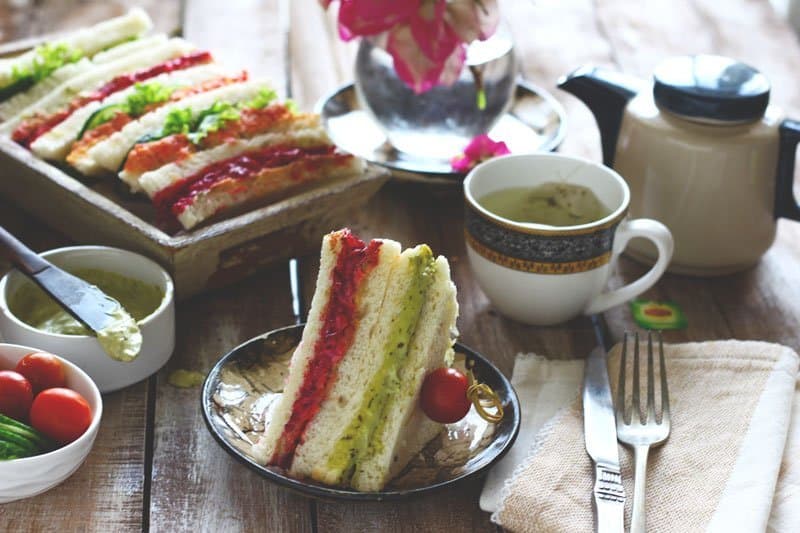 Teatime Sandwiches are a perfect lunchbox recipe idea for the summers. One, they do not require grilling and second, they taste best when served cold or at room temperature. With a cold, crunchy salad on the side, you can pack an interesting lunchbox in less than 20 minutes. If we do a road trip, then these sandwiches are one of the must-have items in our food basket. As these sandwiches are mess free to eat while traveling and can be prepared in advance. No dripping sauce or plunging stuffing. All you need to unwrap them and take a bite. Even the kids in the family love these teatime sandwiches. And these sandwiches are one of the best ways to feed vegetables like beet and carrot to the kids.
So next time if you have a family outing planned or a picnic lunch with your spouse, don't forget to pack these rainbow teatime sandwiches. With a pitcher of chilled iced tea and crunchy green salad on the side, you can pull together a fancy, summer meal in minimal time.
If you make these teatime sandwiches, I'd love to see! Tag me on Instagram @funfoodandfrolic and use
#funfoodfrolic

.
How to make teatime sandwiches in 25 minutes: