This strawberry cheesecake is a stunning, stylish, and the easiest, no-bake dessert for parties. It is perfectly creamy and loaded with the flavor of strawberries. You can make this strawberry cheesecake hours/days before and set it in the refrigerator. Be sure to watch the video!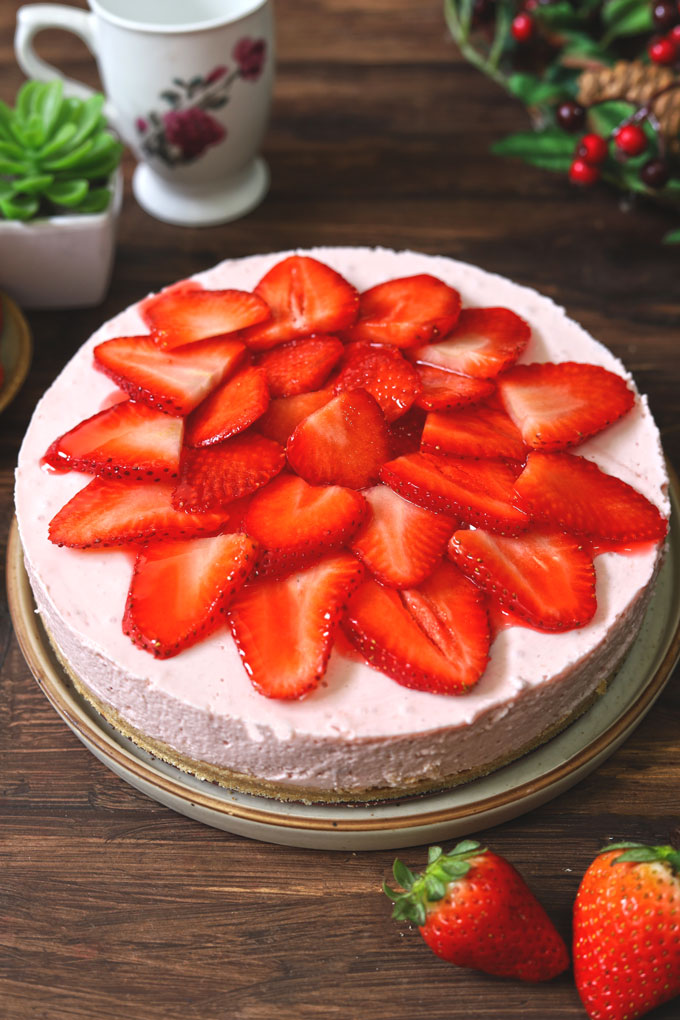 Concept of No-Bake Cheesecake
If you are not keen on baking an elaborate, traditional cheesecake but want to indulge in the creamy goodness – this no-bake strawberry cheesecake recipe is made for you.
The DIY base of digestive cookies and butter, topped with a creamy, egg-free, no-bake cake made with – hung curd/cream cheese, cream, sugar, and strawberries.
What is the difference between baked and no-bake cheesecake?
There are no eggs in the no-bake cheesecake. The structure of the cheesecake is set using gelatin. In contrast, the baked cheesecake has eggs and baked using the water bath technique in the oven.
Over the years, no-bake cheesecake has become a widely popular party dessert.
They are super easy to make, do not require oven or pro baking skills, and are perfect for feeding a large crowd or for potluck get-togethers.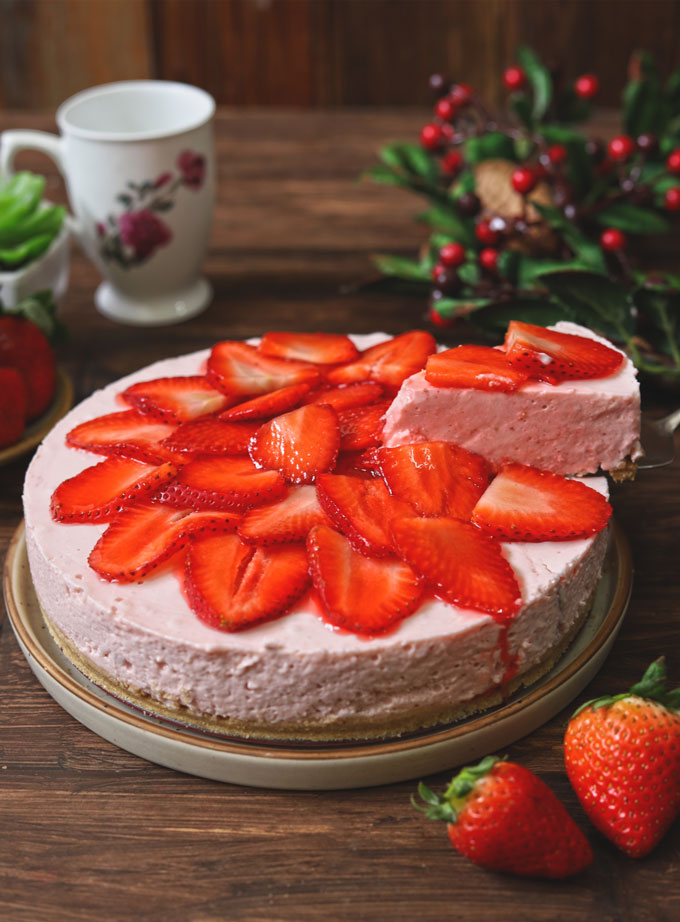 Ingredients Required
What makes this no-bake strawberry cake even more desirable is the simple ingredient list.
For Cheesecake Base:
Biscuit: Use the best available digestive cookies or graham crackers. I use Marie Gold Biscuit.
Butter: Melted butter (unsalted) is perfect for combining with crushed cookies to make the base.
I do not add sugar to the cake base.
For Cheesecake:
Strawberry: Use sweet, ripe, fresh, or frozen strawberry. Thaw frozen ones at room temperature before making the cake.
Sugar: Use granulated white sugar.
Cheese: Many no-bake cheesecake recipes use cream cheese. I use thick, hung curd or yogurt, which has a consistency of cream cheese or quark cheese.
Cream: I have tried this strawberry cheesecake with heavy whipping cream and regular low-fat cream on different occasions. I like the texture better with heavy cream. In India, Mother Dairy or D'lecta Cream is perfect for making this cake.
Gelatin: It is a key ingredient to set the cheesecake as it is a no-bake cake. For a purely vegetarian cake, use China Grass or Agar Agar instead of gelatin.
Equipment: A blender and the 9 inch Spring Form Tin.
The Hung Curd
The USP of this no-bake strawberry cheesecake recipe is the light and airy texture.
The star ingredient responsible for the light texture of the cake is hung curd.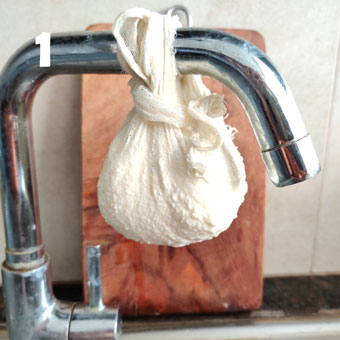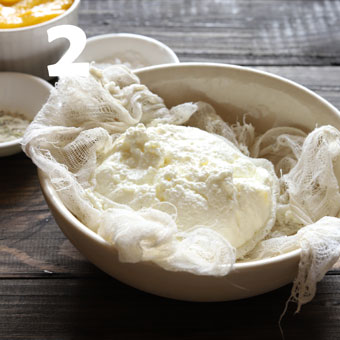 Tie the regular curd or yogurt in a clean muslin cloth for 1 – 2 hours to drain all the water (whey) and get a soft cheese-like curd. In the native dialect, the hung curd is known as 'chakka'.
During the hours when the curd is hung, it gradually transforms personality from humble slurry liquid to soft cheese, which melts in the mouth.
The curd's texture becomes similar to cream cheese, or fresh goat cheese minus salt and heaviness.
Watch Strawberry Cheesecake Video
Recipe Variations
Flavor: From ripe mango, blueberry, raspberry to peaches, you can make this no-bake cheesecake with any desired fresh fruit flavor.
Gluten-Free: Use gluten-free cookies or crackers for the base of the cake. There is no flour or starch in the cheesecake.
Topping: Fresh Strawberries, whipped cream, strawberry syrup, or a homemade strawberry sauce are perfect for this cheesecake topping.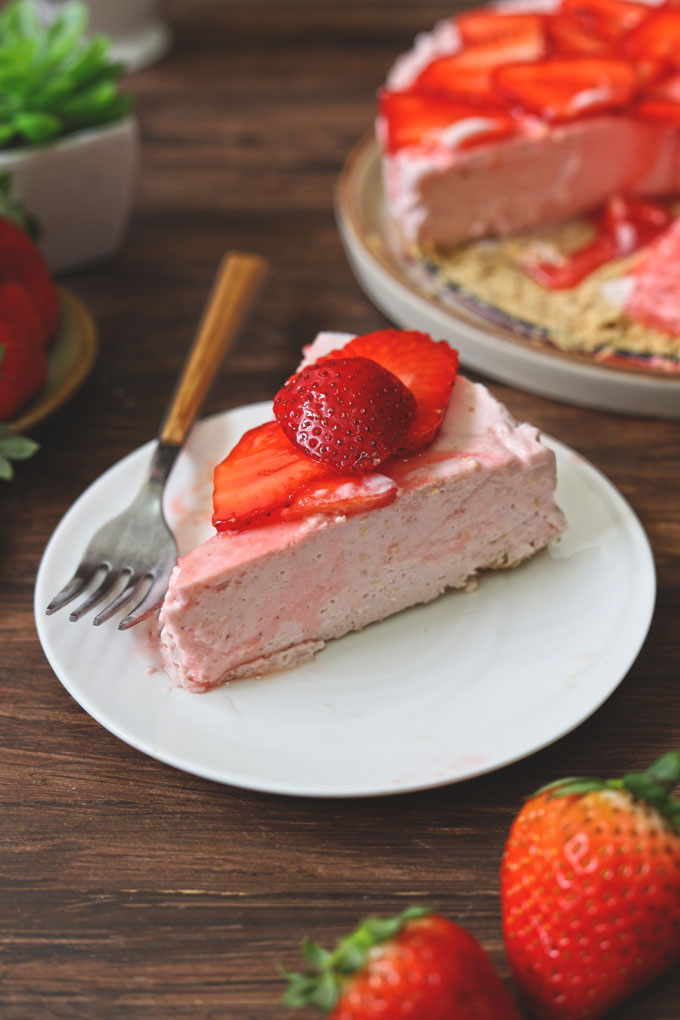 My Tried & True Recipe Tips
Crust: Always use the low sugar/digestive biscuits for the base. Why? This helps to control the sweetness in the cake. I prefer not to add any sugar to the base.
Filling: Use a blender to combine the filling ingredients including sugar. Never add the granulated sugar without blending to the filling. It will not dissolve.
Gelatin: Sieve or filter the melted gelatin while adding to the cake filling. This way there will be no gelatin lumps in the filling.
Blend the cake filling one more time after adding the gelatin to mix nicely.
Make sure all ingredients are at room temperature before adding the gelatin. Do not add gelatin to cold ingredients.
Refrigerate: The no-bake cheesecake needs a good chilling time in the refrigerator to set perfectly. I chill the base for 30 minutes. And the cheesecake filling for 4 – 5 hours or best overnight.
Storing Suggestion
The No Bake Strawberry Cheesecake remains fresh, light, and delicious in the refrigerator for 3 – 4 days. Store it in a container with a lid to keep the flavors fresh.
After 4 days, the base of the cake starts turning a bit soggy.
Do not leave no-bake cheesecake at room temperature for more than 30 – 40 minutes. The filling starts melting.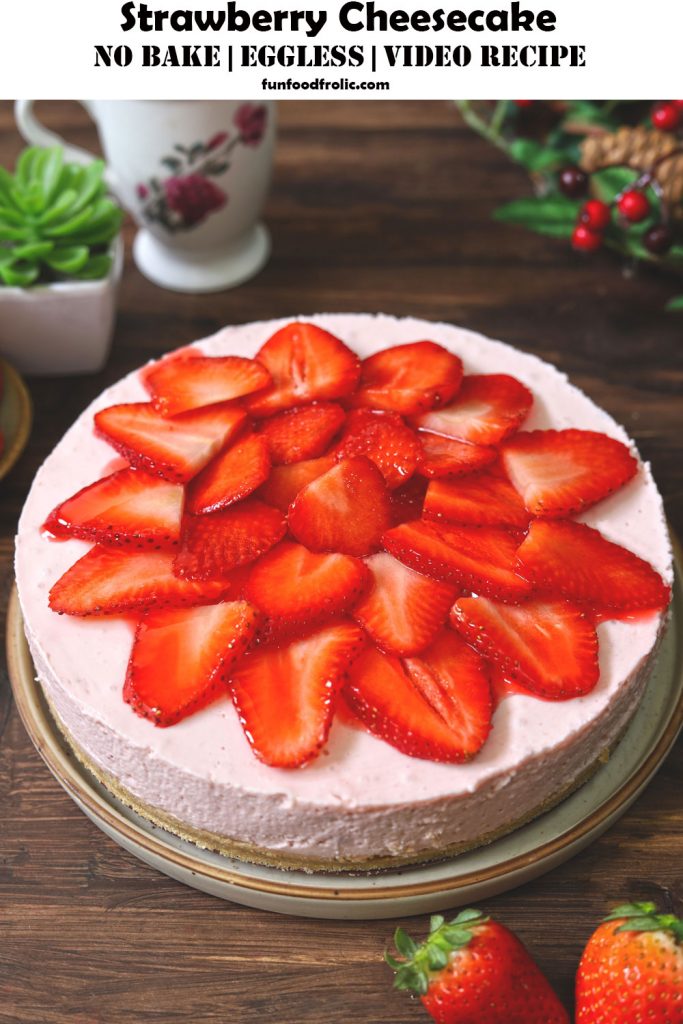 More Strawberry Recipes
For more such fun recipes in your life subscribe to our weekly newsletter or follow us on Instagram and Youtube for video recipes.
If you try this recipe and love it, please leave a comment and a rating. This helps us grow and reach many other food lovers like you, who are looking for a perfect tried and tested recipe.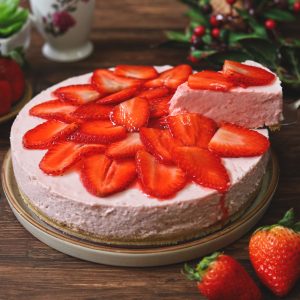 No Bake Strawberry Cheesecake Recipe
This No Bake Strawberry Cheesecake is the easiest dessert for parties. It is perfectly creamy and loaded with the flavor of strawberries. Learn how to make strawberry cheesecake in a few simple steps.
Print
Pin
Rate
Blender

9 inch Spring Form Tin
Ingredients
1 Cup = 250 ml. 1 tablespoon = 15 ml. 1 teaspoon = 5ml
Ingredients For Base
150

gram

low sugar digestive biscuits or graham crackers

(approx 30 Marie Biscuits)

100

gram

melted butter
Ingredients For Filling
2

Cup

chopped strawberries

½

Cup

granulated white sugar

1

Cup

heavy whipping cream

3

Cup

plain curd or yogurt

(approx 700 gram)

4 ½

teaspoon

gelatin

¼

Cup

room temperature water
Ingredients For Topping
2

Cup

sliced strawberry

¼

Cup

Strawberry Sauce
Instructions
Prepare Hung Curd:
Place a muslin cloth or clean kitchen cloth over the sieve. Pour curd in the cloth, tie the muslin cloth at a higher point in the kitchen (I use my kitchen sink tap) with a bowl placed below it to collect whey water. This way all the excess liquid will drain out from the yogurt.

The end result will be thick soft cheese like hung curd. This takes 1 hour.
Prepare Base:
To prepare the base of the cake crush the biscuits to a fine powder in a blender. You can do the same in a food processor or a ziplock bag as well. Add melted butter to the blender. Pulse the mixture one more time to combine and moisten the biscuit powder.

Spread the biscuit and butter mixture evenly at the bottom of a springform cake. Press using a bowl or glass to spread evenly at the base of the Spring Form Tin. Keep in the refrigerator to set fr 30 minutes or while you prepare the filling.
Prepare Filling
Combine gelatin with water and set aside to bloom. It will become like a set jelly after 5 minutes. Reheat in a microwave for 1 – 2 minutes. Stir and it will become a transparent liquid.

Blend together strawberry and sugar. Reserve ¼ Cup sauce for decoration.

Add hung curd, cream to the remaining strawberry sauce. Blend to combine nicely.

Add the gelatin liquid into the filling and blend to combine evenly. The filling is ready!
Assemble The Cake
Bring out the biscuit base from the refrigerator. Pour the cheesecake filling. Tap the cake tine gently on the kitchen counter once or twice to release the trapped air.

Keep the cheesecake in the refrigerator covered for 4 – 5 hours or till is nicely set. I prefer chilling it overnight.

Garnish strawberry cheesecake with sliced strawberry and reserved sauce.

No Bake Strawberry Cheesecake is ready to slice and serve.
Recipe Notes:
You can use frozen strawberries as well. Thaw them before adding them to the filling. 
Do not add granulated sugar without blending to the filling.
You can use cream cheese instead of hung curd in the same quantity.
Please use a Blooming Process to use the gelatin for setting the filling. 
The cake setting time may differ. So please do not slice the cake and continue chilling it until it is completely set. 
Nutrition
Calories:
386
kcal
|
Carbohydrates:
40
g
|
Protein:
7
g
|
Fat:
23
g
|
Saturated Fat:
10
g
|
Cholesterol:
47
mg
|
Sodium:
239
mg
|
Potassium:
276
mg
|
Fiber:
2
g
|
Sugar:
26
g
|
Vitamin A:
867
IU
|
Vitamin C:
39
mg
|
Calcium:
134
mg
|
Iron:
1
mg
For Behind The Scene updates
Subscribe to our newsletter!