Loaded Vegetarian Nachos is one of my favorite party snacks. On certain busy days, it provides a quick dinner slash fuss-free summer meal. Every element in this loaded vegetarian nachos is prepared from scratch. And that is the key to its mind-blowing flavor. It is one of those appetizers that require less than 10 minutes of cooking time. Yes, that's it! Imagine now you can make loaded nachos at home with your customized toppings that too in less than 30 minutes. Needless to mention that these loaded vegetarian nachos tastes so much better with a glass of chilled beer.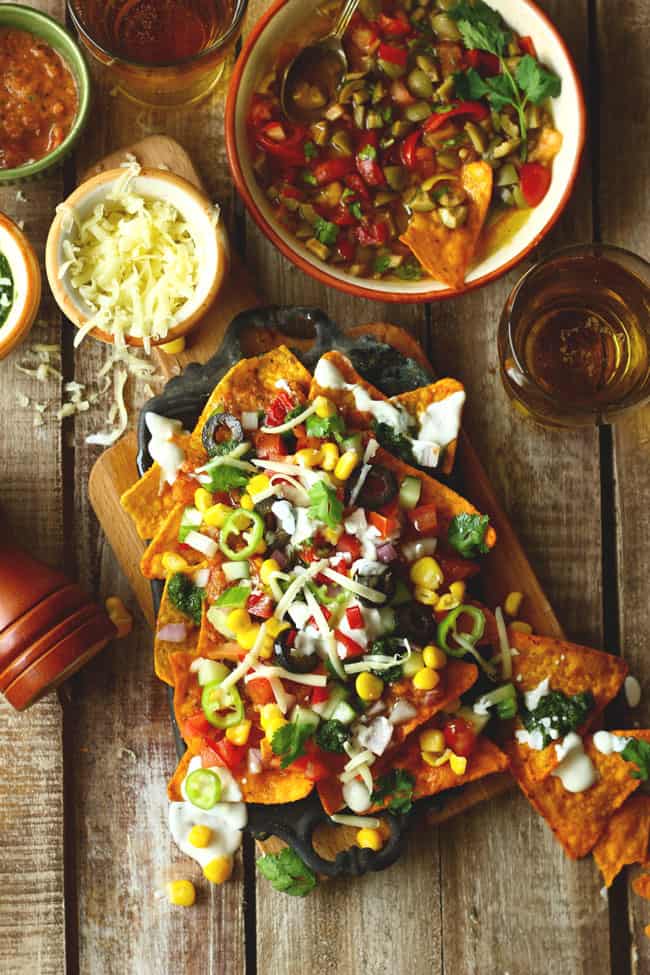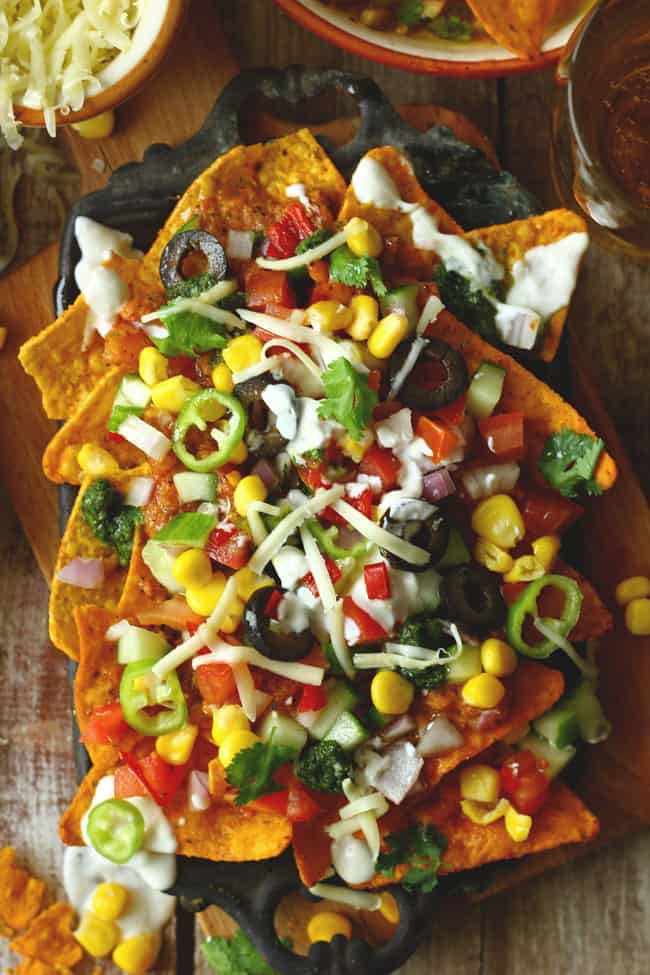 If you are looking for an authentic Tex-Mex style loaded nachos recipe then this is not the one. These loaded vegetarian nachos are laced with locally available ingredients and Indian flavors. Hope you will not judge me for twisting your favorite loaded nachos recipe? But trust me this one is a pleasant change and definitely a delicious take on the regular loaded nachos. At times it is so difficult to procure all the gourmet ingredients required to make a delicious platter of loaded nachos. So why not tweak and twist the recipe to make it easily adaptable. I have used the roasted tomato chutney instead of tomato salsa, mint and coriander chutney for the flavors of guacamole and the Greek yogurt to get the creaminess of sour cream.
Tips to make loaded vegetarian nachos in less than 30 minutes:
Prepare the Corn Salsa few hours before and keep in the fridge. This way the flavor of salsa is enhanced and a lot of time is saved too.
Make a batch of roasted tomato chutney and green chutney a day or two in advance. Store them in the fridge. They remain fresh in the fridge for up to a week.
Keep the freshly chopped coriander, lemon wedges, and extra virgin olive oil in a separate bowl on the serving table. Let your guests garnish their nachos as per their preference.
Try to use readymade sour cream or Greek yogurt. They are easily available at all the supermarkets.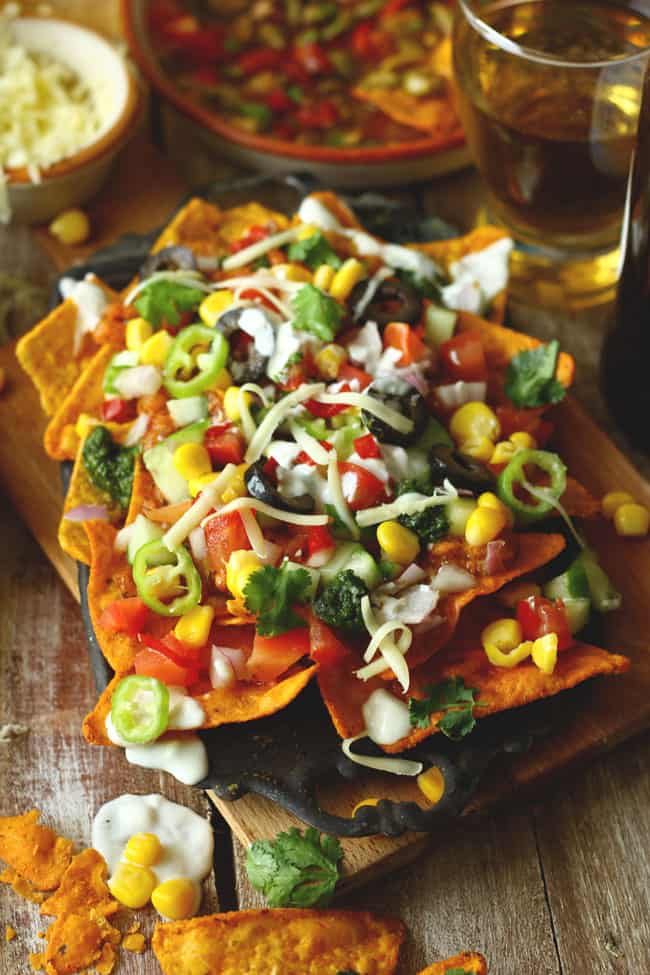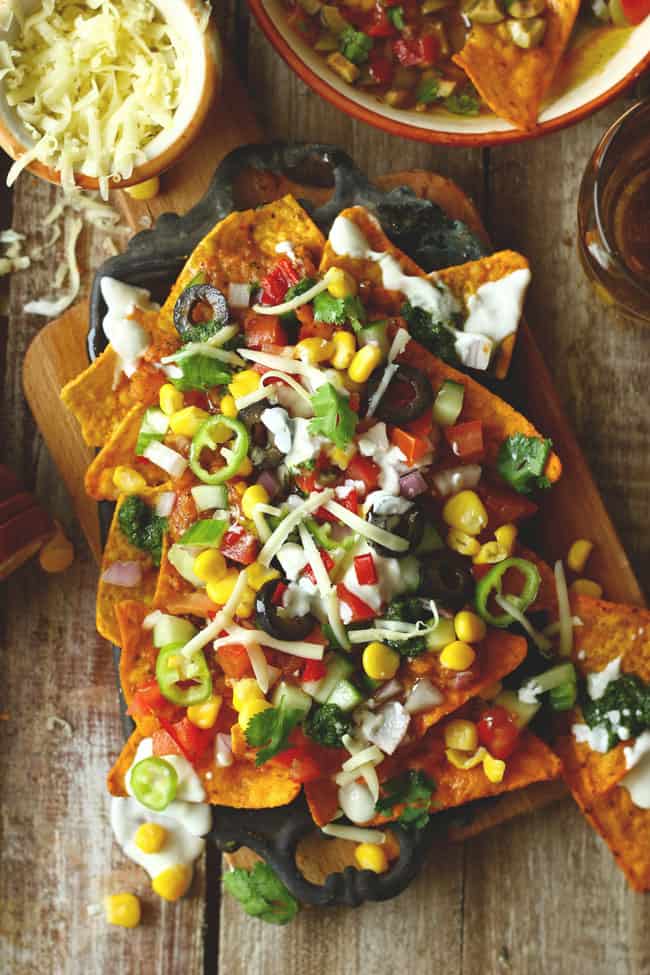 If you are a meat lover then feel free to add the generous layer of roasted + shredded chicken or beef. A spoonful of spicy, baked red beans over the nachos would taste good too. The idea is to layer all your favorite vegetables, meat, beans, and sauces over the bed of crispy nacho chips and bake till the cheese melts. It is totally a D-I-Y kinda recipe where each layer can be customized to one's liking and preference. So next time to have fun while making the loaded nachos arrange all the toppings on the table and involve your family and friends to build their favorite platter of loaded nachos.
For more such fun recipes in your life, follow along on Facebook, Instagram, or subscribe to our Youtube Channel.
How to make Loaded Vegetarian Nachos in less than 30 minutes: