Follow my 5 SECRET tips to make the creamiest hummus ever. A Mediterranean-style vegan chickpea dip, perfect for dipping, spreading or snacking. So let's dig deep into my creamy hummus recipe.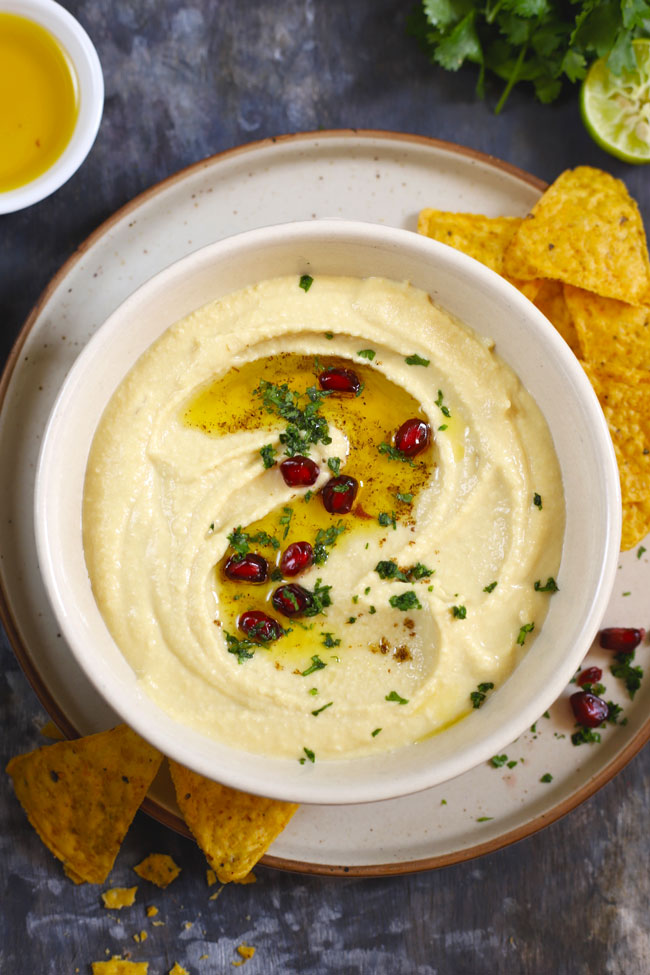 About Hummus
Hummus is a classic Mediterranean dip. It is a blend of white chickpeas, sesame seeds paste (tahini), good-quality olive oil, a hint of garlic, lemon juice, and cumin. 
Hummus is an effortless dish and doesn't require too many ingredients. It is a combination of the right:
a. Consistency
b. Texture
Good hummus is usually smooth, luscious, and creamy. But the best part of hummus is that it is SO HEALTHY!
More Reasons To LOVE Hummus
vegan
nut-free
gluten-free
keto-friendly
meal prep friendly
highly customizable
5-ingredient recipe
easy, tasty, healthy
I am sharing a failproof method to make the creamiest hummus at home. All you have to do is follow my 5 USEFUL TIPS.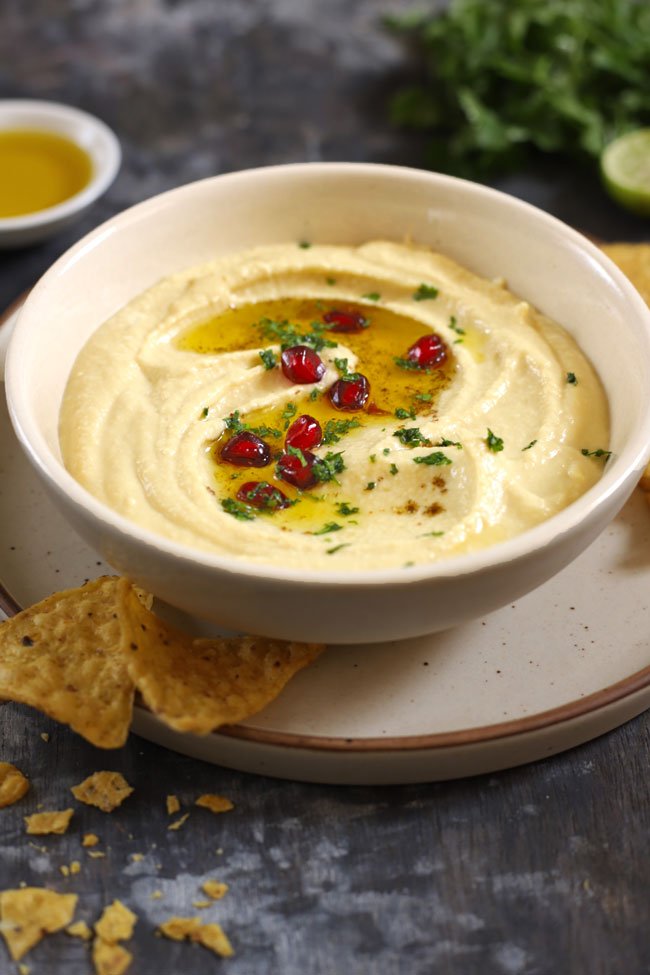 Ingredients Required
The Chickpeas – White Chickpeas (chana) are the key ingredient of this hummus recipe. You need fully-cooked chickpeas.
Tahini Paste: It is a smooth blend of white sesame seeds. Use the readymade tahini paste or make a batch from scratch at home.
Garlic – It gives flavour to the hummus. Add cautiously, as too much raw garlic can make your hummus taste pungent.
Olive Oil – A good quality extra virgin olive oil transforms chickpeas into silky smooth goodness.
Lemon Juice – It gives flavour to the hummus and cuts down the sharp taste of garlic.
Seasoning – Salt, Cumin Powder
Ice cold water to blend the hummus.
Garnish – There are a dozen ways to garnish hummus. From pomegranate, fresh herbs, za'atar spice mix, olive oil, and feta cheese to boiled chickpeas, you can pick any ingredient combination to garnish hummus.
5 SECRET TIPS To Make Creamy Hummus
Nothing is more satisfying than making a bowl of perfectly creamy, fluffy, light, and tasty hummus. It is one of the quickest and easiest dip recipes.
I am sharing tips and tricks to make the BEST HUMMUS ever.
Tip 1: While boiling the chickpeas add ¼ teaspoon of baking soda. This helps in breaking them down. Plus, you don't have to remove the skin of each chickpea. Even if you use canned chickpeas, I insist on boiling them in water with baking soda for 15 minutes. You will notice the difference.
Chickpeas should be cooked till they break down completely and are mushy. The perfectly cooked chickpeas define 50% texture of the hummus.
Tip 2: Use the reserved liquid from the boiled chickpeas to blend the hummus instead of plain water.
It is one of the magical ingredients that transforms hummus from ordinary to finger-licking good.
Tip 3: There is no hummus without tahini paste.
It gives a nutty taste and a creamy texture to the hummus. Hence, do not skip adding it.
Tip 4: Add ice-cold water while blending the hummus. It makes the dip fluffy and light in texture.
Keep boiled chickpea water in the fridge so that it gets chilled. Use it for blending hummus.
Tip 5: A few extra minutes on the food processor will always give you super creamy hummus. Follow the formula of scrape and blend to get the silky smooth hummus.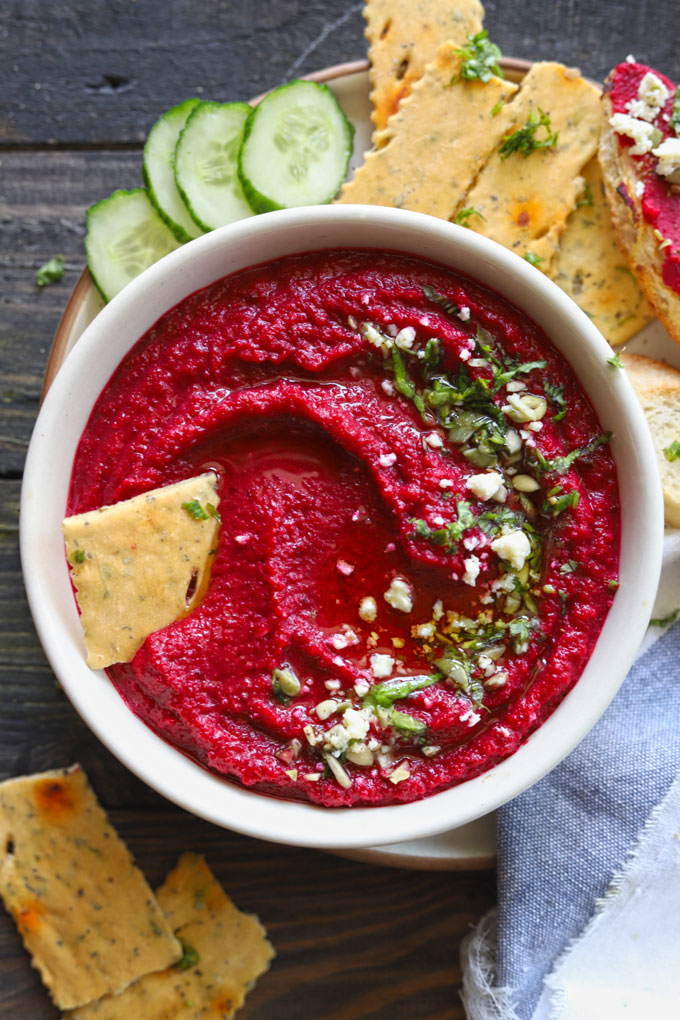 Hummus Recipe Variation
Nothing can beat a classic hummus. But a few of my favourite fun hummus flavours are:
When it comes to hummus, the flavour possibilities are endless. Like Green Goddess Hummus, Roasted Red Pepper Hummus, Endamame Hummus, Olive Hummus, White Bean Hummus, and so on.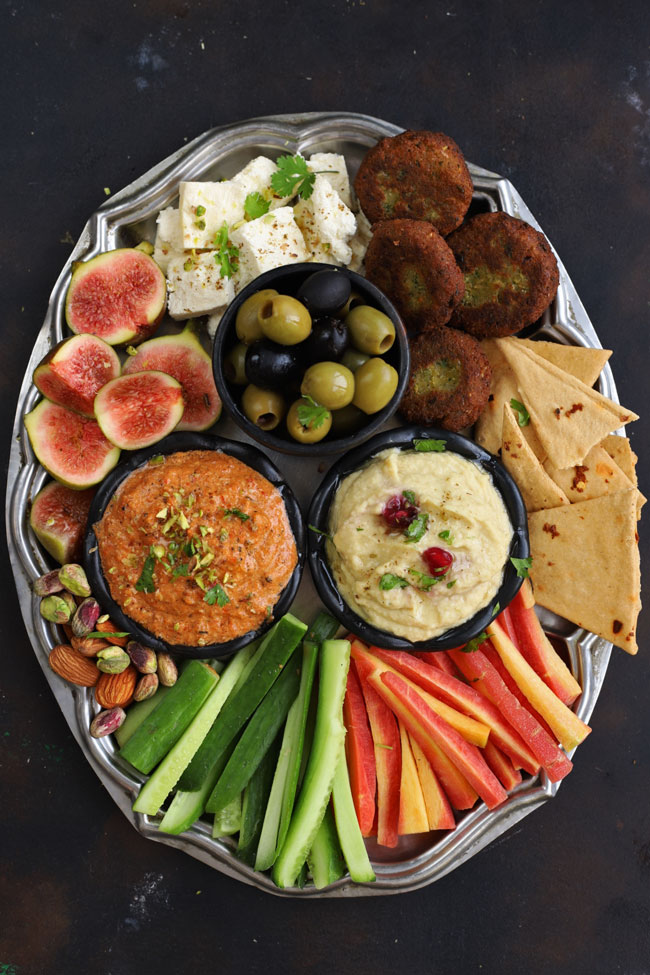 FAQs Related To Hummus Recipe
How long will homemade hummus last?
A freshly made hummus stays well in the fridge for 3 – 5 days. Make sure to store it in an air-tight container. Do not leave it at room temperature for more than 2 hours. It tends to get spoilt.
Can I make hummus without tahini?
Yes, you can make hummus without adding sesame seed paste, i.e. tahini. But the taste and texture will not be the same.
What do you eat hummus with?
Hummus pairs well with pita bread, meat kebabs, or falafel. It is served alongside other dips like labneh and baba ganoush as part of a mezze platter. Hummus is an excellent vegan spread for a falafel wrap or pita sandwich.
More Dip Recipes
Roasted Red Pepper Dip (Muhammara)
Roasted Eggplant Dip (Baba Ganoush)
Subscribe to our weekly newsletter or follow us on Youtube for video recipes. 
If you try this recipe and love it, please leave a comment and a rating. This helps us grow and reach other food lovers like you.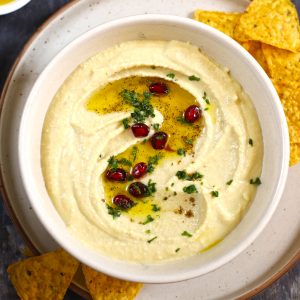 Creamy Hummus Recipe
Here is my tasty, fluffy, easy, and creamy hummus recipe. Follow my 5 SECRET tips to make the creamiest hummus ever.
Print
Pin
Rate
Ingredients
1

Cup

chickpeas (white chana)

¼

teaspoon

baking soda

1

tablespoon

tahini paste (sesame seed paste)

4

garlic cloves, crushed

Juice of one lemon

4

tablespoon

extra virgin olive oil

1

teaspoon

cumin powder (jeera powder)

Salt to taste

⅛

Cup

boiled chickpeas water (ice cold)
Ingredients for Garnish:
2

tablespoon

extra virgin olive oil

1

teaspoon

za'tar spices mix (optional)

1

teaspoon

chopped coriander

a few pomegranate pearls
Instructions
How To Cook Chickpeas for Hummus:
You can use canned chickpeas to make the hummus or cook them at home.

To boil chickpeas, rinse and soak them in water for 5 – 6 hours. 

After 5 – 6 hours drain the water from the soaked chickpeas. Transfer them to a pressure cooker. Add approximately 2 Cups of water, baking soda, and a teaspoon of salt. 

Close the lid of the pressure cooker. Cook the chickpeas over medium heat for till well done. Slightly mushy or over-cooked chickpeas are best to make a creamy hummus. 

Transfer the boiled chickpeas to a colander. Allow them to cool down completely. Reserve the boiled chickpea liquid. Keep it in the refrigerator to get chilled.
How To Make Hummus:
Transfer cooked chickpeas, crushed garlic, salt, cumin powder, olive oil, lemon juice, and tahini paste to a blender or food processor. 

Blend the ingredients using chilled boiled chickpeas water until you get a creamy texture. If the hummus seems too thick, add more olive oil or the reserved liquid from the boiled chickpeas. Scarpe the sides of the food processor and blend to get the perfect consistency and texture.

Once the hummus is smooth and creamy, transfer to a serving bowl.

Garnish hummus with the coriander, olive oil, and pomegranate pearls. Sprinkle za'tar spice mix.

Serve hummus immediately with pita bread or chips.
Recipe Notes:
If you use canned chickpeas, boil them in water with baking soda for 10 to 15 minutes. 
Do not add whole garlic cloves to hummus. Either grate them or crush them. 
Za'tar is a Middle Eastern spice mix. It gives an extra authentic flavour to the hummus. But don't worry if that is not available. 
Garnish or topping for hummus can be customized per your liking and preference.
Nutrition
Calories:
6
kcal
|
Carbohydrates:
0.3
g
|
Protein:
0.1
g
|
Fat:
0.5
g
|
Saturated Fat:
0.1
g
|
Polyunsaturated Fat:
0.1
g
|
Monounsaturated Fat:
0.3
g
|
Sodium:
1
mg
|
Potassium:
3
mg
|
Fiber:
0.1
g
|
Sugar:
0.04
g
|
Vitamin A:
1
IU
|
Vitamin C:
0.04
mg
|
Calcium:
1
mg
|
Iron:
0.04
mg
For Behind The Scene updates
Subscribe to our newsletter!