Hummus Recipe without tahini is one of the best hummus recipes. It is perfectly creamy and full of flavors. Hummus is a Mediterranean-style buttery chickpea paste ideal for dipping, spreading or snacking. This versatile vegan dip is made in many ways, with many variations and many alterations, each catering to a different palate, and some catering to all of them. So let's dig deep into my hummus recipe without tahini paste. 
Hummus is a simple and classic blend of skinned chickpeas, laced with thick and sweet good quality olive oil, a hint of garlicky flavor, lemon juice and some spices. The best part of hummus perhaps is that it is SO HEALTHY! This is a good thing because if you're one of the people who like hummus, it is a fantastic healthy snacking choice. It's full of protein, gluten-free, keto friendly and purely vegan.  And it is delicious too! What else one needs in an ideal snack.
Good hummus is usually really smooth without any lumps, almost like a jar of peanut butter.  Since hummus is an effortless dish and doesn't use too many spices, its look and taste are highly dependent on its:
a. Consistency
b. Texture
Pro Tips To Make A Perfect Hummus:
Pressure cooked chickpeas are the best to make a creamy hummus. Soak chickpeas for about 5-6 hours before pressure cooking them (Also Read: 10 Best Pressure Cooker Recipes). The water helps them become tender and porous. Slightly soft or over-cooked chickpeas are perfect for this hummus recipe.
Some people prefer to remove the skin of the chickpeas after boiling. Go ahead and try this step for a super creamy hummus.
Use either olive oil or the reserved liquid from the boiled chickpeas to get the desired consistency of the hummus. I do not prefer using plain water to blend the ingredients.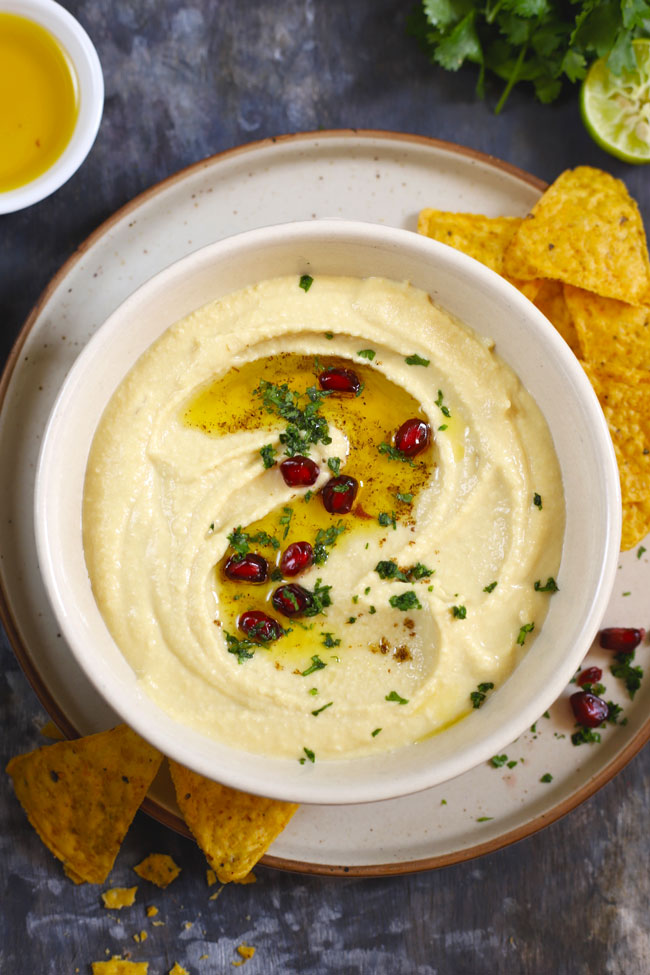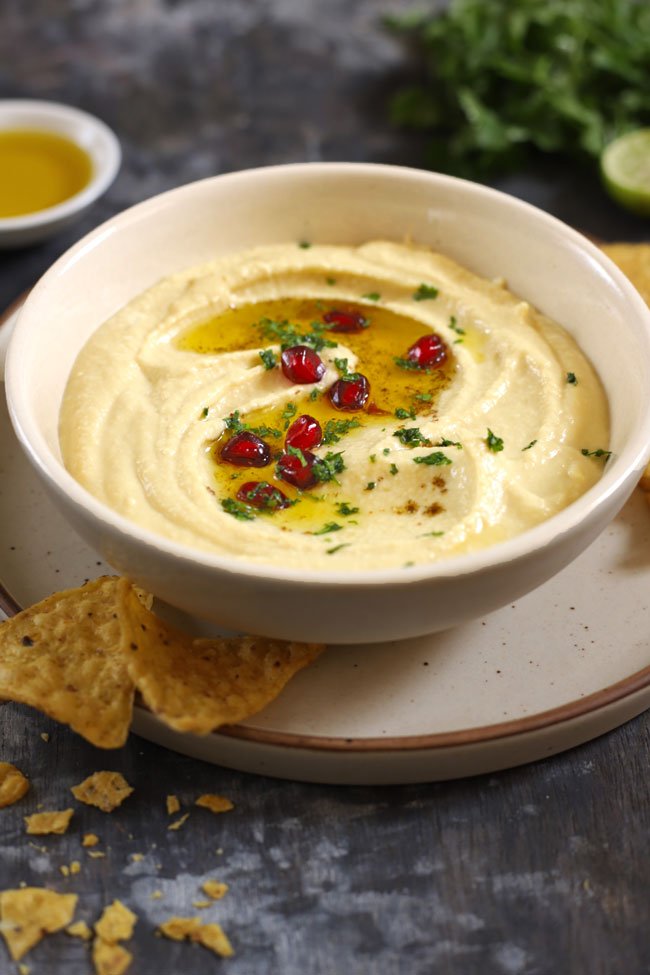 How do you make hummus without tahini?
In an authentic hummus recipe, tahini paste is one of the key ingredients. The tahini paste is nothing but the creamy spread prepared with sesame seeds. It is a commonly used Mediterranean staple. To make a hummus recipe without tahini paste, you can use white sesame seeds. The white sesame seeds bring the nutty flavor in the hummus if you are not using the tahini paste. Blend all the ingredients for hummus in a blender and voila a delicious hummus without tahini is ready to serve!
Is hummus good without tahini?
Hummus without tahini is delicious and creamy. The tahini paste brings the nuttiness and creaminess in the hummus. In our hummus recipe, the smooth texture comes from the boiled chickpeas, and the sesame seeds do rest of the job.
How long will homemade hummus last?
A freshly made hummus stays well in the fridge for 3 – 5 days. Make sure to store it in an air-tight container. It remains fresh at room temperature for 4 – 5 hours not more than that. In warm regions like India, it is best to either serve hummus immediately or store in the fridge and not leave it for long outside at room temperature. It tends to get spoilt.
What do you eat hummus with?
Hummus pairs well with pita bread, meat kebabs or falafel and is served alongside some other dips like labneh and baba ganoush as part of a mezze platter. It can also be used as a spread in falafel wrap or pita sandwich. Or you can serve hummus with munchies and roasted veggies as a snack.
Go ahead and enjoy this classic Mediterranean delight without any guilt!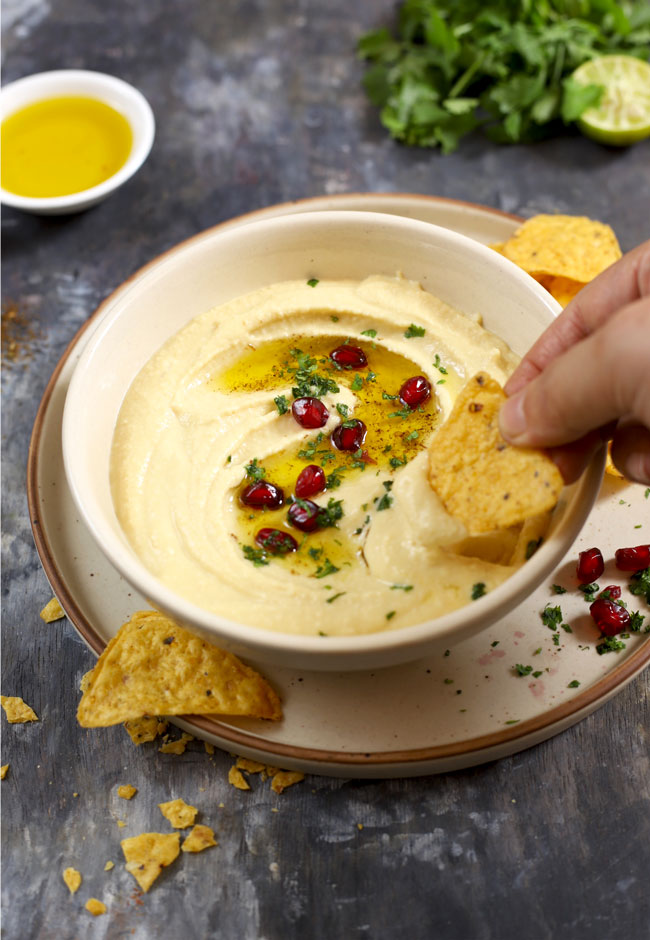 For more such fun recipes in your life, follow along on Facebook, Instagram, or subscribe to our Youtube Channel.
Hummus Recipe Without Tahini: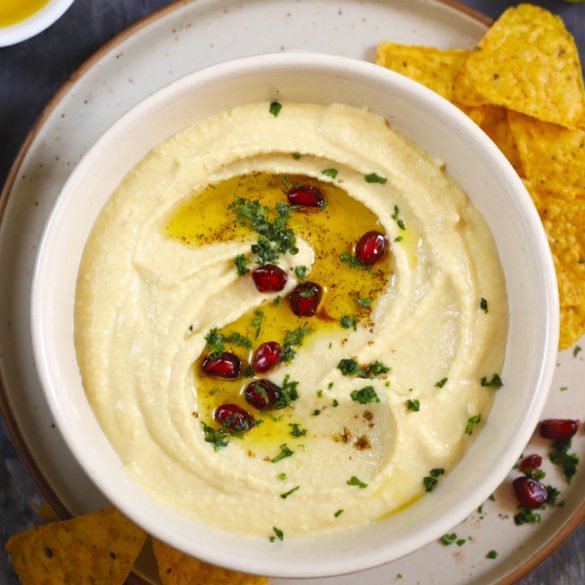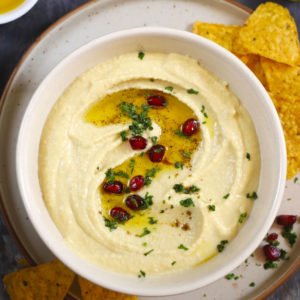 Hummus Recipe Without Tahini
A hummus is a Mediterranean-style buttery, smooth chickpea paste ideal for dipping, spreading or snacking. Learn how to make hummus recipe without tahini paste.
Print
Pin
Rate
Servings:
1
medium-size bowl
Ingredients
1

Cup

white chickpeas (chana/chole)

2

tablespoon

white sesame seeds (til)

2

cloves

garlic, peeled and smashed

Juice of one lemon

1/4

Cup

extra virgin olive oil

1/4

teaspoon

cumin powder (jeera powder)

Salt to taste
Ingredients for Garnish:
2

tablespoon

extra virgin olive oil

1

teaspoon

za'tar spices mix (optional)

1

teaspoon

chopped coriander

a few pomegranate pearls
Instructions
How To Cook Chickpeas for Hummus:
You can use tinned or canned chickpeas to make the hummus or you can boil chickpeas at home from scratch.

To boil chickpeas, rinse and soak them in water for 5 - 6 hours.

After 5 - 6 hours drain the water from the soaked chickpeas. Transfer them to a pressure cooker or instant pot. Add approximately 2 Cups of water and a teaspoon of salt.

Close the lid of the pressure cooker. Cook the chickpeas over medium heat for 3 - 4 whistles. Slightly mushy or over-cooked chickpeas are best to make a creamy hummus.

Transfer the boiled chickpeas to a colander or sieve. Allow them to cool down completely. Reserve the boiled chickpea liquid.
How To Make Hummus Without Tahini:
Transfer all the ingredients (boiled chickpeas, garlic, lemon juice, sesame seeds olive oil, salt, and cumin powder) to a blender or food processor.

Blend the ingredients until you get a creamy hummus. If the hummus seems too thick add a little bit more olive oil or the reserved liquid from the boiled chickpeas.

Once the hummus is smooth and creamy, transfer to a serving bowl.

Garnish hummus with the coriander, olive oil, and pomegranate pearls. Sprinkle za'tar spice mix.

Serve hummus immediately with pita bread or chips.
Recipe Notes:
Za'tar is a Middle Eastern spice mix. IT give an extra authentic flavor to the hummus. But don't worry if that is not available. 
Garnish or topping for hummus can be customized as per your liking and preference. 
★ Did you make this recipe? Don't forget to give it a star rating below!
Nutrition
Love this? Pin it for Later!
Follow @hinagujral on Pinterest!