This is a mithai-style semolina cake inspired by the Ottoman delicacy Basbousa. I am sharing an eggless semolina cake recipe that fits effortlessly on every festive menu. Be sure to watch the video!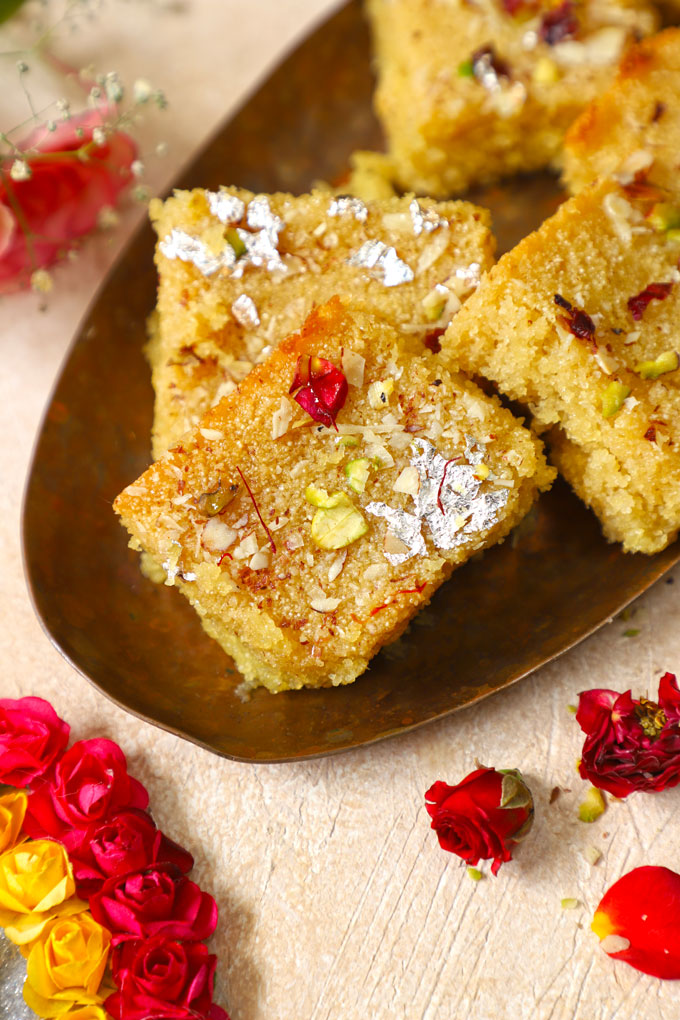 My Mithai Cake
This semolina cake is a confluence between Indian sweets (mithai) and a delicate Persian-style cake called Basbousa. It has a delicate crumb with a lingering aroma of saffron and rose water.
Basbousa is a popular dessert in Turkey, Egypt, and the Middle East. It is a simple semolina cake made with a few basic ingredients. Once baked, the cake is glazed with perfumed sugar syrup. Each region has its style of making Basbousa.
The taste of Basbousa is very similar to Indian desserts as well. Over the years, I have tweaked this semolina cake recipe according to the locally available ingredients and our taste buds.
This is Indian-style semolina cake enriched with ghee, coconut, saffron, and rose water. You will fall in love with this mithai cake taste after one bite.
A few years back, I shared another eggless semolina (rava) cake recipe, which is a HUGE hit among our website readers.
Ingredients Required
For The Cake Batter:
Semolina: Fine semolina (rava/suji) is perfect for this cake recipe. There is no substitute for semolina in a Basbousa.
Coconut: Use desiccated dry coconut or packaged desiccated coconut.
Sugar: The sugar is added to this cake in two parts. One, in the cake batter. Second, by glazing it with sugar syrup (chashni).
Curd: Plain, thick curd or yogurt is used to substitute eggs.
Ghee: Melted butter is used to make this semolina cake batter. I like the taste better with Indian Ghee. Feel free to pick between melted butter, ghee, or olive oil.
Milk: Room temperature unflavored milk. To build on the flavor, use coconut or almond milk instead of plain dairy milk.
Aromatics: I use cardamom powder, saffron, and rose water. When it comes to this semolina cake, the possibilities are endless. You can add orange essence, kewra water, or stick to vanilla flavor.
Other Ingredients: Baking Powder, Salt
Garnish: Almond Slivers, Edible Rose Petals, Edible Silver Leaf
For Sugar Syrup
Granulated White Sugar
Water
Saffron Strands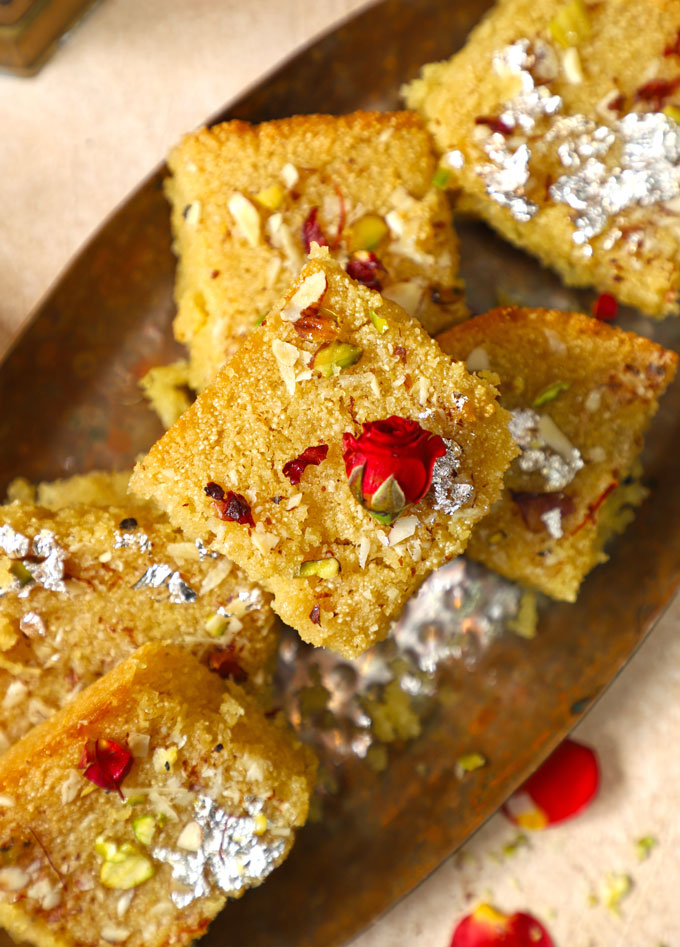 My Tried & True Tips
The Golden Colour: To get the beautiful golden color of the cake, bake it on the top rack of the oven for the last 10 minutes of the baking time. The saffron and the hot sugar glaze also contribute to the perfect color.
Sugar Syrup: The sugar syrup should be slightly sticky and not runny/watery.
Glazing: Make sure sugar syrup and cake are warm while glazing. Once the cake is glazed, let it sit at room temperature to cool down completely. Do not try to cut and serve the warm cake after glazing, as it might crumble apart.
Watch Cake Video
Storage Suggestion
Once the semolina cake is cooled down, transfer it to an airtight container. Store the cake in the refrigerator for 1 week. Reheat in microwave for 1 minute before serving.
The semolina cake tastes delicious when served slightly warm with butterscotch or vanilla ice cream. Do not leave semolina cake at room temperature for more than 24 hours as it spoils quickly.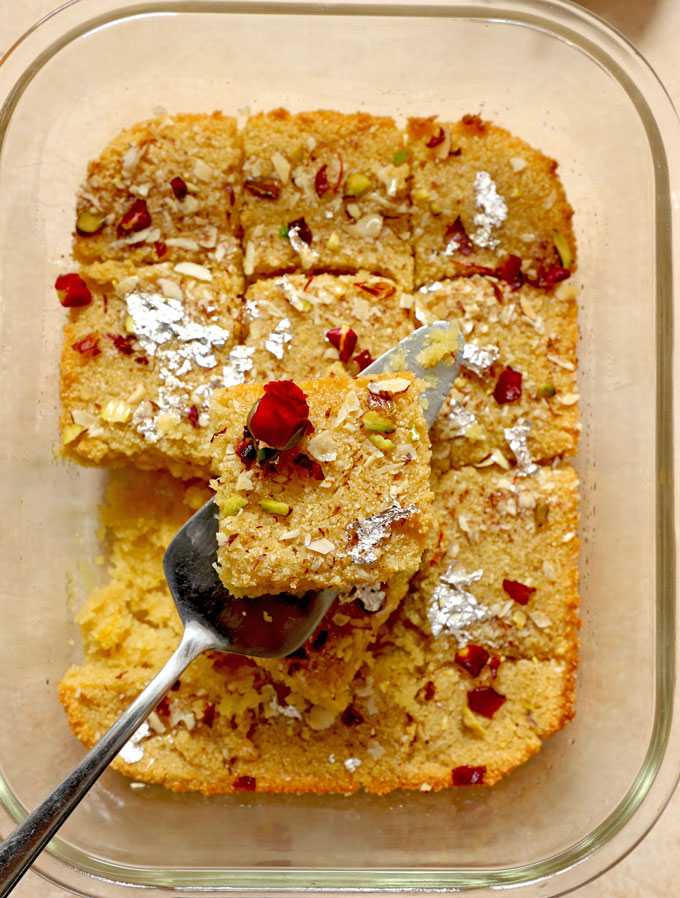 More Eggless Cake Recipes
Subscribe to our weekly newsletter or follow us on Instagram for video recipes.
If you try this recipe and love it, please leave a comment and a rating. This helps us grow and reach other food lovers like you.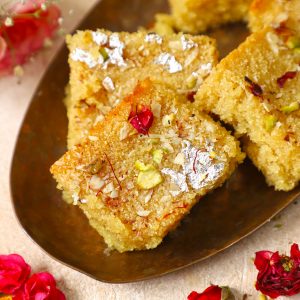 Eggless Semolina Cake Recipe
I am sharing with you an Indian-style semolina cake recipe that fits effortlessly in every festive menu. Learn how to make the mithai cake in a few simple steps.
Print
Pin
Rate
Ingredients
My 1 Cup = 250 ml, 1 Teaspoon = 5 ml
1 ½

Cup

semolina (suji/rava)

¾

Cup

dessicated coconut

1

teaspoon

green cardamom powder

1 ½

teaspoon

baking powder

¼

teaspoon

salt

¼

Cup

granulated white sugar

¼

Cup

brown sugar or jaggery powder

2/4

Cup

curd or plain Greek yogurt

⅓

Cup

ghee, melted

½

Cup

milk

¼

teaspoon

saffron

¼

teaspoon

rose water

1

tablespoon

sliced almonds

1

tablespoon

sliced pistachio
Ingredienst for Sugar Syrup:
2

Cup

water

2

Cup

granulated white sugar

¼

teaspoon

saffron
Instructions
Preheat oven at 180 degrees Celcius for 10 minutes. Grease a 10 inch square or rectangular baking dish.

Combine semolina, coconut, baking powder, salt, sugar, jaggery powder. Mix nicely. Set aside until required.

Soak ¼ teaspoon saffron in ¼ cup of warm milk. Keep aside to add to the cake batter at a later stage.

In a mixing bowl combine, curd, ghee, saffron infused milk, and rose water. Whisk using an egg beater or wire whisk for 5 minutes.

Next, add ⅓ of the semolina mixture. Cut and fold the batter to evenly combine. Add ⅓ more of the semolina mixture, cut, and fold into the batter. Add remaining ¼ cup of milk. Gently fold into the batter. At last, add the remaining semolina mixture, and fold it into the batter. Stop mixing once the cake batter is evenly combined.

Pour the batter into the greased baking dish. Spread evenly using a spatula. This semolina cake does not rise much after baking. Hence, do not spread the batter into a very thin layer. It should have a half to one inch thickness.

Sprinkle sliced almonds and pistachio. Using a knife cut the cake into squares before baking.

Bake at 180 degrees Celcius for 20 minutes in the middle rack of the oven. Transfer to the top rack of the oven for the last 10 minutes of the baking time.

Meanwhile, simmer water, sugar, and saffron in a saucepan over medium heat. Once the syrup reduces to almost half the original amount or to one cup, turn off the heat.

Bring the cake out of the oven. Pour the warm sugar syrup. Do not slice the cake. Let the cake sit till it cools down completely.

Garnish with edible rose petals and silver leaf. Serve warm with vanilla ice cream or on its own with a drizzle of sugar syrup.
Recipe Notes:
Use desiccated coconut and not grated coconut for the cake batter. 
Fine semolina (chiroti rava) is perfect for making this cake. 
Soaking saffron in milk gives a beautiful color to the cake. 
You can substitute rose water with kewra water or orange blossom water as well. 
The sugar syrup should have a slightly sticky consistency. 
It is optional to decorate the cake with edible silver leaf or rose petals. 
Nutrition
Calories:
321
kcal
|
Carbohydrates:
60
g
|
Protein:
4
g
|
Fat:
8
g
|
Saturated Fat:
5
g
|
Polyunsaturated Fat:
1
g
|
Monounsaturated Fat:
2
g
|
Cholesterol:
15
mg
|
Sodium:
63
mg
|
Potassium:
157
mg
|
Fiber:
1
g
|
Sugar:
43
g
|
Vitamin A:
29
IU
|
Vitamin C:
1
mg
|
Calcium:
59
mg
|
Iron:
1
mg
For Behind The Scene updates
Subscribe to our newsletter!