This Easy Rosemary Garlic Focaccia Recipe is perfect for beginner bakers! The ingredients are pantry staples that you will most likely already have on hand, you can add toppings to suit your taste, and it only has 5 main steps – the hardest part is waiting for the dough to rise.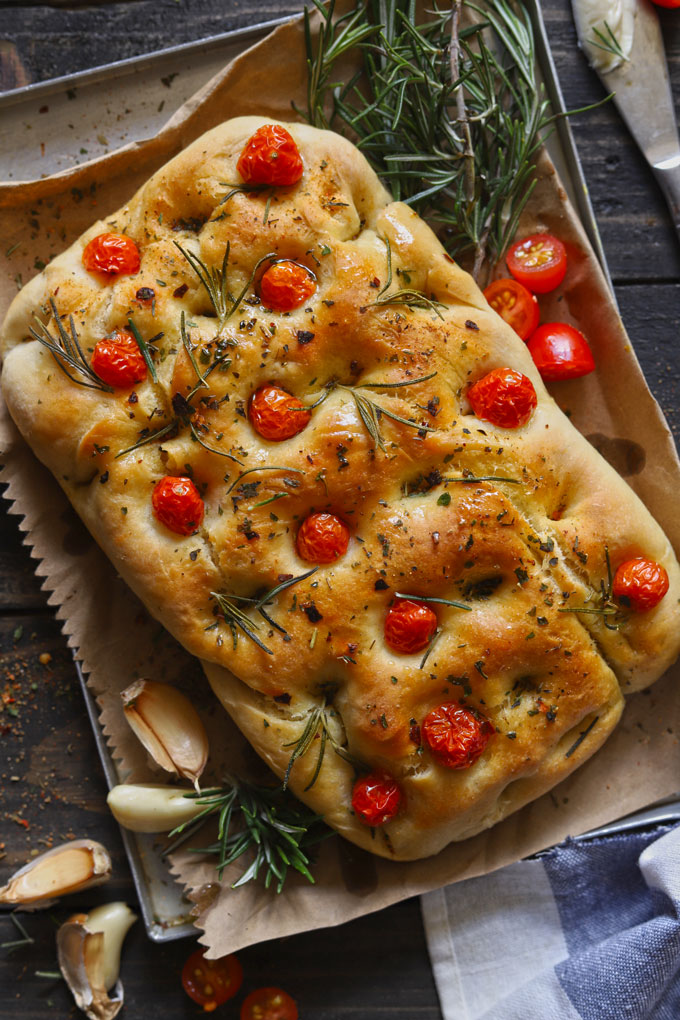 Is there anything that beats the smell of freshly baked bread at home? The answer is no. There is not.
There's just something about fresh bread that instantly lifts the soul, and you know you're going to have a great meal.
Focaccia bread, in particular, is one of my absolute favorites. Especially this Focaccia Recipe. Why?
It's easy! It's one of the more fail-proof bread recipes I've tried – perfect for beginners.
You can make it your own! Add your favorite toppings – I'll list some of mine below!
It tastes amazing! Hands down, one of the best tasting, easy bread recipes to make!
What exactly is Focaccia?
Focaccia is a flat, oven-baked Italian bread, very similar to pizza. Focaccia recipes have been used as far back as Ancient Roman times, and are created in many ways depending on the region.
Some are cookie-hard, like focaccia di Camogli, while others, like this focaccia recipe, are oily and soft.
Focaccia can also be sweet or savory. In some regions, it's more of a cake than bread, and the ingredients will include sugar, raisins, honey, and other sweet ingredients. 
Venetian Focaccia is even similar to panettone and traditionally served at Easter.
What ingredients are in this Rosemary Garlic Focaccia Recipe?
All-purpose Flour: the fountain of all bread recipes!
Instant Active Dry Yeast: Yeast is how the bread rises – it's the difference between a flatbread and soft, fluffy bread.
Sugar: Sugar activates the yeast. If you don't add some form of sugar, you'll end up with a yeasty-tasting flatbread.
Extra Virgin Olive Oil: Olive oil adds fat and flavor, and helps the dough to become less sticky.
Salt: Salt enhances the natural bread flavors.
How to make this Easy Focaccia Recipe:
Activate the yeast
The yeast is responsible for the volume of the bread, but in order for it to work, we have to activate it. To do this there are 4 easy steps: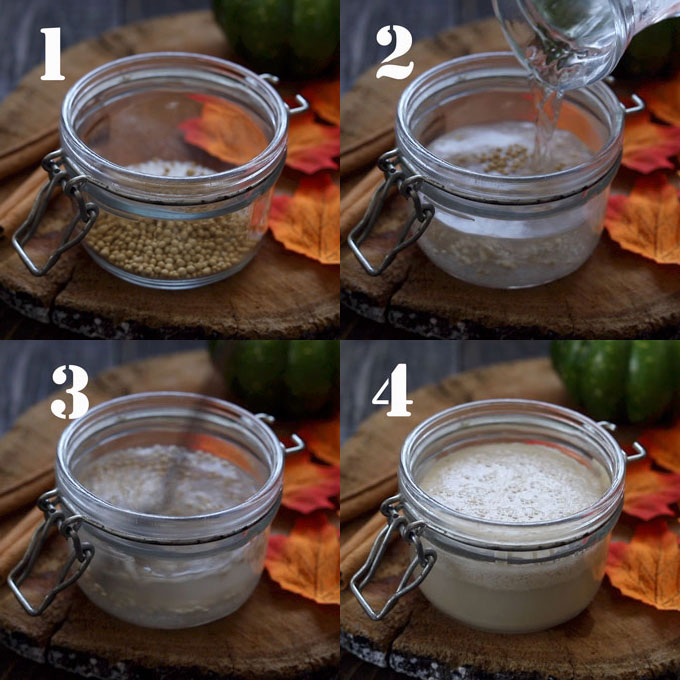 Add the yeast to a bowl or jar.
Add lukewarm water. The temperature needs to be between 105 and 110°F.
Stir in the sugar.
Let it sit for 5-10 minutes until a thick layer of foam forms on top.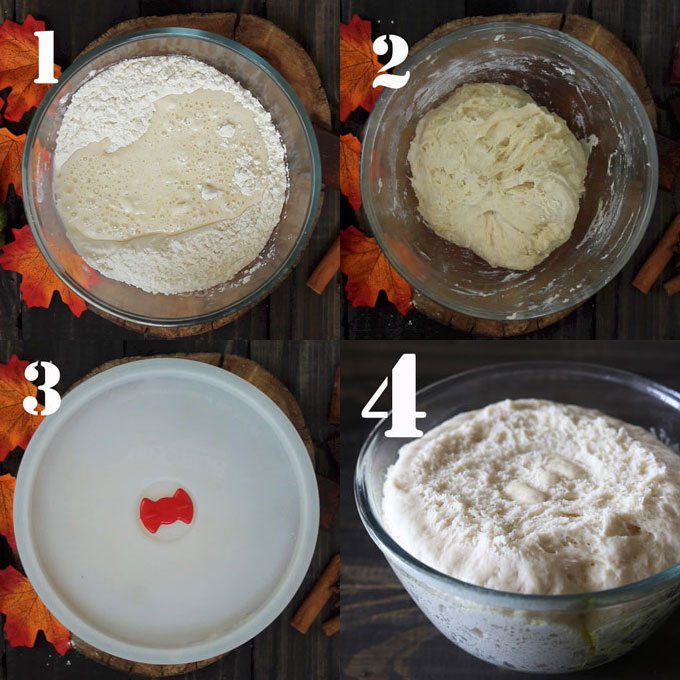 Next, we'll prepare the dough:
Add the dry ingredients to a bowl and mix them together, and then add in the yeast mixture.
Once this is combined add in the olive oil and knead the bread for 3-5 minutes.
Proofing: Letting the dough rise. To do this, you add the dough to a large, lightly greased mixing bowl, cover it tightly (a lid, plastic wrap or a tea towel, slightly damp with warm water and secured with a rubber band or string will work) and then let it rise for 30 minutes. You should place the bowl somewhere warm with no drafts. Ovens and microwaves are great spots!
The dough has risen – it's time for our second proofing!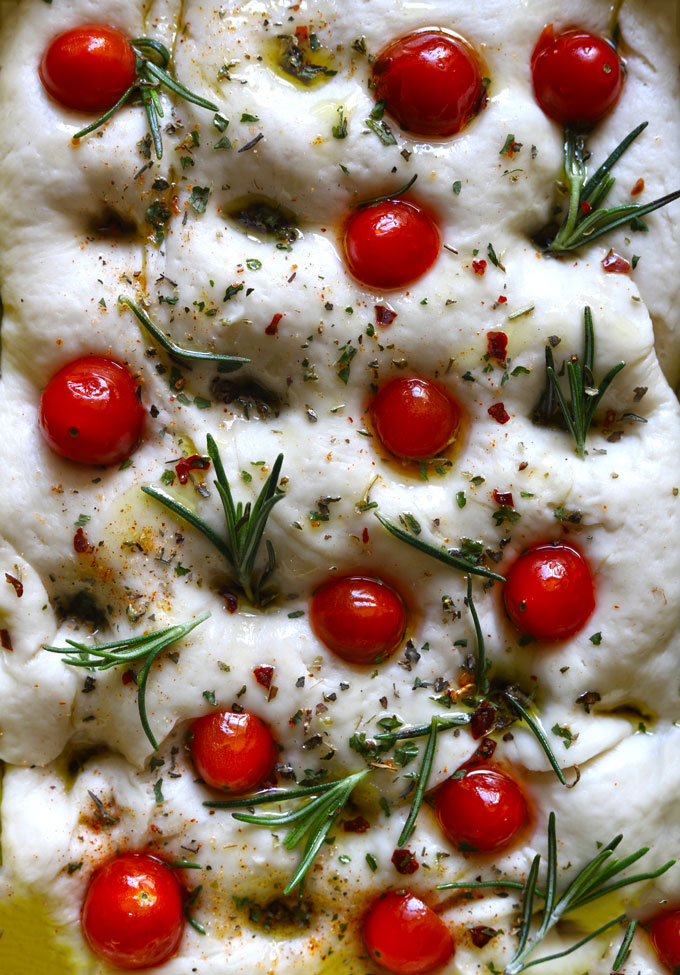 Second Proofing
This is where the dough begins to take on the shape of the finished bread.
You will knead the dough again for 3-5 minutes and then place it in the baking tray or tin you'll be baking it in.
Make sure to grease the tray first before adding the dough!
Press your finger to make rows of dimples in the dough (about a finger distance apart) and then add one tomato and some rosemary to each dimple.
Drizzle olive oil over it and some crushed garlic. Leave the dough in a warm place to rise again for 30 minutes.
Bake the Focaccia Bread: The best part! Bake the dough on the middle rack in the oven for 10 minutes at 200°C/ 392°F, until it is golden on top. Let it cool, add more oil if you'd like, cut into squares and enjoy!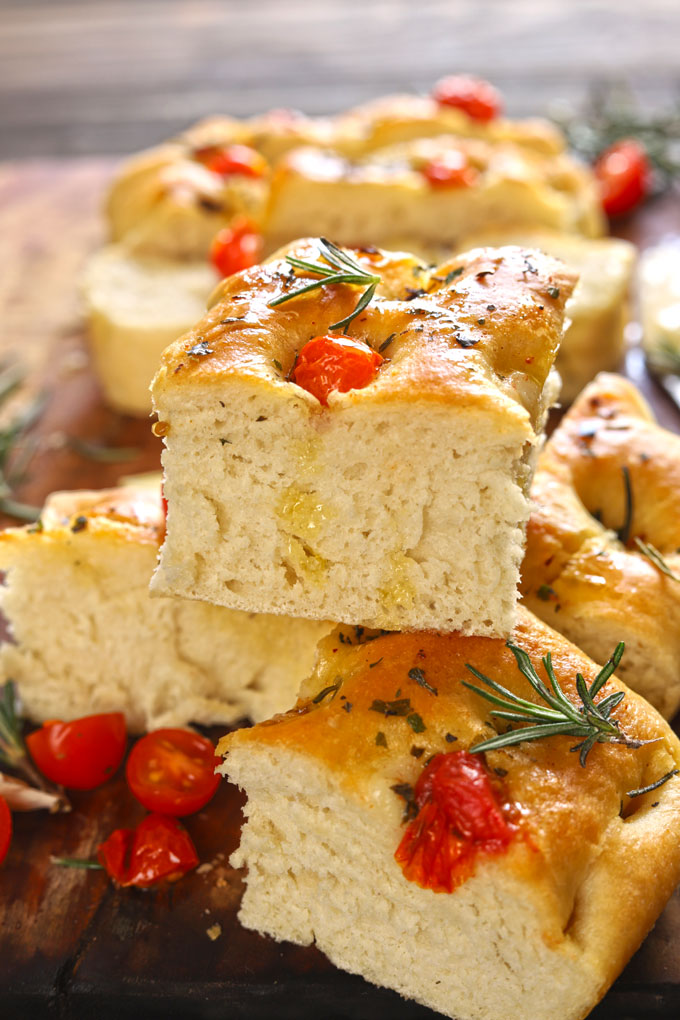 FAQ's Related to this Focaccia Recipe
What other toppings can I add?
There are so many options! Here are 35+ of my favorites:
Apple Slices
Artichoke Hearts
Arugula/Rocket (after baking)
Bacon
Basil (after baking if using fresh)
Bell Peppers
Cajun Seasoning
Capers
Chicken (roasted)
Fresh Chilis
Caramelized Onions
Chives
Chorizo
Cilantro (after baking)
Cheese (goat's cheese, cheddar, mozzarella, gouda, blue cheese, ricotta)
Everything Bagel Seasoning
Garam Masala/ Curry Seasoning
Ham
Lemon (freshly squeezed or zest)
Mushrooms
Nuts (walnuts, pine nuts, slivered almonds)
Olives (all kinds!)
Oregano (after baking if using fresh)
Pear slices
Pepperoni
Pesto
Prosciutto
Red Onion
Red Pepper Flakes
Salami
Sausage (sliced links or crumbled)
Seeds (flax, sesame, sunflower, pumpkin)
Smoked Salmon
Spring Onions
Sun-Dried Tomatoes
Za'atar Seasoning
How do I store this homemade focaccia bread?
If you're eating this in the next couple of days, store it at room temperature, covered in plastic wrap, or in a container for 2 days. Reheat in a 375 degree over for 10 minutes.
To freeze, cut the focaccia into individual slices, and wrap each slice in plastic wrap. Freeze for up to 1 month.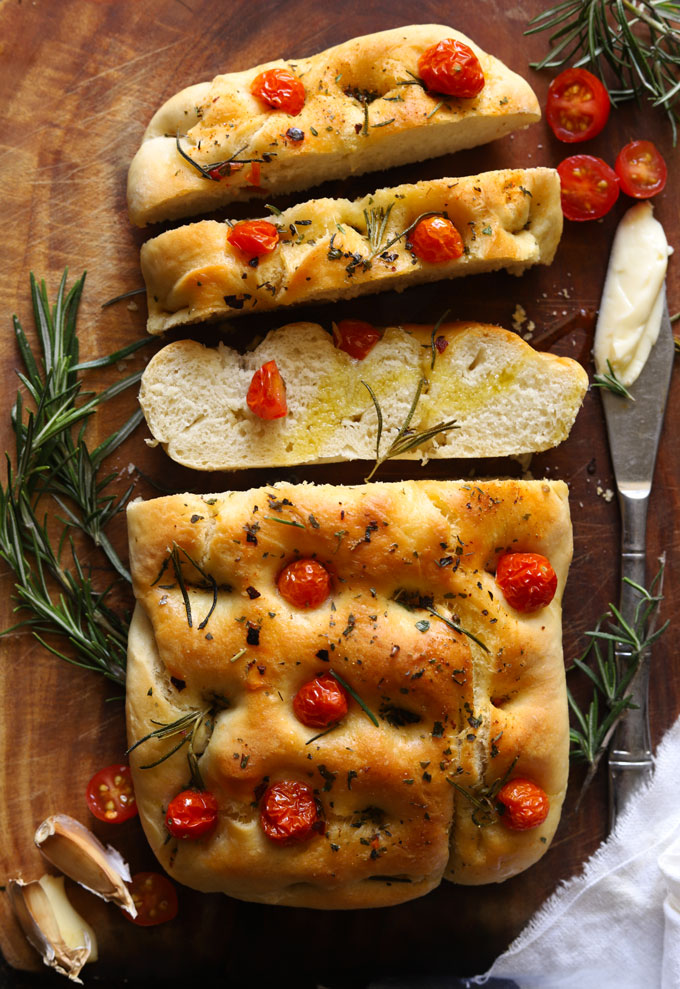 More Quick Bread Recipes
Eggless Banana Bread (Video Recipe)
For more such fun recipes in your life subscribe to our weekly newsletter or follow us on Instagram, Youtube for all the daily updates.
If you try this recipe and love it, please leave a comment and a rating. This helps us grow and reach many other food lovers like you, who are looking for a perfect tried and tested recipe.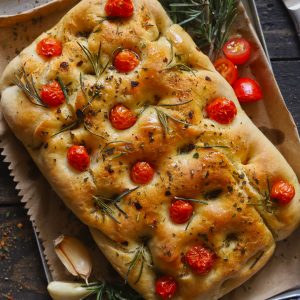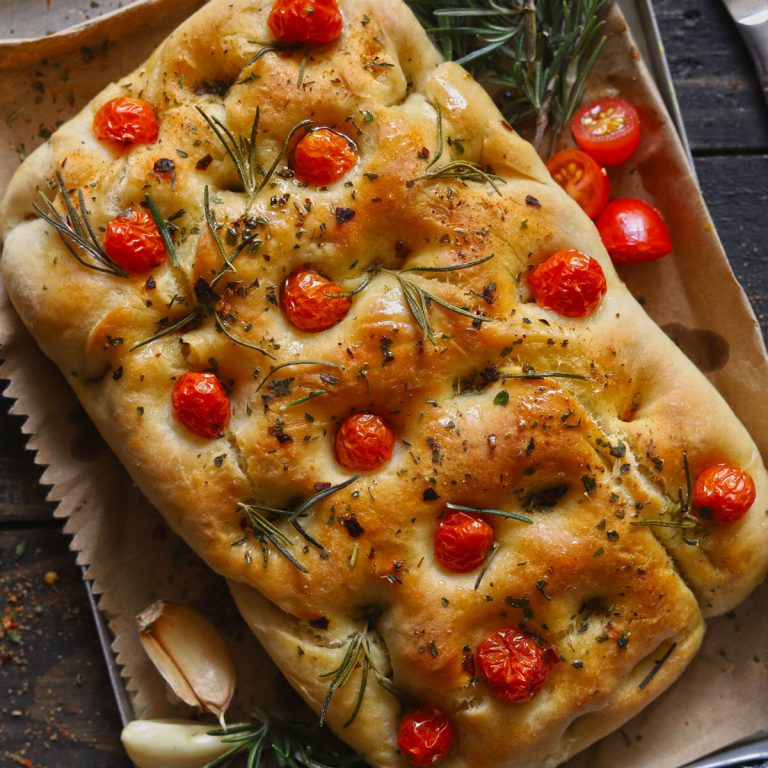 Focaccia Recipe
This Easy Rosemary Garlic Focaccia Recipe is a great summer side dish for beginner bakers! The dough is very easy to make, just add your favorite toppings!
Print
Pin
Rate
Ingredients
500

gram

all-purpose flour

(maida)

15

gram

instant active dry yeast

(1 tablespoon)

15

gram

white granulated sugar

(1 tablespoon)

1

tablespoon

salt

2

tablespoon

extra virgin olive oil

220

ml

water

(approx. 1 Cup)
Ingredients For Topping:
1

Cup

sliced cherry tomato

1

tablespoon

fresh rosemary

1

tablespoon

crushed garlic

2

tablespoon

extra virgin olive oil
Instructions
Activate Yeast:
Combine sugar and water. Bring water to boil until sugar is dissolved completely. Allow water to become lukewarm. It should not be burning hot to touch but still warm.

Add yeast in water. Mix it nicely to dissolve in water. Set it aside for 5 – 10 minutes to froth.
Prepare Dough:
Combine flour and salt in a mixing bowl or in a stand mixer. Now pour yeast mixture in small batches and form a smooth dough.

The dough will be sticky. Do not add more flour. Add olive oil. Knead the dough for 3 – 5 minutes. It will become non-sticky. In a stand mixer, you can churn it at high speed for 2 – 3 minutes.
Proofing:
Grease a large, spacious bowl with olive oil. Trasfer the dough to the bowl. Cover it with a tight fitting lid. Keep the bowl in a warm place such as inside the oven or microwave for 30 minutes.

After 30 minutes dough will become double in volume. This means it is ready for next stage. If dough is not double in volume, keep it a bit longer for proofing.
Second Proofing:
Transfer the dough to a lightly greased kitchen counter. Knead the dough for 3 – 5 minutes to punch out all the air.

Grease a baking tray or a square/rectangular tin with a teaspoon of olive oil. Place the dough on the tray and with greased fingers give it a flat shape. Keep the thickness of not more than half an inch as it will double in height once baked.

Make dimples in the bread at an equal distance using your finger. Stuck cherry tomato, and rosemary in each dimple. Drizzle olive oil and sprinkle crushed garlic.

Leave the bread to proof or rise in volume once again in a warm place for 20 – 30 minutes.
Bake Focaccia:
Preheat oven at 200 degree celcius for 10 minutes.

Bake focaccia for 20 minutes in the middle rack of the oven until golden on top.

Transfer to a wire rack to cool down a bit. Brush with olive oil.

Cut focaccia into squares and enjoy!
Recipe Notes:
Yeast:
Make sure sugar is dissolved in the water. 
Water should be lukewarm to touch and not boiling hot else it will kill the yeast instead of activating. 
Wait till yeast is foamy and a layer of froth is formed on top. That is the signal it is fully activated. 
Check the date of yeast before using. Old or expired yeast will not yield satisfying texture of the bread. 
Dough:
Do not add more flour if the dough seems sticky. Instead, knead it and apply little bit of olive oil. 
Always seal the dough in an airtight container and keep it in a warm, dry place for proofing. 
In cold regions, proofing usually takes more time. 
Nutrition
Serving:
1
slice
|
Calories:
308
kcal
|
Carbohydrates:
51
g
|
Protein:
7
g
|
Fat:
8
g
|
Saturated Fat:
1
g
|
Sodium:
878
mg
|
Potassium:
125
mg
|
Fiber:
2
g
|
Sugar:
3
g
|
Vitamin A:
98
IU
|
Vitamin C:
5
mg
|
Calcium:
13
mg
|
Iron:
3
mg
For Behind The Scene updates
Subscribe to our newsletter!