This is a tried and tested khoya (mawa) Gulab Jamun recipe that always yields a mouth-melting result. They are a perfect sweet dish for Indian festive celebrations like Diwali, Eid, or Raksha Bandhan. Be sure to watch the video!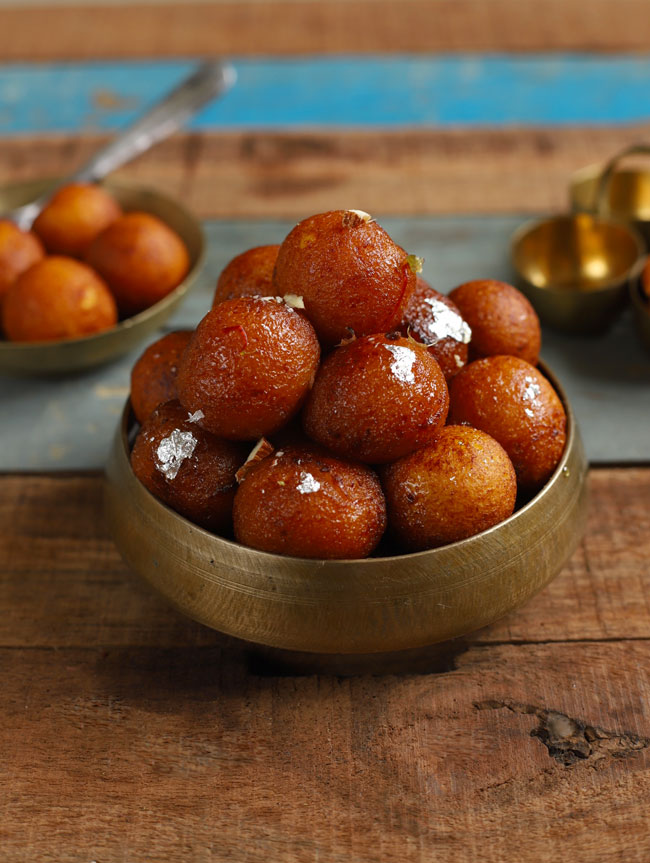 Making Gulab Jamuns at home requires a lot of time and patience. But the homemade ones are just divine. There are unprecedented joy and satisfaction in making a favorite family sweet from scratch.
The smile these sweets bring on the faces of loved ones and the pleasure of sharing a bowl full of homemade goodness with friends is exquisite.
That is the only reason, every year around the festive season, I make a large batch of khoya gulab jamun. And every time I fall in love with this gulab jamun recipe again.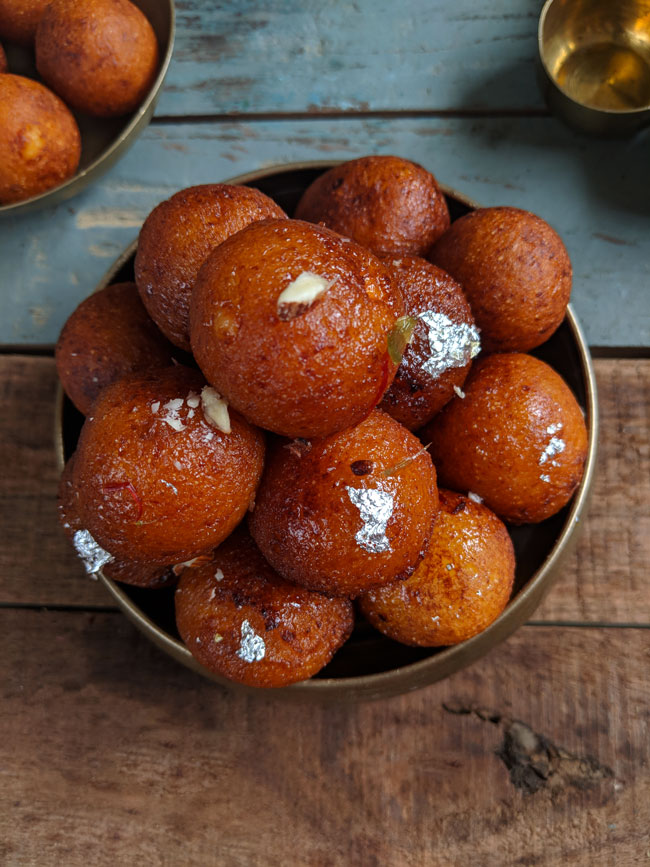 My Tried & True Tips
Correct measurement: When adding ingredients to prepare the dough, ensure they are correctly measured. An approximate or vague quantity of ingredients never yields the right result. Hence, use measuring cups and spoons for the purpose.
Kneading the dough: The dough has to be smooth, non-sticky, and 100% lump-free. That is why a kneading of 10 – 15 minutes using the palm's pressure is required to form a perfect dough. There aren't any shortcuts to this process.
Handling the dough: Due to the heat of the palm and hot/humid weather, the dough might become too sticky. Do not panic. After kneading, keep it in the fridge for 10 – 15 minutes. Later, wash your hands with cold water and grease your palms with ghee (clarified butter) to shape the balls. This trick has always worked for me.
Slow frying: For perfect color and even cooking, the khoya balls are always fried at low to medium heat. Keep turning them regularly while frying for even browning. The balls fried at high temperatures turn dark brown and uncooked from the inside. So it is essential to moderate the heat while frying the gulab jamuns.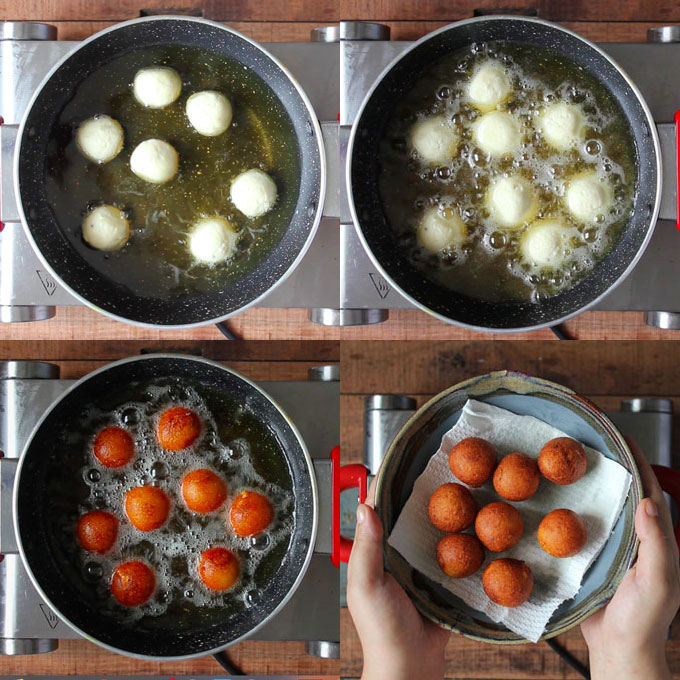 Sugar Syrup: The thread consistency of sugar syrup is not required. Once the syrup has stickiness and thickens, turn off the heat. But remember, the sugar syrup becomes thicker once it cools down. So adjust the consistency initially accordingly.
The aromatics like cardamom powder, saffron, or kewra essence are added to enhance the flavor of the syrup and give it a rich taste. It has nothing to do with the consistency or texture of the syrup.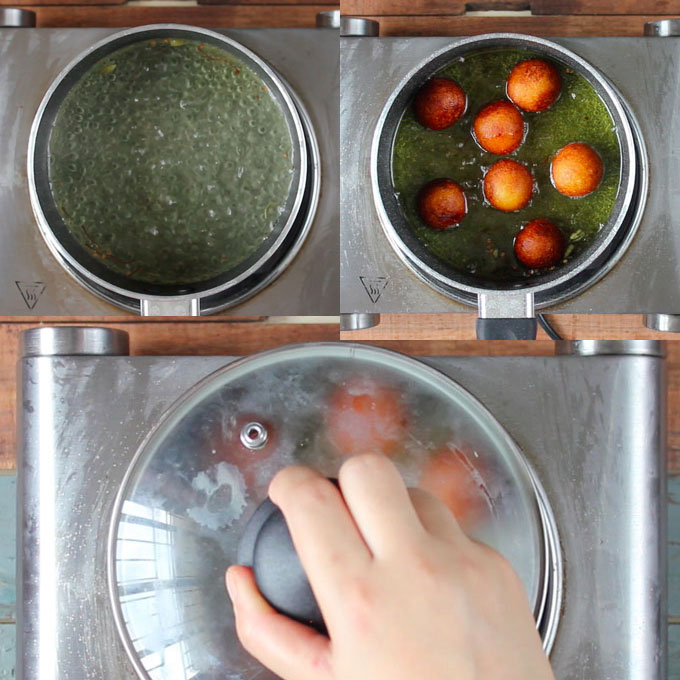 Soaking is one of the key steps in making mouth-melting gulab jamuns. Ensure the khoya balls are warm but not piping hot while adding sugar syrup. And the syrup also has to be simmering.
After adding khoya balls, turn off the heat, cover the pan with a lid and allow the gulab jamuns to sit in sugar syrup for at least 1 – 2 hours. I usually do this process 2 – 3 hours before serving time. Just before serving, heat the sweet in a microwave for 2 – 5 minutes.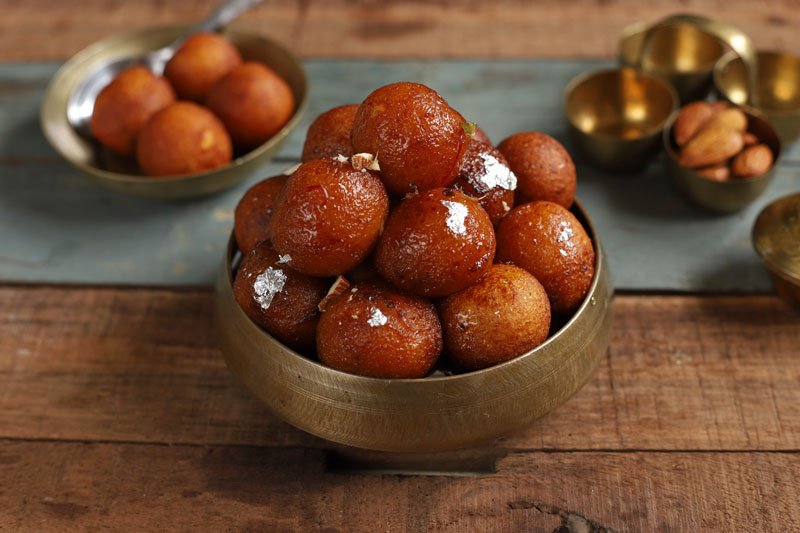 FAQs Related To Gulab Jamun
Can I keep the dough of Gulab Jamun for later use?
Yes, it can be stored in the fridge in an air-tight container. But try using it within the next 2 – 3 days. The khoya (dried milk) spoils quickly and has a very short shelf life. The best way to store gulab jamuns for a longer duration is not to soak the entire batch in sugar syrup. Keep the fried khoya balls in the fridge.
How do I reheat Gulab Jamun?
I usually use the microwave to reheat the gulab jamuns and sugar syrup. They get perfectly soft and spongy. Transfer the sweet to a wide microwave-safe bowl and heat for 5 – 10 minutes at high power. Otherwise, bring them out of the fridge, allow them to sit at room temperature, and then transfer them to a saucepan along with sugar syrup. Cover the pan with a lid and reheat them at low flame for 5 – 10 minutes. But keep checking them while reheating to avoid burning.
Why are my gulab jamuns hard?
There are only two reasons for the same: dough not kneaded properly and left with tiny, uneven lumps of paneer or khoya. It should be smooth, even, and without any lumps. Or gulab jamun fried at very high heat.
Why are my gulab jamuns too soft?
Ingredients are not measured correctly or added too much baking soda. Keep the dough in the refrigerator and try making gulab jamuns the next day or after a few hours.
Why is my gulab jaumn not cooked from the inside?
If fried at very high heat, the khoya balls remain uncooked from the inside and crisp from the outside.
Why my Gulab Jamuns did not soak the sugar syrup?
Sugar syrup should be sticky and have one string consistency. If it is too thin, gulab jamuns will not absorb the syrup.
Watch Gulab Jamun Video
More Indian Dessert Recipes
Subscribe to our weekly newsletter or follow us on Youtube for video recipes.
If you try this recipe and love it, please leave a comment and a rating. This helps us grow and reach other food lovers like you.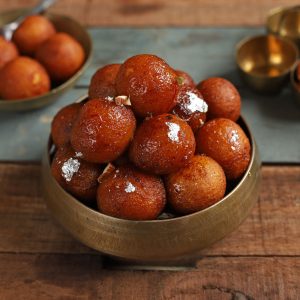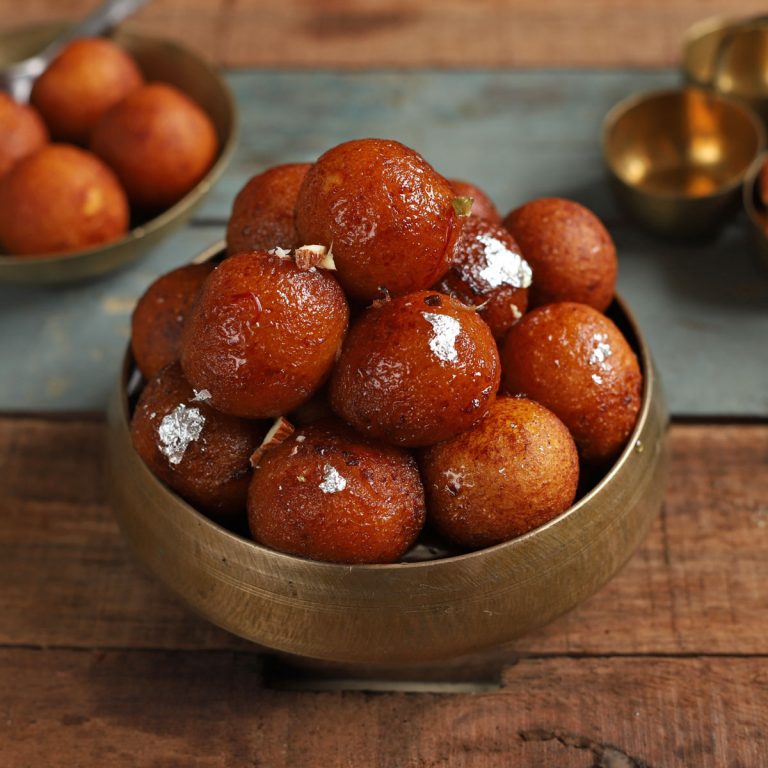 Khoya Gulab Jamun Recipe
Gulab Jamun is a popular Indian sweet made with khoya (mawa) and sugar syrup. This is a tried and true Gulab Jamun recipe. Learn how to make best khoya gulab jamuns in a few simple steps.
Print
Pin
Rate
Ingredients
Ingredients For Gulab Jamun:
200

gram

khoya (mawa)

⅓

Cup

semolina (rava/sooji)

¼

Cup

paneer (cottage cheese), crumbled

1

teaspoon

cardamom powder

¼

teaspoon

baking soda

¼

Cup

water

4

Cup

Ghee/Refined Oil for deep frying
Ingredients For Sugar Syrup:
2

Cup

sugar

2

Cup

water

1

teaspoon

green cardamom powder

¼

teaspoon

saffron
Instructions
How To Make Gulab Jamuns With Khoya:
Grate khoya in a clean bowl. Please note that for soft Gulab Jamun it is necessary to grate khoya and not to crumble it with fingers. Set aside.

In a separate bowl add sooji and pour ¼ Cup of water over it to moisten and soften sooji. Set aside for 5 – 10 minutes so that water is absorbed by sooji. This helps in mixing it well in the dough. Do not get carried away and add too much water.

To make a dough, combine grated khoya, softened sooji, crumbled paneer, baking soda, and cardamom powder. Knead well for 5 – 10 minutes or until smooth, soft and firm dough is formed.

Let it rest for 5 – 10 minutes in the fridge while you heat oil for deep frying.

To shape Gulab Jamuns, pinch a small portion from the dough and shape it round rolling between your palms. Similarly, shape rest of the gulab jamun.

Heat oil in a heavy bottom pan over medium heat.

Deep fry the khoya balls in small batches over low heat until dark brown on both sides. Keep the flame low to medium while deep frying for even cooking.

Drain fried balls on a kitchen towel while you prepare sugar syrup.
How To Make Sugar Syrup:
Once sugar is dissolved add cardamom powder and saffron. Stir to combine. The sugar syrup is ready for gulab jamun once it stickiness and thickens a bit.

Add warm jamun to the sugar syrup. Stir nicely. Cover and set aside for 1 – 2 hour before serving.
Recipe Notes:
To make soft Gulab Jamuns, knead the dough very well so that no lumps remain. 
If the dough seems too sticky to shape the balls, keep it in the fridge for 15 – 20 minutes. 
Always deep-fry jamun over a low to medium heat for even browning and cooking. 
Gulab Jamun increases considerably in size after absorbing the sugar syrup. Hence, shape them accordingly.
It is important that gulab jamuns are warm and not at room temperature while adding in the hot sugar syrup. If required, microwave fried gulab jamun for 5 minutes before soaking in sugar syrup. 
Let gulab jamun rest in sugar syrup for 1 – 2 hours to get soft and spongy. 
If you do not want to use all the fried balls at a time. Store half of them in the fridge in an air-tight container. Whenever required, make sugar syrup, microwave fried balls, and soak in syrup. 
Nutrition
Calories:
223
kcal
|
Carbohydrates:
41
g
|
Protein:
4
g
|
Fat:
5
g
|
Saturated Fat:
3
g
|
Cholesterol:
6
mg
|
Sodium:
72
mg
|
Potassium:
9
mg
|
Fiber:
1
g
|
Sugar:
33
g
|
Vitamin A:
76
IU
|
Vitamin C:
1
mg
|
Calcium:
138
mg
|
Iron:
1
mg
For Behind The Scene updates
Subscribe to our newsletter!