April was a super busy month so much happening at personal front (friend's wedding, trip to Agra, unexpected guests etc. etc.) that couldn't get much time to spend on my blog, in the midst of all that busyness somehow managed to bake these Whole Wheat Mocha Muffins to maintain my sanity and please my thoughts with some good pictures. These mocha muffins are loaded with the aroma and flavor of coffee. The perfect little bites for the breakfast or the evening tea time.
It seems this scorching heat has taken toll on my creative thoughts as well, feeling so uninspired and lazy to go to the kitchen and create something to feed my starving blog, all I am interested these days is beverages, salads and lots of frozen desserts, also this year Bangalore weather is exceptionally irritating with such high temperature (36 degrees), which was quite unexpected and not the usual Bangalore summer.
I could see summer affect around me as well, all day long kids are playing and screaming in the neighborhood, swimming pool is full of tiny toddlers learning how to swim, Momo also not liking this hot weather and avoids much playing around, in the afternoon he is quite agitated with the kids who scream and shout while playing and disturb his afternoon nap.
I think I am obsessed with whole wheat. Every day I try my best to reduce the usage of white flour in my kitchen to minimal, we have switched to whole wheat bread, pasta, noodles, cookies, pizzas and now muffins and to my surprise there is not much difference in taste. If you want you can substitute whole-wheat flour with equal amount of all-purpose flour or if you want light texture along with healthy choice than use 1-cup all-purpose flour with 3/4 cup of whole-wheat flour.
One important thing to keep in mind while using whole wheat in cakes/muffins once the batter is ready for baking. Give it resting time of 5 – 10 minutes this way if any gluten strands formed while mixing will get relaxed else result will be tough muffins.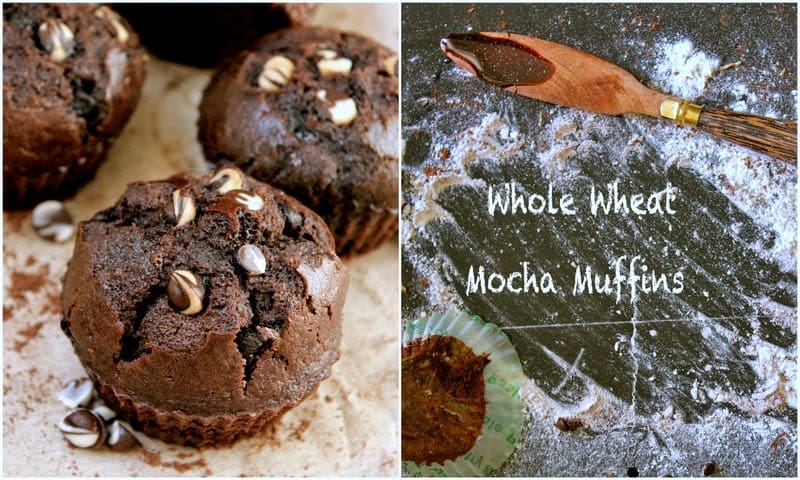 Whole Wheat Mocha Muffins Recipe
Ingredients
1 2/4

cup

whole wheat flour

1/4

cup

regular unsweetened cocoa powder

1/3

cup

light brown sugar

2

large eggs

1/2

cup

buttermilk

1/2

cup

vegetable

canola or olive oil

1/4

cup

black coffee or espresso

I used 1/4 Cup water with 2 tsp instant coffee powder, at room temperature

1

tsp

vanilla extract

1

tsp

chocolate essence

1/2

tsp

baking powder

1

tsp

baking soda

1/4

tsp

salt

⅓

cup

white chocolate chips
Instructions
In a large bowl whisk together the eggs, buttermilk, oil, coffee, vanilla and chocolate essence until all combined well.

In another large bowl sift together the flour, cocoa powder, brown sugar, baking powder, baking soda, and salt.

With a rubber spatula fold the wet ingredients into the dry ingredients and mix only until the ingredients are combined. (Do not over mix the batter or the muffins will be tough.)

I gave the batter 10 minutes resting time so that any gluten strands formed while mixing will get relaxed. The batter is on a thick side.

Preheat the oven at 190-degree centigrade and line muffin tray with paper liners.

Spoon in an equal amount of batter into muffin cups, filling only up to ⅓ in each muffin cup.

Sprinkle chocolate chips on top of each muffin.

Place in the oven and bake at 190-degree for about 18 -23 minutes (mine took exact 20 minutes).

Lastly, it is hard to tell when muffins are baked so check them towards the end of baking, they are done when they are firm to the touch and a toothpick inserted in the center of a muffin comes out clean.

Transfer to a wire rack and let it cool completely before storing.