Bhune Tamatar Ki Chutney is a flavorsome summer affair. It is loaded with the roasted flavor of tomatoes and the pungent taste of mustard oil. What is not there to love it? It has all my favorite ingredients – garlic, mustard oil and the coriander. My family is addictive to this chutney. Bhune Tamatar Ki Chutney is one multi-purpose dip that can be used in so many ways. A spoonful in vinaigrette and you have a delicious dressing ready in few minutes. Or serve it as a dip with munchies along with drinks. And it compliments the Indian curries as well. Such a versatile sauce and it takes less than 20 minutes to get ready.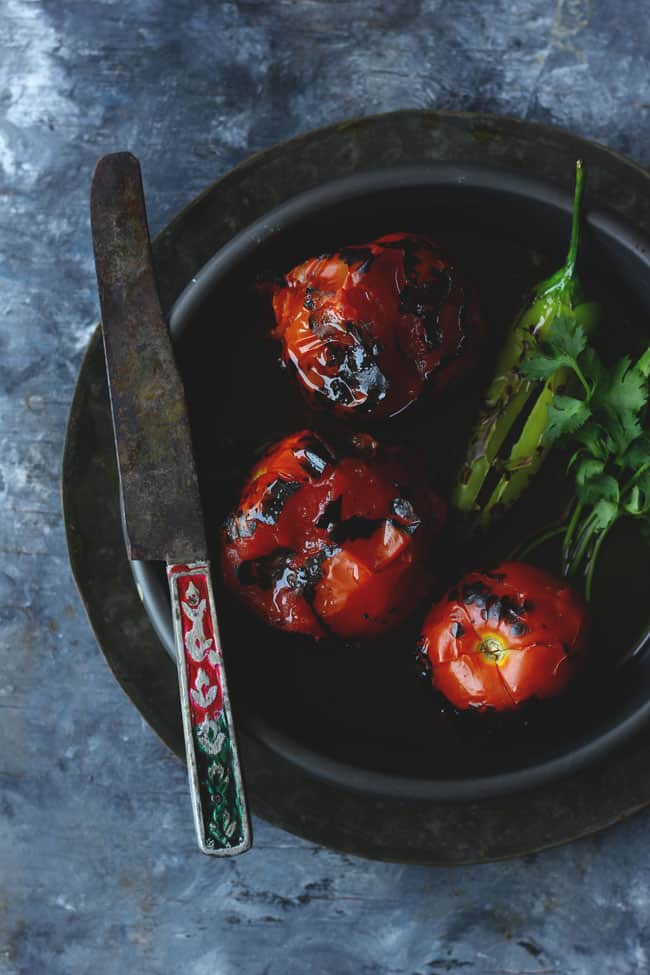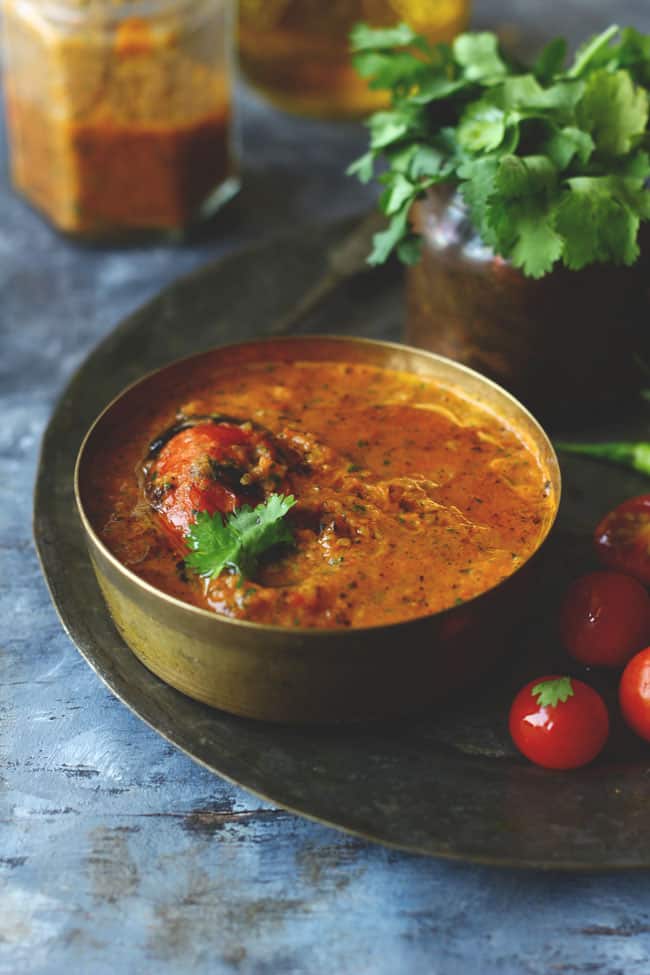 At times I feel it is the Indian take on the Mexican salsa. Who knows, maybe some wise man/woman created the recipe after tasting the delicious salsa. Bhune Tamatar Ki Chutney is a popular condiment across all the regions of Uttar Pradesh, India. The word 'bhune' is a Hindi term for anything that is roasted. The tomatoes and chilies are roasted over the direct flame to get the smoky flavor in the chutney. On one occasion, I roasted the tomatoes over a bbq grill and the chutney turned out delicious because of the intense smoky flavor from the charcoal. But on a routine basis, it is difficult to bring out the grill for chutney. So roasting the tomatoes over the direct flame of a gas stove is a quick and easy method.
Mostly prepared during the summer season when there is less variety of vegetables available in the market condiments like
Bhune Tamatar Ki Chutney
adds great variety in the
everyday menu
. Along with the variety, it adds a unique dimension of flavor as well. In certain places, they don't even blend the roasted tomato. All the ingredients are finely chopped and combined together. That tastes delicious too. And has a lot more texture to it. At home, I prefer whizzing the whole thing once in a food processor. That's it.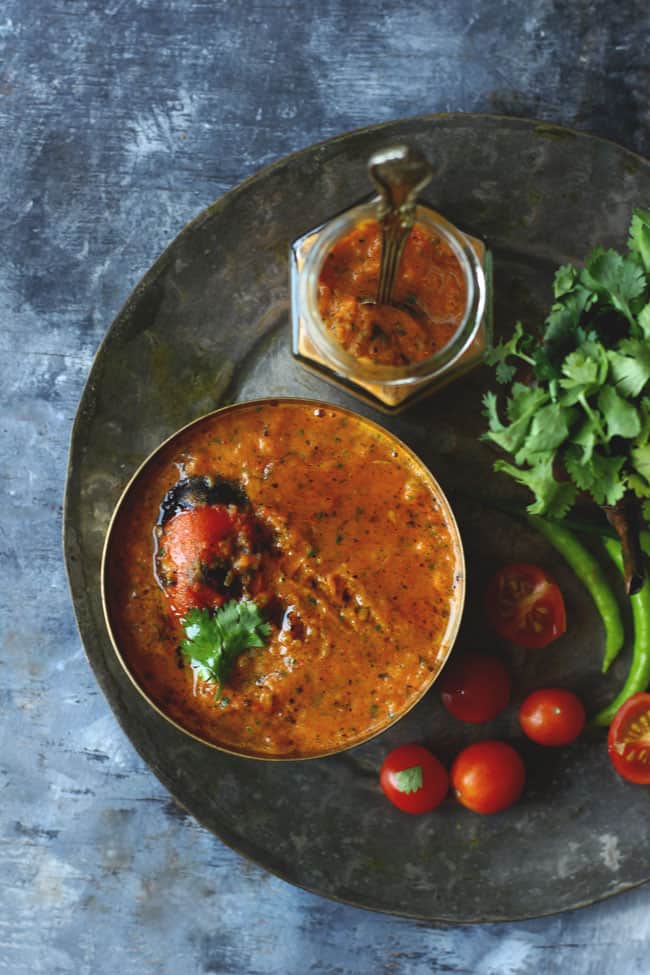 Bhune Tamatar Ki Chutney
is one of the quickest, tastiest condiment that can be done in no time. And with a jar full of this tomato chutney sitting in the fridge life is so much sorted when it comes to planning sides for the everyday meal. You can add it on top of
dal
, serve it with
paratha
, use it as a dressing/marinade or as a dip. So many uses of a simple, fuss-free chutney! Is that even possible? Oh yeah, and I almost forgot to mention, this tomato chutney is gluten-free and vegan too. So hopefully now you have more reason to try the recipe for this
Bhune Tamatar Ki Chutney
.
How to make Bhune Tamatar Ki Chutney in less than 25 minutes:
Bhune Tamatar Ki Chutney
Bhune Tamatar Ki Chutney is a flavoursome summer affair from Uttar Pradesh, India. Find how to make perfect bhune tamatar ki chutney in few simple steps.
Print
Pin
Rate
Ingredients
2 - 3

medium-size tomato

2

green chili

2 - 3

garlic cloves

half a bunch of corinader

roughly chopped

1

tbsp

mustard oil

sarson oil

Salt to taste
Instructions
Rinse the tomato and green chili in water. Pat dry with kitchen towel.

To roast the tomato and chili you can keep them directly over the flame or use a wire mash.

Roast the vegetables till they get charred marks. Keep on rotating them while roasting to get evenly cooked.

Chili takes less time than tomatoes to get roasted. Remove the chilies as soon they get charred.

Once roasted, roughly chop the tomato and chili.

Blend together roasted tomato, chili and other ingredients together.

You can either blend it to a smooth puree or keep it coarse in texture.

It is always best to keep this chutney a bit chunky in texture.

Taste and adjust the seasoning accordingly.

Transfer to a clean jar and store in the fridge or serve immediately.
Love this? Pin it for Later!
Follow @hinagujral on Pinterest!