Ever since I started baking, Lemon Pound cake was on my list, the idea of a moist, soft and delicate pound cake always fascinated me as a baker. But somehow it never made it to the oven. Recently I came across this foolproof recipe of pound cake shared by Stephanie Jaworski (JoyofBaking.com). She demonstrated it on the recipe video in such a simple manner that there are very bleak chances of goofing up. And voila!! The cake came out perfect in first trial itself, with the perfect break on top of the cake as she says that's the sign of well-baked Lemon Pound Cake.
Lemon Pound Cake batter is so versatile that it can be baked into a loaf or Bundt pan or pound cake mold, stir in some fresh raspberries, blueberries or dark chocolate chips but keeping in mind the dry and dull weather I added fresh lemon juice for the flavor and the combination is totally divine, I made one loaf for ourselves and packed the other one for his colleagues at office, and both the places the cake was devoured within few minutes.
When I say versatile, the word reminds me of we women, who are so versatile, playing different roles with so much ease, managing work and home, always keeping our desires, emotions, wishes besides our loved ones, like this versatile cake batter we also mold ourselves to get adjusted into new families, cities among new people, happily and perfectly accepting the new relations in our lives with the same very soft, emotional, loving personality of ours…we, women, are so versatile!!!
While baking the Lemon Pound Cake I followed two steps very sincerely. First swearing by the timer while beating the batter for 1 minute or 30 seconds this way you do not end up over beating the batter and get the right structure of the cake. Second, is the speed of electric mixer or hand blender, follow the guidelines in the recipe religiously to beat the batter at the mentioned speed. If this recipe is followed end to end then the result is the silky smooth lustrous batter that will never ever disappoint you.
If you try this recipe and love it, please leave a comment and a rating. This helps us grow and reach many other food lovers like you, who are looking for a perfect tried and tested recipe.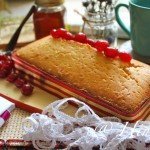 Lemon Pound Cake Recipe
Lemon Pound Cake is a soft, moist and delicately flavored cake which is easy to bake at home.
Print
Pin
Rate
Ingredients
1 1/2

cups

150 grams all purpose flour

3

eggs

at room temperature

3

tbsp

milk

room temperature

1 ½

tsp

vanilla extract

1

tsp

baking powder

1/4

tsp

salt

3/4

cup

150 grams granulated white sugar

13

tablespoons

185 grams unsalted butter, softened and cut into cubes

4

tbsp

lemon juice
For the glaze
¼

Cup

lemon juice

3

tbsp

powdered white sugar
Instructions
In a medium bowl, whisk together the eggs, milk, and vanilla extract.

In the bowl place the dry ingredients (sifted flour, baking powder, salt, and sugar) and mix nicely using spatula or wire whisk.

Add the cubed butter and half of the egg mixture. Mix on low speed with hand mixer (

Buy it here

) or electric mixer until the dry ingredients are moistened.

Add little more of egg mixture, lemon juice and increase the mixer speed to medium and beat for about one minute to aerate and develop the cake's structure. Scrape down the sides of the bowl. Gradually add the remaining egg mixture, in 2 additions, beating about 30 seconds after each addition to incorporate the egg and strengthen the cake's structure.

Preheat oven (

Buy it here

) to 350 degrees F (177 degrees C). Grease a 9 x 5 x 3 inch loaf pan (

Buy it here

). Line the bottom of the pan with parchment paper.

Scrape the batter into the prepared pan and smooth the top with an offset spatula or the back of a spoon. Bake for about 55 to 65 minutes or until the cake is golden brown and a toothpick inserted in the center comes out clean.

If you find the cake browning too much as it bakes, cover with a piece of lightly buttered aluminum foil after about 30 minutes.

Remove the cake from the oven and place on a wire rack to cool for about 10 minutes.

For the glaze, mix in lemon and sugar and pour over the cake. Before pouring glaze over the cake poke tiny holes in the cake with a toothpick so that glaze penetrates deep inside the cake.

Let it cool completely on a wire rack before cutting.

The Pound Cake can be covered and stored for several days at room temperature, for one week when refrigerated, or it can be frozen for two months.
Love this? Pin it for Later!
Follow @hinagujral on Pinterest!