We have for you the best chocolate cake recipe. It is fudgy, super moist, and easy to prepare from start to finish. This cake could answer the question – 'what is the best recipe for an eggless chocolate cake?'
Reasons To Love This Chocolate Cake
Its is…
√ fudgy
√ perfectly sweet
√ super-duper moist
√ extremely simple to prepare
√ has the right notes of chocolate
How can you not love a cake with all these marvellous qualities?
I almost tried a zillion chocolate cake recipes from the internet, recipe books, baking guides, etc. But none of those cake recipes satisfied my criteria for a perfect eggless cake.
Hence, this easy eggless chocolate cake recipe is worth bookmarking for all the happy occasions in your life.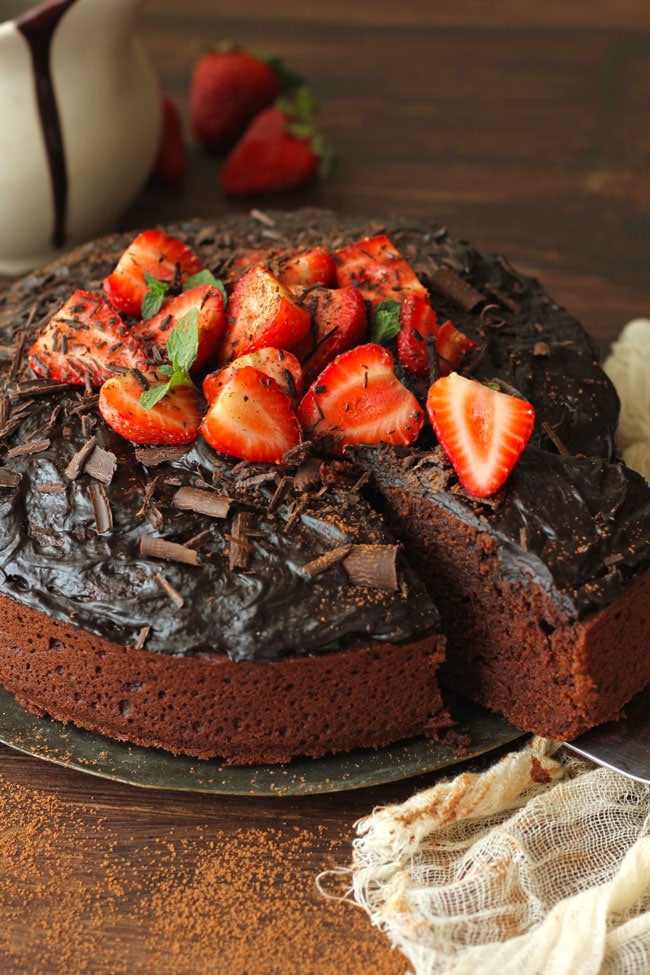 My Tried & True Tips
If you do not know, baking the chocolate cake of your dreams at home is not rocket science. If I have done it, you can do it as well.
Ingredients: Ensure all the ingredients are at room temperature and correctly measured before preparing the batter. Otherwise, cold ingredients from the fridge might affect the cake's texture. 
Cocoa Powder: If you use sweetened cocoa powder, add 1 Cup of sugar. For dark unsweetened cocoa powder, add 1 ½ cup sugar.
Sugar: Use castor sugar or fine-granulated white sugar.
Buttermilk: If you have buttermilk, skip combining milk with vinegar.
Yogurt: Use thick, creamy, and plain flavour yogurt or curd without any liquid.
Oil: Any flavourless oil. I prefer using olive oil.
Equipment: I highly recommend using an electric hand blender or a stand mixer for whisking the cake batter. It gives a strong and stable structure to the cake.
The 9-inch cake tin is perfect for this cake. Or you can divide the batter between two 8 inch cake tins. I used a 9-inch springform tin.
Cake Batter: Do not over-mix the cake batter. Once everything is combined, keep your hands away from the batter. Mixing for too long is not going to give you a soft cake. It does quite the opposite. 
Baking Time: In my 52 litres OTG this eggless chocolate cake takes 40 minutes in the middle rack. Then I let it sit in the oven for 5 minutes before bringing it out. I would suggest you keep an eye on the cake after 30 minutes.
Toothpick Test: After completing baking, insert a toothpick into the cake and pull it out. The cake is perfectly baked if it comes out with no/little crumbs. If the cake batter sticks to the toothpick, the cake needs more baking time.
Watch Chocolate Cake Video
Cake Decoration
For a lazy baker like me, decorating a cake is a bit demanding. Hence, I stick to a simple chocolate ganache for decorating my eggless chocolate cake.
Don't hesitate to embellish the cake with fresh seasonal fruits (strawberries, peaches, mangoes, pineapple, passion fruit, etc.), chocolate curls, and sprinkles.
Microwave Chocolate Cake
First, it's a big myth that you cannot bake a delicious chocolate cake in the microwave.
All you need to have is the right microwave cake recipe. It requires only 20 minutes from start to finish. And a decadent chocolate fudge cake is ready.
In addition to that, you can bake this eggless chocolate cake in microwave convection mode. Preheat microwave convection to 180 degrees celsius for 10 minutes. Bake cake for 30 – 35 minutes.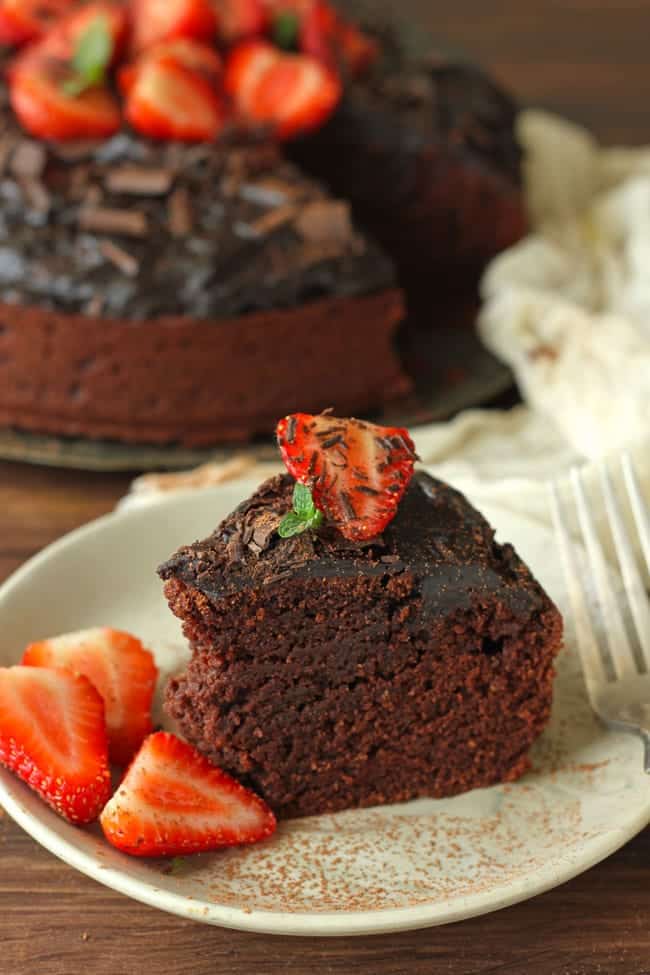 Storage Suggestion
This eggless chocolate cake remains perfectly moist and fresh for 24 hours at room temperature. I prefer keeping it in an airtight container.
After 24 hours, you can store it in the refrigerator for 2 – 3 days.
It is best to consume the cake within the first few days of baking. Later, the cake's texture becomes dry, and the ganache layer on top becomes hard.
More Eggless Cake Recipes
Subscribe to our weekly newsletter or follow us on Youtube for video recipes.
If you try this recipe and love it, please leave a comment and a rating. This helps us grow and reach other food lovers like you.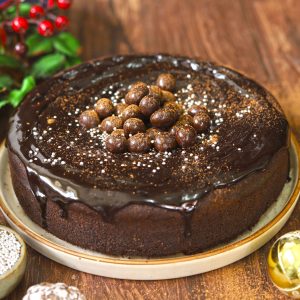 Eggless Chocolate Cake Recipe
We have for you the best eggless chocolate cake recipe that is tried and tested. Learn how to make a chocolate cake in a few simple steps.
Print
Pin
Rate
Ingredients
1 Cup = 250 ml, 1 teaspoon = 5 ml
Dry Ingredients:
2 ⅓

Cup

all purpose flour

(maida)

¾

Cup

cocoa powder, dark and unsweetened

½

teaspoon

baking soda

½

teaspoon

baking powder

1 ½

Cup

white granulated sugar
Liquid Ingredients:
½

Cup (113 gram)

butter, softened

½

Cup

yogurt or curd

(dahi)

½

Cup

olive oil

1 ½

Cup

buttermilk

(see recipe note)

1

teaspoon

vanilla essence
Ingredients For Chocolate Ganache
1

Cup

dark chocolate, chopped

½

Cup

heavy cream

1

teaspoon

butter, softened
Instructions
Oven and Cake Tin:
Preheat oven to 180 degrees Celsius for 10 minutes. Grease a round 9-inch cake tin with butter. Line it with parchment paper or butter paper. 
Prepare Buttermilk:
Take 1 ½ Cup milk at room temperature. Combine one teaspoon vinegar in the milk. Mix nicely. Set aside until required. 
Combine Dry Ingredients:
Sift flour, baking soda, powder, and cocoa powder together in a bowl. Mix nicely. Set aside. 
Combine Wet Ingredients:
Whisk butter and sugar together until creamy. Use an electric hand blender with a whisk attachment or a stand mixer for the purpose.  

Now add yogurt and whisk the batter for 1 – 2 minutes at medium speed. Add the oil and vanilla essence. Continue whisking the batter for 5 minutes. 
Prepare Cake Batter:
Add dry ingredients in 2 – 3 batches along with buttermilk to the wet ingredients. Combine nicely. Use a hand mixer to evenly combine the batter. Stop mixing once the batter is well combined and no streaks of flour visible. 
Bake:
Pour the cake batter into the greased tin. Bake for 30 – 40 minutes or until a toothpick inserted comes out clean. Allow the cake to cool down in the tin for 5 – 10 minutes before transferring to a wire rack. 
Chocolate Ganche:
Heat cream in a non-stick pan till it comes to a boil. Add butter and mix. Pour this hot liquid over the chopped chocolate and mix until a thick, smooth chocolate ganache is formed. 

Spread this frosting over the cake. Add chopped strawberries and chocolate curls. Serve eggless chocolate cake with vanilla ice-cream. 
Recipe Notes:
To make buttermilk,

combine 1 ½ cup milk at room temperature with 1 teaspoon white vinegar in the milk. Mix nicely. Set aside until required. 

Make sure all the ingredients are at room temperature before making the cake batter. 
Do not mix the cake batter for too long as it will harden the cake. 
Allow the cake to cool down a bit before covering it with chocolate ganache. 
Do not leave the chocolate ganache unattended for a long time or it will become hard. 
Nutrition
Calories:
664
kcal
|
Carbohydrates:
74
g
|
Protein:
8
g
|
Fat:
39
g
|
Saturated Fat:
18
g
|
Cholesterol:
54
mg
|
Sodium:
219
mg
|
Potassium:
390
mg
|
Fiber:
5
g
|
Sugar:
41
g
|
Vitamin A:
624
IU
|
Calcium:
112
mg
|
Iron:
5
mg
For Behind The Scene updates
Subscribe to our newsletter!