Lentil Salad is a wholesome, nutritious, fulfilling Mediterranean-style salad. Keep it simple, or make it sexy. Either way, you are going to love this vegetarian, gluten-free salad. Be sure to watch the video!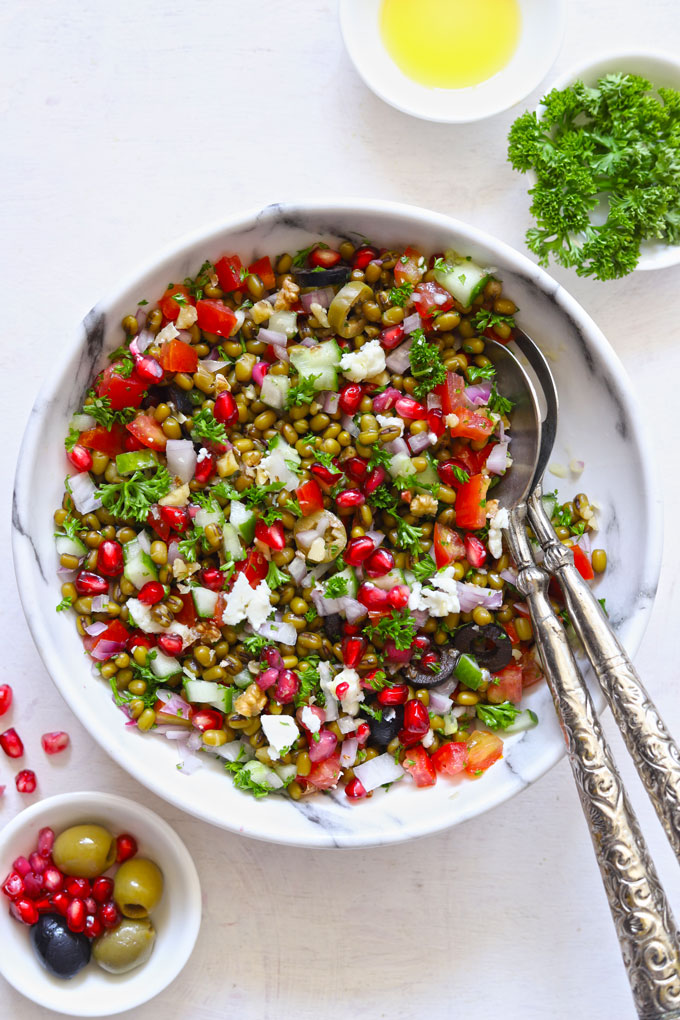 Green Moong Bean is rich in protein, and when combined with vegetables, it makes an excellent meal in a bowl. You can use them to make sprouts at home.
This gluten-free salad is an amazing, refreshing, lentil tabouleh packed with finely chopped colorful vegetables tossed in a flavorsome vinaigrette-style dressing.
The possibilities, however, don't end here. There is an endless combination of vegetables and dressings (pick from my favorite 6 salad dressing recipes) that work for this lentil salad.
You can easily carry this lentil salad to work in a jar.
More Reasons To LOVE Lentil Salad
perfect side dish for grilled or BBQ meats
possible vegan recipe (skip the cheese)
perfect meal-prep friendly salad
easy to make, no-fuss recipe
wholesome and nourishing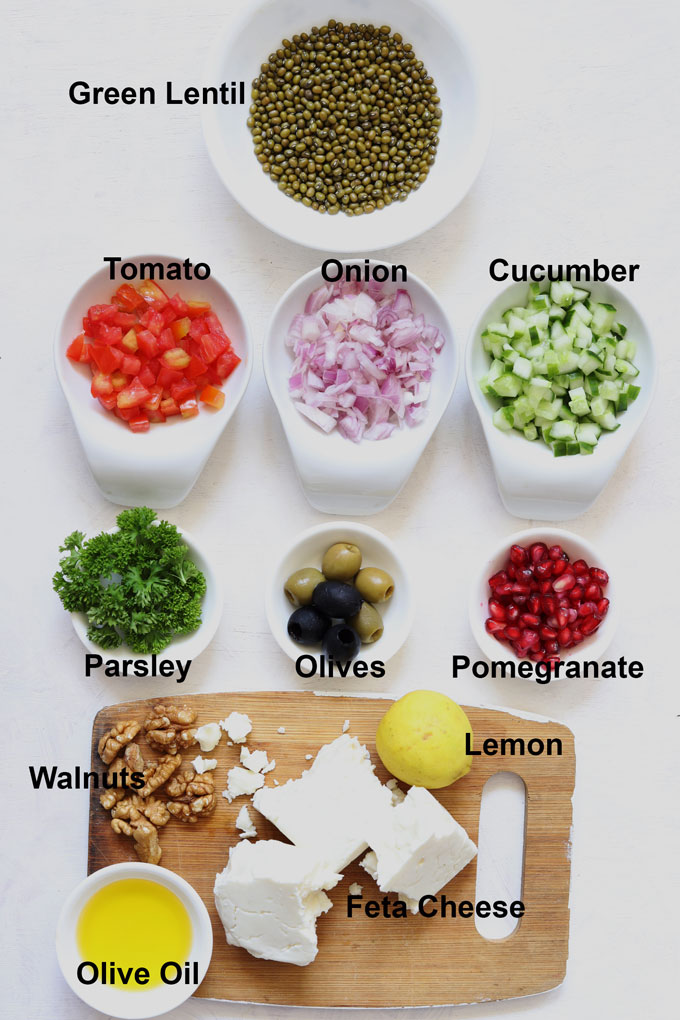 Ingredients Required
Lentil: Use dried green mung bean for making the salad. They are easy to cook, inexpensive, readily available, and taste excellent in the salad. Here are my favorite 21 ways to eat lentils.
You can use black beluga lentils, brown lentils, chickpeas, red kidney beans, or any other local variety of lentils/legumes also for this salad recipe.
Vegetables: Apart from the salad usuals – onion, tomato, cucumber, feel free to add olives, sun-dried tomato, kale, baby spinach, roasted bell peppers, or any other vegetable of your choice.
Herbs: Fresh parsley, Italian basil, cilantro, mint, or chives are an excellent choice for flavoring the salad.
Cheese Choice: From feta, brie, and ricotta, to goat cheese, any variety of soft cheese is ideal for making this salad more delicious.
Salad Dressing: A classic vinaigrette of olive oil, citrus, garlic, and mustard is the best choice for this hearty lentil salad.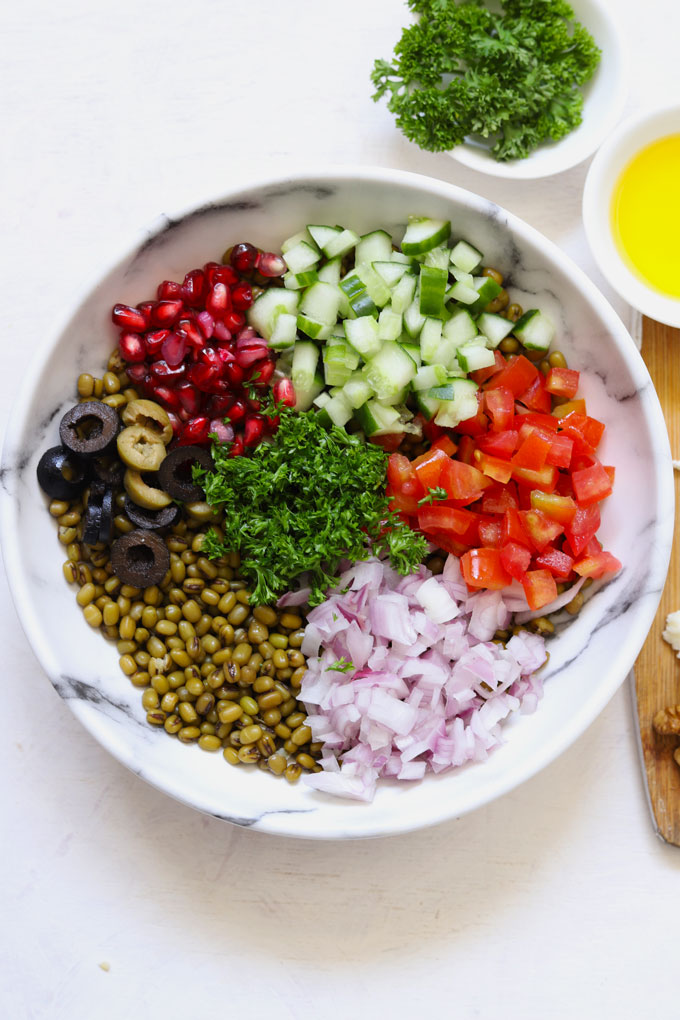 Meal Prep For Lentil Salad
Boil Lentils: Wash, and soak lentils in water for 30 minutes. Next, boil water with salt and bay leaf in a saucepan. Add soaked mung beans. Cook them till al dente and not mushy or overcooked.
Transfer boiled lentils to a sieve or metal colander. Allow to cool down completely before making the salad. You can store cooked mung beans for 2 – 3 days in the fridge.
Prepare Dressing: Combine all the dressing ingredients in a jar. Close the lid of the jar. Shake well to combine the ingredients. Keep the salad dressing in the fridge until ready to use. Shake once again before adding to the salad.
Watch Salad Video
Serving Suggestion
You can serve lentil salad with a variety of side dishes such as:
Roasted Herb Potatoes – oven-roasted garlic and herb potatoes.
Creamy Mushroom Soup – a light and hearty warm mushroom soup.
Grilled Chicken/Seafood of your choice.
Garlic bread, focaccia, sourdough bread, or toasted artisanal bread slices.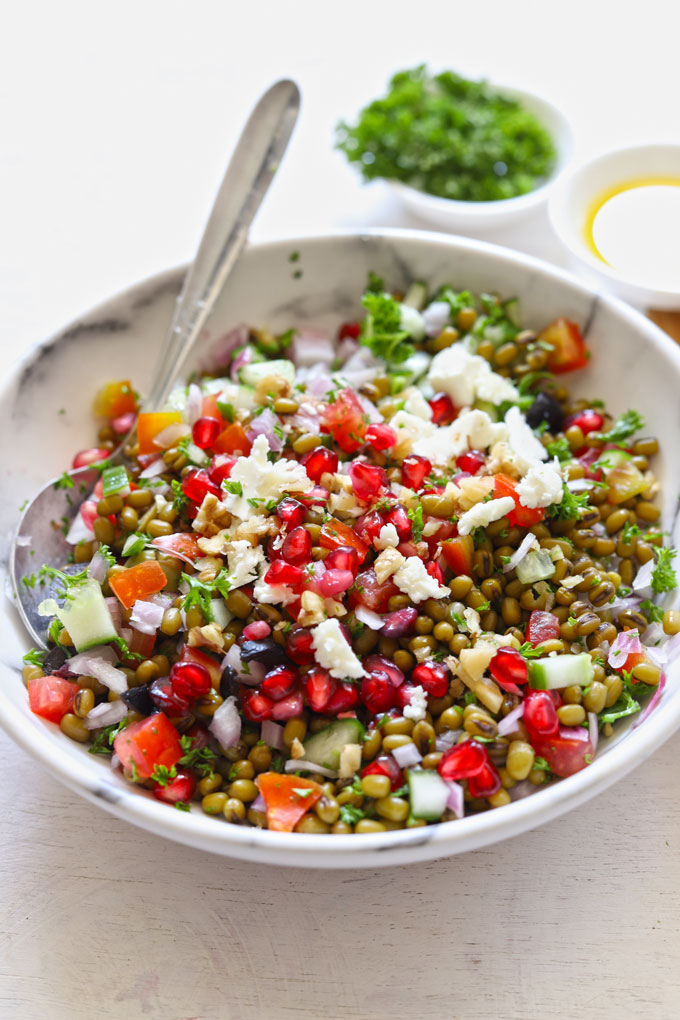 FAQ Related To Lentil Salad
Is lentil salad healthy?
Mung Beans are high in plant-based protein, rich in fiber, and low in fat. They're also packed with folate, iron, phosphorus, and potassium. These are the essential nutrients one needs daily. A cup of lentil salad during lunch or dinner will help you manage your daily nutrients intake.
Can I use canned lentils for making the salad?
Yes absolutely! Using canned lentils will cut the prep time. But the only thing you have to deal with is the extra salt in the can. Thoroughly wash the canned lentils to remove all the excess salt. Do not add the liquid in the can to the salad along with lentils.
Do you have to soak lentils before cooking them?  
You can cook lentils without soaking them as well. But soaking them reduces the cooking time to almost half.
How to cook lentils in an Instant Pot?  
Dry lentils will take about 15 minutes to cook in an Instant Pot, whereas the pre-soaked lentils for the salad will need 5 – 6 minutes. First, wash the dry lentils thoroughly to remove dirt or stones. Once done, add them into the inner pot with enough water to submerge the lentils and salt to taste. Set the IP to pressure cook mode for 5 minutes. Once done, release the pressure manually, and check lentils for doneness.
How to store cooked lentils?
Store cooked lentils in an airtight container for 2 – 3 days in the fridge.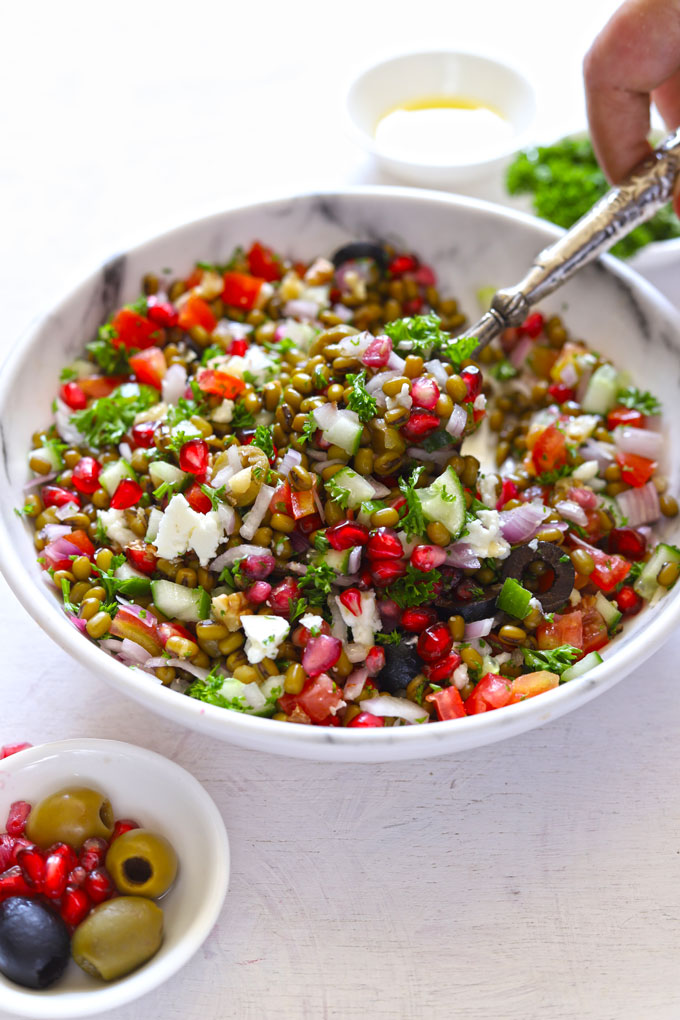 More Salad Recipes For You
Creamy Pasta Salad With Pineapple
Subscribe to our weekly newsletter or follow us on Instagram, Youtube for video recipes.
If you try this recipe and love it, please leave a comment and a rating. This helps us grow and reach other food lovers like you.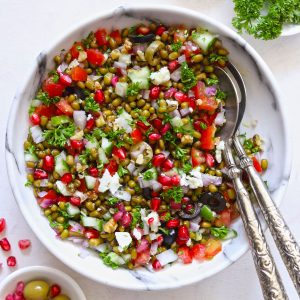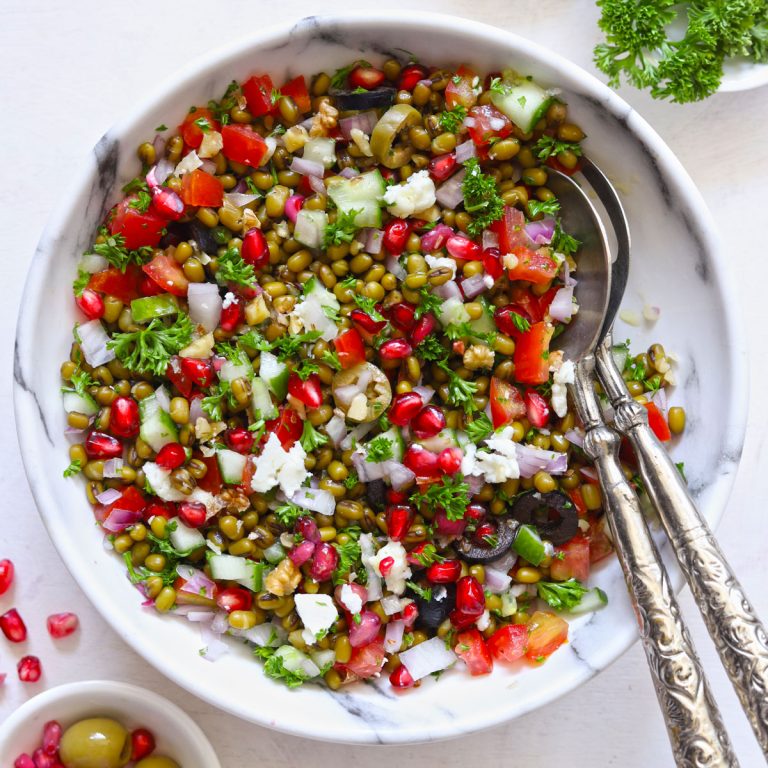 Mediterranean Lentil Salad Recipe
Lentil Salad is a wholesome, nutritious, fulfilling Mediterranean-style salad. Learn how to make gluten-free mung bean salad in a few steps.
Print
Pin
Rate
Ingredients
1

Cup

green lentil (mung bean)

1

bay leaf

2

teaspoon

salt

½

Cup

finely chopped red onion

½

Cup

finely chopped tomato (deseeded)

½

Cup

finely diced cucumber

¼

Cup

sliced olives

¼

Cup

pomegranate

¼

Cup

finely chopped fresh parsley

¼

Cup

coarsely chopped walnuts

¼

Cup

crumbled feta cheese
Salad dressing
¼

Cup

extra virgin olive oil

2

tablespoon

lime juice

1

tablespoon

crushed or minced garlic

1

teaspoon

Dijon Mustard

Salt and black pepper to taste

1

teaspoon

oregano
Instructions
Boil Lentils:
Wash and soak the green moong lentils in enough water for 5 hours.

In a saucepan, bring 4 cups of water to boil. Season with salt and bay leaf. Add soaked lentils, and simmer, stirring occasionally, until al dente, about 15 minutes. Lentil should not over cook or turn mushy.

Drain boiled lentils in a metal colander and allow them to cool completely
Prepare Salad Dressing:
To prepare the salad dressing, whisk all the ingredients of dressing in a bowl or a jar with a lid until well combined. Taste and adjust the seasoning accordingly.
Prepare Salad:
Combine chopped vegetables in a bowl. Add boiled lentil, chopped parsley, and walnuts.

Pour dressing over the salad. Toss the salad gently in the dressing. Sprinkle feta cheese before serving.

Serve lentil salad with toasted bread slice.
Recipe Notes:
I highly recommend using dried uncooked lentil and cooking it from scratch for making the salad. Trust me, the lentils will not be bland, mushy, or full of artificial flavor. And it takes less than 20 minutes to boil lentils at home for the weekly meal prep.
Nutrition
Calories:
733
kcal
|
Carbohydrates:
80
g
|
Protein:
30
g
|
Fat:
35
g
|
Saturated Fat:
7
g
|
Cholesterol:
17
mg
|
Sodium:
526
mg
|
Potassium:
1593
mg
|
Fiber:
20
g
|
Sugar:
15
g
|
Vitamin A:
1206
IU
|
Vitamin C:
28
mg
|
Calcium:
265
mg
|
Iron:
8
mg
For Behind The Scene updates
Subscribe to our newsletter!