Potato Tray Bake is a delicious breakfast dish with golden potatoes baked in a cream sauce topped with cheese. A sheet pan recipe of pure, creamy indulgence. Well-seasoned potatoes in a cheesy sauce loaded with herbs and baked to a perfect shade of gold. Do we have your attention yet? This potato tray bake recipe is soon bound to become a staple weekend breakfast in your kitchen.
This continental restaurant style potato au gratin is unbelievably simple to prepare and truly delicious. Serve it with choice of eggs and toasted bread slices for an indulgent family breakfast.
How did this cheesy baked potatoes happen? All thanks to Mother Dairy. We are doing fun Insta Cooking Classes with them on Instagram. Potato Tray Bake is the first recipe on the #InstaCookingClass with Mother Dairy. We have used Mother Dairy Cream and Cheese Cube in this potato tray bake recipe.
While the last spell of Winter is in the air, this is THE breakfast recipe to make. Just assemble the required ingredients, and pop it into the oven while you snuggle a little longer in the blanket or warm yourself up with a cup of hot chocolate. If you haven't tried this heavenly combination of potatoes in a creamy, cheesy sauce, I would suggest you must try it right away.
With the recent surge in several diets that require one to cut down on carbohydrates, most people have been misled into thinking carbs are some evil food group that's out to get you fat. The truth is, too much of any food can get you fat. Being a rich source of starch and fiber, potatoes are a tuber that gives the body energy and helps it stay full for a long time, meaning no midmeal pangs or unnecessary snacking. There's a good reason potatoes are often part of breakfast around the world in the form of hash browns, potato soup, bread rolls, bread pakoras, etc.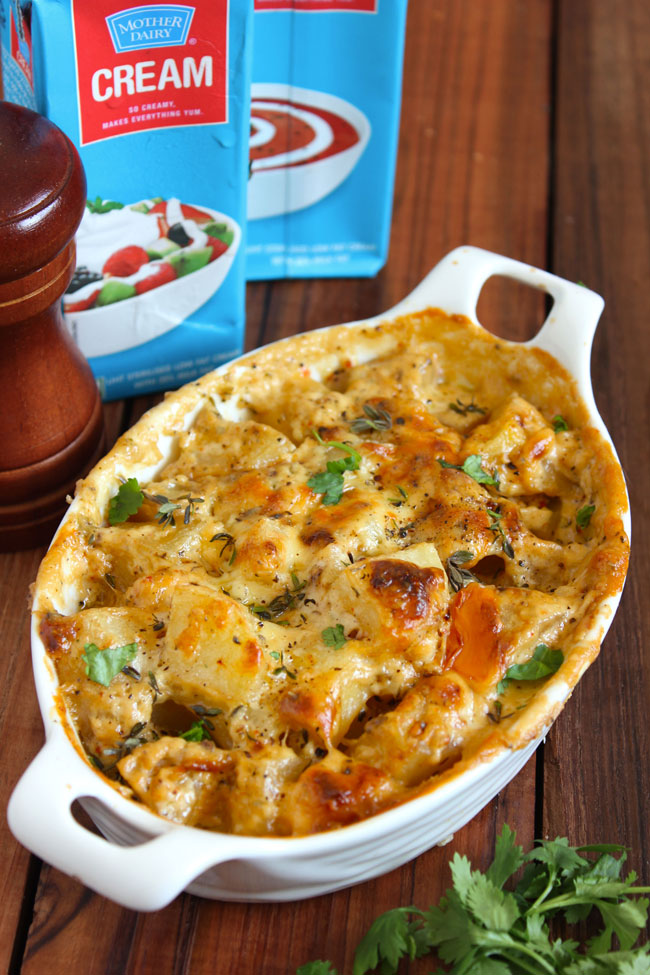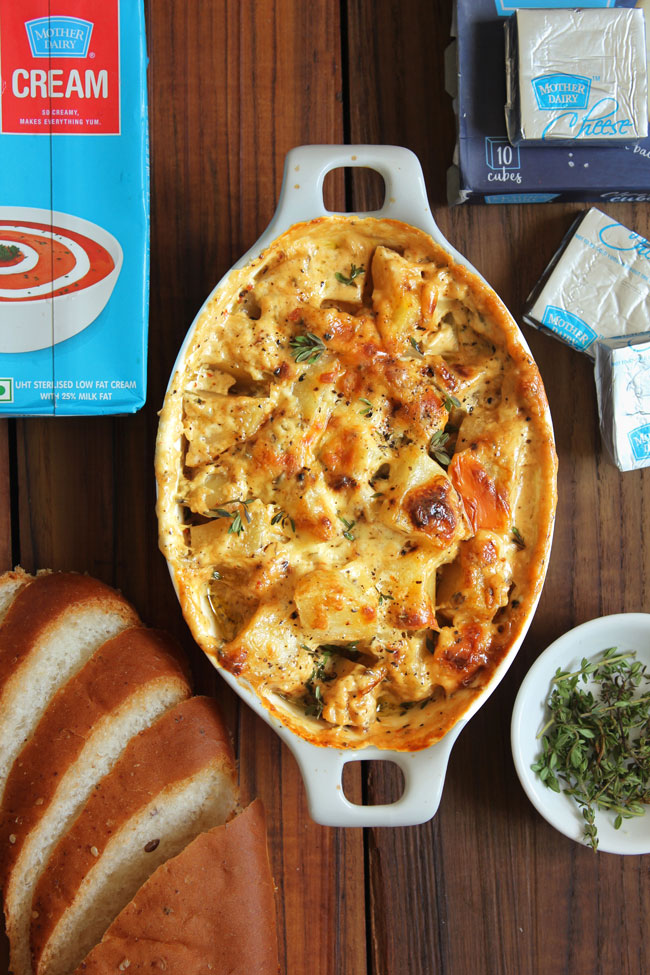 Easy Tips To Make Potato Tray Bake:
Cut the potatoes into equal size for even cooking time.
Use a good quality fresh cream such as Mother Dairy for making cheesy potatoes.
Use cheese chiplets or cheese blocks (processed cheese) for the tray bake topping. Avoid cheese slices as they won't lend much taste and texture to the dish.
Adjust the amount of salt according to taste as cheese also has a salty flavor.
Potato Tray Bake is best served immediately.
Bake the potatoes till they are nicely cooked and a golden crust is formed on top.
If you try this recipe and love it, please leave a comment and a rating. This helps us grow and reach many other food lovers like you, who are looking for perfect tried and tested Indian food recipes.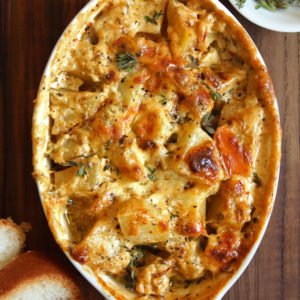 Potato Tray Bake Recipe
Potato Tray Bake is a delicious breakfast dish with golden potatoes baked in a cream sauce topped with cheese. Learn how to make the baked potato.
Print
Pin
Rate
Ingredients
4 - 5

medium-size potato

1

Cup

Mother Dairy Cream

1

tablespoon

chopped garlic

1

tablespoon

Italian Seasoning Mix

Salt and Black Pepper To Taste

1

teaspoon

fresh thyme

or use dried

1/4

Cup

Extra Virgin Olive Oil

2

Mother Dairy Cheese Cubes, grated
Instructions
Preheat oven at 180-degree Celsius. Grease a baking dish with a teaspoon of olive oil.

Peel and dice the potatoes into bite size pieces.

Combine cream and all the remaining ingredients in a mixing bowl.

Whisk to mix nicely and make a paste.

Add diced potatoes in the cream mixture and stir to coat potatoes with the sauce.

Transfer potato into the baking dish.

Bake in the oven for 40 - 50 minutes or till potatoes are cooked.

Serve Potato Tray Bake with toasted bread and egg of your choice.
Recipe Notes:
★ Did you make this recipe? Don't forget to give it a star rating below!
Love this? Pin it for Later!
Follow @hinagujral on Pinterest!
Thanks to our friends at Mother Dairy for sponsoring this post, and making sure we always eat the best of dairy produce.