My easy meal prep ideas make planning everyday Indian meals easier. These planning and prep work tips will help you eat home-cooked meals daily, save money, and reduce stress throughout the week.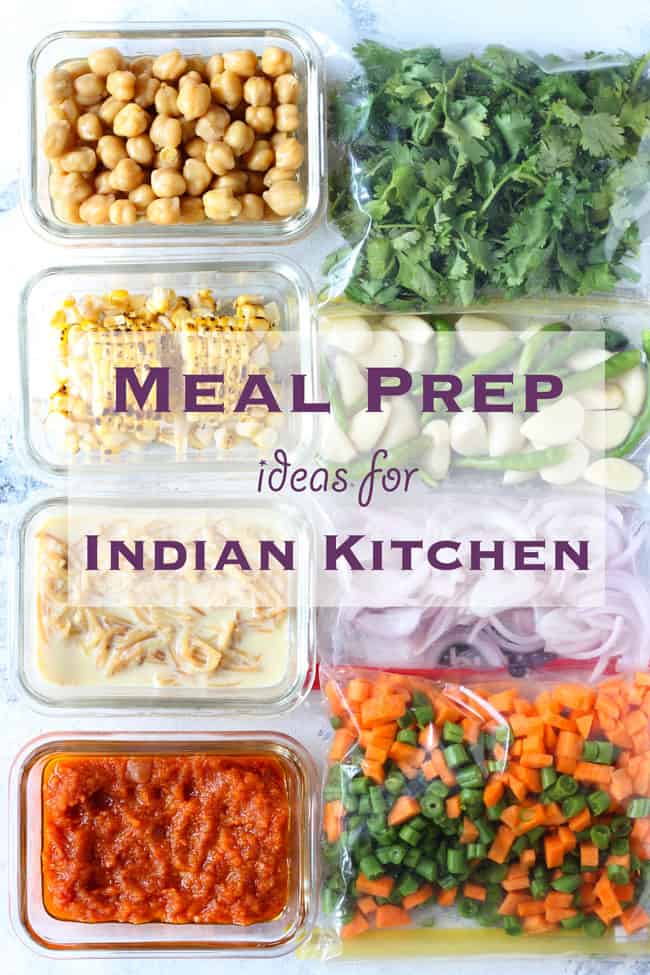 How To Plan Everyday Indian Meal
If you have ever drooled over the elaborate Indian thali meals on my Instagram feed, then I must share a secret. Meal Prep is the key to eating a delicious home-cooked meal every day.
Following easy meal prep ideas, you can make various Indian food recipes throughout the week despite being busy.
At first, you might feel like it's a lot to do, but once you get going and see how effortless it is, you don't have to worry about dinner/lunchbox/breakfast throughout the week.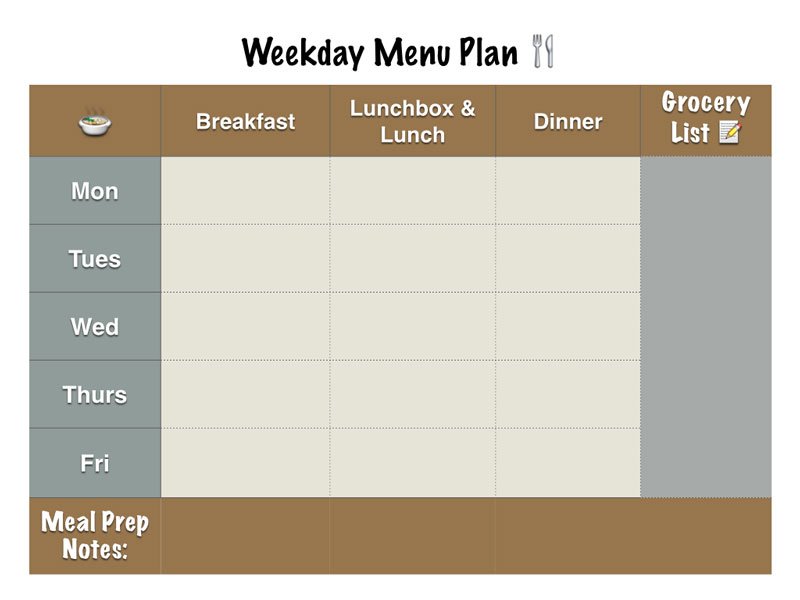 How To Start Meal Prep
Take Baby Steps: Start with one meal that pains you the most. It could be either breakfast, dinner or packing a lunchbox (check out lunchbox ideas for adults). Later, slowly move to plan all the meals of the week.
Set Reminder: During the first week of meal prep, you must set a few reminders to get it into your routine. Like, if you are starting with breakfast, set a reminder for Sunday night to do prep work for the weekly breakfast.
Handpick Recipes: First, pick Indian food recipes that are easy to follow and execute on weekdays. Over a period, you can select more elaborate recipes and plan their execution like an expert.
My favourite meal prep tools, I hope you also find them useful:
Glass Box Set: They are fantastic for storing anything from boiled lentils, salad, and chopped vegetables to fruits. Mason Jars: They are perfect for storing salads, fruits, overnight oats or anything you want to grab and go.
Free Weekly Meal Plan: Download a free printable weekly planner.
Ziplock Bags: They are the lifesaver when storing chopped onion, garlic, and fruits for smoothies or green vegetables.
30 Everyday Indian Meal Ideas: Use these meal ideas to plan a weekly menu for breakfast/lunch/dinner.
Meal Prep Ideas for Indian kitchen
1) Freezer-Friendly Indian Curry Paste: Making an excellent Indian curry after a long working day is a sort of challenge. It requires hours of labour if you start from scratch. Hence, with meal prep-friendly DIY Indian curry pastes in the fridge, you can make your favourite Indian curry in 30 minutes.
You can make them over the weekend, and they remain fresh for up to a week. These curry pastes are one of my favourite easy meal prep ideas for an Indian kitchen.
You can get my debut cookbook for The 100 Best Indian Curry Recipes to use these curry pastes in a hundred creative ways.
2) Cutting & Preparing Ingredients: For making any Indian meal, we require a lot of chopped onion, tomato, vegetables, and greens.
These small meal prep steps expedite the cooking process during the weekdays. You can use a food processor or a handy chopper for the purpose.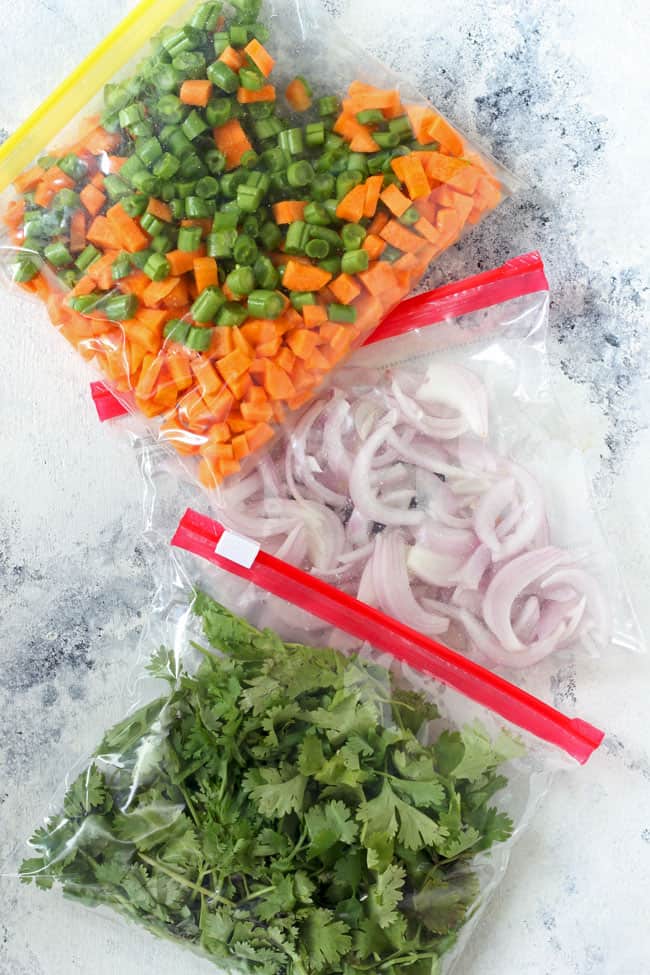 3) Cook & Store: A few cooked ingredients and side dishes can help you sail through the week.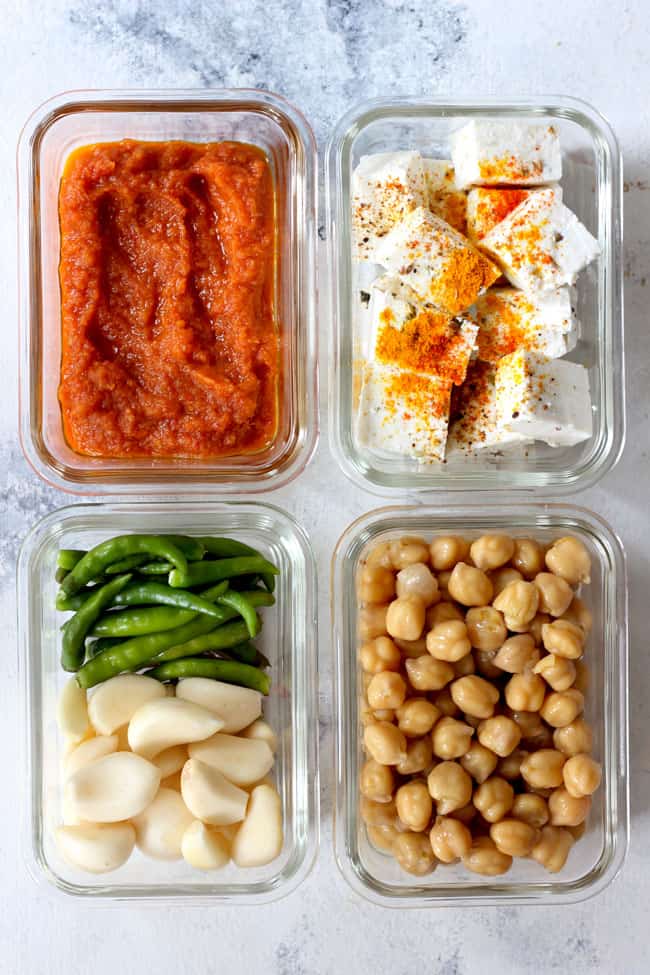 4) Takeaway Salad Jars: On Sunday night, layer up all the salad ingredients in a mason jar, pack the dressing separately and keep them in the fridge. Each morning pick a salad jar and rush to the office or eat them for lunch.
This way, you can save a lot of time cooking an office lunchbox and eat healthy homemade lunch even on a busy day. Not only salads, but you can also pack smoothies, milkshakes, overnight oats, wholesome soups or just anything in a jar and keep them handy for a takeaway.
5) Ready To Use Indian Condiments: We use a lot of herbs, spices, and chutney in an Indian kitchen. To save time,
These easy meal prep ideas save a lot of time in the kitchen and help me cook wholesome, nourishing meals in no time.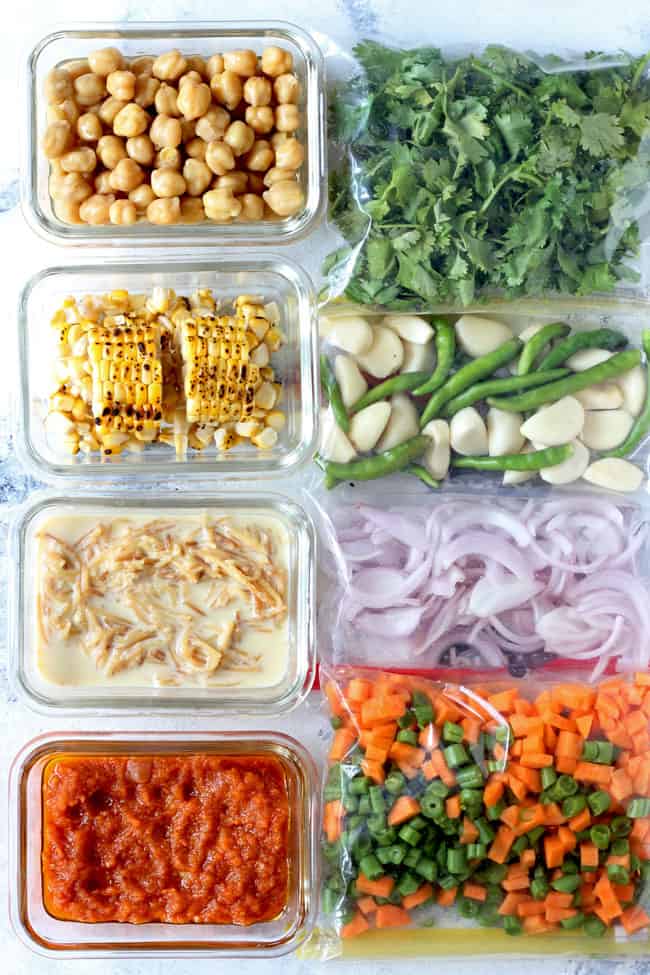 6) Recycle Leftovers: There are zillion creative ways to use leftovers; they are the best way to check on food wastage and reduce your grocery bill.
Use Meal Prep Resources
How To Organize Indian Kitchen Cabinet
30 Everyday Indian Meal Calendar
20+ Indian Chinese Fusion Recipes
Subscribe to our weekly newsletter or follow us on Youtube for video recipes.