Ginger Garlic Paste is a staple ingredient in many Indian recipes. I am sharing an easy method to make failproof, freezer-friendly adrak lehsun ka paste. Be sure to watch the video!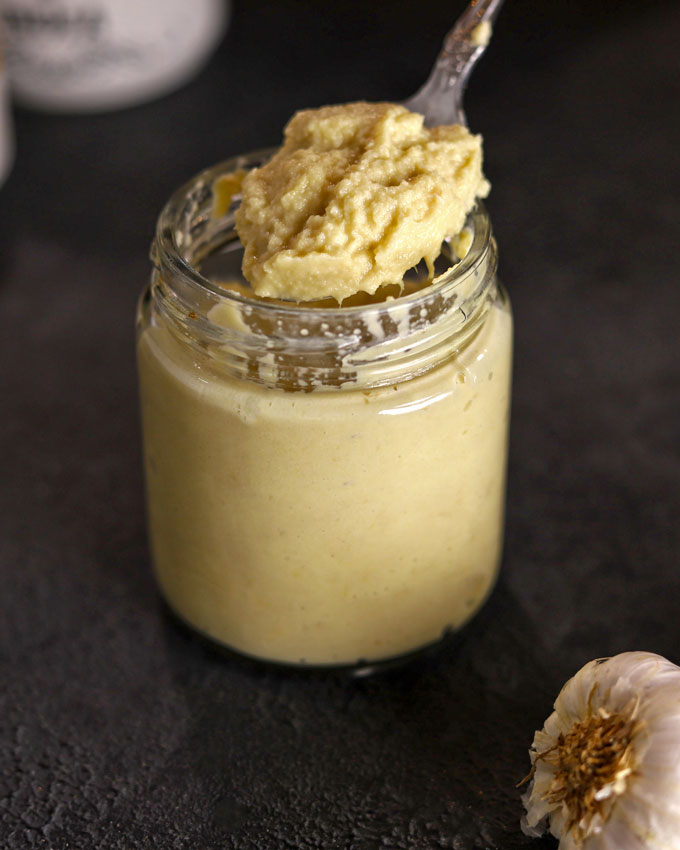 Indian Ginger Garlic Paste
If you love cooking Indian dishes, then a ginger and garlic paste bottle is a must-have spice blend in your refrigerator. Like garam masala, ghee, and spices, ginger garlic paste is also a quintessential part of our Indian pantry. It is a gluten-free, vegan wet paste of ginger and garlic.
Ginger is known as 'adrak' and garlic as 'lehsun' in Hindi. Hence, in India, this paste is also known as adrak lehsun ka paste.
The ancient Indian recipes require crushing ginger or garlic each time in a mortar using a pestle. But nowadays, due to a busy schedule, this ready-to-use paste comes in handy for everyday cooking.
It is a simple blend of fresh ginger and garlic with an addition of preservatives like salt, turmeric, vinegar, or oil.
And the best part is all you need is less than 20 minutes and only 4 ingredients to make it from scratch at home without any cooking.
Homemade vs. Readymade
Nowadays, the packaged ginger garlic paste is easily available in supermarkets worldwide. But I still prefer making it at home because:
there are no harmful preservatives, chemicals, or artificial tastemakers
one can make it in desired quantity and store it from days to months
the taste is natural and adds a great depth of flavor to the dishes
making it at home is a fuss-free, no cooking process
it is full of nutrients and medicinal benefits
meal prep, budget, and freezer friendly
What You Need
Ginger: Fresh ginger root without its skin and roughly chopped. Look for firm, mold-free ginger root. Wash and get rid of all the dirt/mud before peeling.
Garlic: I prefer to buy peeled garlic from the supermarket. It saves me a lot of time and effort. You can use a head of garlic and peel the cloves at home.
Salt: I add half a teaspoon of table salt to the paste. It acts as a preservative. But then make sure to add salt to the main dishes accordingly.
Oil: I add refined oil while grinding the paste. It helps bring the paste together and extends its shelf life. Any light and flavorless oil work well. Do not use ghee, mustard oil, or any other strongly flavored oil.
Equipment: Wet Grinder or blender with a strong blade
Watch Youtube Video
My Tried & True Tips
The perfect ratio for ginger garlic paste is 1:1 (equal amount of ginger and garlic).
Make sure to wash ginger roots nicely with water to get rid of dirt and mud. Pat them dry using a clean kitchen towel before scraping/peeling.
AVOID USING WATER to grind the ginger garlic paste. It reduces the shelf life of the blend. If you want to use it within the next few days or freeze it then it is fine to add 1 – 2 tablespoons of water to grind the paste. Else avoid using water.
DO NOT ADD TOO MUCH SALT OR OIL. The ginger and garlic paste should not reek of salt and oil. The key flavor of the paste should be natural ginger and garlic.
DO NOT LEAVE IT at room temperature for more than 1 hour, especially in a tropical climate. Always store it in the refrigerator or freeze it.
Storage Suggestion
For immediate use (within a week or fortnight), transfer ginger garlic paste to an airtight container and store it in the refrigerator. Always make sure to use a clean dry spoon to scoop out the quantity needed.
For freezing, transfer the paste to silicone ice cube trays and cover them with a lid or cling foil. Keep the tray in the freezer. Once frozen, you can store the paste cubes in ziplock bags or containers.
From a week to months, you can store ginger garlic paste as per personal convenience.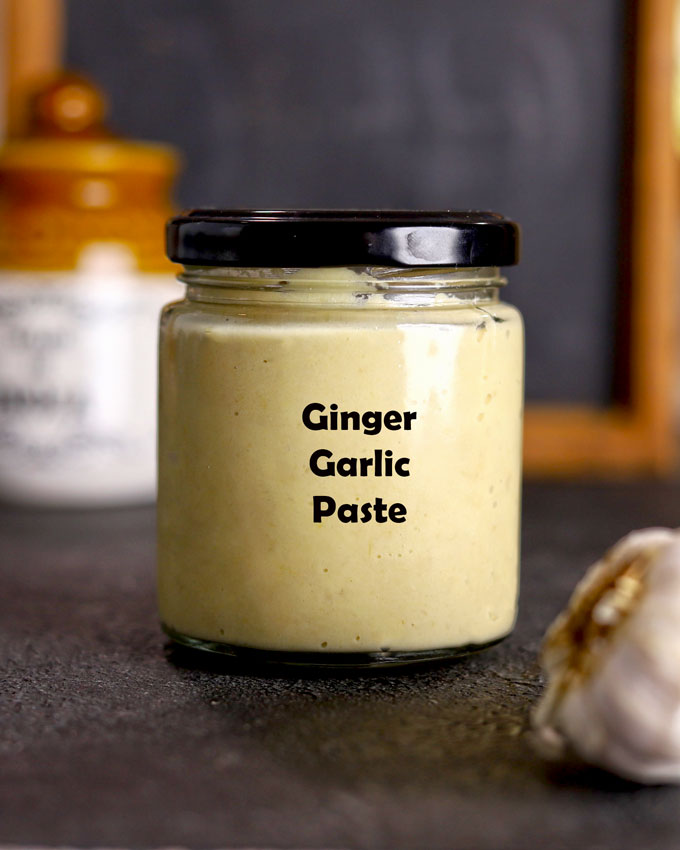 More Indian Kitchen Staples:
Subscribe to our weekly newsletter or follow us on Instagram, Youtube for video recipes.
If you try this recipe and love it, please leave a comment and a rating. This helps us grow and reach other food lovers like you.
Ginger Garlic Paste Recipe
I am sharing an easy method to make freezer-friendly ginger garlic paste. Learn how to make ginger and garlic paste for Indian recipes in a few simple steps.
Print
Pin
Rate
Ingredients
100

gram

ginger, peeled and diced

100

gram

garlic cloves

4

tablespoon

refined oil (see notes)

1

teaspoon

Salt
Instructions
Scrape the skin of the ginger using a spoon or peeler. Rinse it with water to get rid of dirt and mud. Pat dry with a clean kitchen towel. Roughly dice it.

Add diced ginger and two tablespoons of oil to the blender. Grind to a smooth paste. This takes 1 minute because to make a smooth paste you have to stir and scrape the ginger at regular intervals.

Once ginger turns into a paste, add garlic, salt, and the remaining oil. Grind all ogether to a smooth cosnistency.

Ginger Garlic paste is ready. Transfer it to a clean jar and store it in the refrigerator. Or you can freeze it for months.
Recipe Notes:
You can use any flavorless, light oil for making ginger garlic paste – groundnut oil, rice bran oil, or olive oil.
Nutrition
Calories:
4
kcal
|
Carbohydrates:
1
g
|
Protein:
1
g
|
Fat:
1
g
|
Saturated Fat:
1
g
|
Polyunsaturated Fat:
1
g
|
Monounsaturated Fat:
1
g
|
Trans Fat:
1
g
|
Sodium:
12
mg
|
Potassium:
4
mg
|
Fiber:
1
g
|
Sugar:
1
g
|
Vitamin A:
1
IU
|
Vitamin C:
1
mg
|
Calcium:
1
mg
|
Iron:
1
mg
For Behind The Scene updates
Subscribe to our newsletter!