Garam Masala is an Indian spice blend. It is a vegan, gluten-free, and nut-free spice mix. We are sharing a failproof garam masala recipe that is a family heirloom. Be sure to watch the video!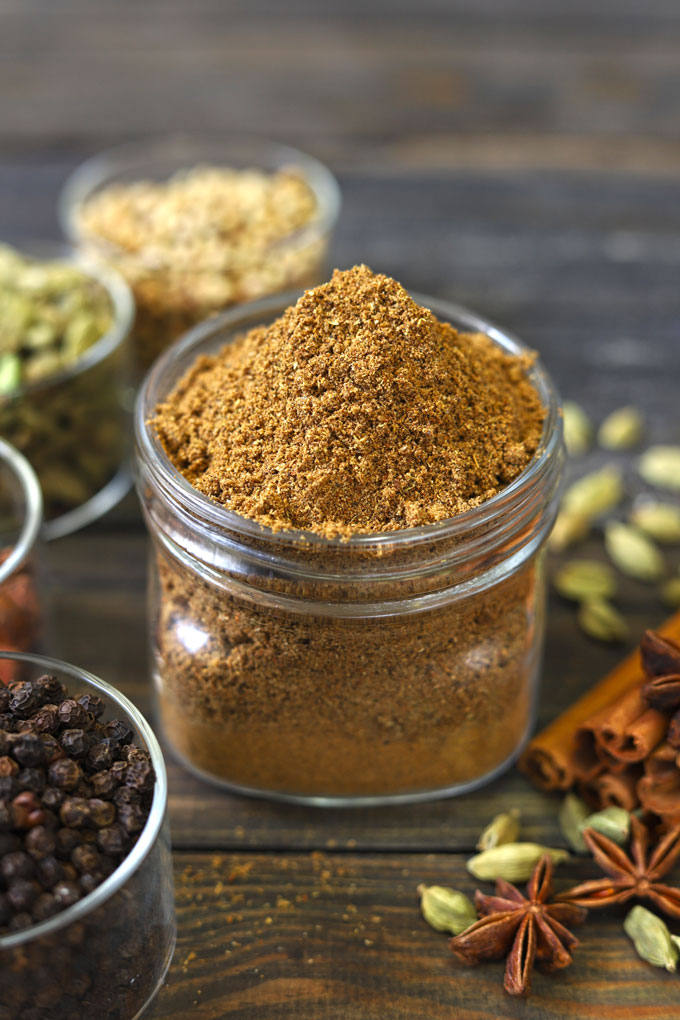 Garam Masala 101:
In this post, you will learn about:
-how to make garam masala powder at home
-purpose or uses of garam masala
-common myths about garam masala
-useful tips and notes
What is Garam Masala made of?
This garam masala recipe is a blend of 11 whole spices. The word 'garam' refers to the intensity and heat of the spices.
It is one of the most popular Indian spice blends.
Is garam masala spicy in taste? The Garam masala has an earthy, slightly spicy taste. It has a certain warmth in its aroma and flavor.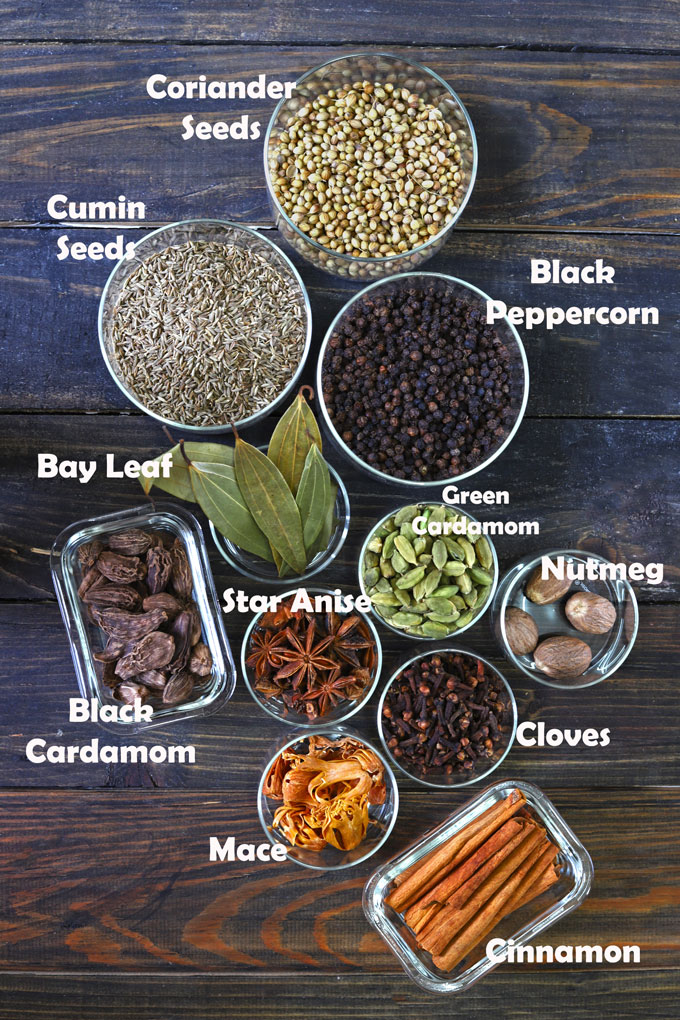 Ingredients For Garam Masala:
Whole Black Peppercorns (sabut kalimirch)
Green Cardamom (hari/choti elaichi)
Coriander Seeds (sabut dhaniya)
Black Cardamom (badi elaichi)
Cumin Seeds (sabut jeera)
Star Anise (phool chakri)
Cinnamon (dalchini)
Bay Leaf (tej patta)
Clove (laung)
Mace (javitri)
Nutmeg (jaiphall)
Watch Garam Masala Video
Helpful Equipment
Heavy Duty Mixer: You need a strong blade and a heavy-duty dry mixing jar for blending the whole spices.
Cast Iron Skillet: For dry roasting the spices, you need a heavy-duty pan or cast-iron skillet. Avoid using a non-stick pan as the spices might get burnt quickly and not roasted properly.
Storage Jars: I stick to either glass or stainless steel jars for storing all my spices and lentils. Make sure the jar has an airtight, rustproof lid.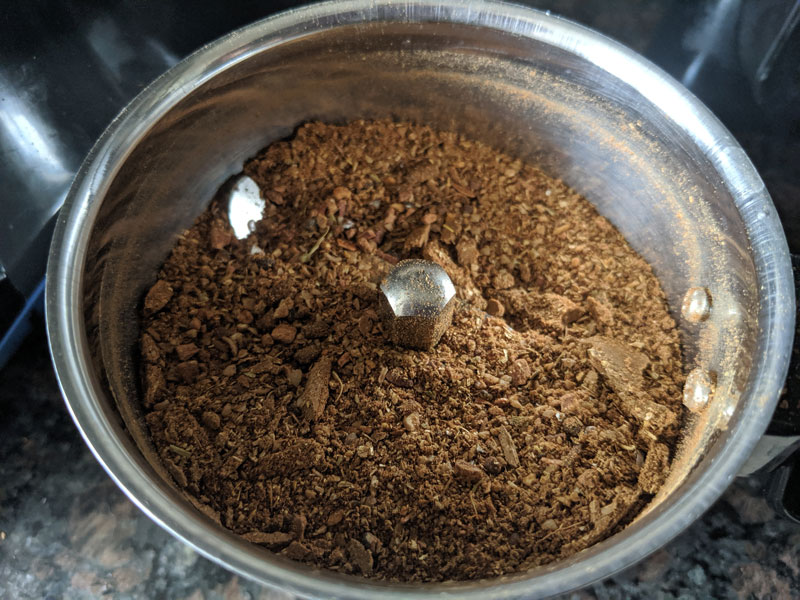 How To Use
Garam Masala is one of the key ingredients when it comes to spicy Indian food recipes. It is mainly added to the curries for a rich aroma and an earthy, spicy flavor.
A teaspoon of this spice blend is sufficient to get the desired taste and aroma in any Indian curry. Too much can spoil the taste and make the dish too spicy.
The homemade garam masala is much more robust in taste and aroma than the store-bought one. So if any recipe suggests 1 teaspoon of garam masala, use ½ teaspoon of homemade garam masala.
Here are a few of my favorite Indian food recipes with homemade Punjabi-style garam masala – Dum Aloo, Matar Paneer, Soya Chaap Curry, Rajma Masala, Keema Matar, and Dal Makhani.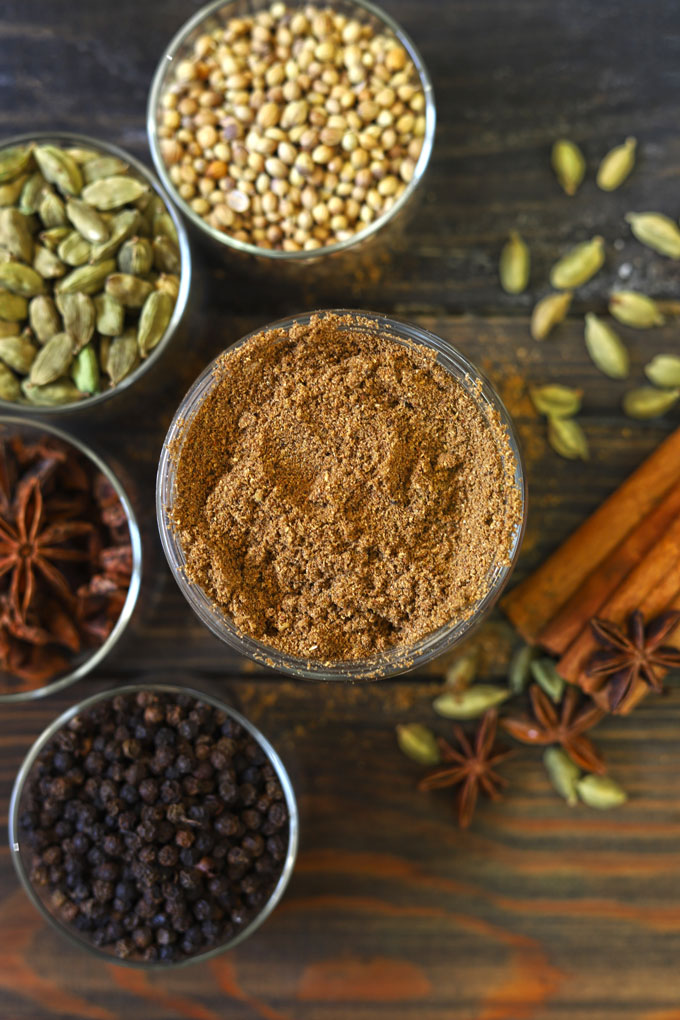 How To Store
It is best to store garam masala in a clean, sterilized, airtight jar at room temperature for a month. Make sure to use a dry spoon every time you use it. A good homemade masala is safe for consumption for 1 year.
To increase the shelf life of the masala powder, transfer it to a freezer-friendly ziplock bag. Seal the bag and store it in the freezer door for a year or so.
During the rainy season, put the masala jar under the direct sun for a day to keep the spice blend fresh and free of bugs.
Common Myths
Garam Masala is added to every Indian curry or dish. This is one of the biggest myths. It is only added to the rich Indian dishes from India's Northern and Central regions.
Garam Masala is added while roasting the curry paste. A wise cook always adds garam masala in the end. So that the aroma and the flavor of the spices enhance the taste of the dish, it is not added for color or texture. Hence there is no need to fry or saute it with the curry paste.
Garam Masala and curry powder are the same. These two Indian spice mixes are poles apart. The curry powder is a turmeric-based spice blend mainly used in Anglo-Indian or British Cuisine. Whereas garam masala does not have turmeric, is sharp in taste, and can be used for various Indian recipes.
Adding a large amount of garam masala makes the dish tastier. It does just the opposite. Indian cooking is very complex, and the flavor of a dish is built at different steps while cooking. So adding a double quantity of garam masala will not make your curry more tasty or flavorsome.
What is an alternative for Garam Masala?
Substituting Garam Masala with any other spice mix won't give you the exact flavor. However, you could try using:
Curry Powder
Kitchen King Masala
Maggi Magic Masala
All Spice mixed with cumin powder
More Homemade Indian Spices
Subscribe to our weekly newsletter or follow us on Youtube for video recipes.
If you try this recipe and love it, please leave a comment and a rating. This helps us grow and reach other food lovers like you.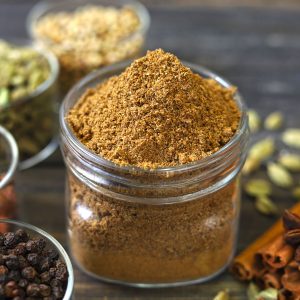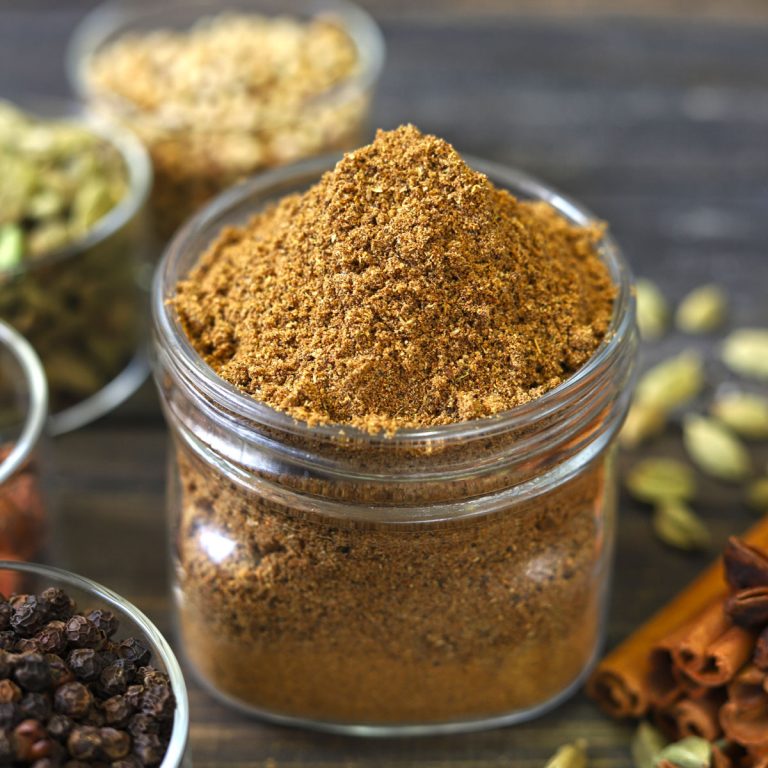 Garam Masala Recipe
Garam Masala is an Indian spice blend commonly used to flavor curries. Follow my tried and tested garam masala recipe to make it at home.
Print
Pin
Rate
Ingredients
4

tablespoon

coriander seeds (sabut dhaniya)

2

tablespoon

cumin seeds (sabut jeera)

2 ½

teaspoon

black peppercorn (sabut kali mirch)

1 ½

teaspoon

green cardamom (hari elaichi)

1

tablespoon

cloves (laung)

3

bay leaf (tej patta)

2

star anise (phool chakri)

1

blade of mace (javitri)

1

nutmeg (jaiphal)

2

cinnamon sticks (dal chini), one inch size

2

black cardamom (badi elaichi)
Instructions
To prepare garam masala powder, first, dry roast the coriander seeds in a cast iron pan. Continuously stir the seeds while frying for even roasting. It takes 2 – 3 minutes or till the coriander seeds start releasing their aroma. Once roasted, transfer to a plate.

Repeat the same process with the cumin seeds. They usually take a minute or so. Make sure not to burn them. Transfer to the same plate as coriander seeds.

Next, add the remaining whole spices in the pan. Dry roast them for 2 – 3 minutes or till the aroma is released. Stir continuously while roasting the spices.

Combine all the dry roasted spices on the plate. Once they become lukewarm to touch, grind to a fine powder.in the mixer. You can crush the whole spices such as cinnamon, nutmeg, bay leaf to tiny pieces before grinding. This step makes them easy to blend.

Garam Masala powder is ready to use. You can store it in a clean, sterilized, dry container with a tight fitting lid.
Recipe Notes:
Make sure to use good quality whole spices for making the garam masala. Avoid using stale or moist whole spices for the purpose. 
You can sun-dry them for a day before making the spice mix. 
Roasting the spices separately ensures they are evenly roasted to perfection.
Do not roast spices for too long as they might get burnt and taste bitter. 
If the blender motor becomes hot while grinding, turn it off and wait for some time before starting it again.
After grinding if the garam masala powder is warm to the touch allow it cool down completely before storing. 
For longer shelf life, store it in the freezer. 
Nutrition
Calories:
1
kcal
|
Carbohydrates:
1
g
|
Protein:
1
g
|
Fat:
1
g
|
Saturated Fat:
1
g
|
Sodium:
1
mg
|
Potassium:
3
mg
|
Fiber:
1
g
|
Sugar:
1
g
|
Vitamin A:
1
IU
|
Vitamin C:
1
mg
|
Calcium:
2
mg
|
Iron:
1
mg
For Behind The Scene updates
Subscribe to our newsletter!