Salad in a Jar is just like what it sounds- it's a ready-to-carry, easy-to-eat method of enjoying a salad. I am sharing salad in a jar 101 guide to preparing and packing salad like a pro.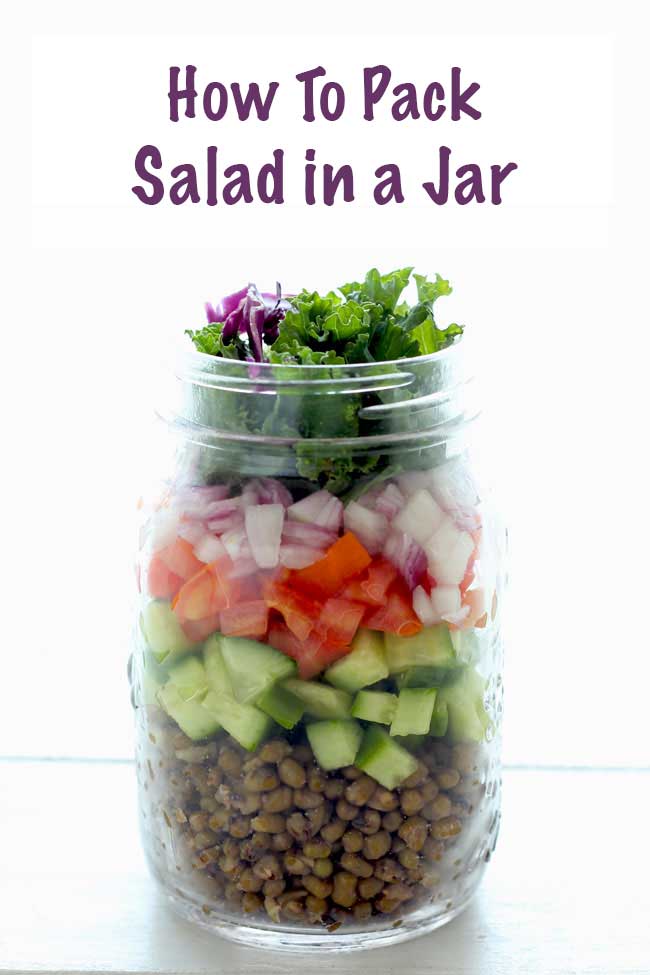 The Concept of Salad Jar
Of course, bringing your own salad to work is not the newest idea in the world. But, when you pack salad in a regular container, the layers are lost, and the delicate greens are wilted; in short, the salad loses its soul of freshness.
With dressing at the bottom of the jar topped with protein and delicate greens at the topmost, the salad jar is the best and the most practical way of packing a salad for lunch on the go. Or, as I say on Instagram, GRAB & GO Power Jar is the perfect way to eat healthy anytime, anywhere.
Salad in a jar works exceptionally well for those who work long hours at a desk, travel frequently, or anyone who doesn't have much time on their hands to make salad from scratch each time.
Reasons To LOVE Power Jars
encourages clean and healthy eating
less expensive and budget friendly
easy to pack and carry around
less dishwashing and fuss-free
meal prep friendly
How To Layer
A salad in a jar involves building layers of flavour and texture.
It is important to layer the salad correctly in the jar to ensure nothing is squished, lost its crunch, or gone mushy.
To layer a GRAB & GO power jar, follow these steps:
Start with the dressing at the bottom. So that the rest of your ingredients don't get soggy.
Next, add proteins – tofu, peas, cooked chicken, boiled eggs, etc.
The third layer should be crunchy veggies. Like bell peppers, celery, tomato, cucumber, zucchini, carrots, etc.
Top this off with whole grains, pasta, and chickpeas if you add any.
The topmost layer is GREENS. So that they remain fresh.
And don't forget to sprinkle a few seeds like flax seeds, sesame seeds, pumpkin seeds, or nuts on top.
Meal Prep Tips
The best part is to make 3 – 4 salad jars over the weekend and store them in the refrigerator. Each day grab one and go!
The basic meal prep for the salad includes cleaning, washing, and cutting the veggies/fruits, cooking the protein or whole grains, and preparing the salad dressing.
Hence, making them over the weekend or in your free time is always best.
If you'd like to make your salad jars last as long as possible, you've got to use the right ingredients. For instance, the shelf life of salad ingredients and their respective expiration dates, especially when it comes to cold-cut meats, cheese, or cooked protein.
The Right Choice of Ingredients
Whole Grains – You can add quinoa, bulgar wheat, couscous, barley, brown rice, millets, or other whole grain.
Protein – This is one of the essential parts of a salad; this is what will keep you full and healthy. Add cold-cut meats or pick from chicken, lamb, eggs, tofu, peas, lentils, legumes, chickpeas, paneer, beans, etc.
Pasta: Short, bite-size pasta like macaroni, shells, orzo, farfalle, spiral, rotini, or penne, works best for salad in a jar.
Greens – try to include greens like spinach, collard greens, lettuce, broccoli, celery, kale, avocado, edamame, sprouts, fresh herbs, or any other local variety of green leafy vegetables.
Dressing – This component gives the salad flavour and fat and keeps it from getting too dry. Choose from our six signature salad dressings, or use a mix of extra virgin olive oil, sea salt, and black pepper.
How To Eat
There are two ways of eating a salad jar.
One, straight from the mason jar. Give the salad jar a good shake, toss the ingredients with the dressing, and eat it immediately.
Second, transfer the contents of the jar to a bowl, and eat.
Both of these methods are equally fuss-free and convenient.
Salad Jar Recipes
All my favourite salad jar recipes are listed in this post here. I have packed most of them for my husband's office lunch for the last few years. I hope you all enjoy making these salad jars.
Best SALAD RECIPES
Subscribe to our weekly newsletter or follow us on Youtube for video recipes.