Overnight Oats are the best way to give your day a healthy and delicious start. We have got for you not one but four overnight oats recipe. These overnight oats are super simple to prepare, can be prepared ahead of time and requires no cooking at all. Aren't they just perfect for breakfast during the busy weekdays?
Eating healthy breakfast on busy weekdays is a big challenge. But ever since I landed up in the flavoursome world of overnight oatmeal my fridge is always stocked up with healthy breakfast choices. Usually, on Sunday night, I prepare 2 – 3 jars of basic overnight oats and keep them in the fridge. Each morning, depending on my cravings, I deck up basic oatmeal with favourite toppings. No cooking or fuzzing in the morning. Just grab your jar of healthy breakfast and rush.
You might also like -> 10 Best Indian Breakfast Ideas
Oats are one of the healthiest grains. They are:
gluten-free
vegan
rich in vitamins and minerals
reduces the risk of heart diseases
Hence, we all need to have at least one healthy overnight oats recipe in our diary. But first thing first. What are overnight oats? Overnight oats are raw oats soaked in liquid to get a soft porridge-like mixture. Instead of cooking oats, you can actually eat them raw by soaking them in milk or any other similar liquid. Otherwise, oats are commonly used in savoury dishes or to prepare a hot porridge. The coolest way to eat oats without making much effort is the – overnight oatmeal. It saves so much time in the morning, keeps you on a healthy eating track and tastes so good.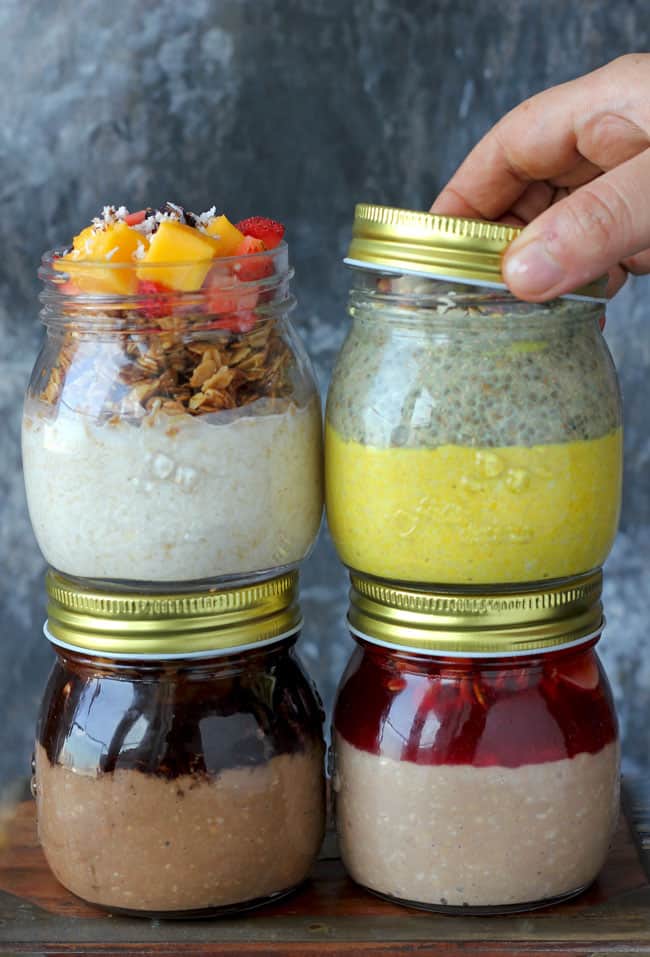 Basic Overnight Oats Recipe:
Let's start with the basic overnight oatmeal. All you need to do is combine oats with either milk and yoghurt or only milk. The idea is to soak oats in some kind of liquid to soften them. And then you can sweeten the oatmeal with any kind of natural sweeteners like honey, brown sugar or maple syrup. This is the simplest basic overnight oats recipe. Any kind of flavours and toppings can be added to the overnight oats to make them more tempting.
Introducing my favourite 4 Overnight Oats Flavours:
Healthy Overnight Oats With Granola and Fruits
Turmeric Chia Seeds Overnight Oats With Dry Fruits
PB&J Overnight Oats With Banana
Chocolate Overnight Oats With Nutella
What kind of oats to use overnight oatmeal?
Old-fashioned rolled oats are the best when it comes to making overnight oats. They'll give you that creamy, smooth texture with just the right amount of chew. But in India, instant oats (quaker/saffola) are more easily available. On many occasions, I have made overnight oatmeal with instant oats and it turned out fine. For a purist old-fashioned oats rolled oats or steel cut oats would be a good choice of oats to make oatmeal.
Can I Keep oats in yoghurt overnight without a fridge?
This might not be a problem in places with cold temperature throughout the year. But in places like India where summers are hot and humid, overnight oats without a fridge is not possible. The milk would curdle and the yoghurt would impart a sour taste. In my opinion, it is always best to keep jars of overnight oats in the fridge that too for not more than 2 – 3 days.
How To Make Perfect Overnight Oats?
It is not that difficult to make a perfect jar of overnight oats. Firstly, keep in mind that the ratio of milk/ yoghurt to oats should be 2:1 as oats tend to soak up all the liquid. A too liquid-ish or thick like hell oatmeal is of no good. It has to be of dropping consistency. The oats as grains have a bland taste hence require some kind of sweetener to boost their flavour profile. Always add the sweetener according to your taste. Last, but not the least, after soaking and right before eating make sure to stir the oatmeal nicely one last time. So that you get great taste and texture in each bite.
What is a vegan overnight oats recipe?
It is simple to make a vegan an healthy overnight oats bowl. Foremost, replace milk with almond or soy milk to soak the oats. Instead of honey use maple syrup or brown sugar. And then feel free to include toppings of your choice like peanut butter, chia seeds or chocolate in this vegan overnight oatmeal.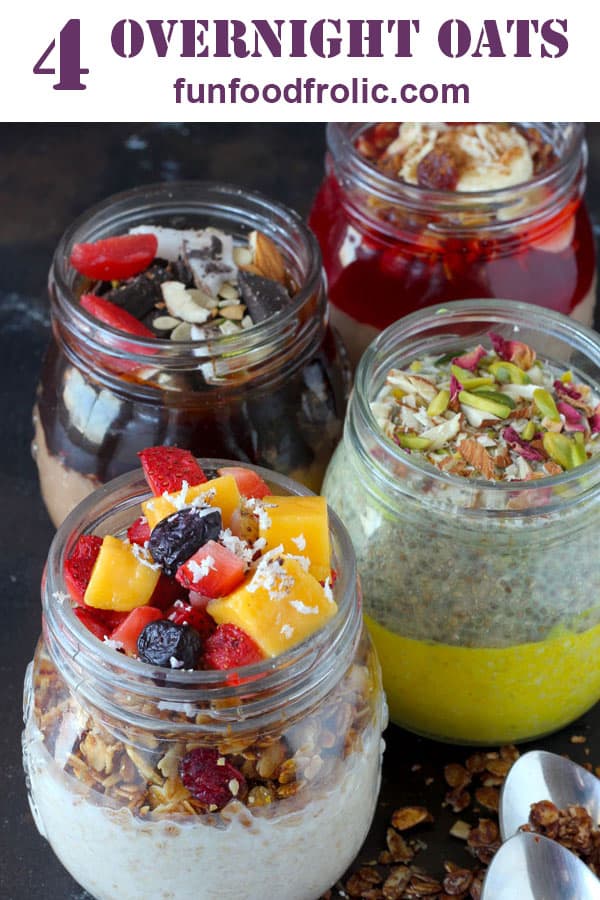 For more such fun recipes in your life, follow along on Facebook, Instagram, or subscribe to our Youtube Channel.
If you try this recipe and love it, please leave a comment and a rating. This helps us grow and reach many other food lovers like you, who are looking for a perfect tried and tested recipe.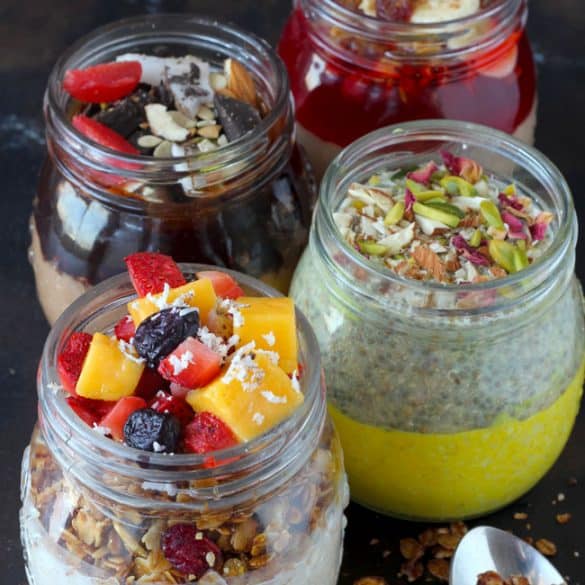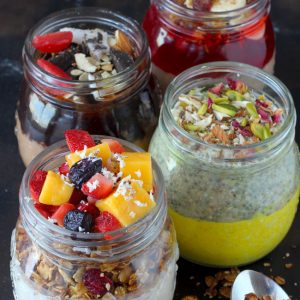 4 Overnight Oats Recipe
Overnight Oats are the best way to give your day a healthy and delicious start. We have got for you not one but four overnight oats recipe. Learn how to make overnight oatmeal in 4 different flavours.
Print
Pin
Rate
Ingredients
1

Cup

Oats

1

Cup

milk

1/2

Cup

thick plain yoghurt or greek yoghurt
Ingredients For Healthy Overnight Oatmeal
1/4

Cup

granola or muesli

1/4

Cup

diced seasonal fruits

1

tablespoon

honey/maple syrup

1

teaspoon

vanilla essence

1

teaspoon

grated coconut
Ingredients For Turmeric Chia Seeds Overnight Oatmeal
1/2

teaspoon

turmeric powder

1

tablespoon

chia seeds (sabja)

1

teaspoon

sliced pistachio

1

teaspoon

sliced almonds

1

teaspoon

honey/maple syrup
Ingredients For PB&J Overnight Oatmeal
2

tablespoon

peanut butter

2

tablespoon

strawberry jam or any jam flavour

4 - 5

banana slices

1

teaspoon

sliced almonds

1

teaspoon

dried berries
Ingredients For Chocolate Overnight Oats
1

tablespoon

Nutella

2

tablespoon

chocolate syrup or sauce

1

teaspoon

sliced nuts

1

teaspoon

dried berries
Instructions
How To Make Basic Overnight Oats:
Whisk together all ingredients in a medium-sized mixing bowl. Spoon into a jar with a tight-fitting lid.

Close and refrigerate for at least 5 - 6 hours, but preferably overnight before eating.
How To Make Healthy Overnight Oatmeal:
Add honey and vanilla essence in the overnight oatmeal. Mix nicely.

Next top the oatmeal layer with the granola/muesli followed by fresh fruits.

Sprinkle grated coconut and enjoy.
How To Make Turmeric Chia Seed Overnight Oatmeal:
Add turmeric powder and chia seeds in overnight oatmeal. Mix nicely. And let them sit overnight or for 5 - 6 hours.

Next day, sprinkle sliced dry fruits, drizzle honey and enjoy.
How To Make PB&J Overnight Oatmeal:
Add peanut butter in the overnight meal. Mix nicely.

Top the overnight oatmeal layer with jam, banana and sliced almonds. Enjoy!
How To Make Chocolate Overnight Meal:
Add Nutella in the overnight oatmeal. Mix nicely.

Top the overnight oatmeal with chocolate syrup, sliced nuts and dried berries.
Recipe Notes:
You can use instant oats as well to make overnight oatmeal.
Any kind of flavour can be added to the basic vanilla overnight oatmeal.
Love this? Pin it for Later!
Follow @hinagujral on Pinterest!