I am sharing some of my tried and true tips that will make you a pro in kitchen cabinet organization. These hacks can be applied to any cabinet and will guide you on how to use a kitchen cabinet as a full-fledge pantry.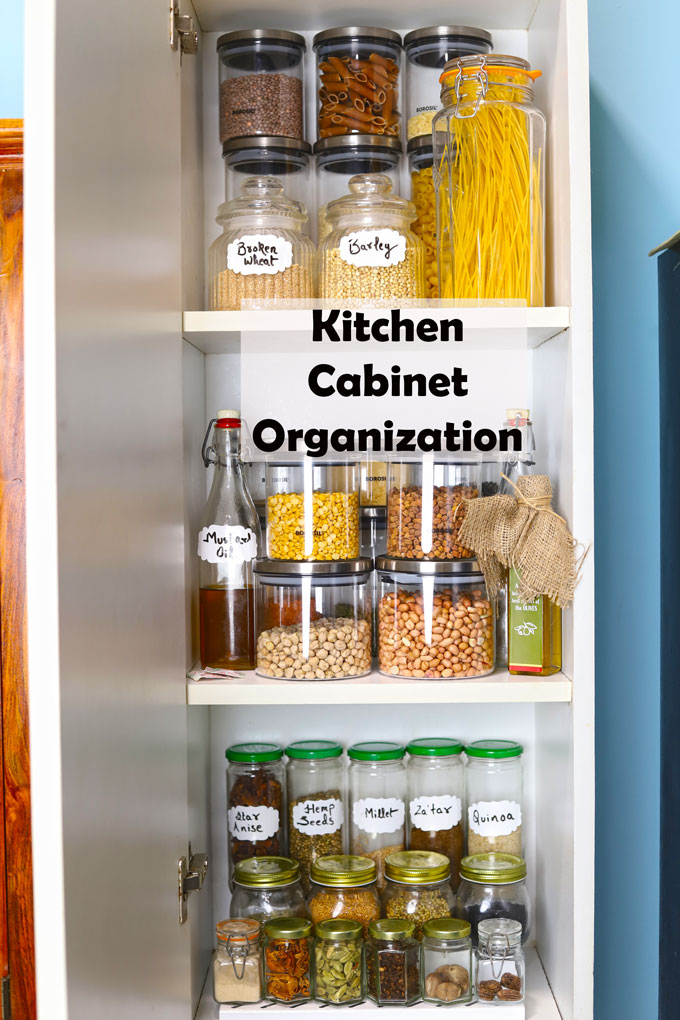 Don't worry if you do not have a dedicated kitchen pantry area; I don't have one either. So far in life, I have always used the kitchen cabinets as a fully functional pantry.
In a typical Indian kitchen, we have a lot of legumes, pulses, beans, rice, spices, and flours to store that we need on a routine basis for everyday cooking. Hence, having a considerable storage space next to the kitchen is necessary. Unfortunately, however, modern apartments do not come with a dedicated pantry at times.
The best way to handle this situation is to use kitchen cabinets as a pantry. This is what I have done all these years.
Which cabinet to use as a pantry?
Usually, I prefer to use the tallest, multi-story cabinet with good depth next to the refrigerator as a pantry. However, it is best to pick the stand-alone cabinet within reach of your hand. Remember, you have to create a perfect feel of the pantry right in the middle of your kitchen. Hence, picking the right set of cabinets is a crucial step.
How To Start
The million-dollar question is how to start a project – kitchen cabinet organization. Here are a few baby steps that will help you to start on the right note and not get overwhelmed with the whole process.
Sort: Start with sorting your grocery. Divide them into broader categories like baking, pasta, grains, legumes, rice, lentils, spices, sauces, etc. You can also categorize the ingredients based on functionality, like how many times a particular item is used in a week.
Measure: Before ordering any jars or racks, measure the length, depth, and width of your kitchen cabinet racks. This will ensure that all the jars and racks fit perfectly inside the cabinet.
Discard: Next step is to discard the bulky cardboard boxes, packaging, or plastic packets that come with groceries like cornflakes, cereals, cookies, wafers, pasta, etc. Instead, transfer them all to containers, bins, and baskets. This step will help you save a lot of space inside the cabinet.
Buy: Once all three above steps are done, it's time to order or buy the new containers, bins, baskets, clips, labels, and racks for your kitchen cabinet organization.
8 Kitchen Cabinet Organization Tips
Here are my tried and trustworthy 8 life-changing kitchen cabinet organization hacks that work as a wonder for small spaces.
1) Keep a Consistent Theme: It is best to keep a consistent color theme, whether it is picking up containers or labels. As for my pantry and kitchen cabinet, I stick to shades of white. A consistent color-coordinated theme always gives a sense of calmness.
2) Keep It Functional: Functionality is the utmost priority when it comes to kitchen cabinet organization. A cabinet or pantry that looks like Martha Stewart perfect but isn't functional in reality is of no use. Hence, while arranging the items, keep in mind, which things to keep on top, or while buying the containers, always think about their practical usage than Instagram worthiness.
3) Budget Friendly: The whole project of kitchen cabinet organization should not burn a hole in your pocket. I have picked everything from Amazon India under INR 800 or recycled the old containers. Browse through various shopping websites, IKEA stores, and Amazon to crack lightning deals and get the best products under your budget.
4) See-Through Containers: Always pick see-through transparent containers for storing dals, rice, spices, etc. It helps keep a grocery tab; everything is easy to find and makes your kitchen cabinet look neat. I prefer glass containers over plastic ones as they are dishwasher friendly and look extremely elegant.
5) Recycled Containers: I do not let go of jam, olive, salsa, or any other condiment bottles. Soak them in warm water, get rid of the stickers/labels, and then put them in the dishwasher for cleaning. They are as good as new. I have recycled more than ten bottles of olives in the past year and created a set out of them. My existing kitchen pantry has a combination of brand new jars and recycled ones. And all are aesthetically co-existing happily.
6) Smart Storage: When talking about small spaces, we need to think about intelligent storage. Expandable racks, wire baskets, containers to stack the jars, or under cabinet storage racks all come in handy. Smart Storage is all about creating maximum space utilization in your kitchen cabinet. So if you are dealing with a small kitchen cabinet organization, then it's time to think about smart storage solutions.
7) Labelling: Use a label maker or buy the stick-on labels as I did for your pantry. Trust me, on a day-to-day basis, this will save a lot of time, and even when you are not around, the family can easily find the items in the pantry. You can also write the purchasing date or the expiry date of the ingredients on the label.
8) Deck Up: Who says you cannot deck up your kitchen cabinet. You can do it all with your pantry, from placing a few dried flowers and aroma sticks to arranging the jars aesthetically. Each time you open the kitchen cabinet door, you should feel good and proud of yourself.
Useful Resources
As I mentioned earlier, all my supplies for kitchen cabinet organization are from Amazon India. You can also buy them from my Amazon Store Front. This will help us earn a small amount of commission in order to support our small business.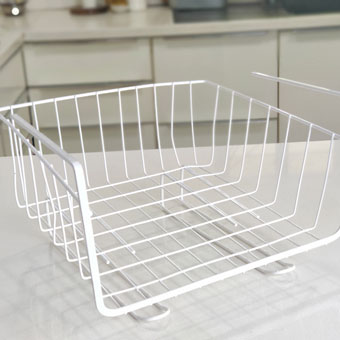 Subscribe to our weekly newsletter or follow us on Instagram, Youtube for video recipes.