The 100 Best Curries for your Instant Pot, my first ever international cookbook, is here! Tried and tested Indian curry recipes you can make in a fraction of the time using an instant pot.
I finally did it! My very own cookbook is here. How did it all happen? If you are curious about the back story, you should not miss out on all the juicy details.
Enough about me; let's talk about the cookbook.
The title of my cookbook is – The 100 BEST Curries for your Instant Pot.
Why only curry? As an Indian food lover, I always felt curry is one dish highly misrepresented on the World food map. So this cookbook is my humble initiative to make cookbook readers understand that it is not that difficult to make a wholesome, delicious curry at home without getting intimidated by the list of ingredients.
What's inside the cookbook?
100 Indian Curry Recipes, all made with the convenience of the Instant Pot.
A cookbook with recipes that will please both vegetarians and meat lovers. And don't worry, there is something for my vegan friends as well!
An honest introduction about curry's journey, my love for it, and how an instant pot finds its way into my Indian kitchen. And, of course, everything in between is useful you need to know for making a gratifying bowl of curry.
Each of the 100 recipes is tested by me over and over again. And comes with a precise ingredients list and expert notes. We have tried our best to take out the guesswork from the equation.
100+ colorful, vibrant photographs of curries, including the cookbook cover, are curated by truly yours. Except for the author images, we hired a team of professional photographers (as my husband wasn't up for the job). Plus, I wanted to look neat and decent professional.
The Chapters
The curry recipes in the cookbook are divided into eight chapters.
Restaurant Style Favorites
A Bag of Beans
Veg Curry In A Hurry
Chicken From My Kitchen
For Meat Lovers
Fresh From The Sea
Fusion Flavors
One Pot Curry Meals
We have covered you with a handy list of Indian kitchen staples and their best possible substitutions.
Just click the link of your preferred retailer to order my cookbook
Pre-Orders are HUGELY important for new authors like me, who survive only and only on your love and support. Plus you will enjoy the convenience of having the cookbook delivered directly to you when it becomes available on 6th September 2022!
A Sneak Peak
Restaurant Style Favorites: There is no Indian cookbook possible without including forever favorites like Dal Makhani, Butter Chicken, Paneer Butter Masala, Chicken Pathia, Rogan Josh, and so on. But in my cookbook, you will find how to cook these restaurant-style Indian dishes in an instant pot without compromising on the taste.
Beans, Lentils, and Plenty Of Vegetarian Recipes: I am somebody who loves dal, sabji, curry, and everything vegetarian. Hence, I tried my best to include plenty of vegetarian curry recipes in my first cookbook. From Punjabi Rajma Masala to Pineapple Curry, Kootu, and Vegetable Chana Curry, there are 30+ vegetarian curry recipes.
Chicken From My Kitchen (Page 101): I have dedicated a whole chapter to the chicken curry recipes. From robust Chicken Chettinad Curry and refreshing Green Chicken Curry to Punjabi Murgh Chole, Malabar Chicken Curry, and Mughlai Murgh Shah Jahani, there are plenty of chicken curry recipes to get you excited.
One Pot Curry Meals (Page 203): We all need time-saving, comforting, minimal cleanup, and maximum flavor one-pot meals in our busy lives. Keeping that in mind, I decided to dedicate a whole chapter to one-pot curry meals. There are recipes for Haleem, various khichdi, Bisi Belle Bhath, Bunny Chow, and much more.
Surprise, Surprise! My cookbook has a few surprise elements, like this super delicious crab masala curry that will surely make you happy as a food lover and reader. So I don't want to share more about it and spoil your surprise element!
FAQs About My Cookbook
Is this a self-published book?
The answer is NO. Page Street Publishing is the official publisher of my cookbook, and Macmillan distributes it. You can read the back story here.
Does every recipe have a photo in this book?
Yes, it has. These are photos of real food cooked, styled, and photographed by truly yours.
Are the cookbook recipes available on your website?
Except for 4 – 5 recipes, none are available on my website. I wanted to create fresh content for the cookbook.
In which countries is your cookbook available?
Currently, it is available for PRE-ORDER in the USA, UK, India, and Canada. Plus, with each purchase, you can get a BONUS Ebook. All you have to do is email me your purchase receipt.
When it will be available in other countries?
As the publishing industry worldwide is facing many challenges and considering them, it is not easy to release one book internationally on the same date.
The Reviews
I can't wait to sit at Hina's table with a steaming bowl of her Zucchini Moong Dal and a gorgeous plate of Saag Paneer and Karwari Fish Curry. Throughout my life, Indian food has provided healthy sustenance, variety, and delicious comfort, which is exactly what Hina's recipes deliver.
— Alka Joshi, author of The Henna Artist and The Secret Keeper of Jaipur
Hina's cookbook The 100 Best Curries For Your Instant Pot combines two favorites—pressure cooking and curry! This is such a beautiful, delicious and relevant resource for people looking for new ways to enjoy curry quickly. Hina's dependable, approachable recipes and beautiful photography will inspire you to take dinner to the next level.
— Megan Porta, Blogger at Pip and Ebby/Founder of Eat Blog Talk
For all those curry lovers, here is the book you must have. A perfect collection of Indian Curries that can be prepared on busy days because it is all about cooking in Instant Pot. Go out of the box and try all the interesting flavor packed curries she shared here"
— Kankana Saxena, Author of the cookbook – Taste of Eastern India, Blogger – Playful Cooking
This book is a dream come true for Indian Curry lovers. Hina's recipes are always spot on. Can't wait to get my copy of this most awaited cookbook.
— Chef Pawan Bisht, Corporate Chef and R&D Executive of One8Commune, a chain of restaurants owned by cricketer Virat Kohli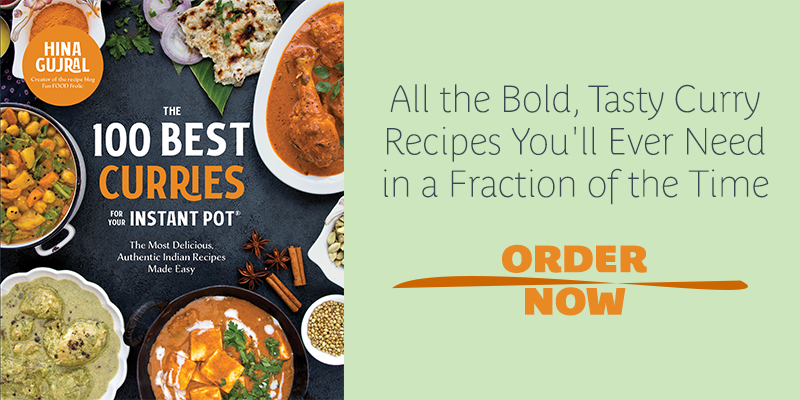 You can visit this dedicated page to ORDER MY COOKBOOK directly in the USA, UK, India, and Canada. There are respective Amazon links as well for the paperback and kindle editions of the book.
New authors like me thrive on your reviews and feedback. I hope to hear tons of them from you all!