Punjabi style urad dal is a delicious, gluten-free semi-dry dal recipe. A thick, luscious skinless urad dal tempered with ghee and fried onions is what this dal recipe is all about. Serve it with paratha or chapati for a wholesome Punjabi style lunch.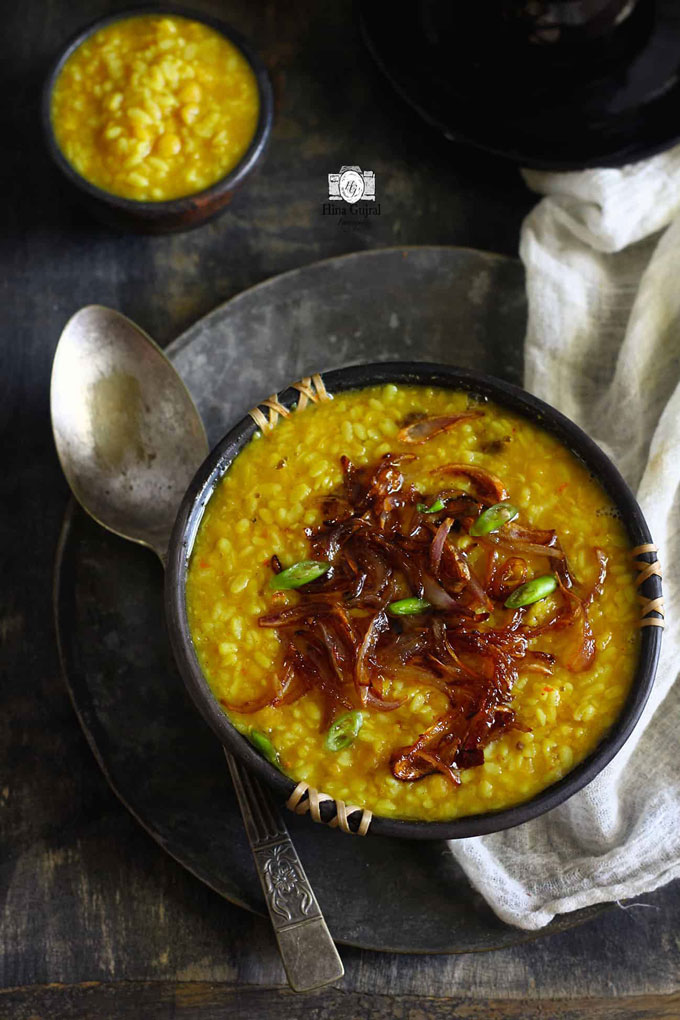 About Urad Dal…
You need skinless white urad dal (split urad dal without skin) or dhuli urad dal for making this Punjabi sookhi dal.
Urad Dal is rich in fibre, good for bone health, and has tons of other health benefits.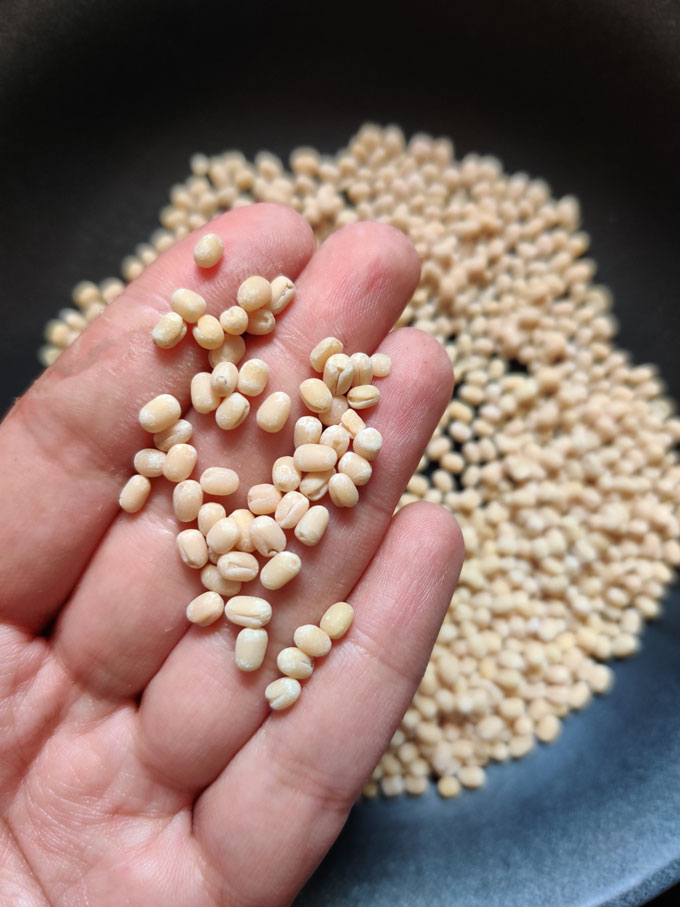 What is the difference between sabut urad, dhuli urad and chilka urad dal?
Whole urad dal or the sabut urad is also known as black urad dal. The husk is attached to the grain and this is the dal used for making famous Dal Makhani. The split urad or the chilka urad is black and white in color. It has a removable husk attached to the grain. After soaking the lentil this husk is easily removable. The white urad or the dhuli urad is pale white in color and has no husk attached to the grain.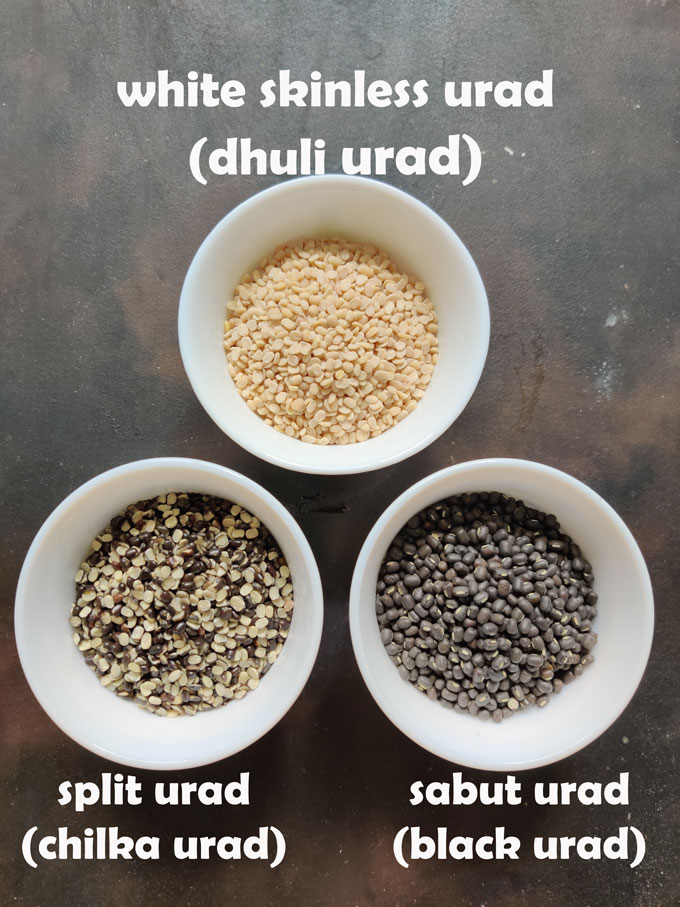 Do you need to soak urad dal?
Whole urad dal or the split urad dal needs to be soaked for at least 4 – 5 hours in water. Urad dal takes a longer time to get cooked in a pressure cooker. Hence, soaking helps in reducing the cooking time.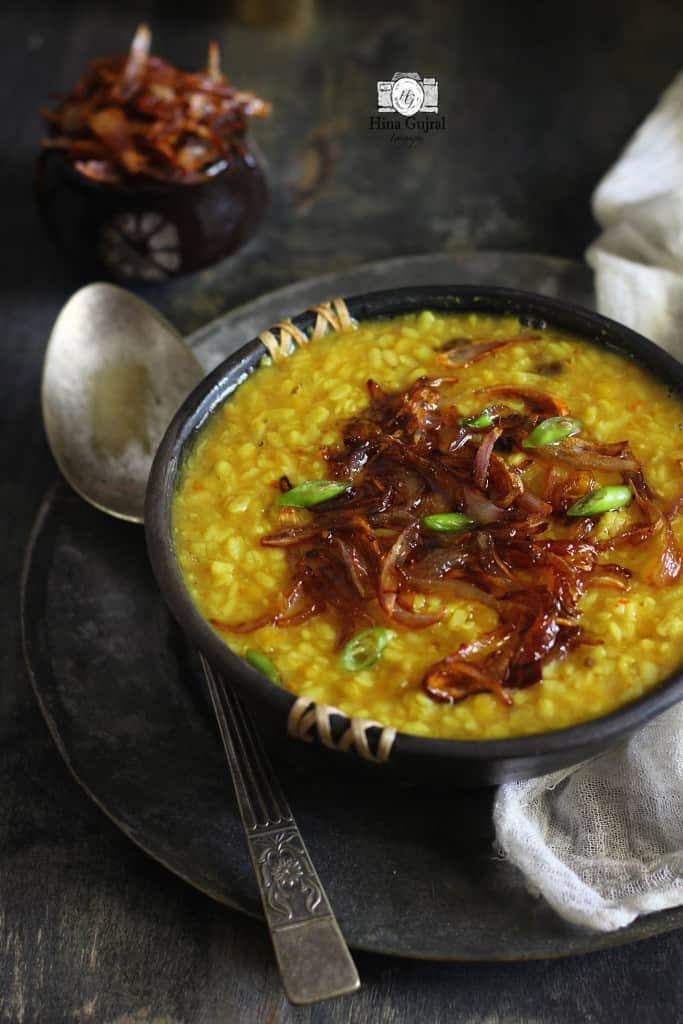 Punjabi Style Sookhi Urad Dal
Punjabi Sookhi Urad Dal Recipe is easy to make and delicious everyday dal to serve with chapati or paratha.
Sookhi Urad Dal is a virtual treat as well with perfectly golden fried onions embellished on top. The bowl full of vibrant dal with a surface of golden glaze is inviting enough to dig into the lunch.
It is a unique, gluten-free, wholesome urad dal recipe which will surely make you fall in love with the humble dhuli urad.
Lunch is a serious affair in any Punjabi household. The menu for lunch is planned on the breakfast table while hogging on the stuff parathas. The moment the first meal of the day is wrapped up pots and ladles are set in motion for lunch.
Punjabi Sookhi Urad Dal is one of our lunchtime favorites. This one is the mother-in-law's specialty.
The day Sukhi Urad Dal is prepared the lunch table is lined with coriander chutney, piping hot ghee, and plenty of chopped coriander, little add-ons to pep up the flavors and presentation of the urad dal.
The air surrounding the dining table is surely luring and full of unsaid excitement, jittery fingers are visibly eager to dive into sookhi urad dal along with piping hot puffed up phulkas.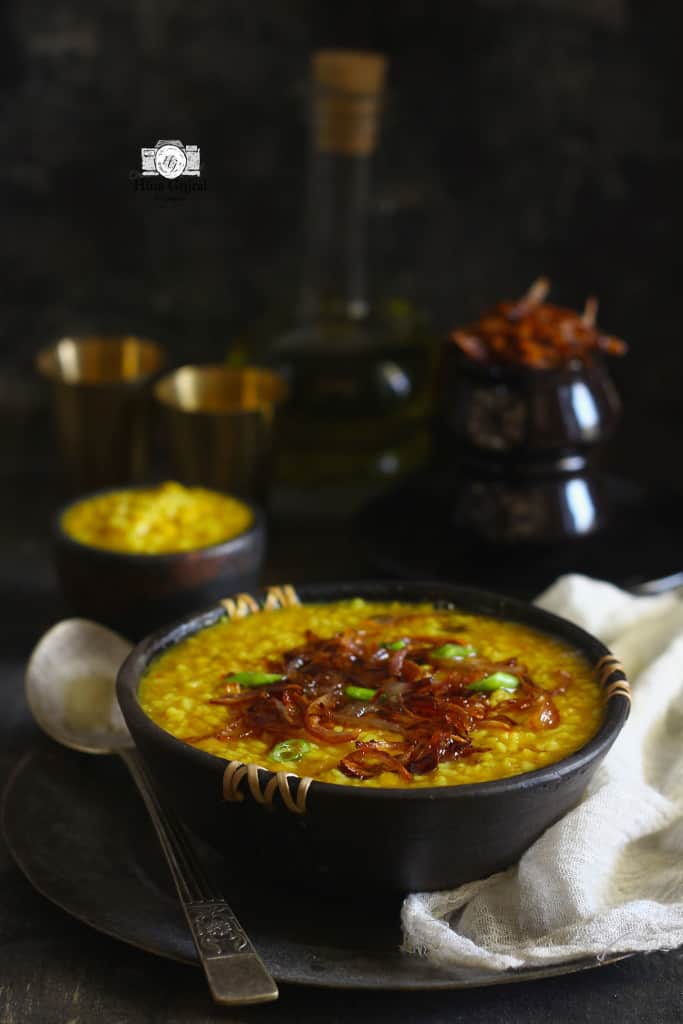 How to make vegan urad dal?
To make vegan urad dal, skip adding ghee in the tadka or tempering. Use vegan oil such as coconut oil for making the tadka for the dal.
More Urad Dal Recipes For You:
Chilka Urad Dal Vada (Pahadi Bada)
For more such fun recipes in your life subscribe to our weekly newsletter or follow us on Instagram and Youtube for video recipes.
If you try this recipe and love it, please leave a comment and a rating. This helps us grow and reach many other food lovers like you, who are looking for a perfect tried and tested recipe.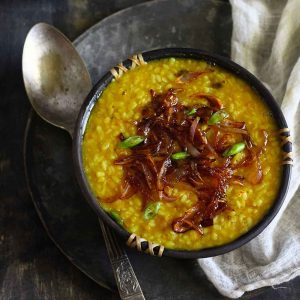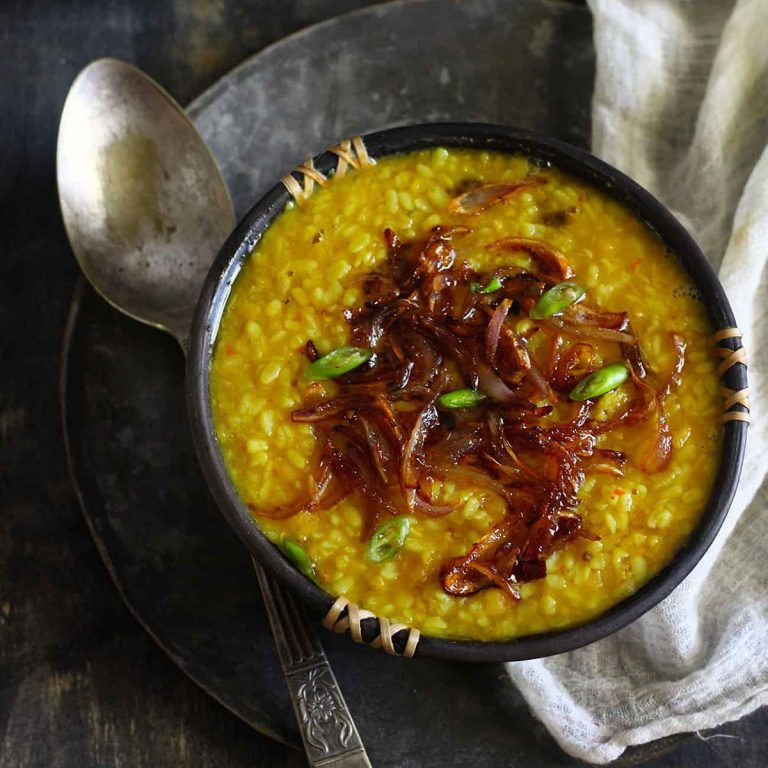 Punjabi Urad Dal Recipe
Punjabi style urad dal is a delicious, gluten-free semi-dry dal recipe. Learn how to make sookhi urad dal in a few simple steps.
Print
Pin
Rate
Ingredients
1

Cup

skinless urad dal (dhuli urad)

1

teaspoon

turmeric powder

1

teaspoon

dry mango powder (amchur)

1

teaspoon

red chili powder

¼

teaspoon

asafoetida (hing)

1

teaspoon

ginger garlic paste

1

green chili, chopped

½

teaspoon

garam masala

see recipe here

Salt to taste
Ingredients For Tadka (Tempering):
¼

Cup

ghee

1

Cup

sliced onion
Instructions
To prepare the Punjabi urad dal, first clean, rinse and soak the urad dal in enough water for 1 – 2 hour.

Next in a pressure cooker add soaked urad dal along with 2 Cups of water.

Add salt, red chili powder, turmeric powder, green chili, ginger garlic paste, asafetida, mango powder, and garam masala. Stir to combine.

Pressure cook the dal over medium heat for 2 – 3 whistle or till dal is just cooked through and not mushy. Turn off the heat. Let the steam release naturally from the pressure cooker.

Open the lid of pressure cooker and check dal for doneness. If yet not fully cooked through let it simmer without lid over low heat for few more minutes.

Once you are ready to serve the dal, transfer Sookhi Urad Dal to a serving bowl.
Prepare Tadka:
Heat ghee in a frying pan over medium heat. Fry the onion till deep golden in color.

Add the fried onion over the dal. Garnish with chopped coriander leaves.

Serve Sookhi Urad Dal warm with chapati for lunch.
Recipe Notes:
Urad Dal: Make sure dal is soaked for at least 1 – 2 hours else it will not cook properly. 
Do not add too much water to cook the dal. It is a semi-dry dal. Hence, we do not need too much liquid. 
2 – 3 whistles over low heat on a stovetop pressure cooker are enough to cook the dal. Cooking for too long will make it mushy. In an electric pressure cooker, it takes 5 – 6 minutes. 
Tempering: Please use ghee for tempering the dal. Tadka made in refined oil will not taste good. 
Make sure onions are golden fried before pouring over the dal. 
Vegan Dal: By skipping ghee in the tempering you can make vegan urad dal. Instead of ghee use coconut oil. 
Nutrition
Calories:
279
kcal
|
Carbohydrates:
31
g
|
Protein:
13
g
|
Fat:
12
g
|
Saturated Fat:
7
g
|
Cholesterol:
29
mg
|
Sodium:
51
mg
|
Potassium:
81
mg
|
Fiber:
11
g
|
Sugar:
2
g
|
Vitamin A:
148
IU
|
Vitamin C:
6
mg
|
Calcium:
39
mg
|
Iron:
4
mg
For Behind The Scene updates
Subscribe to our newsletter!