Dal Khichdi is our very own Indian style lentil and rice casserole dish, a one-pot ultimate comfort food, one of those Indian food recipes that are popular across many states. Monsoon is finally creeping into a daily routine with little turbulence here and there. A couple of rain showers already caught me off guard while coming back from the market. The hot and dry summer seems to be a story of the past, all I could foresee is humid and gloomy afternoons. But that's the beauty of living in a country with diverse seasonal moods. It is fascinating to enjoy different whether temperaments within the same geographical boundaries throughout the year.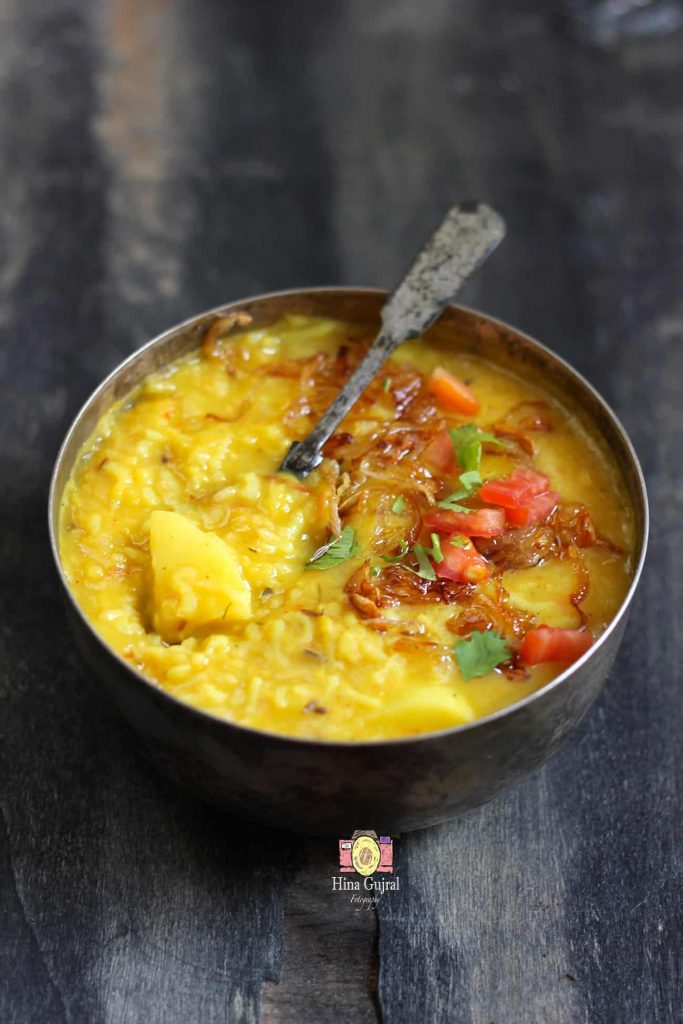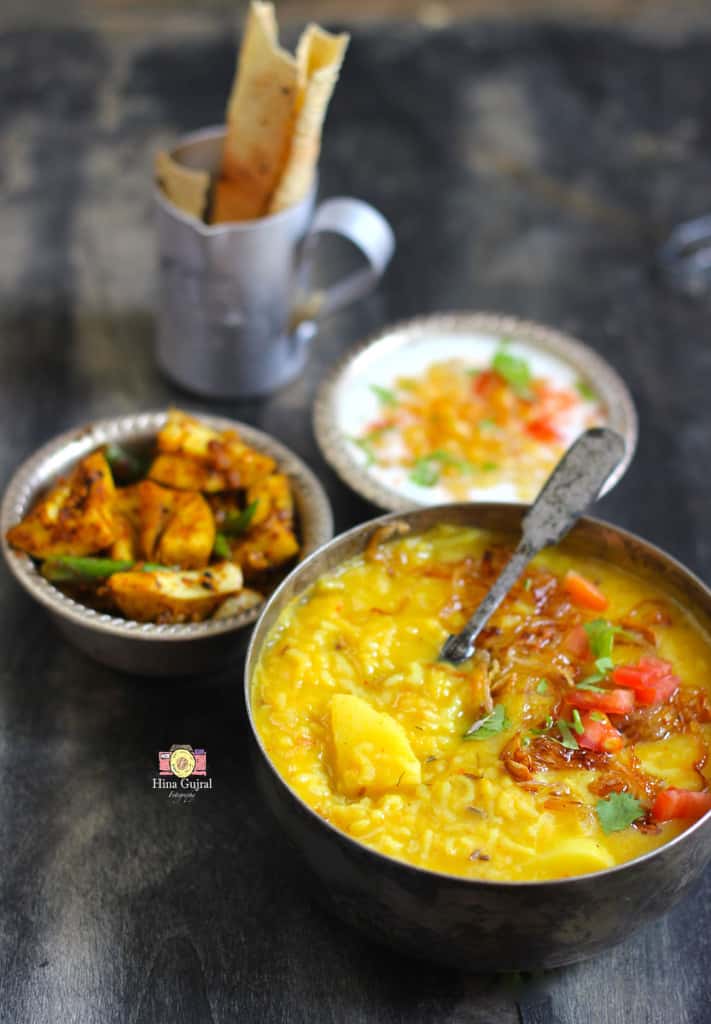 The continuous downpour throughout the day restricted my early morning town walks to the local flea markets. So for a while, the daily meal menu is sustaining on a limited supply of vegetables which are either easily accessible or brought home by the helpful man Friday. In small towns, the custom of home delivery or online grocery shopping is still a thing of future. Initially, we sighed, and complained about the newly adapted countryside lifestyle especially during the time like this, when visiting nearby vegetable vendor is an uphill task of crossing a muddy swamp like a pathway.
Never mind the slow-paced life I am rambling about on the brighter note it has introduced us to some of the long-lost Indian food recipes, which during easily faded away from our urban lifestyle while living in Bangalore. The other day when there was nothing more in the pantry than a tomato or two along with some onion and potato. By the time I realized the state of the vegetable stock it was past noontide and the hungry goblins already started hovering around the lunch table. I had forgotten about Dal Khichdi for years until this day, and none other than the mother in law reminded me about the same.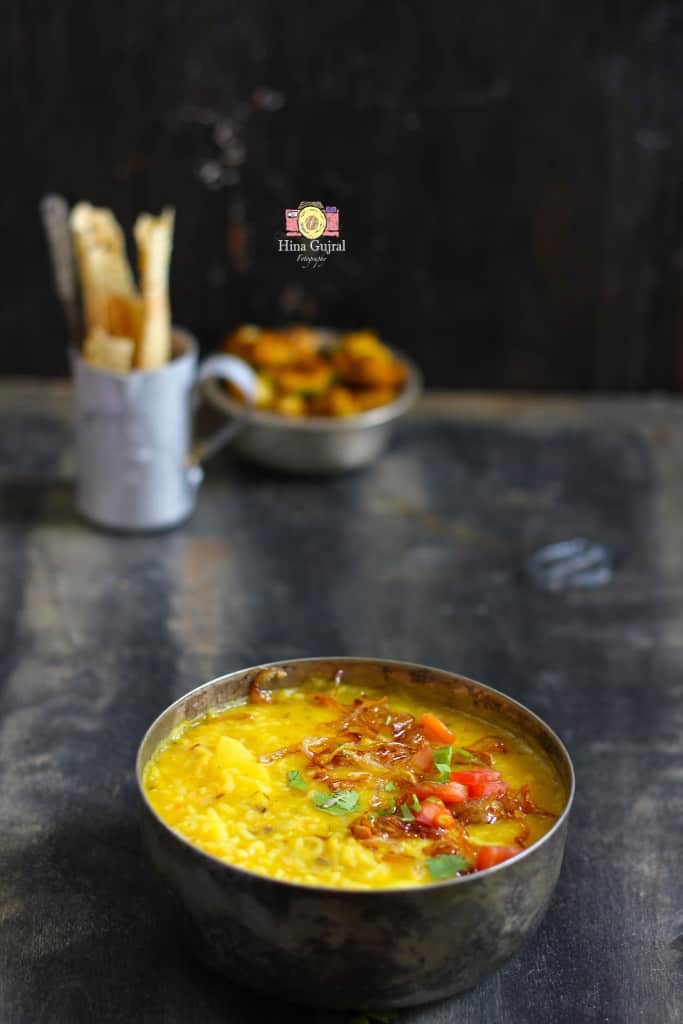 Dal Khichdi is no fancy or complicated dish which requires lengthy preparations, it is as humble as its name. A combination of lentils cooked with rice in one pot to create a wholesome and delicious vegetarian goulash. While the pressure cooker was filling in the background score for the silent afternoon my thoughts were transported to the time simple culinary pleasures like enjoying a bowl of Dal Khichdi along with pickle and salad would bring a thrill to our Sunday afternoon. Dal Khichdi evokes so much nostalgia and emotion tied to the roots, it almost overwhelms. Dal Khichdi laced with ghee and served with homemade mango pickle, sliced onions, raita, is a family favourite.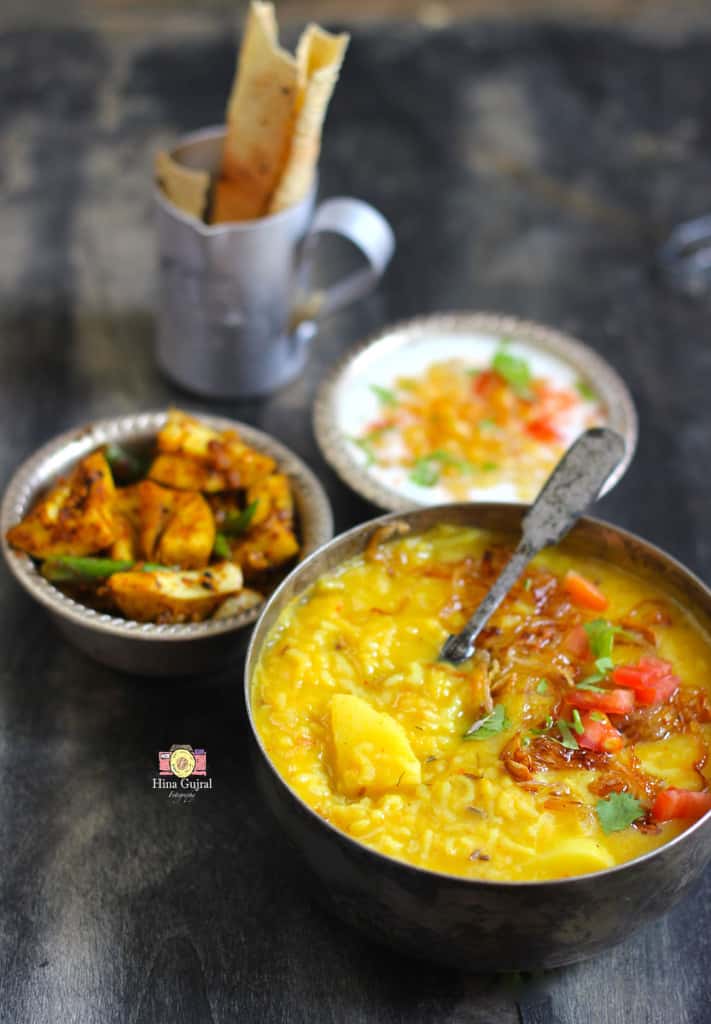 If you try this recipe and love it, please leave a comment and a rating. This helps us grow and reach many other food lovers like you, who are looking for perfect tried and tested Indian food recipes.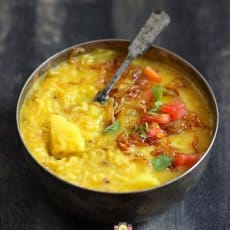 Dal Khichdi Recipe
Dal Khichdi is the Indian style lentil and rice casserole recipe, an ultimate comfort food.
Print
Pin
Rate
Ingredients
1

Cup

Rice

1/3

Cup

yellow moong dal

1/4

Cup

toor dal

1/4

Cup

red masoor dal

1

small-size onion fine chopped

1

medium size tomato chopped

1

medium size potato peeled and cut into small cubes

2 - 3

clove

of garlic fine chopped

1

green chili chopped

1

tsp

cumin seeds

salt to taste

1

tsp

turmeric powder

1

tsp

red chili power

1

tbsp

ghee or cooking oil
To garnish
1

medium size onion sliced

1

medium size tomato finely chopped

2 - 3

sprig of coriander leaves roughly chopped

2

tbsp

ghee
Instructions
To prepare the Dal Khichdi, first clean, rinse and soak the lentils together in water for 15 - 20 minutes or so. Similarly soak the rice as well in a separate bowl.

In a pressure cooker (

buy it here

) heat ghee/cooking oil over medium heat. Add the cumin seeds, as the seeds turn light brown in color add the chopped garlic and saute till garlic also turn light brown in color.

Next add the chopped onion and green chili. Stir and saute for few minutes over medium heat or till onion become soft and golden in color.

Add the chopped potato along with salt, turmeric powder and red chili powder. Stir to combine.

Drain the soaked lentils and rice. Add in the pressure cooker, stir to combine and saute for few minutes.

Add approximately two glasses of water in the pressure cooker along with tomato. Stor to combine and seal the lid. Let Dal Khichdi cook over medium heat for one or two whistle. Turn off the heat. Let the steam release naturally from the pressure cooker.

While the Dal Khichdi is cooking. Heat 2 tbsp ghee in a frying pan over medium heat and fry the sliced onion till golden in color. Drain in a oil absorbent sheet and keep aside.

Serve Dal Khichdi warm topped with caramelized onion, chopped tomato and fresh coriander leaves along with raita, salad and papad.