Kumaoni Bada, as we Kumaoni pronounce it, is a crispy, flavorsome, gluten-free, and vegan split black urad dal fritter. Seasoned with plenty of fresh coriander, green chilli, turmeric, red chilli and a generous amount of asafoetida to get the sought after taste of the Pahadi bada.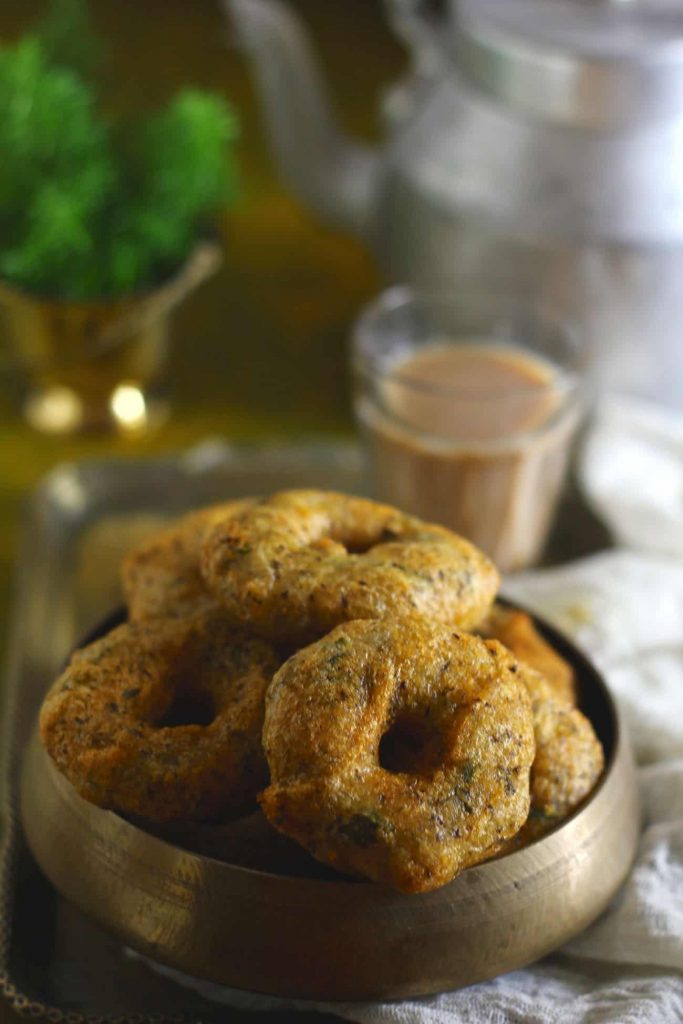 History Of Pahadi Bada…
Many might argue that Kumaoni Bada Recipe is no different from medu vada or for saying any other vada recipe. And they are not totally wrong when comparing the two recipes, as the process of making is almost similar.
For making medu vada we use skinless white urad dal whereas for pahadi bada we use split urad dal with half-black skin attached.
Also, the medieval period saw an influx of high-caste migrants into the Himalayan foothills from Gujarat, Karnataka, Maharashtra, Rajasthan, Bengal and other parts of India. Each brought with them a treasure of food heritage from their native region.
With time, all these distinctive food cultures blended with the local Kumaoni cuisine. Hence, you could find traces of other regional cuisines in Kumaoni Cuisine.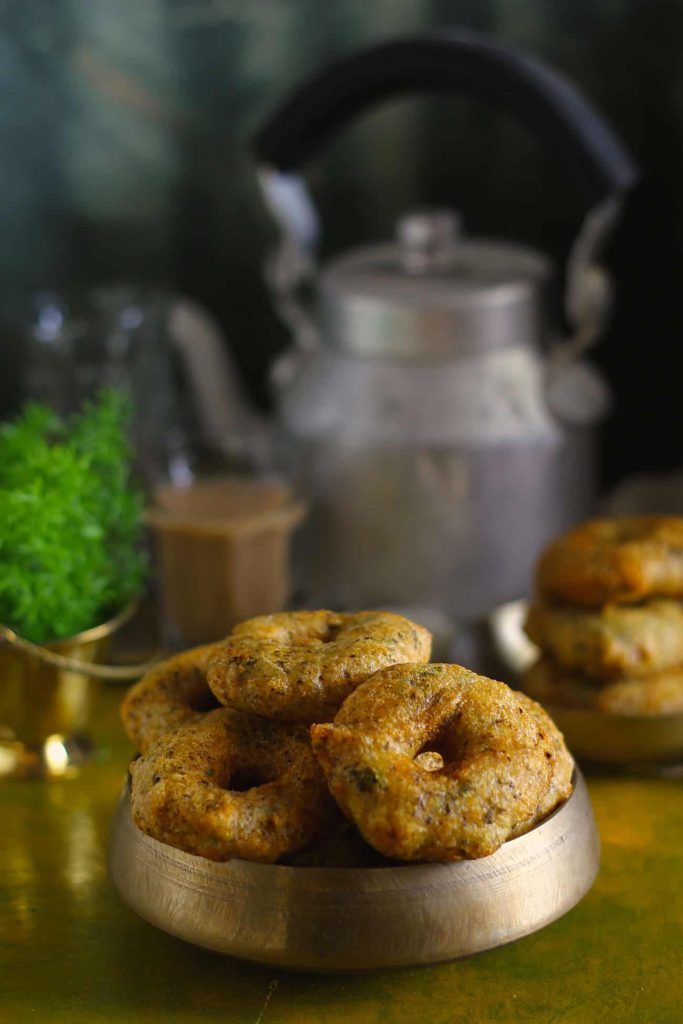 The Making Of Kumaoni Bada…
The urad dal bada is a quintessential part of Kumaoni ceremonious food. Whether it is our harvesting festival 'Harela', Hindu New Year 'Sankranti', the month of 'Shradh' or auspicious affair like welcoming newly born in the family, on each occasion dal bada (Vada) graces the festive food platter.
The ladies of the house are responsible for making the bada and then offering the first five pieces of it to the deity of the family.
For years, I have watched my mother, aunts, and great-grandmother grind dal for the vada in a hefty stone mortar and pestle. It was not the time when electric mixers were new to Indian kitchens. My great grandmother believed that grinding dal in a stone mortar adds to the taste of the vada.
Traditionally, the soaked split urad dal is ground in a stone mortar and pestle to get the fine paste for the vada. Then whisked manually till it is light and airy, perfect to make vada.
The same split urad dal is used to make – shahi urad dal or Sankranti special urad dal khichdi.
A few years back only my mother started using a mixer for grinding vada dal. She is not happy about it but with passing age grinding dal manually is an uphill task.
The taste of pahadi bada made with dal ground in a mixer whisked with hand blender could not be compared with the one laced with hours of hard work. Still, it is good to see the tradition of making dal bada on every important Kumaoni affair has not died yet.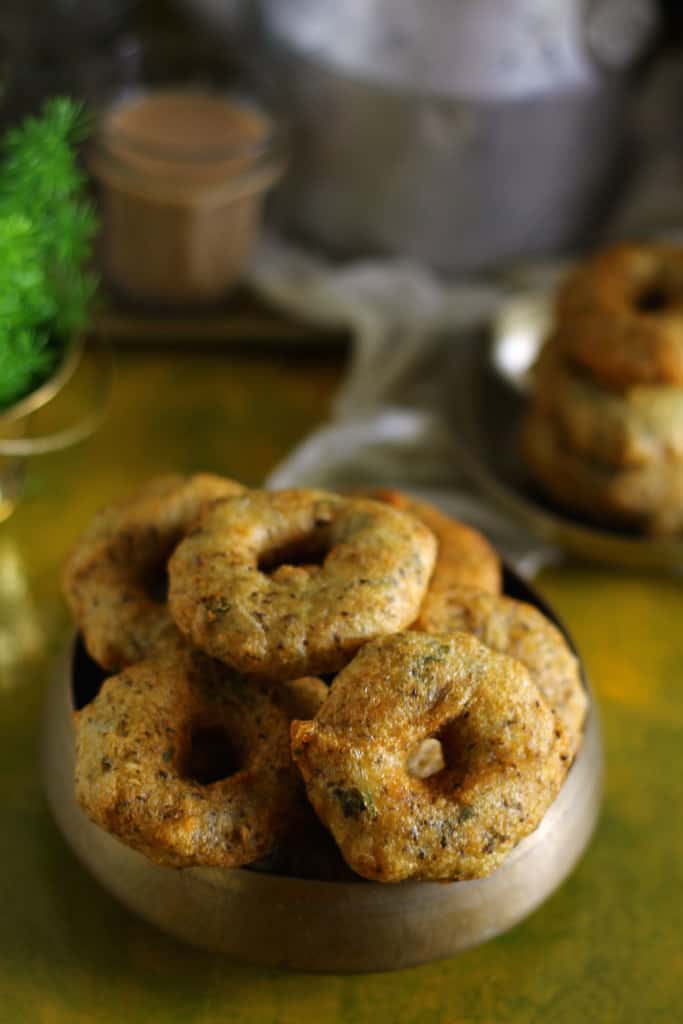 More Kumaoni Recipes For You:
For more such fun recipes in your life subscribe to our weekly newsletter or follow us on Instagram and Youtube for video recipes.
If you try this recipe and love it, please leave a comment and a rating. This helps us grow and reach many other food lovers like you, who are looking for a perfect tried and tested recipe.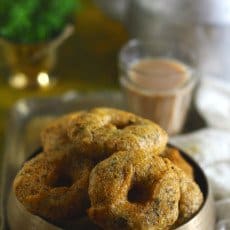 Kumaoni Bada Recipe (Chilka Urad Dal Vada)
Kumaoni Bada, is a flavorsome, gluten-free split black urad dal fritter. Learn how to make pahadi style bada in a few simple steps.
Print
Pin
Rate
Ingredients
1

Cup

split black urad dal

chilka urad

¼

teaspoon

asafoetida

1

teaspoon

turmeric powder

1

teaspoon

red chili powder

1 – 2

green chili fine chopped

half a bunch of coriander finely chopped

Mustard oil to deep fry the vadas

Salt to taste
Instructions
To make the Kumaoni Bada, rinse and soak dal overnight in enough water or for at-leat 6 hours.

Next morning you will notice the the black peel of the dal start leaving the white skin underneath.

Rub the dal in small batches in between your palms to remove the black peel. Each time drain the black peel.

After 2 – 3 times you will end up with majorly white skinned dal with few black peel here and there.

Let the dal sit in colander for 10 – 15 minutes for excess water to drain off.

Now grind the dal in small batches in the mixer. Make sure not to use any water while grinding the dal.

To get the smooth paste you need to stir the dal few times while grinding. Grind, turn off the mixer, stir and then grind. Repeat the process till you get thick, smooth dal paste.

Transfer to a clean, large bowl.

The trick to make crisp, fluffy vada is to whisk the dal till it is light and airy.

You can whisk the dal using electric hand blender or manually. The traditional way it is done manually. A continuous whisking of 10 – 15 is good enough to incorporate air in the dal.

Add hing, chopped coriander, green chili, spices and salt in the dal paste. Stir to combine.

Heat mustard oil in a wide deep frying pan over medium heat.

To shape the vadas, keep water in a small bowl next to dal paste.

Soak your fingers of both the hands in water and pinch a lemon size portion of dal paste. Hold it over your one hand fingers and flatten it using the other hand wet fingers.

Make a hole in the centre of the flattened vada.

Gently slip it on to the pan of hot oil to deep fry. For safety reasons, it is best to slide the shaped vada from the sides of the pan.

Deep fry the vada over medium high heat till deep golden, crisp from both the sides.

Transfer to a plate lined with kitchen towel. Serve Kumaoni Bada warm.
Recipe Notes:
Hawkins Futura Hard Anodised Round Bottom Deep Fry Pan we recommend to deep fry the vada. You can ( buy it here )
Nutrition
Calories:
66
kcal
|
Carbohydrates:
11
g
|
Protein:
5
g
|
Fat:
1
g
|
Saturated Fat:
1
g
|
Sodium:
51
mg
|
Potassium:
11
mg
|
Fiber:
5
g
|
Sugar:
1
g
|
Vitamin A:
80
IU
|
Vitamin C:
2
mg
|
Calcium:
12
mg
|
Iron:
2
mg
For Behind The Scene updates
Subscribe to our newsletter!