Kumaoni Bada, as we Kumaoni pronounce it, is a crispy, flavoursome, gluten free split black urad dal fritter. Traditionally, the soaked split urad dal is ground in a stone mortar and pestle to get the fine paste for the vada. Then whisked manually till it is light and airy, perfect to make vada. Seasoned with plenty of fresh coriander, green chilli, turmeric, red chilli and a generous amount of asafoetida to get the sought after taste of the vada.
Many might argue that Kumaoni Bada Recipe is no different from Medu Vada or for saying any other Vada Recipe. And they are not totally wrong when comparing the two recipes, as the process of making is almost similar. Also, the medieval period saw an influx of high-caste migrants into the Himalayan foothills from Gujarat, Karnataka, Maharashtra, Rajasthan, Bengal and other parts of India. Each brought with them a treasure of food heritage from their native region. With time, all these distinctive food cultures blended with the local Kumaoni cuisine. Hence, you could find traces of other regional cuisines in the Kumaoni Cuisine.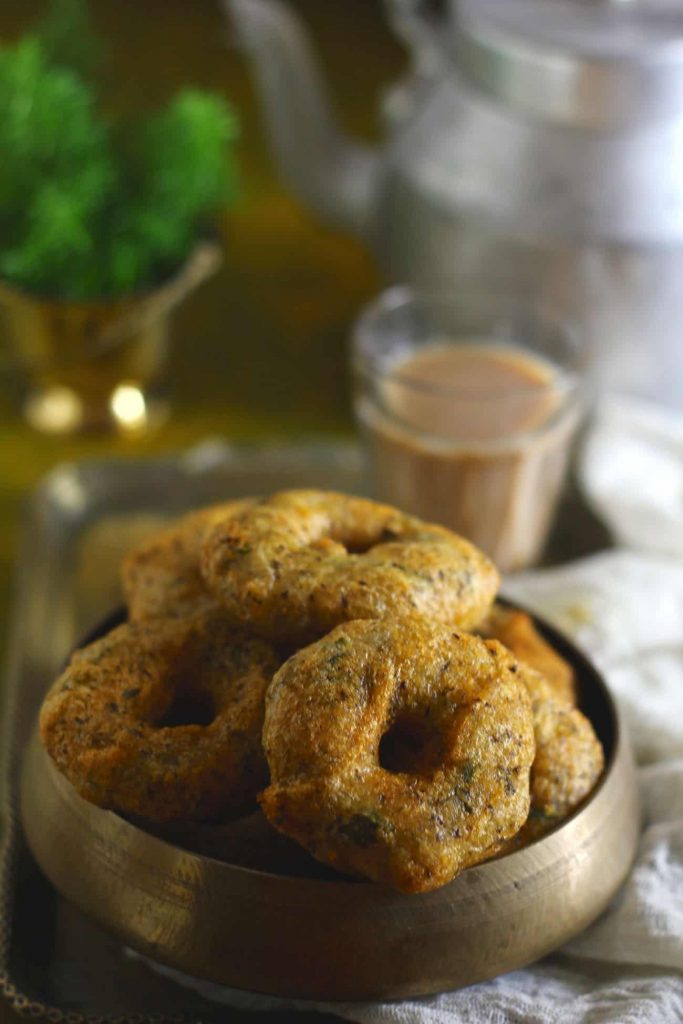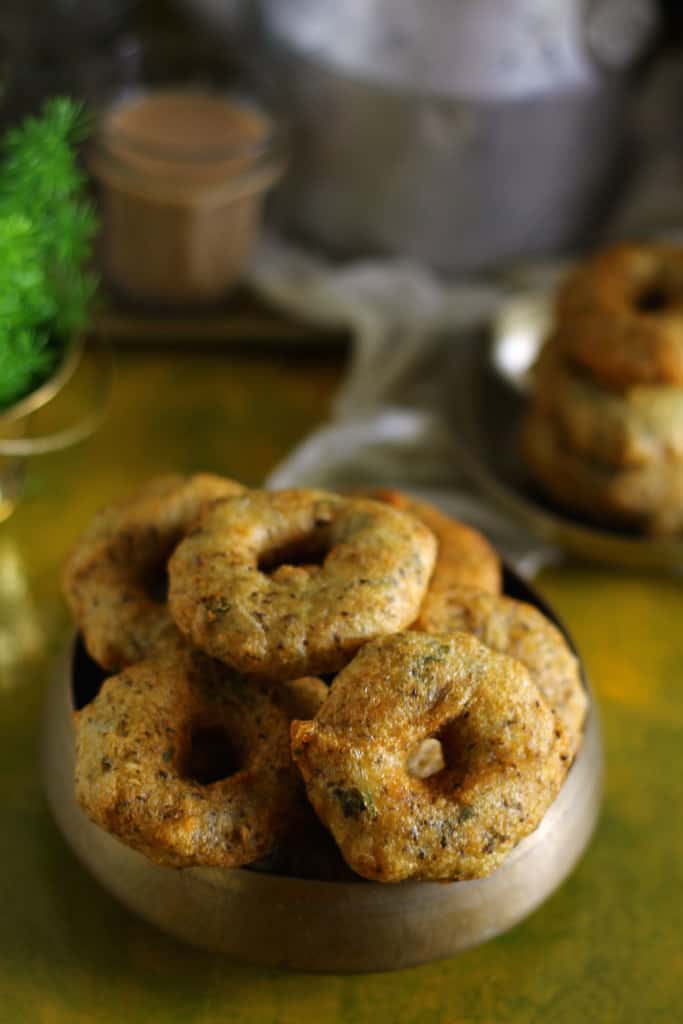 The Bada is a quintessential part of Kumaoni ceremonious food. Whether it is our harvesting festival 'Harela', Hindu New Year 'Sankranti', the month of 'Shradh' or auspicious affair like welcoming newly born in the family, on each occasion Bada (Vada) graces the festive food platter. The ladies of the house are responsible for making the Bada and then offering the first five pieces of it to the deity of the family.
For years, I have watched my mother, aunts and great-grandmother grind dal for the vada in a hefty stone mortar and pestle. It was not the time when electric mixers were new to Indian kitchens. We were also having one in our kitchen, proudly standing at one corner, bought with so much trouble from an army canteen. But my great grandmother believed that grinding dal in a stone mortar add to the taste of the vada. And the ladies of the next generation in the house second her thought.
A few years back only my mother started using a mixer for grinding vada dal. She is not happy about it but with passing age grinding dal manually is an uphill task. This is how slowly modernity creeping into her conventional Kumaoni kitchen via these electric gadgets. The taste of Bada made with dal ground in a mixer, whisked with hand blender could not be compared with the one laced with hours of hard work. Still, it is good to see the tradition of making Bada on every important Kumaoni affair has not died yet.
Learn how to make Kumaoni Bada in few simple steps: