Gobi (Cauliflower) Manchurian another vegetarian variant of popular Indian-Chinese Chicken Manchurian, deep fried tender cauliflower florets stir fired in an array of oriental sauces to create an appetizing dish. Cauliflower is robbed off its monotony and clothed with a garment of thick batter, later graced with stir fry to assemble a plate of luscious, sinful Gobi Manchurian. For a country where a vegetarian diet is an equally essential part of the food culture, vegetable versions of the meat dish are inevitable and no surprise in the community dinner table, the last name of the dish explains it's origin lineage and the idea behind it.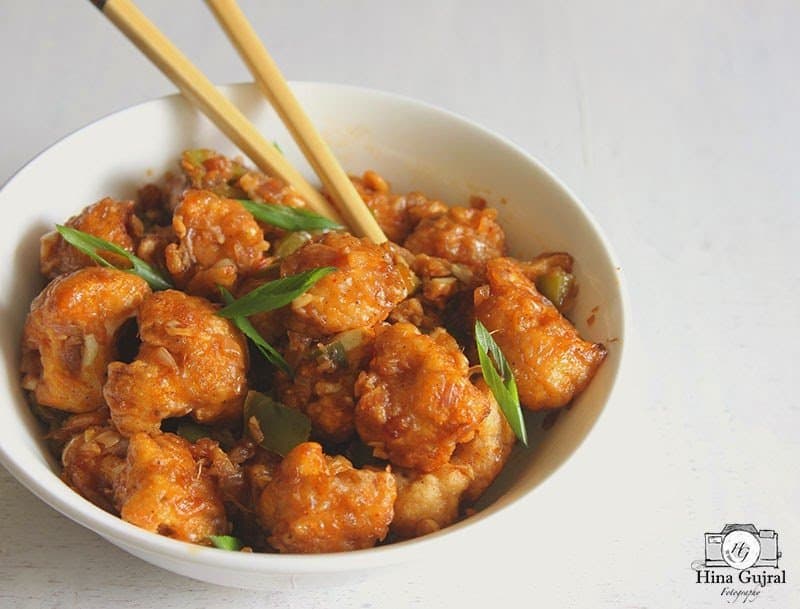 Gobi Manchurian is one of those dishes that perfectly satisfy all the checks in the criteria of an ultimate comfort food but unfortunately, at most of the local eateries, the dish is quite abused by the cooks. In general, Gobi Manchurian, is a poor thing, poorly treated, more often than not it is cooked in so unthinking and ignorant manner as to make one feel that it should never be tasted again. From scary red to loud orange in color, soggy oil soaked florets to garam masala spiced stir fry, I have tasted all sort of substandard styles of Gobi Manchurian served with pride under the Indian-Chinese menu at most of the restaurants. I should be thankful for strong digestive system which never gave up in any of these extreme tasting expeditions. Though I agree on the dish in itself is sinful and indulgent in nature but that does not mean it should be deprived of the right to taste good. Sorting out the recipe for Gobi Manchurian is no culinary art, easily found one over the internet then back home begin the trials get perfection in the art. Not all the trials were triumphant but finally, I had one recipe in hand, which could give me pleasure as a cook, like the small exaltation of a painter who unexpectedly finds himself in a picturesque landscape.
So here is the recipe of Gobi Manchurian and another recipe for #thekitchendivas monthly theme of Indo-Chinese.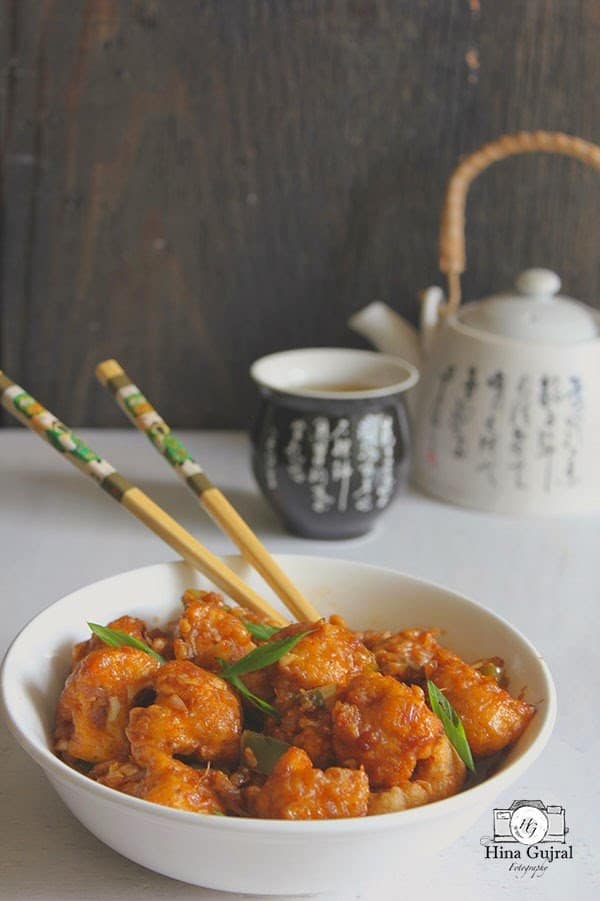 If you try this recipe and love it, please leave a comment and a rating. This helps us grow and reach many other food lovers like you, who are looking for a perfect tried and tested recipe.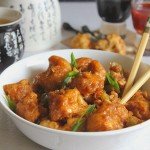 Gobi (Cauliflower) Manchurian
Gobi (Cauliflower) Manchurian another vegetarian variant of popular Indian-Chinese Chicken Manchurian
Keyword:
best gobi manchurian recipe, how to make gobi manchurian
Ingredients
For the batter
1

medium size cauliflower

1

cup

all-purpose flour

3 to 4

tbsp

cornflour

1

tsp

ginger-garlic paste

Salt

as per taste

1

tsp

soy sauce

½

tsp

black pepper powder

¾

cup

water

at room temperature

Oil for shallow frying
Other Ingredients
1

medium size onion

finely chopped

1

capsicum cut into small cubes

4

cloves

of garlic

finely chopped

1

inch

piece of ginger

fine chopped

2

green chilies

finely chopped

1

tbsp

soy sauce

2

tbsp

tomato sauce

1

tbsp

green chili sauce

1

tbsp

cooking oil
Instructions
To prepare the florets for manchurian, wash cauliflower in water and pat dry with kitchen towel. Cut cauliflower into bite size florets.

For the frying batter mix all the ingredients except cauliflower florets in a bowl and make thick batter of dropping consistency using water. Dip the florets in the batter mix nicely and let a batter sit in the fridge for ½ hour.

Meanwhile heat oil in a frying pan to shallow fry the batter dipped florets. Take out florets from the fridge and in small batches shallow fry until crisp from outside.

Transfer fried florets into a plate lined with kitchen towel. Once all the florets are fried keep aside while the sauce is getting ready.

From the same pan transfer excess oil to a bowl and leave only 1 – 2 tbsp in pan. Heat pan over medium heat. Add chopped onion, garlic, ginger, green chilli and stir fry till the you can smell aroma of these in the air. No need to brown onion or garlic.

Now add chopped capsicum and stir fry for 2 – 3 minutes over high heat.

Add soy sauce, tomato sauce, green chili sauce black pepper and salt. Stir and add ¼ cup of water. Let the sauce simmer for 5 minutes or till it becomes little thick

At last add the fried florets and stir to evenly coat florets with sauce. Cook for 1 – 2 minute.

Garnish Gobi Manchurian with the spring onion greens.

Serve hot with noodles or Fried Rice.