Gobi Manchurian is an Indo-Chinese dish made with crispy cauliflower florets tossed in a spicy Manchurian sauce. Continuing with my takeaway-style Chinese dishes that you can replicate at home, here is a vegan cauliflower Manchurian recipe. Be sure to watch the video!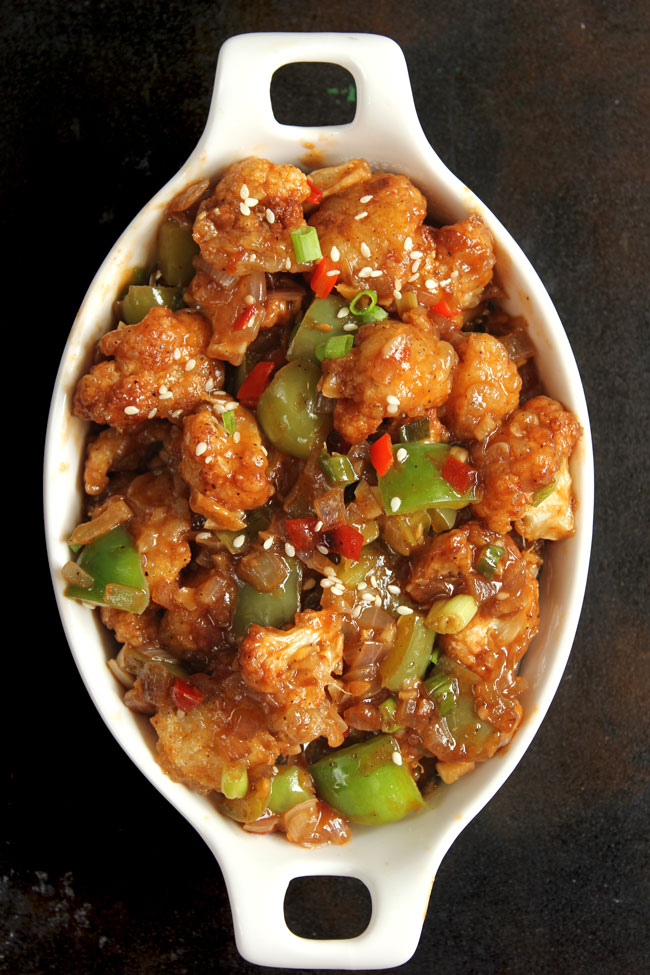 Indian-Chinese Fusion Cuisine
In India, we classify gobi Manchurian as part of Indian-Chinese cuisine.
The vast number of Chinese migrants in Kolkatta, West Bengal, created the fusion cuisine, now popularly known as Indo-Chinese.
Over the years, dishes like cauliflower Manchurian are the heart of Indian street food fare. Light on the wallet, and big on flavors, Indo-Chinese cuisine is widely popular across the Indian sub-continent.
The Cauliflower Manchurian
'Gobi' is the Hindi term for cauliflower. And Manchurian is a thick and luscious fusion sauce. Hence, the name 'Gobi Manchurian' literally translates into cauliflower tossed in a Manchurian sauce.
To make gobi Manchurian, the cauliflower is robbed of its monotony and clothed with a thick batter and fried till crisp.
The fried cauliflower florets coated in a delicious, vegetarian Manchurian sauce are indeed a vegetarian delight. 
You can make gobi Manchurian like an appetizer/finger food for the parties, or with a little extra gravy, you can serve it with fried rice as a main course.
It is an excellent dish for feeding crowds or dinner parties.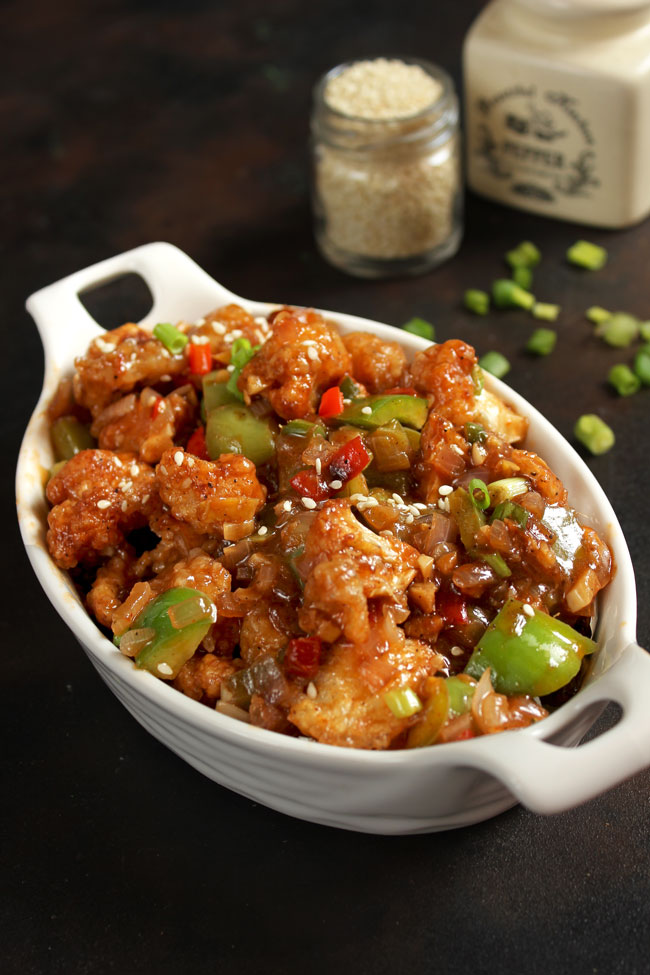 Ingredients Required
For The Crispy Cauliflower Florets
Cauliflower florets (fresh or frozen)
All-purpose flour (maida)
Corn flour (corn starch)
Ginger-Garlic Paste
Salt, Black Pepper Powder, Water
Cooking Oil for frying
For Manchurian Sauce
Cooking Oil
Garlic, Ginger, Red Onion
Green Capsicum or Bell Peppers
Soy Sauce, Red Chilli Sauce, Tomato Ketchup
Water
Corn Flour
How To Make
Making Gobi Manchurian is a two-step process.
Part A) Coat cauliflower florets in the flour batter. Fry till crisp and golden.
Part B) Make the Manchurian sauce to coat the fried cauliflower florets.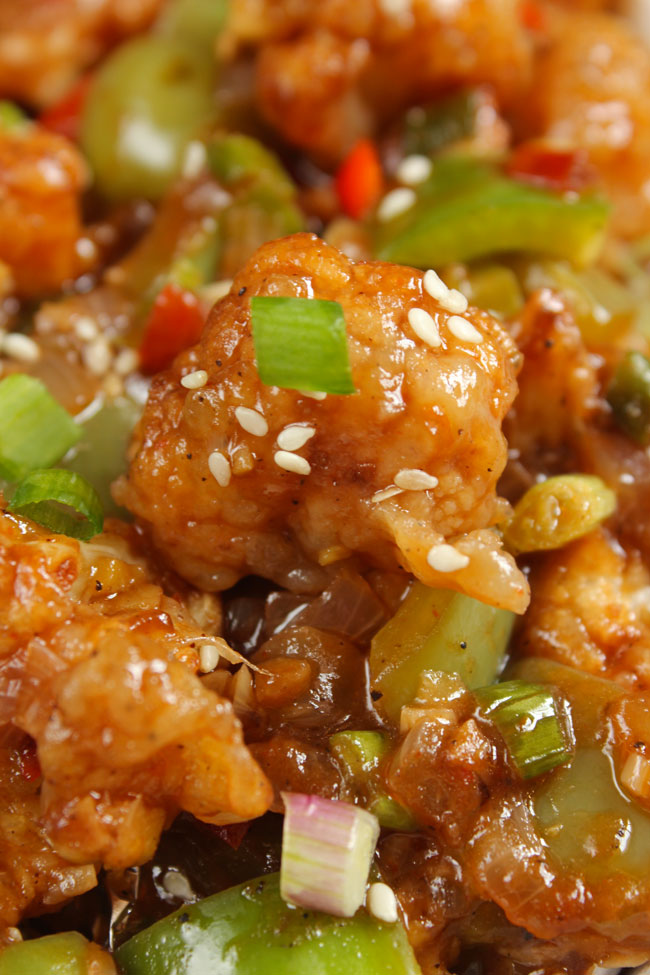 My Tried & True Tips
Non- Greasy: Even though this is a fried snack, you don't want it reeking of oil. Imagine biting into a fritter and getting a mouthful of oil? Ensure the oil is at a high temperature before frying the florets to prevent soggy florets.
Not Too Doughy: Yes, flour is used as a binder in this gobi Manchurian recipe. It also helps give the fritters the lovely crunchy coating we love. But adding too much flour or cornstarch in the batter makes your cauliflower florets hard, and then you just have fried dough balls instead. 
Avoid Over-Cooking: The Gobi Manchurian gravy does not require long cooking hours. Once the sauce is thick and luscious, turn off the heat. Do not cook it for too long after adding fried cauliflower florets and capsicum. 
If you're attempting to make cauliflower Manchurian the first time, don't worry. This is an easy Manchurian recipe that I have for you today. The results are always delicious, and you just can't go wrong. 
Watch Manchurian Video
Serving Suggestion
You can serve gobi Manchurian as a snack for the parties or make it extra saucy to serve it with main-course dishes like chilli garlic noodles, pineapple fried rice, or plain cooked rice. Either way, it tastes delicious!
More Indo-Chinese Recipes
Chinese Bhel (Crispy Noodle Salad)
Subscribe to our weekly newsletter or follow us on Instagram Youtube for video recipes.
If you try this recipe and love it, please leave a rating. This helps us grow and reach more food lovers like you.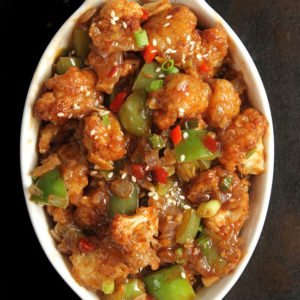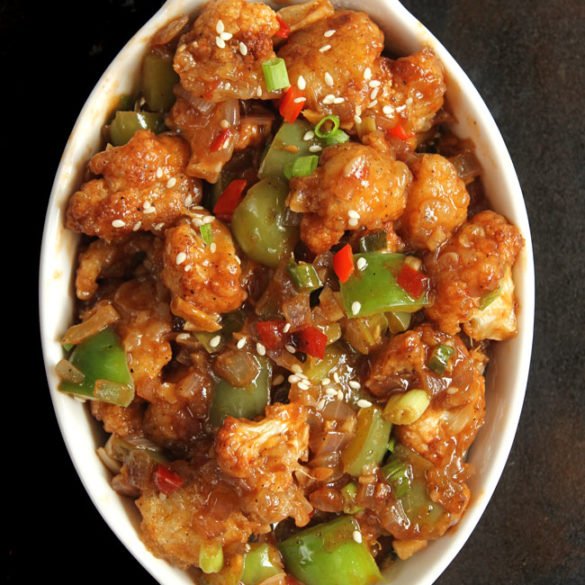 Gobi (Cauliflower) Manchurian
Gobi Manchurian is an Indo-Chinese dish made with crispy cauliflower florets tossed in a spicy Manchurian sauce. Learn how to make dry cauliflower manchurian in a few simple steps.
Print
Pin
Rate
Ingredients
Ingredients For Frying:
500

gram

cauliflower florets

¼

cup

all-purpose flour (maida)

2

tablespoon

cornflour (corn starch)

1

teaspoon

ginger-garlic paste

Salt to taste

½

teaspoon

black pepper powder

⅓

Cup

water

Oil for shallow frying
Other Ingredients
1

tablespoon

chopped garlic

1

tablespoon

chopped ginger

1

teaspoon

chopped red chilli

½

Cup

chopped onion

½

Cup

diced capsicum

1

teaspoon

soy sauce

1

tablespoon

red chilli sauce

1

teaspoon

tomato ketchup

1

tablespoon

cooking oil

¼

Cup

corn flour paste (2 tablespoon cornflour combined with water)
Instructions
To prepare the florets for gobi manchurian, wash cauliflower in water and pat dry with kitchen towel. Cut cauliflower into bite size florets.

For the frying batter mix all-purpose flour, corn flour, salt, black pepper, and ginger-garlic paste. Use water to make a thick paste. The batter has to be of dropping consistency but not too runny.

Add the florets in the batter, mix nicely and let them sit in the fridge for half-an-hour.

Meanwhile, heat oil in a frying pan to shallow fry the cauliflower florets. Take out florets from the fridge and in small batches shallow fry until crisp from outside.

Transfer fried florets into a plate lined with kitchen towel. Once all the florets are fried keep aside while the manchurian sauce is getting ready.

From the same pan transfer excess oil to a bowl and leave only 1 – 2 tablespoon in the pan. Heat pan over medium heat. Add chopped garlic, ginger, red chilli and onion. Fry for a minute to release the aroma of ingredients.

Now add chopped capsicum and stir-fry for 2 – 3 minutes over high heat.

Add soy sauce, tomato sauce, red chili sauce, black pepper, and salt. Stir and add ¼ cup of water followed by cornflour paste. Let the sauce simmer for 5 minutes or till it becomes little thick.

At last, add the fried cauliflower florets and stir to evenly coat florets with sauce. Cook for 1 – 2 minute.

Garnish Gobi Manchurian with the spring onion greens.

Serve Gobi Manchurian warm with fried rice and noodles.
Recipe Notes:
Can I air-fry or bake the cauliflower instead of frying?
Yes, you can. Air-fry or bake at 180 degrees celsius for 15 minutes each side or till brown and crisp. 
Is it a vegan dish?
Yes, cauliflower manchurian is a vegan and vegetarian dish. 
How to store leftover Manchurian?
Transfer it to an airtight container. Keep in the refrigerator for 2 – 3 days. Reheat on a pan or microwave before serving. Though cauliflower will not be crispy. 
Nutrition
Calories:
157
kcal
|
Carbohydrates:
28
g
|
Protein:
4
g
|
Fat:
4
g
|
Saturated Fat:
1
g
|
Sodium:
137
mg
|
Potassium:
436
mg
|
Fiber:
4
g
|
Sugar:
4
g
|
Vitamin A:
69
IU
|
Vitamin C:
79
mg
|
Calcium:
36
mg
|
Iron:
1
mg
For Behind The Scene updates
Subscribe to our newsletter!