Stir Fry Pasta With Vegetables is a great summertime lunch idea. It is probably the most delicious way to enjoy pasta with tons of seasonal vegetables. This one-pot pasta dish is surely tasty, kind of healthy (actually skinny), and vegan too. The best part is it requires only 30 minutes to get ready.
This vegan vegetable pasta is like a summer dream meal come true. Why? Because it is light, colourful and super easy to prepare. No need to spend hours in the kitchen. With minimal cooking time, one gets to enjoy a delicious summer-inspired pasta with vegetables. The dish is all about the simplicity of ingredients. It is one of those pasta recipes that you would surely like to bookmark for a potluck, picnic or any other summer get-togethers.
How To Make A Healthy Stir Fry Pasta With Vegetables?
First and foremost, replace the regular white flour pasta with whole wheat or durum wheat semolina pasta.
Avoid using butter to prepare the pasta. A tablespoon or two of olive oil is good enough to make the entire stir-fry.
Overcooked vegetables would kill the taste, texture and nutrients of the dish. So its best to stir-fry them quickly till they are al dente and has a crunch to them.
Fresh herbs like basil and parsley make pasta rich in anti-oxidants along with many other health benefits. So don't hesitate to garnish your pasta with plenty of herbs.
Last but not the least, give the cheese a miss. I know it is hard to resist the temptation of grating cheese over the pasta. But to keep it healthy, it is best to skip adding cheese in this pasta with vegetables.
I am a big fan of stir-fry dishes. And love to enjoy them with at least one meal in a day. There is something comforting about a good stir-fry. It adds so much colour, texture and taste to the entire meal. Like this vibrant stir fry pasta. During the hot and harsh summer season, when rich and thick sauces are a bit too much, this hearty stir-fry pasta is a refreshing delight for the taste buds.
On busy weeknights or for quick working lunch I serve it as a main dish along with the addition of grilled chicken/shrimps/squids/scallops (add either of these meats or seafood to the stir-fry). And everybody just loves it to the core. To jazz up the flavours I add loads of garlic and red chilli flakes for that extra little bit of heat. After all, who doesn't love the combination of garlic, oil and chilli in a pasta? If you are making this dish for the kids then it will be great to skip the red chilli flakes or add the chilli in small amount maybe like a pinch or so. Else, this recipe is good to go for the school lunchboxes as well.
What are some great easy-to-make pasta dishes?
Here are few of my all-time summer favourite pasta recipes. These dishes are truly tasty and super easy to make. Hope you also like them as much as I do:
Creamy Summer Pasta Salad With Pineapple
Spinach & Eggplant Rigatoni With Lemon Cream Sauce
For more such fun recipes in your life, follow along on Facebook, Instagram, or subscribe to our Youtube Channel.
If you try this recipe and love it, please leave a comment and a rating. This helps us grow and reach many other food lovers like you, who are looking for a perfect tried and tested recipe.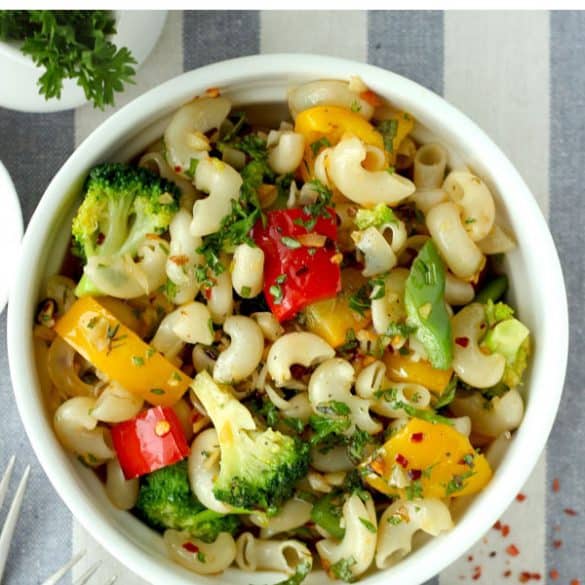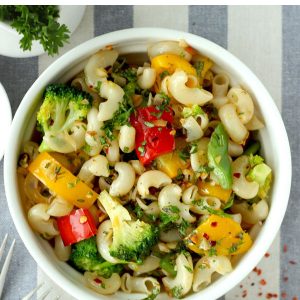 Stir Fry Pasta With Vegetables
Stir Fry Pasta With Vegetables is a great summertime lunch idea. It is probably the most delicious way to enjoy pasta with tons of seasonal vegetables. Learn how to make vegetable pasta.
Print
Pin
Rate
Ingredients
250

gram

uncooked elbow pasta (macaroni)

1/2

Cup

diced capsicum

1/2

Cup

diced red bell pepper

1/2

Cup

diced yellow bell pepper

1

cup

fresh broccoli florets

4 - 5

garlic cloves, minced

1

tablespoon

olive oil

1/2

teaspoon

red wine vinegar

Salt to taste

1/4

teaspoon

pepper

1

teaspoon

Italian herb mix

1/2

teaspoon

red chilli flakes

1

tablespoon

minced fresh basil or 1 teaspoon dried basil
Instructions
Boil water in a large saucepan with a teaspoon of salt.

Once the water starts boiling, add the uncooked pasta, stir and cook the pasta till al dente.

Transfer the pasta to a colander. Drain the water.

Heat olive oil in a stir-fry pan.

Add the chopped garlic and cook for 5 - 10 second.

Add the vinegar and glaze the pan.

Next, add the vegetables and stir-fry them till they are tender but not overcooked or soft.

Now add the boiled pasta, salt, pepper, red chilli flakes, Italian herb mix and stir to combine. Turn off the heat.

Garnish with freshly chopped basil leaves.

Serve Stir Fry Pasta With Vegetables immediately.
Recipe Notes:
Vegetables and pasta both need to be al dente for this recipe. Overcooked/soft/mushy vegetables would kill the taste and texture of the stir-fry.
Love this? Pin it for Later!
Follow @hinagujral on Pinterest!