These Veg Spring Roll stuffed with the Indo-Chinese flavours are so good I recommend making a double batch because they will go fast! They are popular across Indian sub-continent with different names – Chinese Spring Roll, Veg Spring Roll or only Spring Roll. All these names refer to only one goodness – deep-fried spring rolls packed with an Indo-Chinese filling of noodles or chicken. These spring rolls are ridiculously delicious and totally irresistible. You just can't stop at a single piece. And they are super easy to make – you just prepare the stuffing, then roll it up in the wrappers, and later deep-fry. They are always a star party appetizer at my place, no second thoughts about it.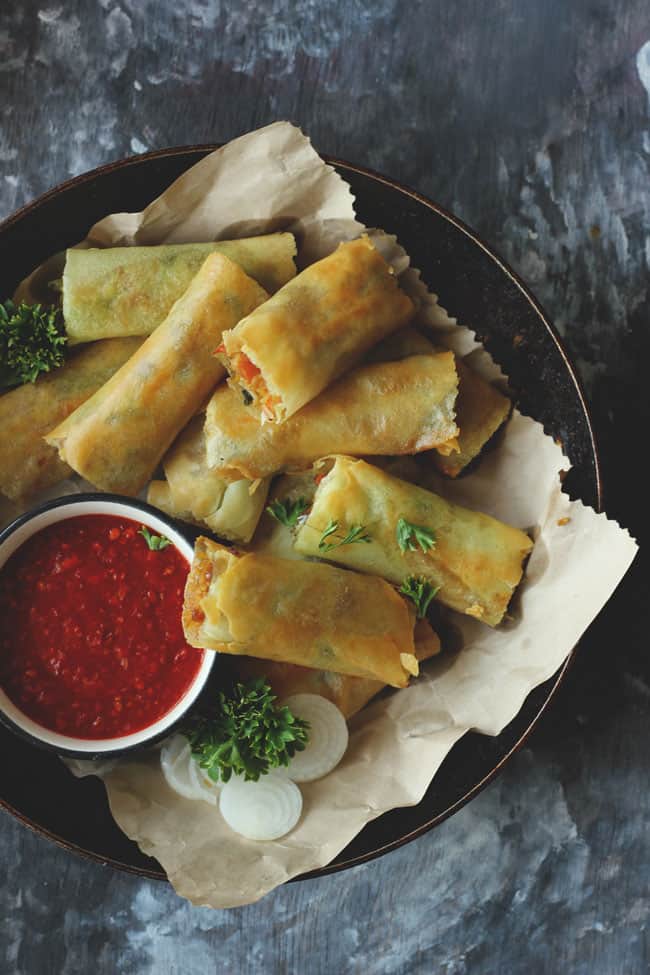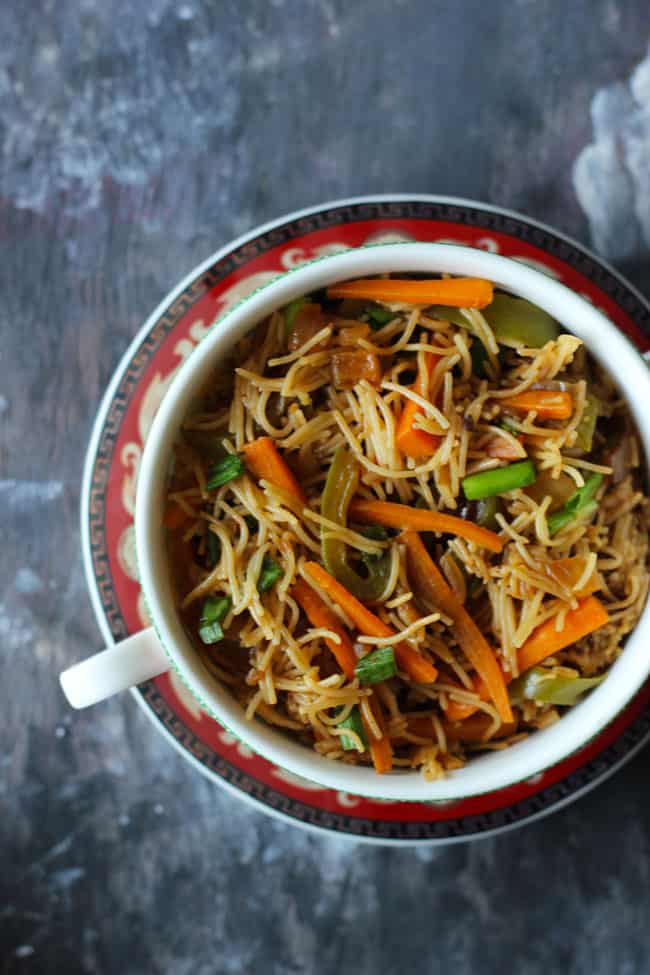 Want to know the secret behind my popular Veg Spring Roll? It is the light and super easy vermicelli stuffing. I never use the regular Hakka noodles to prepare the stuffing. It is the regular Indian vermicelli (the Bambino one) that does the magic for my spring rolls. The stuffing prepared with vermicelli is easy and does not make spring roll too much loaded. With a homemade Thai Sweet Chili Sauce on the side to dip the spring rolls, I am always poised about this party snack.
Perfect Indo-Chinese Party Menu:
Recipe Notes:
I have used vermicelli to prepared the spring roll filling. You can use Hakka Noodles/Chicken/Vegetables to make the filling.
I have used a 5 inch (125mmx125mm) square spring roll pastry sheet for the purpose. You can use a larger dimension sheet as well and later cut it into two equal halves. 'TYJ Spring Roll Pastry' is the brand name of the pastry sheet I have used to make the spring rolls.
These pastry sheets can be stored in the refrigerator for 2 – 3 months in a ziplock bag.
Allow the vermicelli mixture to cool down completely before stuffing in the spring roll.
Always cover the pastry sheets and the shaped spring rolls with a clean, moist muslin/cheesecloth. As they get dry very quickly.
Deep-fry the spring rolls in small batches over medium heat for a nice golden crust.
Last, but not the least, homemade Thai Sweet Chili Sauce for dipping provides a lot of flavor to the spring roll. Else, you can serve spring roll with store-bought Schezwan sauce.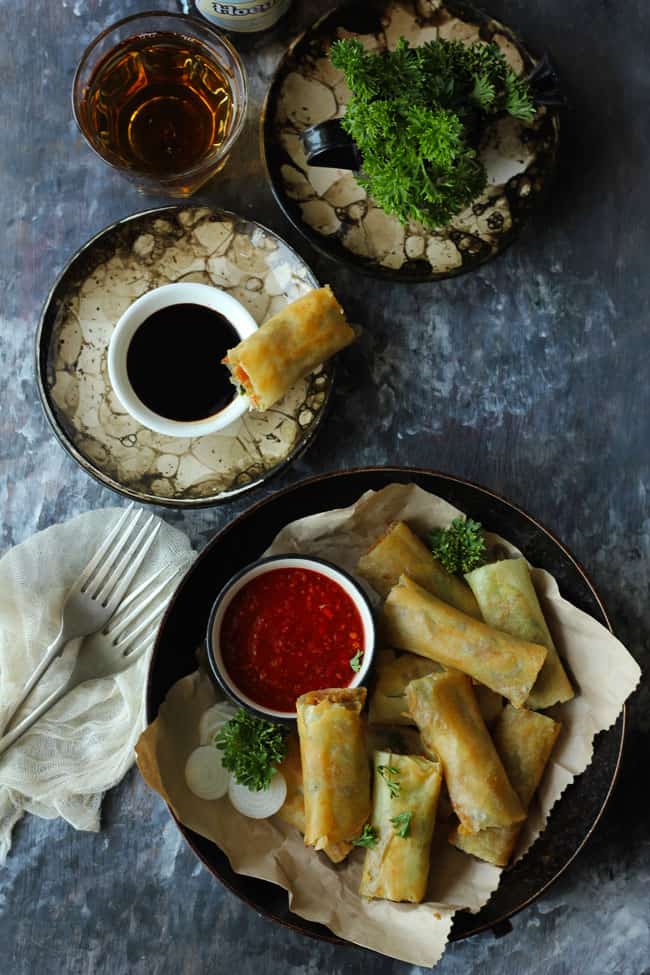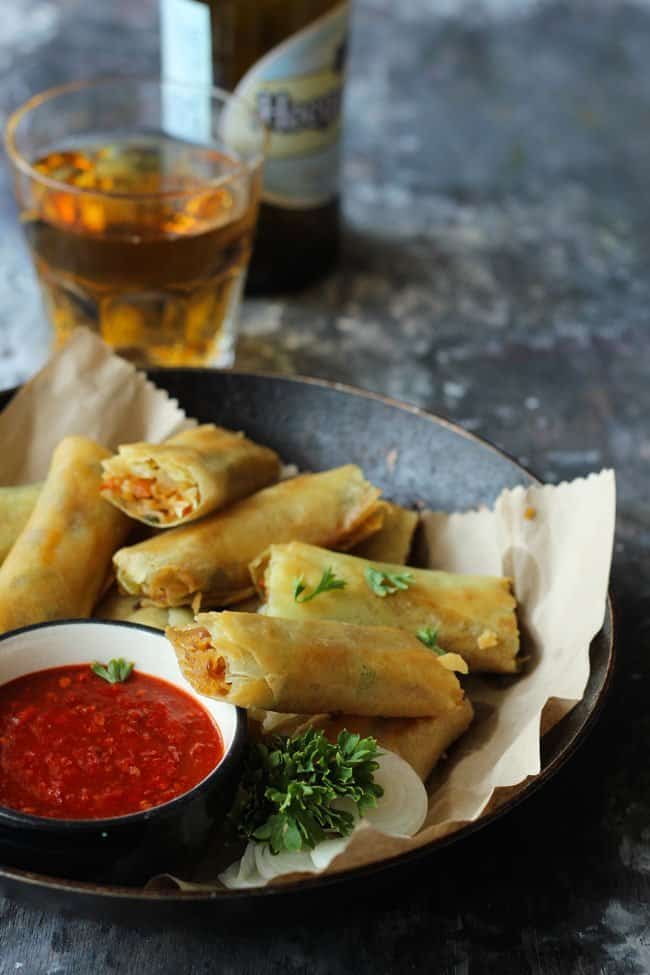 For more such fun recipes in your life, follow along on Facebook, Instagram, or subscribe to our Youtube Channel.