Pineapple Fried Rice is a sweet and spicy Asian-style one-pot stir-fry rice. I am sharing a vegetarian and vegan version of pineapple fried rice. Be sure to watch the video!
When planning a dinner menu for summer nights, I stick to easy, fulfilling, and, most importantly, comforting dishes. Pineapple Fried Rice checks all the criteria of a perfect summer dinner that is ready in 20 minutes.
We all look forward to light and refreshing meals during the spring and summer seasons. This Thai-style pineapple fried rice recipe will be a perfect addition to your summer menu. It is sweet, spicy, refreshing, and so easy to cook.
Reasons To LOVE Pineapple Fried Rice
– vegan and gluten-free
– 20 minutes cook time
– easy to pack and reheat
– meal-prep friendly
– highly customizable
– kid approved
Do I need to convince you more for bookmarking this fried rice recipe?
Ingredients Required
Rice: You can use any variety of medium to short-grain rice. Usually, I prefer aromatic Jasmine rice. The aroma and sweetness of jasmine rice blend perfectly with the fruitiness of pineapple.
Pineapple: A ripe and juicy pineapple is always a good choice for making fried rice and pineapple chicken curry. You can use tinned or canned pineapple slices as well. Make sure to taste canned pineapple beforehand and adjust the seasoning accordingly.
Vegetables: From green peas, colourful pepper, and green beans to carrots or capsicum, feel free to pick vegetables of choice.
Herbs & Spices: Garlic, Spring Onion, Red Chilli, Black Pepper
Sauce: Light Soy Sauce, Sweet Chilli Sauce
Other Ingredients: Salt, Sesame oil, Cashew
Fried Rice Recipe Variation
As I said in the beginning, pineapple fried rice is a highly customizable recipe.
You can add shrimp, shredded chicken (like I did in my chicken fried rice), bacon, or even pork to make it more delicious.
Or you can make fried rice more nourishing by adding greens such as kale, baby spinach, bok choy, or Asian stir fry greens.
Stir Fry on High Heat
Stir-Frying fried rice on high heat in a cast iron wok will give you that smokey hawker centres aroma and taste. Your vegetables retain their nutrients, and the rice becomes a little crispy!
Less cooking + optimal flavour = healthy win!
Do not cook the ingredients or rice for too long on low heat. It's quick & easy! Prep = 15 minutes, cooking = 20 minutes.
Serving Suggestion
Serve fried rice in a pineapple boat instead of a bowl to make a culinary impression.
Here are the steps to make the pineapple boat:
Cut the whole pineapple lengthwise from the centre into two halves.
Using a sharp knife, cut the flesh into cubes. Be careful not to cut through the skin.
Use a spoon to scoop out the pineapple cubes.
Remove any remaining flesh. Clean the pineapple bowl.
And the pineapple boat is ready!
Pineapple Fried Rice is a delicious one-pot meal. To make it more fulfilling, I serve it with a half-fried egg and a bowl of smashed cucumber salad. That is the best combination! If you haven't tried it yet, now is the time. 
Or you can make a takeaway-style Thai dinner at home by serving fried rice with – Thai Red Chicken Curry or vegetables in hot garlic sauce.
Watch Fried Rice Video
More Pineapple Recipes
Subscribe to our weekly newsletter or follow us on Youtube for video recipes.
If you try this recipe and love it, please leave a comment and a rating. This helps us grow and reach other food lovers like you.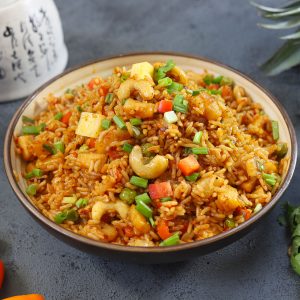 Pineapple Fried Rice Recipe
Pineapple Fried Rice is a sweet and spicy Asian-style fried rice packed with the flavor of pineapple. Learn how to make vegetarian and vegan fried rice in a few simple steps.
Print
Pin
Rate
Ingredients
2

Cup

cooked white rice

1

Cup

pineapple, diced

⅛

Cup

sesame oil or cooking oil

2

tablespoon

garlic, finely chopped

1

teaspoon

ginger, finely chopped

1

tablespoon

celery stalk, finely chopped

½

Cup

red onion, finely chopped

2

tablespoon

cashew

1

teaspoon

red chilli flakes

⅓

Cup

bell pepper, chopped

⅓

Cup

green peas

Salt and Pepper, to taste

1

tablespoon

brown sugar

1

tablespoon

light soy sauce

1

tablespoon

red chilli sauce

(see recipe)

2

tablespoon

green onion, chopped
Instructions
Heat oil in a wok. Add the chopped garlic, ginger, celery, and onion. Stir fry over high heat for 1 minute.

Next, add the cashew and red chili. Quickly stir fry for 20 – 30 seconds. No need to brown the garlic or onion.

Add the vegetables, pineapple cubes, salt, pepper, brown sugar. Stir fry over high heat. Caramelize the pineapple over high heat for 1 – 2 minutes. Next, add light soy sauce, red chili sauce. Mix and fry for 40 – 50 seconds.

Next, add the cooked rice. Stir to combine nicely. Fry over high heat for 1 – 2 minutes for the rice to absorb flavor and become crunchy.

Garnish pineapple fried rice with spring onion greens.

Serve Pineapple Fried Rice warm.
Recipe Notes:
Make sure that the pineapple is not bitter or too sour in taste. The pineapple with a balanced sweet and sourness is perfect for this recipe. 
You can use the tinned or the canned pineapple as well.
Any medium or short grain rice is good enough. I perfer leftover cooked rice for making fried rice. 
If you are using freshly cooked rice, let it cool down completely. Spread warm cooked rice on a baking sheet or tray to cool down.
Substitute red chilli sauce with any other chilli garlic red chilli paste.
You can add shrimps, shredded chicken, bacon, or even pork to your fried rice. Or you can make fried rice more nourishing by adding greens such as kale, baby spinach, bok choy, or Asian stir fry greens.
Nutrition
Calories:
251
kcal
|
Carbohydrates:
38
g
|
Protein:
5
g
|
Fat:
9
g
|
Saturated Fat:
1
g
|
Polyunsaturated Fat:
3
g
|
Monounsaturated Fat:
4
g
|
Sodium:
266
mg
|
Potassium:
211
mg
|
Fiber:
2
g
|
Sugar:
9
g
|
Vitamin A:
274
IU
|
Vitamin C:
27
mg
|
Calcium:
36
mg
|
Iron:
1
mg
For Behind The Scene updates
Subscribe to our newsletter!