Kamal Kakdi Ki Sabzi is a succulent brown curry made with crisp and fibrous lotus stem. The juicy slices of lotus stem are pressure cooked in onion and tomato gravy till al-dente, later served with hot puffed Phulkas or with Jeera Rice.
The lotus stem is one root vegetable which as a kid I could clearly distinguish from the other vegetables because of it's hosepipe like shape, round slices of lotus stem swimming in the curry on my plate always struck my adolescent imagination as a wheel. Hence I started referring to it as pinwheel – curry but more than the amusing name it was the taste of the curry that lingered in my food memories even till date. This easy peasy curry can be prepared in a jiffy in the pressure cooker, does not require any pro cooking skills yet it tastes simply divine and add great variety to the vegetarian menu.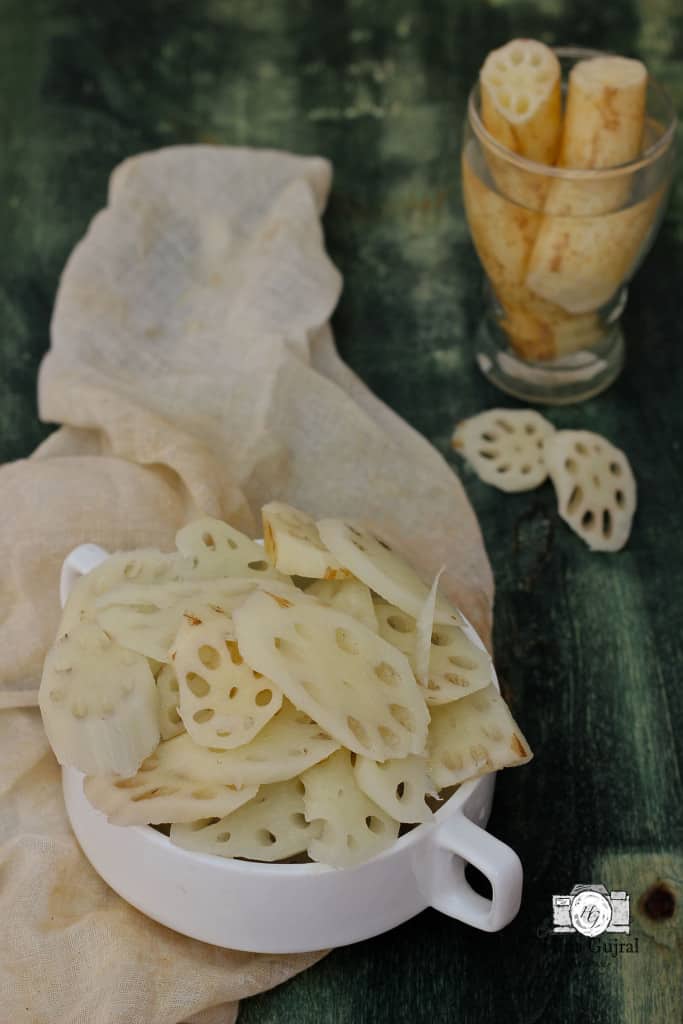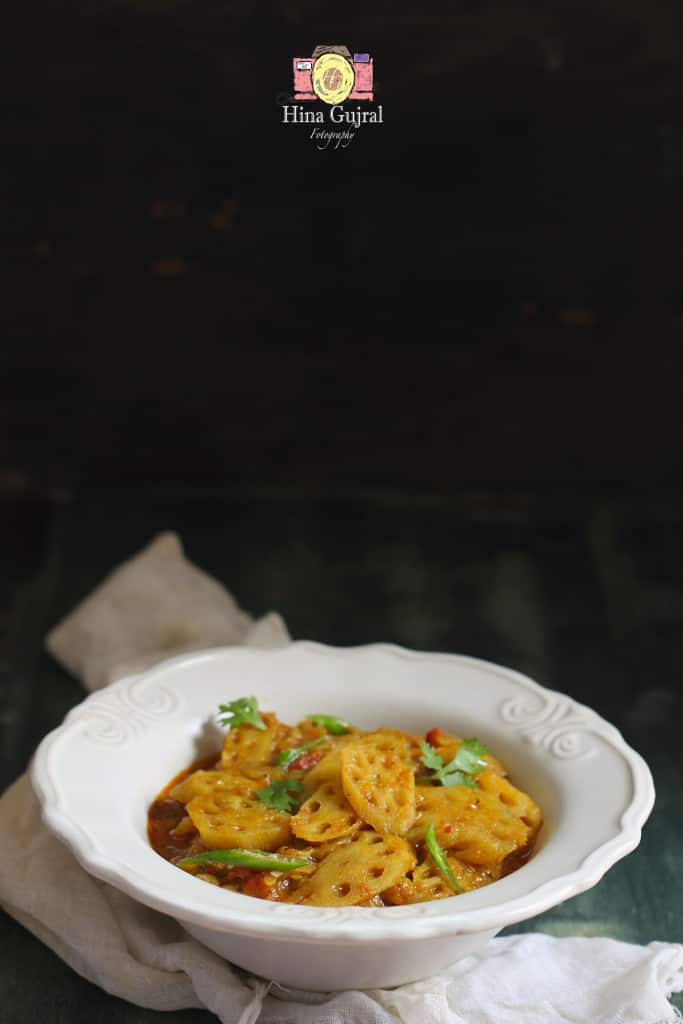 During our stay in South India, lotus stem and I crossed path on a very rare occasion, once in a while, I used to find it in abundance in one of the supermarkets else it was confined to the guest appearance in my kitchen. While back here at home province, during summer lotus stem are a routine selling item in every vendor's vegetable basket. In some parts of the country, lotus stems are available throughout the season, which is a real boon, in Nainital it will slowly start vanishing post summer and then will again be seen in the winters.
It requires a special set of experienced mastery to select the lotus stem apt for making the curry from the whole lot and I am slowly learning the art under the guidance of mother-in-law. She has her own checklist for picking the perfect ones for cooking, her criteria is pale white color with light tones of brown, unsoiled vents and the crisp sound while snapping the lotus stem. Her extensive discussion with the vegetable seller about the quality and whereabouts of lotus stem is part of the routine, and somehow it helps her to eye for the impeccable batch of lotus stem.
The soupy, bold mutton like curry along with steaming rice and julienne of onion is really worth the whole selection effort. This season when most of the fresh produce is under hibernation lotus stem curry brightens up our lunch table, in the hot and humid afternoon slurping rice with lotus stem curry is the only joyous activity which make the mundane prolonged summer afternoon bearable.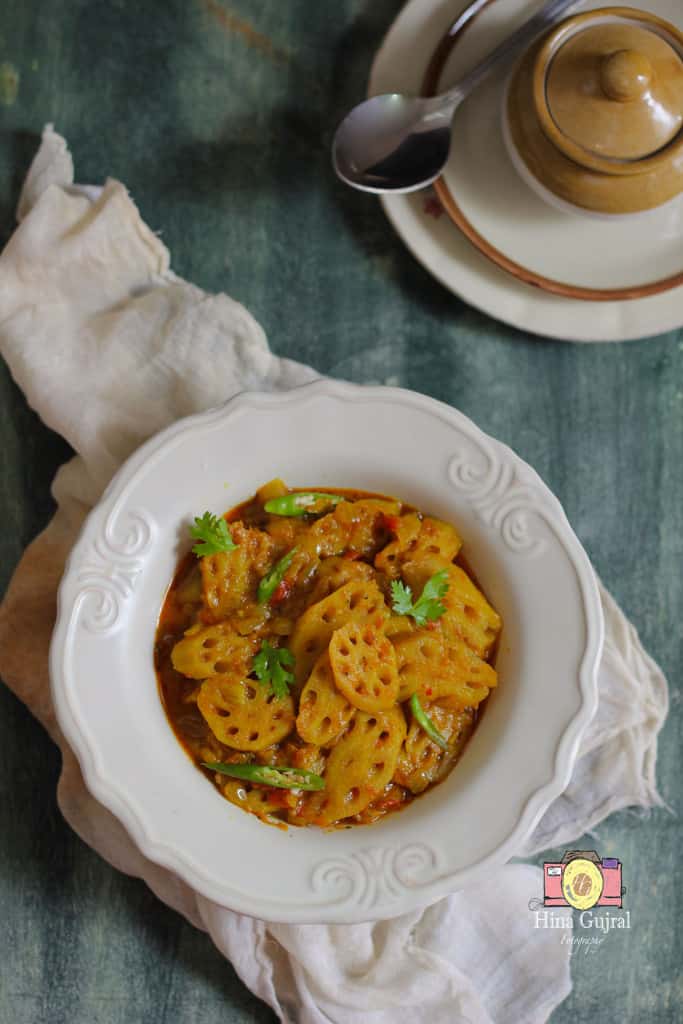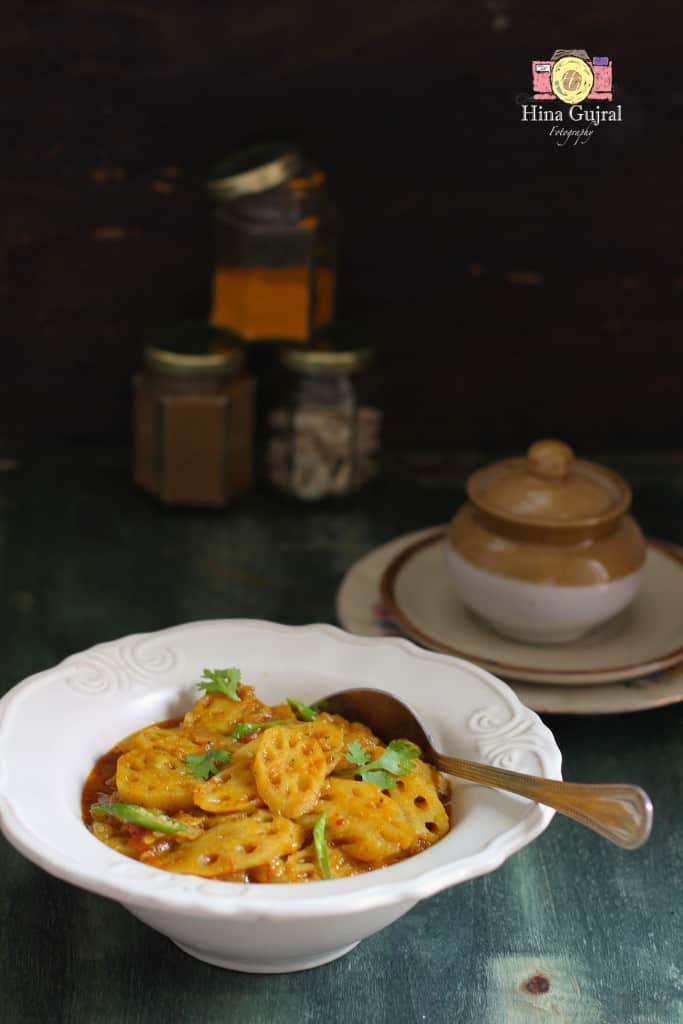 If you try this recipe and love it, please leave a comment and a rating. This helps us grow and reach many other food lovers like you, who are looking for a perfect tried and tested recipe.