Pineapple Rava Kesari is a delicious suji ka halwa flavored with pineapple. In South India, it is known as pineapple kesari. Truly one of the best fruity Indian desserts I have ever tried. Be sure to watch the video!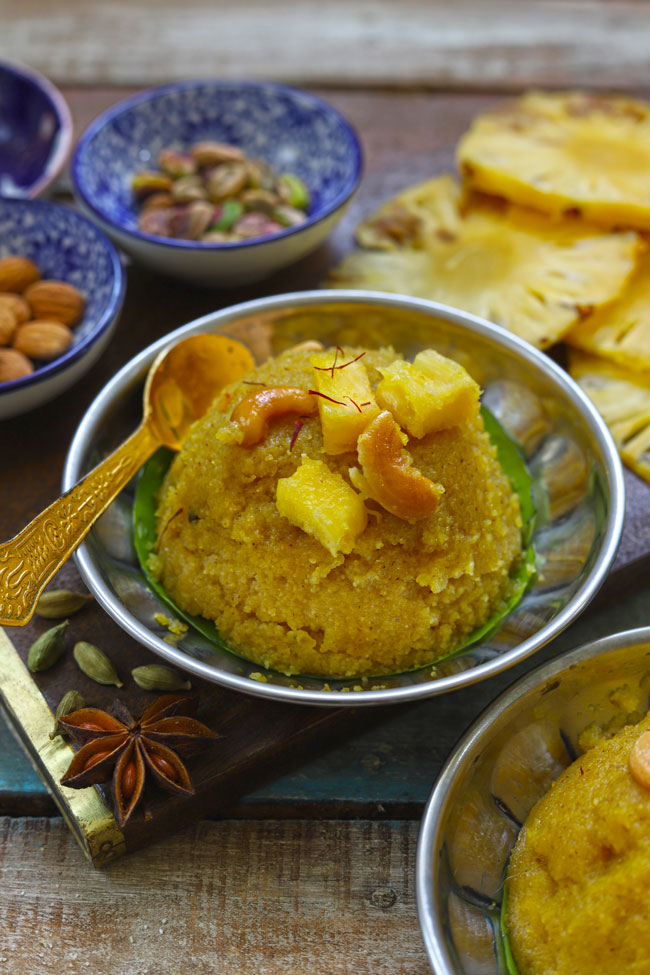 What is Rava Kesari?
Rava Kesari is a popular South Indian sweet dish having its original roots in Karnataka, where it is also known as Kesari Baath.
'Rava' is the local term for semolina, whereas the term 'kesari' refers to the yellow color of the halwa and the aroma of kesar i.e saffron.
The dish shares similar nature with the famous North Indian sweet suji ka halwa.
Pineapple Kesari Baath
Across South India, many local eateries serve kesari baath flavored with pineapple.
It is cooked in flavorsome syrup consisting of saffron, pineapple cubes, sugar, cardamom, and pineapple juice simmered over low heat to get the golden liquid.
Later, the roasted semolina (rava) is cooked in this sweet pineapple-flavored syrup. Hence, resulting in pineapple halwa.
With each spoonful of pineapple halwa melody of flavors is created in the palate. The tropical freshness of pineapple is melted with the sweetness of sugar, ghee, and semolina building layers of extraordinary flavor.
And not to forget the pleasing aroma of saffron, cardamom, and pineapple which filled senses with a long-lasting memory of this dessert.
Ingredients Required
Semolina: It is best to use fine rava (semolina) to make any kind of halwa. It is quick to cook and gives a nice, mouth-melting texture to the halwa. Thick or coarse semolina is not an ideal choice.
Pineapple: Always use a fresh, juicy, ripe, and sweet pineapple for making the rava kesari. A slightly sour, bitter, or unripened pineapple is a BIG NO.
Cashews: Use unsalted cashew. An authentic rava kesari always has cashews.
Golden Syrup: The yellow color of the kesari baath comes from this golden syrup. It consists of – pineapple juice, white sugar, saffron strands, and cardamom powder. These ingredients together create that yellow hue.
Watch Pineapple Halwa Video
My Tried & True Tips
Tip 1: Slow Roasting Semolina
The secret to making a spoon-licking halwa is slow roasting the rava over low heat till it changes the color to light brown. Keep stirring it while roasting for even browning.
Tip 2: The Right Pineapple
If you can get your hands on a good quality canned/tinned pineapple then nothing like it. I do not prefer adding any artificial color or flavor essence to the halwa. But it is a matter of personal choice.
Tip 3: The Sweetness
The quantity of sugar required to make kesari baath depends on many factors. If you are using a canned sweetened pineapple along with a packaged pineapple juice then taste the golden syrup and add sugar accordingly.
Tip 4: The Right Ratio
Always remember, semolina absorbs a lot of liquid and has a bland taste. Hence, the sugar syrup should be sweet enough to give halwa a sugary taste and cut down the acidity of pineapple.
Tip 5: How To Store
You can store leftover halwa in the refrigerator for 1 – 2 days. Reheat in a microwave or stovetop over low heat.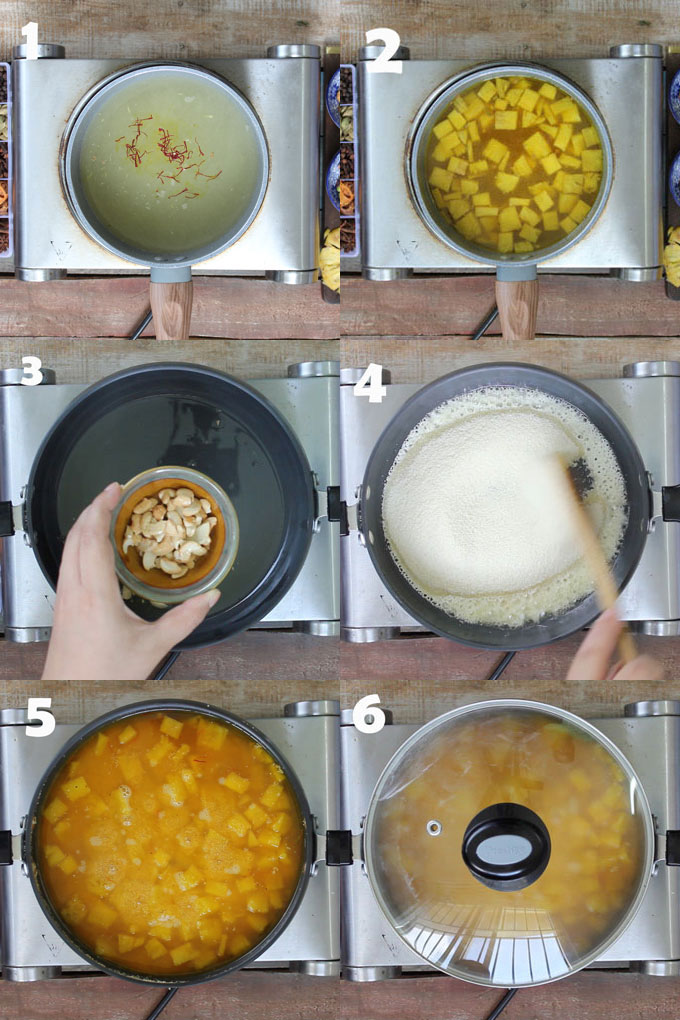 More Pineapple Recipes
Creamy Pasta Salad With Pineapple
For more such fun recipes in your life subscribe to our weekly newsletter or follow us on Instagram and Youtube for video recipes.
If you try this recipe and love it, please leave a comment and a rating. This helps us grow and reach many other food lovers like you, who are looking for a perfect tried and tested recipe.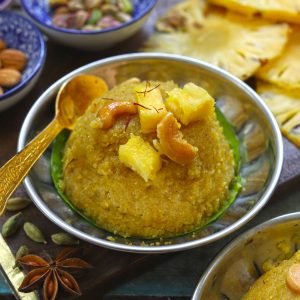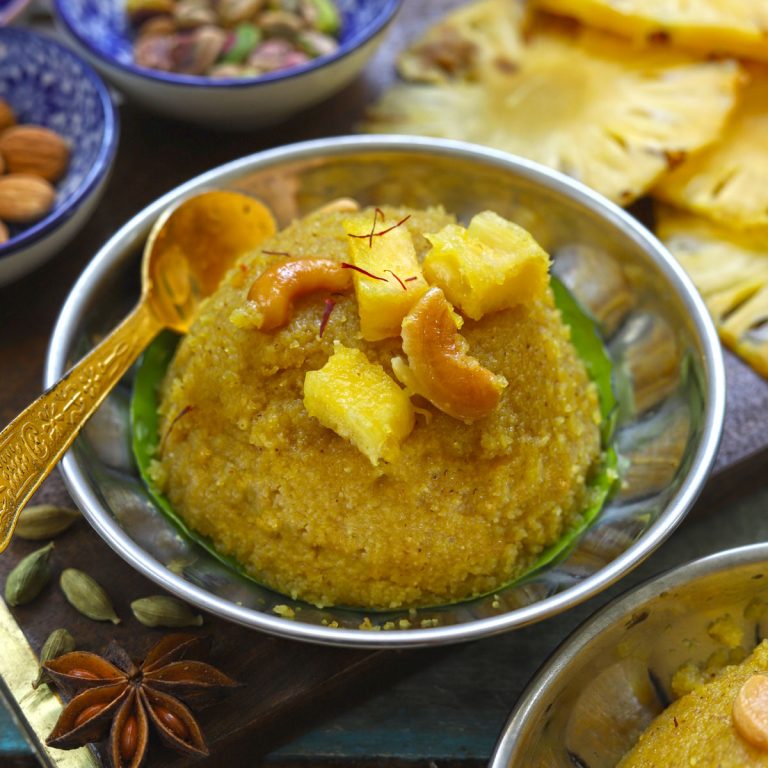 Pineapple Rava Kesari Recipe
Pineapple Rava Kesari is a delicious suji ka halwa flavored with pineapple. Learn how to make rava kesari in a few simple steps.
Print
Pin
Rate
Heavy Bottom Kadhai

Saucepan
Ingredients
Ingredient For Golden Syrup:
2

Cup

pineapple juice

1

Cup

water, at room temperature

1

Cup

granulated white sugar

1

Cup

bite-size pineapple cubes

1

teaspoon

saffron strands (kesar)

1

teaspoon

cardamom powder (elaichi powder)
Other Ingredients:
1

Cup

semolina (rava/sooji)

¼

Cup

ghee (clarified butter)

¼

Cup

sliced cashews
Instructions
Prepare Golden Syrup:
In a large deep saucepan bring water, juice, pineapple cubes, saffron, sugar, and cardamom powder to a boil over high heat. Reduce the heat to medium and let the liquid simmer. Keep stirring at regular intervals.

The sugar should dissolve completely, and the liquid should turn golden in color. The pineapple pieces should become soft. Taste and adjust the sweetness accordingly.
Roast Semolina (Suji):
Meanwhile, start roasting semolina — heat ghee in a heavy-bottomed pan over medium flame. Fry sliced cashew till light brown and transfer to a plate. Keep aside.

Next, add semolina and roast over medium heat until it changes color to light brown. Continuously stir semolina while roasting else it might get burnt.
Prepare Halwa:
Now, slowly add hot golden syrup to the roasted semolina. Add half amount of water at a time and continuously stir semolina to avoid lump formation. Gradually, add the remaining liquid. Stir continuously in one direction.

Once the semolina starts bubbling, cover and cook for 3 – 5 minutes over low heat. Do not cook for too long.

Turn off the heat. Open the lid and add fried cashews. Mix nicely.

Serve pineapple rava kesari warm garnished with pineapple cubes and cashews.
Recipe Notes:
Use only fine semolina or rava for making the halwa. 
It is best to roast semolina over low heat for a good taste and color. 
Make sure the syrup is warm while adding in the roasted semolina. 
Taste the syrup and adjust the amount of sugar as per your preference. 
Nutrition
Calories:
572
kcal
|
Carbohydrates:
104
g
|
Protein:
8
g
|
Fat:
15
g
|
Saturated Fat:
8
g
|
Cholesterol:
29
mg
|
Sodium:
8
mg
|
Potassium:
329
mg
|
Fiber:
3
g
|
Sugar:
66
g
|
Vitamin A:
24
IU
|
Vitamin C:
32
mg
|
Calcium:
31
mg
|
Iron:
3
mg
For Behind The Scene updates
Subscribe to our newsletter!