Bread Roll is a crispy Indian breakfast or snack served with chutney and chai. A deep-fried roll made of bread and stuffed with potatoes sounds just perfect for breakfast. This easy and yummy bread roll recipe is a popular Indian breakfast that can be made just about any time one feels like digging into a tasty bite.
Delicious spiced and seasoned potatoes in a fried crunchy casing served with a flavorsome green chutney on the side sound tantalizing, don't they? The potato bread roll is the best way to transform a regular loaf of bread into a fulfilling and hearty breakfast for the family. If you're someone who's here for an indulgent breakfast recipe, then this one is a great way to use up leftovers and give them a delicious makeover.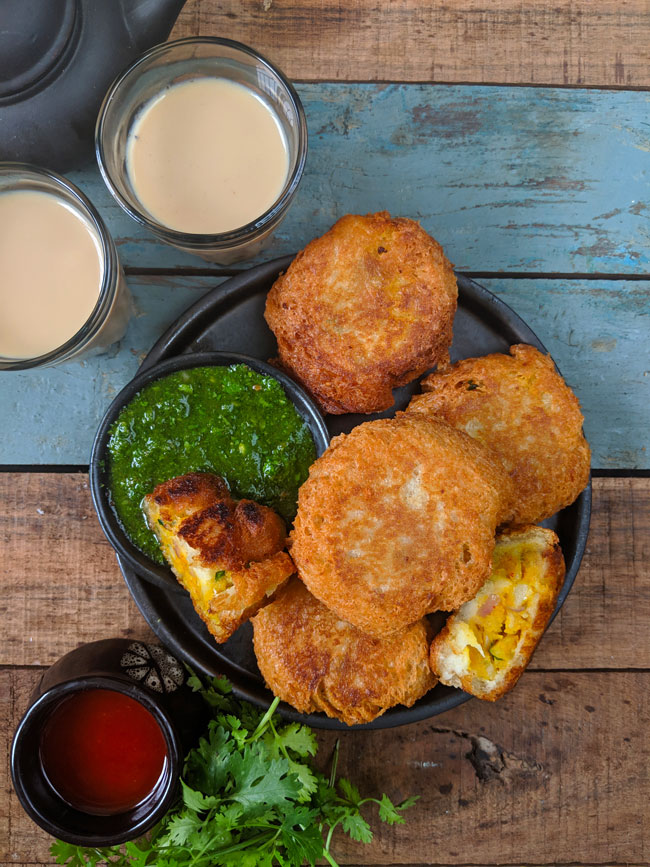 Tips To Make Perfect Potato Bread Roll:
Always use fresh bread slices to make the Indian style potato roll. Avoid using stale bread as it might break while shaping the roll. The white bread slices are perfect to make street style bread roll.
Dip the bread slice in water only for a second or so to moisten it. Then gently squeeze it get rid of water but make sure not to break the bread slice.
Make sure potato filling is nicely mashed and smooth in texture else it will ooze out of the bread covering.
Potato Rolls can be either deep-fried or shallow fried. But make sure never fry aloo roll on high heat. It is best to keep gas flame between medium to high so that aloo rolls are crisp from outside and fully cooked from inside.
The secret to making crunchy bread roll is to keep them in the fridge (not freezer) for 15 – 30 minutes before frying. This step always yields crisp aloo rolls without fail.
Can We Bake The Bread Roll?
Yes, the bread roll can be baked as well. Preheat oven at 180 degrees Celcius, brush the shaped potato rolls with oil and bake in the oven for 15 – 20 minutes or until the outer covering is crisp and golden in color.
Can We Make Potato Roll In Advance?
Yes, indeed. Few hours before the serving time, shape the cutlet, arrange them on a greased plate or baking tray. Cover the dish with a muslin cloth and keep in the fridge until ready to fry. Most of the times for parties I prepare them a few hours in advance to avoid any last minute hassle. The rolls can be sealed in ziplock bags and frozen to be fried when required. However, potatoes don't keep well for too long so don't freeze them for more than three days.
Watch Potato Bread Roll Recipe Video:
Other Tasty Indian Breakfast Recipe You Might Like:

For more such fun recipes in your life, follow along on Facebook, Instagram, or subscribe to our Youtube Channel.
If you try this recipe and love it, please leave a comment and a rating. This helps us grow and reach many other food lovers like you, who are looking for a perfect tried and tested recipe.