Baby Potato Curry is one of the easiest and delicious potato curry recipes. Does it win your heart over even more if I tell you it takes less than 30 minutes to make? You can call it a cheat dum-aloo as well. The taste and the gravy are very similar to that of dum aloo sans any cream or tomato. If you are a serious potato lover than I am sure you would love this baby potato curry. Do we love potatoes? We – as a family is for sure a potato lover. And that explains delightful, unique potato recipes on the blog such as – Pahadi Aloo Paani, Bombay Potatoes, and Aloo Ke Gutke.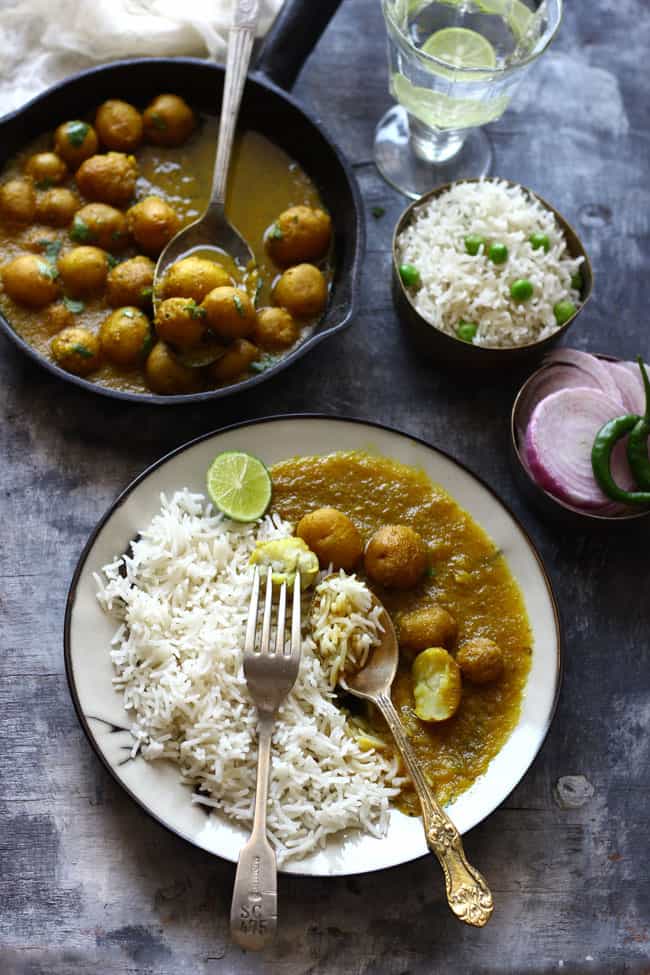 There are two methods to make this baby potato curry. You can follow either one of them. The one involving pressure cooker is time-saving. While the other one suggests a slow cooking process. Hence, the end result is a bit more tasty and rustic. Depending upon the time and leisure you can pick any of these two methods to make this baby potato curry.
Method 1:
The first way to approach this baby potato curry recipe is – pressure cooking. If you want this curry real quick on your table then cooking it in a pressure cooker is the best way. The tiny potatoes are evenly and timely cooked. No doubt about it. And the gravy is nicely thickened too. At times, I cook the potatoes without removing the skin. Wash them nicely, scrub off the dirt particles and soak them in salted water 5 minutes or so before cooking.
Method 2:
This is more of a slow cooking method to prepare baby potato curry. In this process, the curry is cooked in a heavy bottom casserole or kadhai with a lid. The potatoes are allowed to simmer over a low heat until tender. That might take 30 – 40 minutes in total depending on the size and variety of baby potatoes. My mother follows this process and her curry is totally worth the time involved. She removes the skin of the potatoes, boil them in salted water for 5 – 10 minutes, drain and then fries them in the masala to make the curry.
Let me remind you whatever way you follow to cook this baby potato curry – the end result would be delicious and succulent. Or maybe, you can try both of them on different occasions, as I did, and then take your pick before making final notes about this recipe. For more such fun recipes in your life, follow along on Facebook, Instagram, or subscribe to our Youtube Channel.
How to make baby potato curry in 30 minutes: