If you have ever visited the lush green hill stations of Kumaon to spend a quiet summer vacation, you might have tasted Pahadi Kheere Ka Raita aka Cucumber Raita. It's spicy, tangy and full of flavours. Kheere Ka Rairta is a real outburst of flavours and super simple to prepare.
Nestled in the foothills of the Himalayas, Kumaon is bestowed with a maze of mountains, lush greenery, and breath-taking landscapes. The culture, cuisine and the rich heritage of the region are still an untold saga to the rest of the world. Many renowned food historians and novelists have captured the essence of the cuisine in their writings, though. From the ancient times, Kumaonis have been famous for their bravery, warrior skills, and enduring honour. Like the persona of the natives, their food is simple, subtle and comprises largely of locally grown greens, vegetables, herbs, and grains.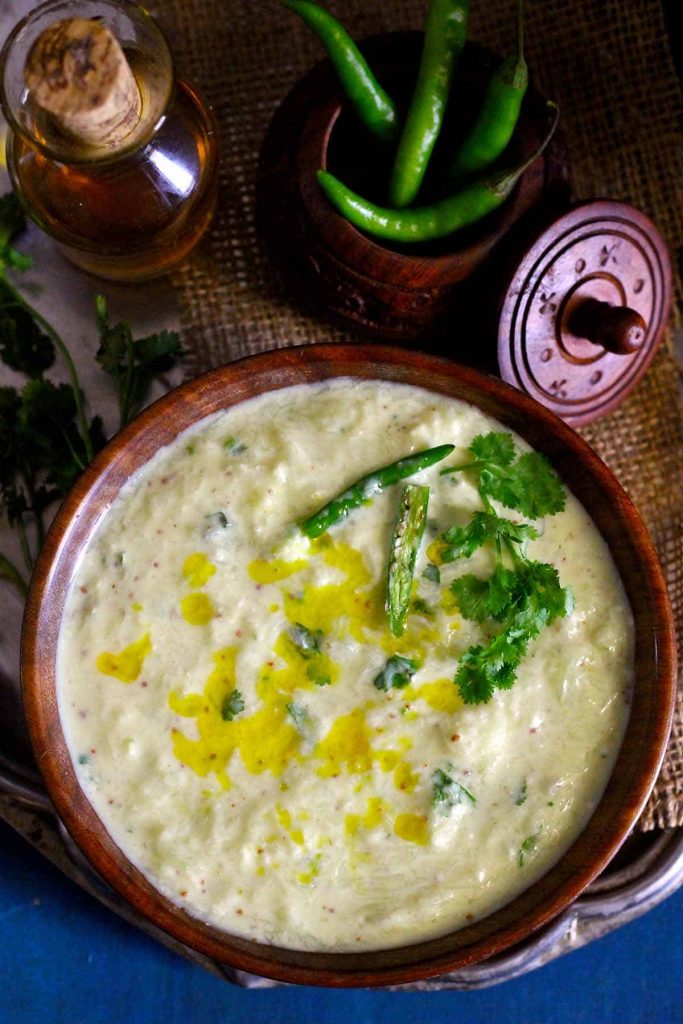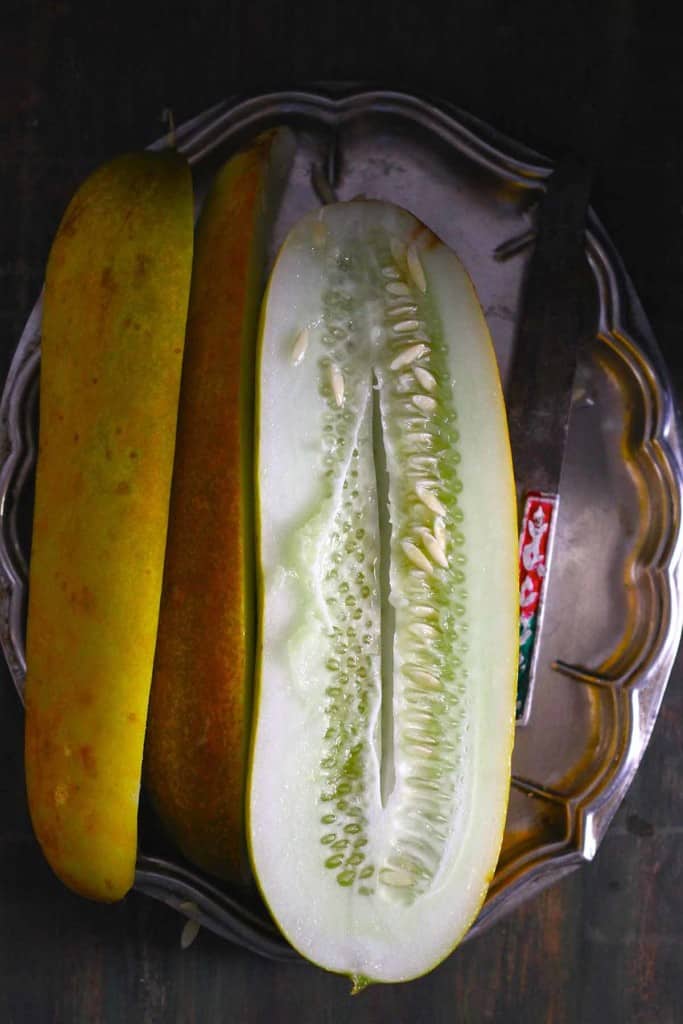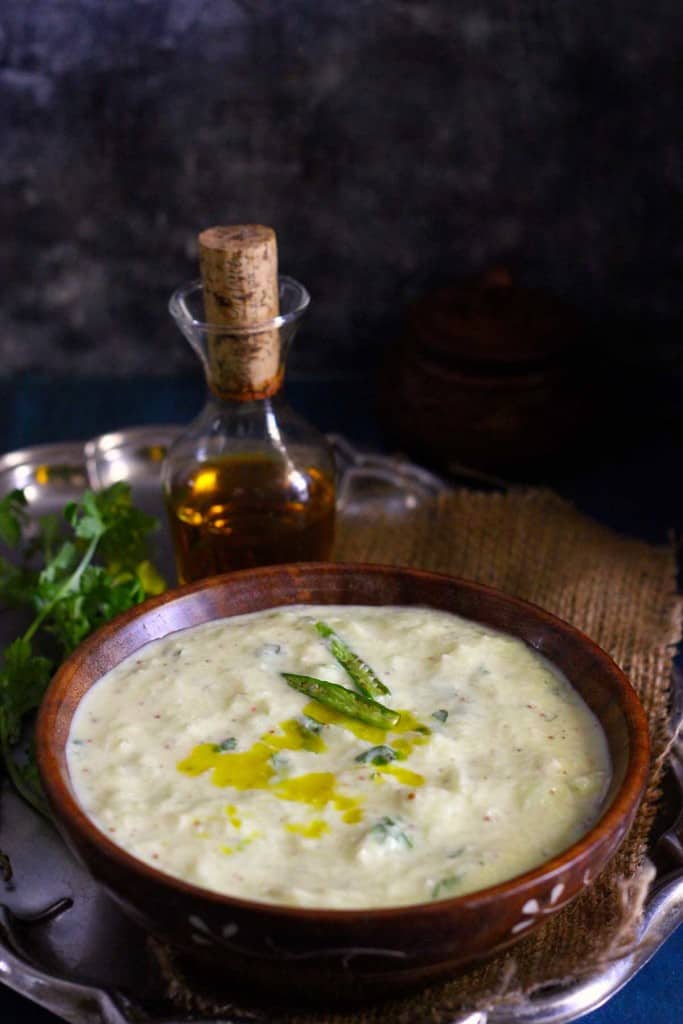 The cuisine of Kumaon has the perfect balance of nutritious greens, lentils, grains and root vegetables all bestowed by the mother nature. One of the relishes, that is a quintessential part of Kumaoni food is Pahadi Kheere ka Raita. The giant shape and the yellowish skin tone of the Pahadi cucumber make it stands out among the batch of the regular ones. The predominant flavor in the Pahadi Kheere ka Raita is that of tiny pale yellow Pahadi mustard seeds.
These mustard seeds are combined with plenty of mustard oil and green chilli to escalate the flavours of raita to a new high. Traditionally, this paste for raita is ground in stone mortars and pestles. Often served with Aloo ke Gutke (see recipe here), Pahadi Kheere ka Raita is the most sought-after dish in this region. The first taste impression of Pahadi Kheere ka Raita is like a hit of strong taste, and definitely not subtle at all. Eventually, your palate starts developing a kind of affection with this rare sapor. While travelling across the region, you can buy Pahadi cucumber and mustard from the local flea market. Or, make use of your everyday cucumber if you are not visiting Kumaon any soon.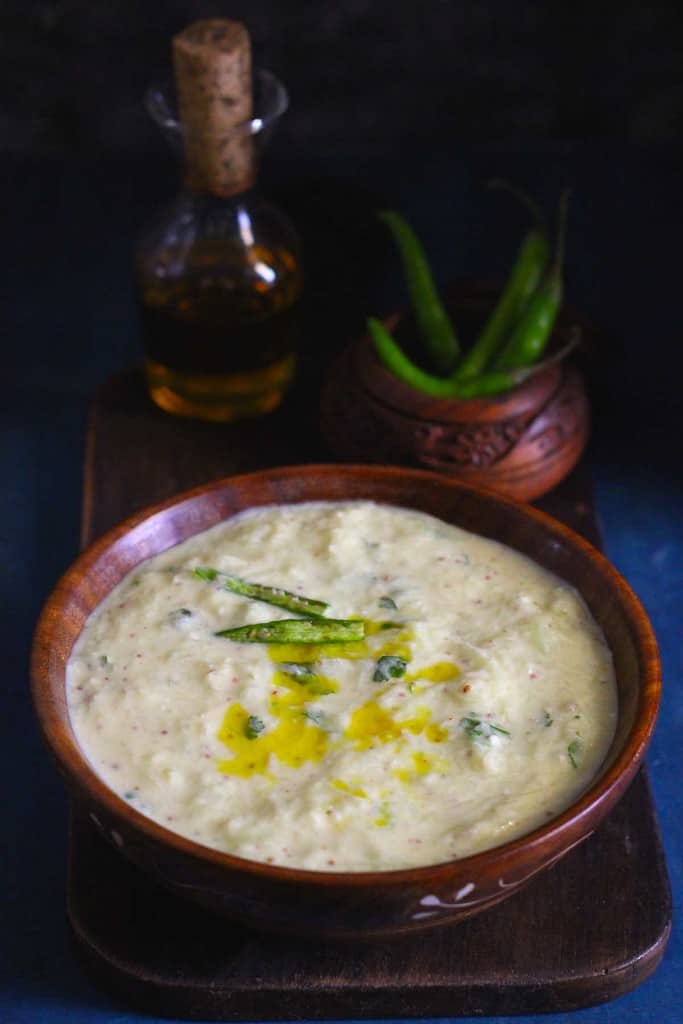 Learn how to make Pahadi Kheere Ka Raita in few simple steps. You might also like Pomegranate Raita Recipe or Bathua Raita.